Van Gisbergen makes it four in a row in Adelaide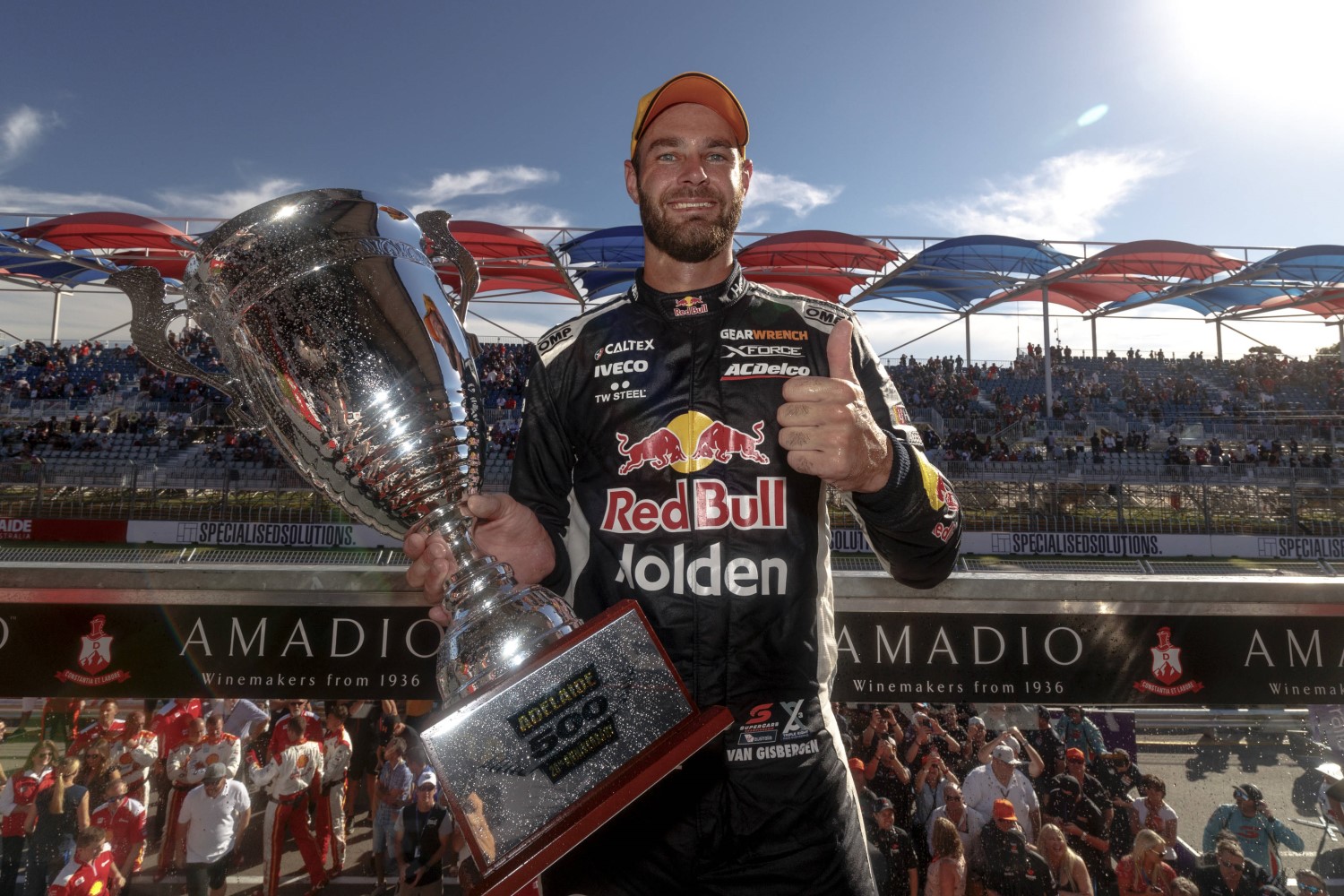 Shane Van Gisbergen
Shane Van Gisbergen emulated two of the country's greatest racers with a fourth consecutive win on the spectacular Adelaide circuit to stamp an early mark on the Virgin Australia Supercars Championship.
The new King of the Adelaide circuit did only what his seven-time Champion team-mate Jamie Whincup managed in 2008-2009 and all-time great Marcos Ambrose (2004-2005) with four back-to-back race wins, repeating his twin victories of last year.
In a safety car free race Red Bull Holden Racing Team's Van Gisbergen held off Erebus Motorsport's Bathurst Champion David Reynolds and Wilson Security Racing GRMs Garth Tander, in his 20th successive Adelaide event, who finished third.
"I love Adelaide. It was just awesome, great race. We went the wrong way with our setup so had to battle it out. Davie (Reynolds) was really quick and I expected him to battle me back," van Gisbergen said.
"It's a great way to start the year but now we have to carry the momentum. I can't wait for the next round and the first fight for Championship points at the Grand Prix in a couple of weeks."
Reynolds sits second in the Championship from James Courtney who had a great race from 14th to sixth after a qualifying mishap, backing up his second of yesterday. Reynolds appeared to miss an opportunity to pass Van Gisbergen late in the race.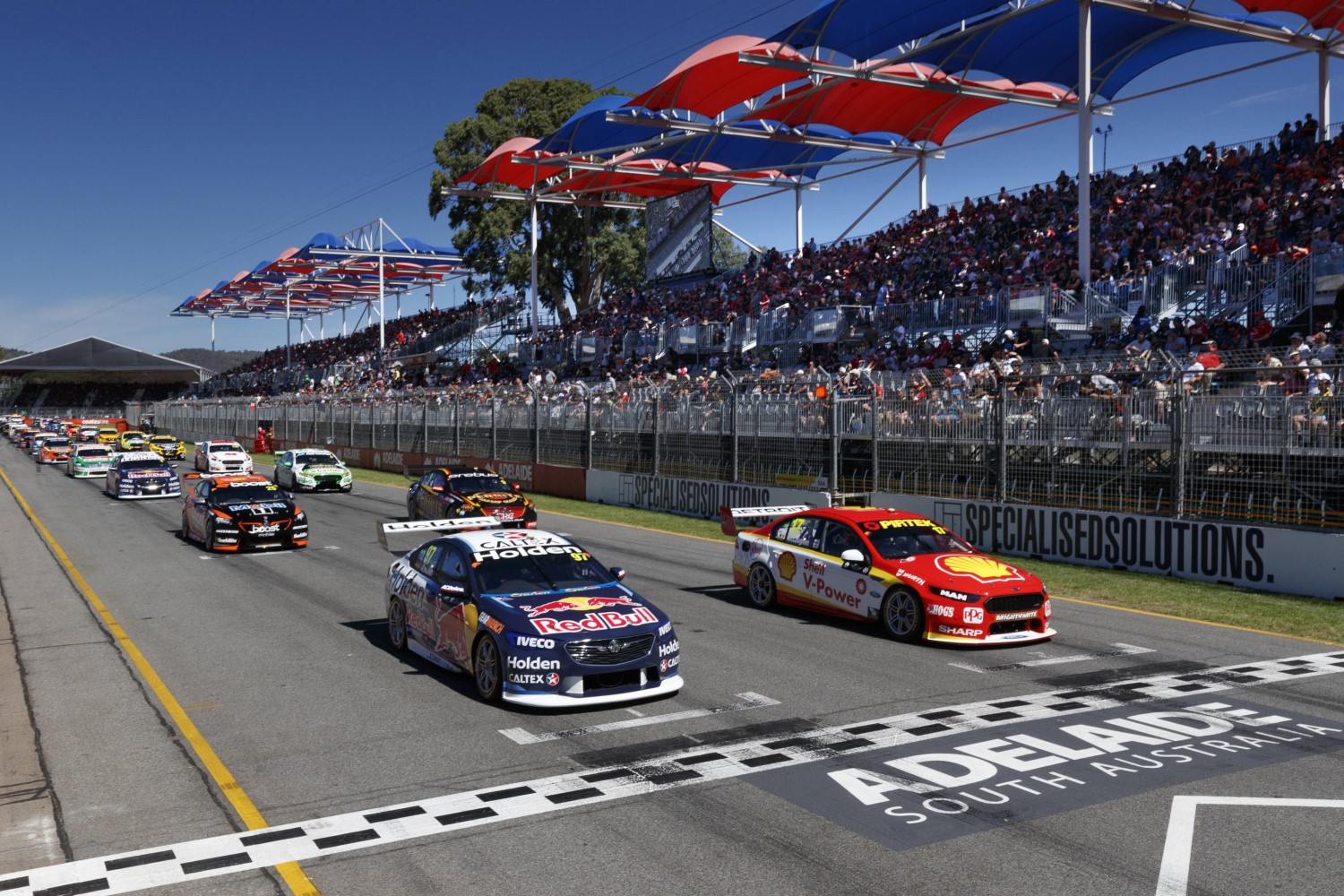 A huge crowd of 90,000 people packed the Adelaide street circuit today to watch the racing
"I am killing myself but that guy (Van Gisbergen) is pretty good at this track," Reynolds said. "I didn't expect myself to be that good to be fair but my car is working really well."
Whincup was in the mix before a transmission failure ended his bid, leaving van Gisbergen to stave off the two Holdens of Reynolds of Tander. The result means Whincup misses out on Championship points for the race, leaving him in 15th on the ladder.
It also ended Whincup's incredible record of 136 consecutive races without a DNF result, spanning back to 2013. Shell V-Power ace and 2017 Championship runner-up, Scott McLaughlin, blew a tyre early while in third position but finished 10th to claim a valuable 207 points for the weekend.
"We had the fastest car and it seemed to be under control," Whincup said.
"The gearbox temp was going up and up and up, we could see it coming, but there's nothing you can do, you've just got to keep pressing on and then, bang, no drive. It's unfortunate, it's the one that got away, but that's motorsport I guess."
McLaughlin, too, suffered from an incident no fault of his own when it appeared an object on the track pierced his front right tyre which slowly deflated, forcing him into an extra pit stop.
"It was going to be an awesome battle," said McLaughlin who was stalking the leaders when the tyre went down. "It's one of those things but we are still stoked. One day I am going to get the Adelaide thing right."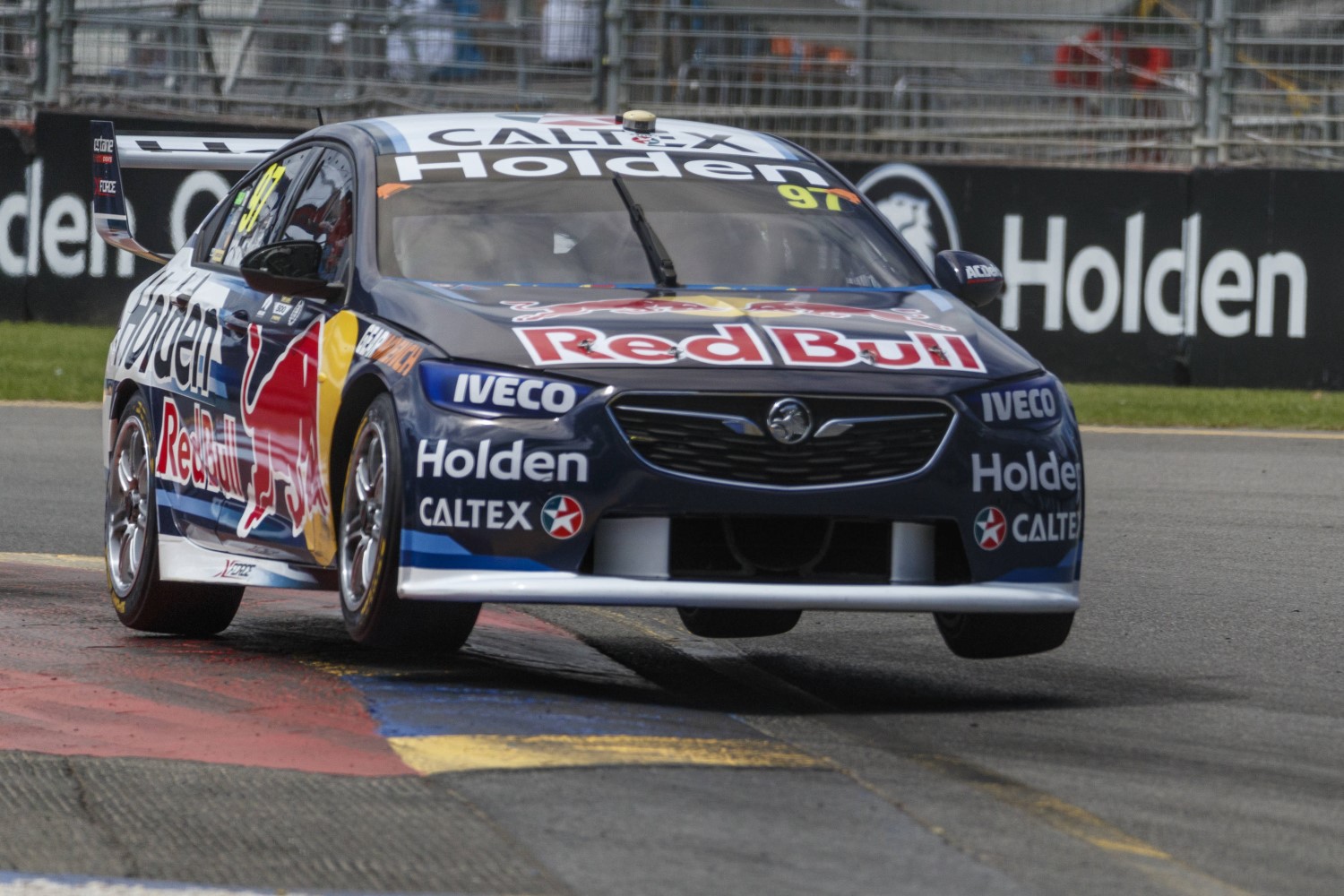 Van Gisbergen charges in his Red Bull Holden
After working on the car overnight to improve pace, Scott McLaughlin hit the track in his No.17 Shell V-Power Ford taking a solid 3rd place in the Top 10 Shootout this morning, before a strong start to get himself up to second across the opening stint of the race. He was third when a tyre deflated through Adelaide's super-fast turn eight, forcing him to limp back to the pits. He rejoined down the order in 22nd, and then mounted a stellar recovery drive to finish 10th after the additional pitstop. He is now 5th in the points standings after the opening event of the season.
"We're gutted. I think it was going to be a really great race being SVG and I, and we missed out on that which was disappointing. From where we started on Friday, the team did an incredible job to give me the car I had today. It was an absolute jet. Such a shame for it to be taken away thanks to a tyre, but that's motorsport. We had some fun coming through the pack at the end there, too."
The 20th edition of the Adelaide 500 will officially close tonight with a performance by international superstar Robbie Williams. An estimated 90,000 fans poured through the gates today, bringing the four-day total to an estimated 273,500.
The Virgin Australia Supercars Championship heads to the Rolex Formula One Australian Grand Prix on March 22-25 in Melbourne, the first time in two decades points have been on offer at Albert Park.
Race 2 Results
| | | | | | |
| --- | --- | --- | --- | --- | --- |
| POS | No. | DRIVER | TEAM | TIME | POINTS |
| 1 | 97 | Van Gisbergen | Red Bull Holden Racing Australia | 1:48:02.091 | 150 |
| 2 | 9 | Reynolds | Erebus Motorsport | +0.825 | 138 |
| 3 | 33 | Tander | Wilson Security Racing GRM | +3.632 | 129 |
| 4 | 55 | Mostert | Supercheap Auto Racing | +5.956 | 120 |
| 5 | 6 | C. Waters | Monster Energy Racing | +11.271 | 111 |
| 6 | 25 | Courtney | Mobil 1 Boost Mobile Racing | +13.950 | 102 |
| 7 | 888 | Lowndes | Team Vortex | +14.683 | 96 |
| 8 | 2 | S. Pye | Mobil 1 Boost Mobile Racing | +16.886 | 90 |
| 9 | 23 | Caruso | Nissan Nismo | +17.272 | 84 |
| 10 | 17 | McLaughlin | Shell V-Power Racing Team | +25.086 | 78 |
| 11 | 14 | Slade | Brad Jones Racing | +25.798 | 72 |
| 12 | 230 | Davison | Milwaukee Racing | +30.235 | 69 |
| 13 | 5 | Winterbottom | The Bottle-O Racing Team | +30.727 | 66 |
| 14 | 15 | R. Kelly | Nissan Motorsport | +34.923 | 63 |
| 15 | 8 | Percat | Brad Jones Racing | +35.577 | 60 |
| 16 | 12 | Coulthard | Shell V-Power Racing Team | +42.185 | 57 |
| 17 | 99 | A. de Pasquale | Erebus Motorsport | +44.046 | 54 |
| 18 | 78 | S. De Silvestro | Nissan Nismo | +51.846 | 51 |
| 19 | 34 | J. Golding | Wilson Security Racing GRM | +1:03.203 | 48 |
| 20 | 56 | R. Stanaway | Tickford Racing | +1:06.355 | 45 |
| 21 | 35 | T. Hazelwood | Bigmate Racing | +1 Lap | 42 |
| 22 | 19 | J. Le Brocq | TEKNO Woodstock Racing | +1 Lap | 39 |
| 23 | 21 | Blanchard | CoolDrive Racing | +7 Laps | 36 |
| 24 | 18 | Holdsworth | Preston Hire Racing | +8 Laps | 33 |
| 25 | 7 | Heimgartner | Nissan Motorsport | +17 Laps | 30 |
| NC | 1 | Whincup | Red Bull Holden Racing Australia | +48 Laps | 0 |
DRIVERS' CHAMPIONSHIP POINTS
| | | |
| --- | --- | --- |
| 1. | Shane van Gisbergen | 300 |
| 2. | David Reynolds | 258 |
| 3. | James Courtney | 240 |
| 4. | Chaz Mostert | 216 |
| 5. | Scott McLaughlin | 207 |
| 6. | Garth Tander | 201 |
| 7. | Craig Lowndes | 180 |
| 8. | Mark Winterbottom | 177 |
| 9. | Cameron Waters | 168 |
| 10. | Scott Pye | 168 |
| 20. | Fabian Coulthard | 99 |
TEAMS' CHAMPIONSHIP POINTS
| | | |
| --- | --- | --- |
| 1. | Walkinshaw Andretti United/Mobile Boost 1 | 408 |
| 2. | Triple Eight Race Engineering | 402 |
| 3. | Tickford Racing (Winterbottom/Mostert) | 393 |
| 4. | Erebus Motorsport | 360 |
| 5. | Shell V-Power Racing Team | 306 |
| 6. | Brad Jones Racing | 264 |
| 7. | Garry Rogers Motorsport | 249 |
| 8. | NISMO | 246 |
| 9. | Tickford Racing (Waters/Stanaway) | 213 |
| 10. | Nissan Motorsport | 183 |