Whincup starts title defense with qualifying crash in Adelaide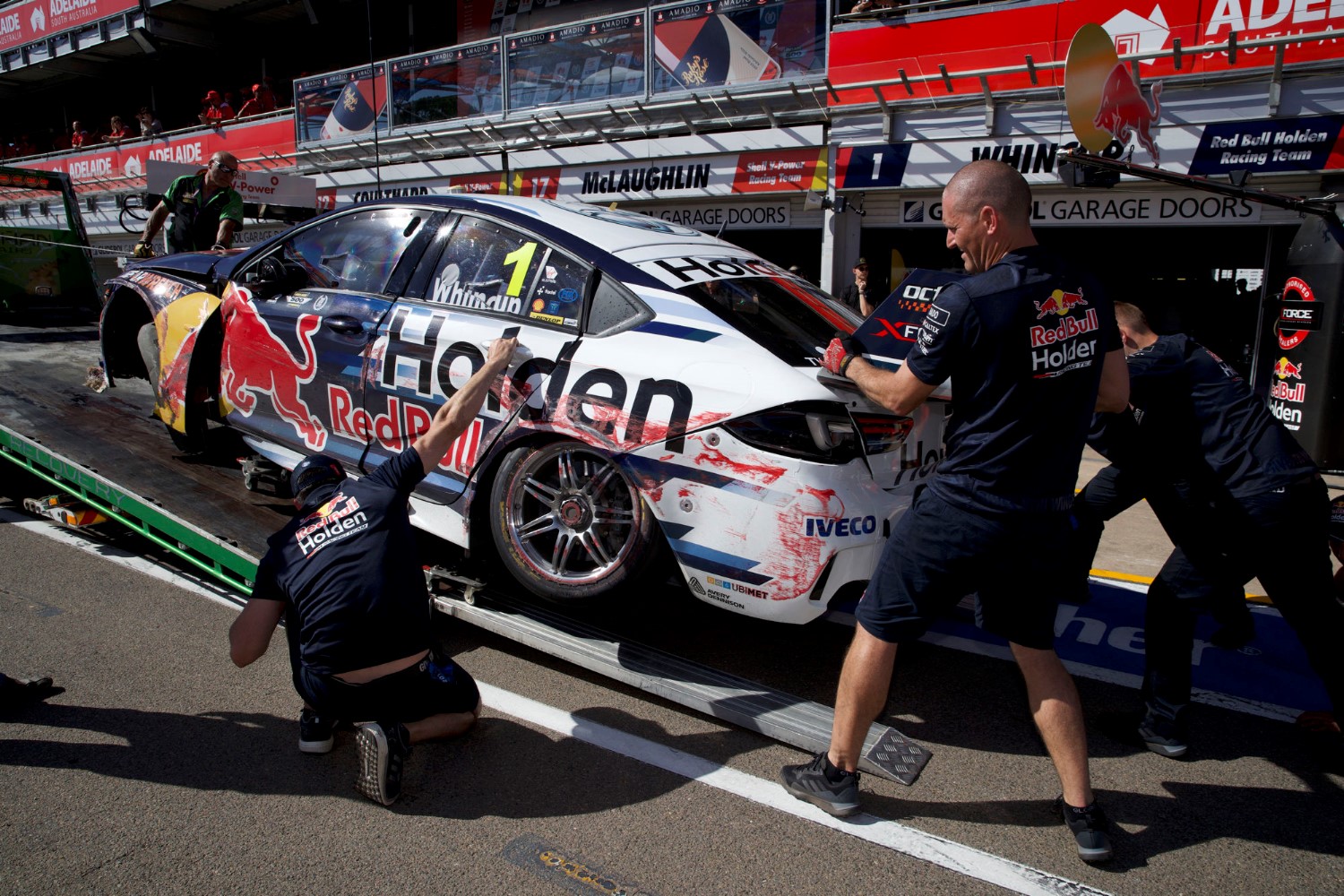 Whincup's car comes back on the flatbed
The 2018 Virgin Australia Supercars Championship has started in spectacular fashion with defending champion Jamie Whincup crashing out of qualifying at the Adelaide 500 today.
Whincup's teammate Shane van Gisbergen's run of strong results in Adelaide continued when he recorded the quickest time in qualifying, while Whincup's crew has some major repair work ahead of them this evening to get his car ready for the opening race of the year tomorrow.
Whincup's left-front tire was pulled off his brand new Holden ZB Commodore in the final lap of this afternoon's qualifying session and bounced down the Adelaide street circuit while the seven-time champion somehow managed to avoid further damage at high-speed.
Whincup's incident brought out a red flag which meant other drivers gunning for a spot in tomorrow morning's ARMOR ALL Top 10 Shootout weren't able to finish their lap as planned.
"I was up, I was pushing hard. The car wasn't that flash through Turn 8. I put it on the line, made a mistake, ran wide, bang," Whincup told Supercars.com.
"It was a big impact. It's all violent stuff. It slammed in hard. The thing just folds around you, and then the wheel flies off.
"It's tough, but that's the game we play. That's motorsport. There are 25 other people strapped into these things and if you make a little mistake, that's the consequences."
Scott McLaughlin is a close 2nd
That meant defending Adelaide 500 champion Shane van Gisbergen will head into the Shootout as the quickest driver, ahead of Shell V-Power ace Scott McLaughlin and former Supercars Champion, James Courtney, who was third quickest.
"It wasn't nice to come around and see wheels flying everywhere," van Gisbergen said of the end to the session.
"Jamie is OK, that's the main thing, and hopefully the car can be fixed for tomorrow. It should be.
Whincup did record the quickest time of the day in this morning's opening practice, while close rival McLaughlin was quickest in practice two.
His crash was the third of the day at the notorious Turn 8, following Sandown 500 winner Cam Waters and rookie Jack Le Brocq coming unstuck at the same spot earlier in the day.
Mark Winterbottom, Bathurst champion David Reynolds, Nick Percat, Whincup, Will Davison, Lee Holdsworth and Rick Kelly will contest the Armor All Top 10 Shootout at 12:25pm AEDT to determine just who will claim the first Pole Position of 2018 for tomorrow afternoon's 250km race around Adelaide.
The race will run from 3:50pm AEDT tomorrow afternoon in front of what is tipped to be a huge crowd in Adelaide after an estimated 63,500 attended today.
Qualifying Race 1 Results
| | | | | | | |
| --- | --- | --- | --- | --- | --- | --- |
| POS | No. | DRIVER | TEAM | Time | GAP | LAPS |
| 1 | 97 | Van Gisbergen | Red Bull Holden Racing Australia | 1:20.247 | +0.000s | 8 |
| 2 | 17 | McLaughlin | Shell V-Power Racing Team | 1:20.248 | +0.001 | 9 |
| 3 | 25 | Courtney | Mobil 1 HSV Racing | 1:20.254 | +0.007 | 11 |
| 4 | 5 | Winterbottom | The Bottle-O Racing Team | 1:20.297 | +0.050 | 12 |
| 5 | 9 | Reynolds | Erebus Motorsport | 1:20.420 | +0.173 | 10 |
| 6 | 8 | Percat | Brad Jones Racing | 1:20.452 | +0.206 | 9 |
| 7 | 230 | Davison | Milwaukee Racing | 1:20.488 | +0.242 | 12 |
| 8 | 18 | Holdsworth | Preston Hire Racing | 1:20.491 | +0.244 | 12 |
| 9 | 1 | Whincup | Red Bull Holden Racing Australia | 1:20.511 | +0.264 | 7 |
| 10 | 15 | R. Kelly | Nissan Motorsport | 1:20.518 | +0.271 | 12 |
| 11 | 7 | Heimgartner | Nissan Motorsport | 1:20.560 | +0.314 | 11 |
| 12 | 55 | Mostert | Supercheap Auto Racing | 1:20.594 | +0.347 | 9 |
| 13 | 2 | S. Pye | Mobil 1 HSV Racing | 1:20.657 | +0.410 | 8 |
| 14 | 14 | Slade | Brad Jones Racing | 1:20.733 | +0.486 | 9 |
| 15 | 888 | Lowndes | Team Vortex | 1:20.733 | +0.486 | 8 |
| 16 | 56 | R. Stanaway | Tickford Racing | 1:20.802 | +0.555 | 12 |
| 17 | 33 | Tander | Wilson Security Racing GRM | 1:20.809 | +0.563 | 9 |
| 18 | 12 | Coulthard | Shell V-Power Racing Team | 1:20.853 | +0.607 | 9 |
| 19 | 6 | C. Waters | Monster Energy Racing | 1:20.887 | +0.641 | 5 |
| 20 | 23 | Caruso | Nissan Nismo | 1:20.910 | +0.663 | 9 |
| 21 | 99 | A. de Pasquale | Erebus Motorsport | 1:21.134 | +0.888 | 11 |
| 22 | 21 | Blanchard | CoolDrive Racing | 1:21.145 | +0.898 | 10 |
| 23 | 78 | S. De Silvestro | Nissan Nismo | 1:21.258 | +1.011 | 12 |
| 24 | 35 | T. Hazelwood | Bigmate Racing | 1:21.507 | +1.260 | 11 |
| 25 | 34 | J. Golding | Wilson Security Racing GRM | 1:21.753 | +1.506 | 8 |
| 26 | 19 | J. Le Brocq | TEKNO Woodstock Racing | 1:22.817 | +2.570 | 5 |