Latest F1 news in brief – Tuesday
Horner was smiling on Monday but he won't be when Mercedes turns up their power

1000hp engine should make Mercedes confident – Horner

Teams propose to extend first winter test
McLaren dumping Honda was 'mistake' – Hartley
Force India still to reveal new name, 2018 car
Aston Martin Reveals $121M Pre-Tax Profit In '17
Red Bull boss cries foul over Mercedes-Ferrari moves
Williams Sponsorship Deal with Martini to Conclude at end of 2018
1000hp engine should make Mercedes confident – Horner
(GMM) Christian Horner has confirmed team colleague Dr Helmut Marko's admission that Red Bull will struggle to win the 2018 title.
Daniel Ricciardo topped the times as winter testing kicked off at cold Barcelona on Monday, but boss Horner said of Red Bull's hopes: "We expect to reduce the gap to the top.
"Mercedes is the favorite, and if the rumors about their 1000 horse power engine are correct, then they can face the season very confidently."
Red Bull's customer supplier Renault ended last season with serious reliability problems and with still only the third best engine on the grid.
Horner said: "I see a Renault that is better prepared for the new season.
"When reliability is better, they can turn up the power. We've won every grand prix and world championship as Renault customers."
And he said Red Bull could still have something up its sleeve for Australia.
"It will get really interesting next week, when the three best teams in particular will bring new parts late enough that their opponents cannot react," Horner predicted.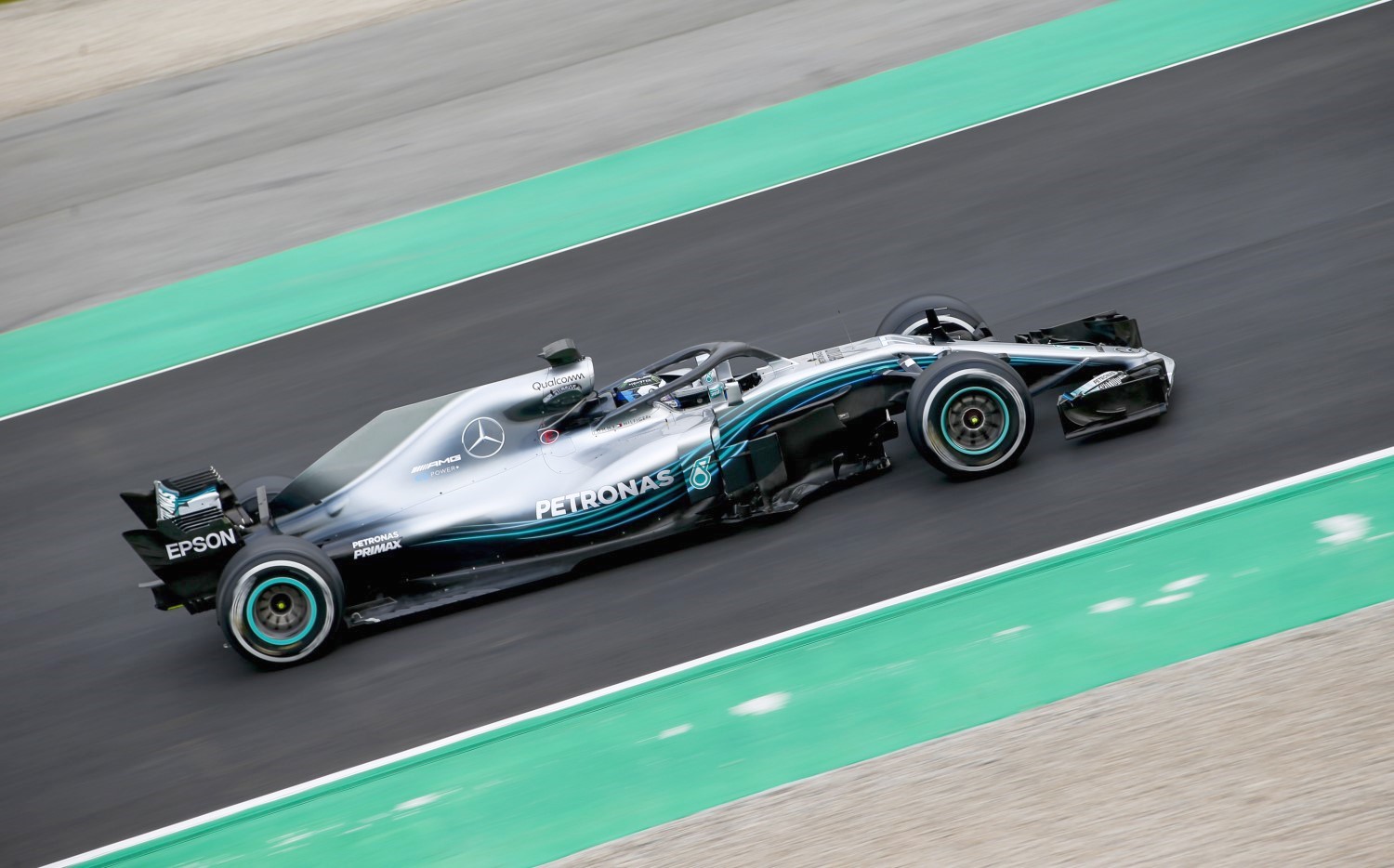 Mercedes dominance bad for the sport. But F1 is not a sport. F1 is an engineering exercise. Engineering is not a sport.
For 2019, Red Bull is considering a switch to Honda, who are now powering the energy drink company's second F1 team, Toro Rosso.
"We are open to everything when it comes to 2019," Horner said, "but of course we are watching very closely what happens with Honda and Toro Rosso."
But more immediately, F1 could be looking at another Mercedes title this year, Horner predicted.
"Dominance is never good for the sport," he said. "And dominance mainly because of the engine shows what's wrong with the sport.
"It also shows how important it is that we get it right with the engines for 2021. We need to be looking at that now, because if we let it get much later than the summer, the engine manufacturers will say they don't have time to prepare.
"This is where we really need the FIA and Liberty. The engine question must have priority this year," Horner said.
But another priority for Red Bull will be talks with Daniel Ricciardo, whose contract is expiring. The Australian driver said on Monday that he thinks those talks will begin in April.
"He and we will want to see how the season starts to unfold, and then in due course we'll decide what to do," Horner said.
Teams propose to extend first winter test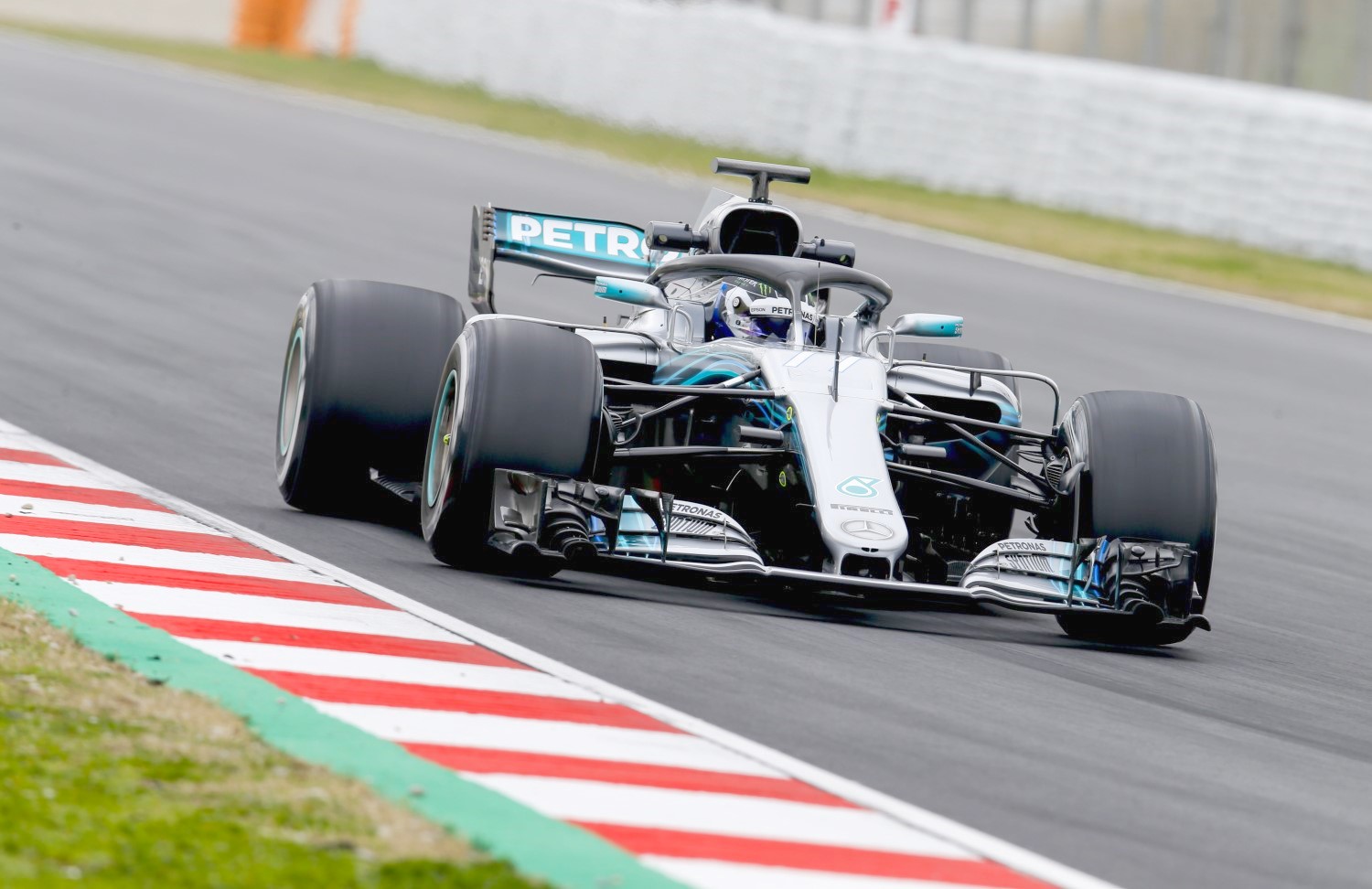 It will be too cold for any real fast times today
(GMM) F1 teams are proposing to extend this week's Barcelona test.
The first winter test was scheduled to take place between Monday and Thursday, but snow is forecast in Barcelona on Wednesday.
Not just that, low temperatures are already affecting the teams' ability to get sufficient heat into the tires.
"The weather is the biggest problem," Ferrari's Kimi Raikkonen said after Monday's running.
"It's about 8 degrees and that's just too cold."
Renault's Nico Hulkenberg agrees: "It was a bit scary at first because it was like driving in the wet."
As for the snow forecast for Wednesday, Fernando Alonso said: "If it's like that, we will not drive much and that's a shame for the fans."
Due to the forecast, some teams are proposing to extend the test until Friday, potentially cancelling Wednesday's running altogether.
"I've heard that," Renault driver Carlos Sainz told El Mundo Deportivo newspaper.
"Personally I'd like it because Friday will be a normal day in Barcelona — cool but sunny. If it happens, it's great," he said.
| | | | | | |
| --- | --- | --- | --- | --- | --- |
| DAY | DESCRIPTION | HIGH / LOW | PRECIP | WIND | HUMIDITY |
| TODAY | Mostly Cloudy | 42°36° F | 20% | ESE 9 mph | 53% |
| WED | Rain | 48°46° F | 100% | NE 14 mph | 85% |
| THU | PM Showers | 59°50° F | 60% | E 10 mph | 89% |
| FRI | Partly Cloudy | 59°47° F | 0% | W 16 mph | 61% |
McLaren dumping Honda was 'mistake' – Hartley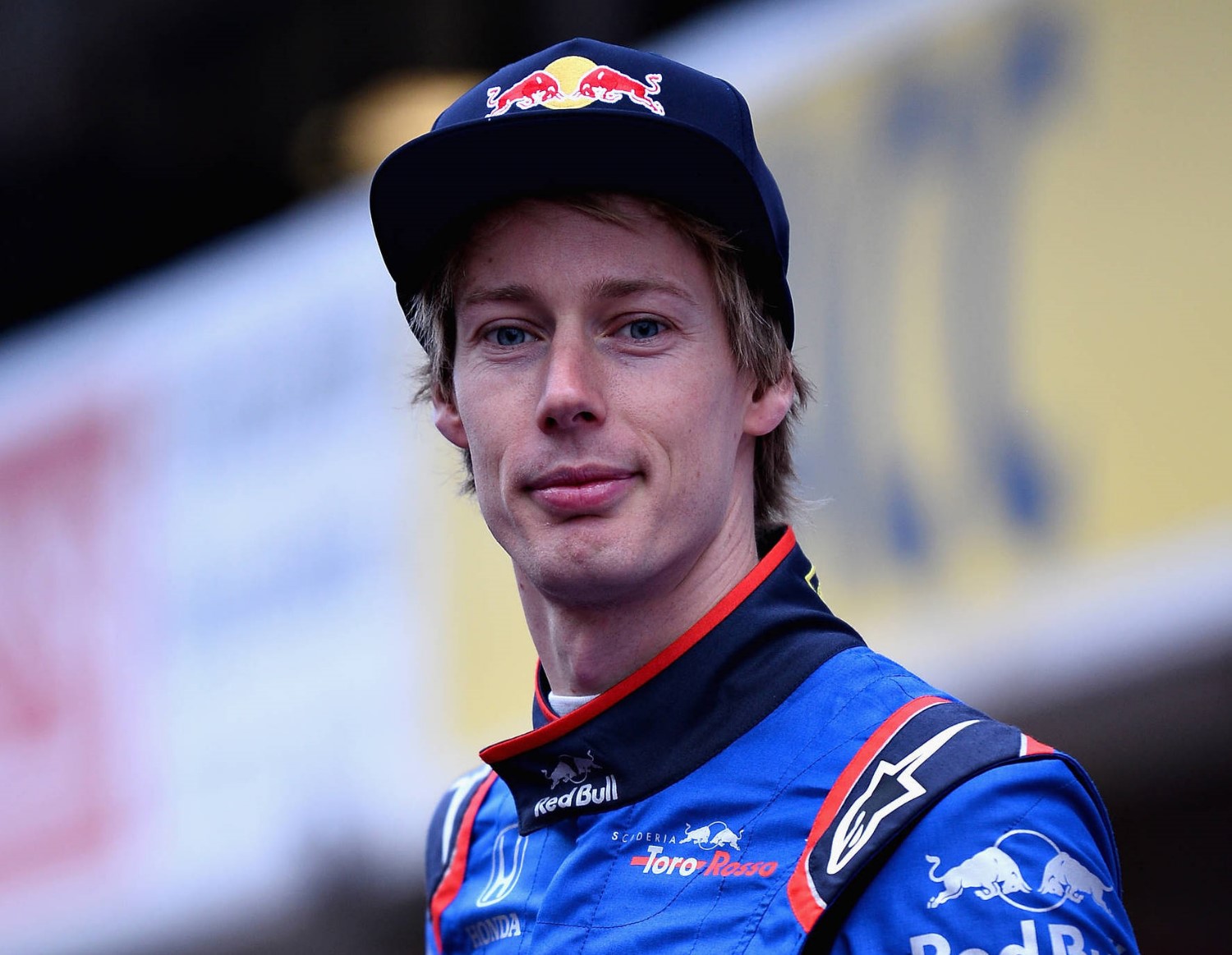 Hartley says Honda faster than Renault
(GMM) Brendon Hartley thinks McLaren dumping Honda at the end of last year was "a mistake".
"I think they've made a mistake," the New Zealander told Marca sports newspaper on Monday.
"The engine is very drivable and I have more power than last year," he added.
Hartley had just tested Toro Rosso's newly Honda-powered 2018 car in Barcelona, and team boss Franz Tost also sounded positive.
"Honda developed at the end of last year and the trend is still the same," he said.
McLaren endured an abysmal three years with Honda and have switched to customer Renault power for 2018.
But Tost thinks Toro Rosso can target the top of the midfield this year with Honda.
"We have big medium and long term plans with Honda," he said.
"I always say the first three positions are gone in the championship, but everything is possible in the fight for fourth place."
As for the new Honda relationship, Tost said everything is going well.
"We are pleased with the progress in reliability and performance," he said.
"Working with Honda opens up access to vast resources and we are already benefitting from that."
On the other side of the coin, McLaren had a high-profile mishap as its 2018 winter season began when a wheel fell off Fernando Alonso's orange car on Monday.
"I'm happy for you," the Spaniard laughed to reporters. "It's a good story."
Indeed, he said it was only a minor issue and that everything is going well with the car and new Renault engine.
As for Tost saying he predicts a trouble-free season with Honda, McLaren executive Zak Brown smiled: "I don't think there's a team in the pitlane that will not have some trouble.
"Looking back over the past few years, a problem-free year is virtually impossible.
"We wish Honda and Toro Rosso all the very, but we're focusing on our program. And we're very satisfied with our progress," Brown added.
He also applauded the FIA's clarification that engine suppliers need to provide their customers with identical equipment, even in the area of software.
"We have always been calm about Renault giving its customers equality," Brown said. "It was never a concern, but I'm glad that the FIA has clarified it."
Force India still to reveal new name, 2018 car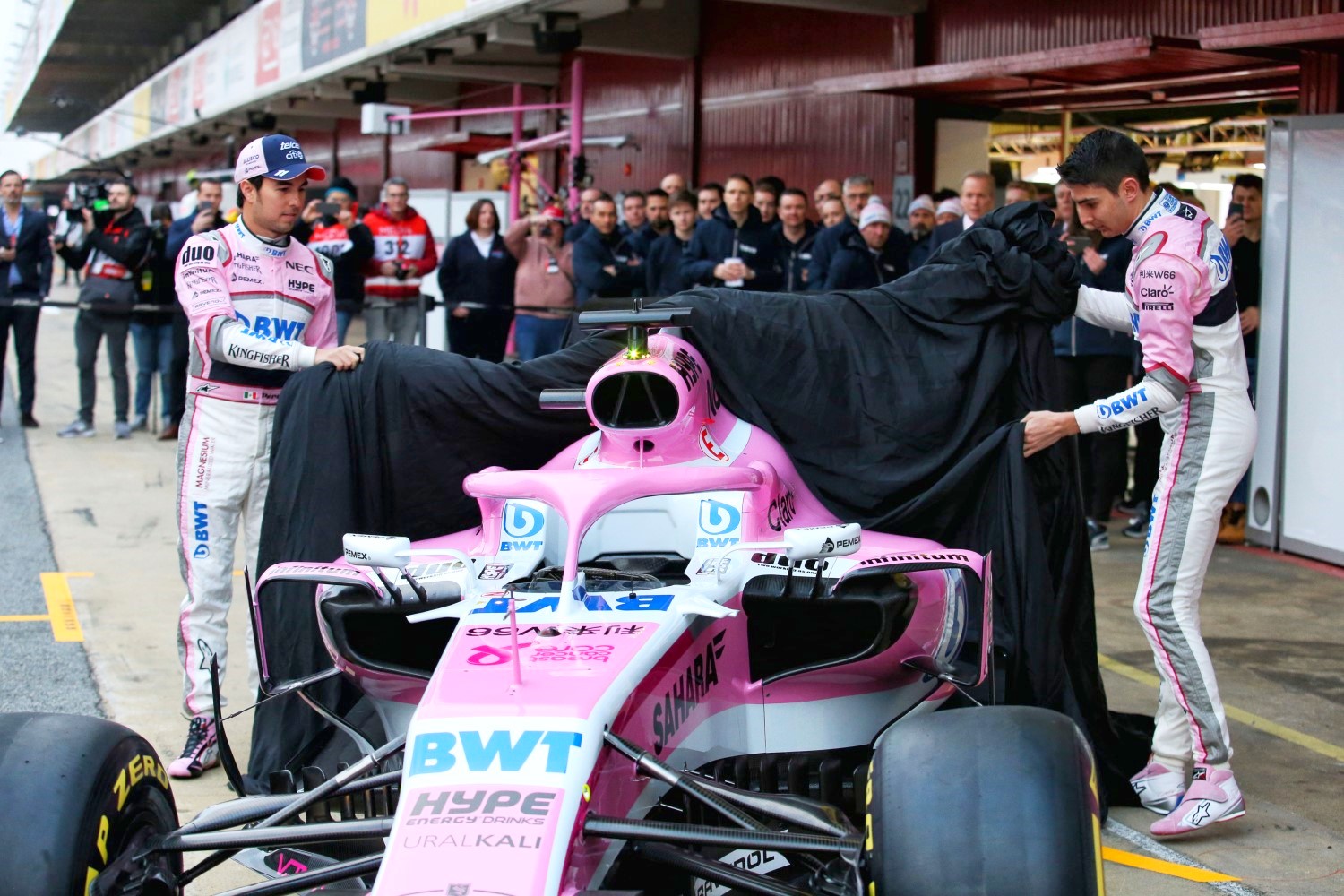 Force India only unveiled an interim car
(GMM) Force India is still planning a name change before the 2018 season begins in Australia.
On Monday, Sergio Perez and Esteban Ocon pulled a sheet off what is believed to be only a modified 2017 car.
Marca sports newspaper said the full 2018 car will be in Barcelona on Wednesday or Thursday.
That is why Russian test driver Nikita Mazepin rather than Perez or Ocon was in the cockpit on the first day.
As for the team's new name, sporting boss Otmar Szafnauer said that is still coming.
"We haven't quite decided and it also needs to go through the formal approval process," he said.
He said the overalls and shirts worn by drivers and personnel on Monday were just "interim" ones, not featuring any Force India-specific branding.
"We'll have the real ones for the first race — a bit like the car," he said.
Aston Martin Reveals $121M Pre-Tax Profit In '17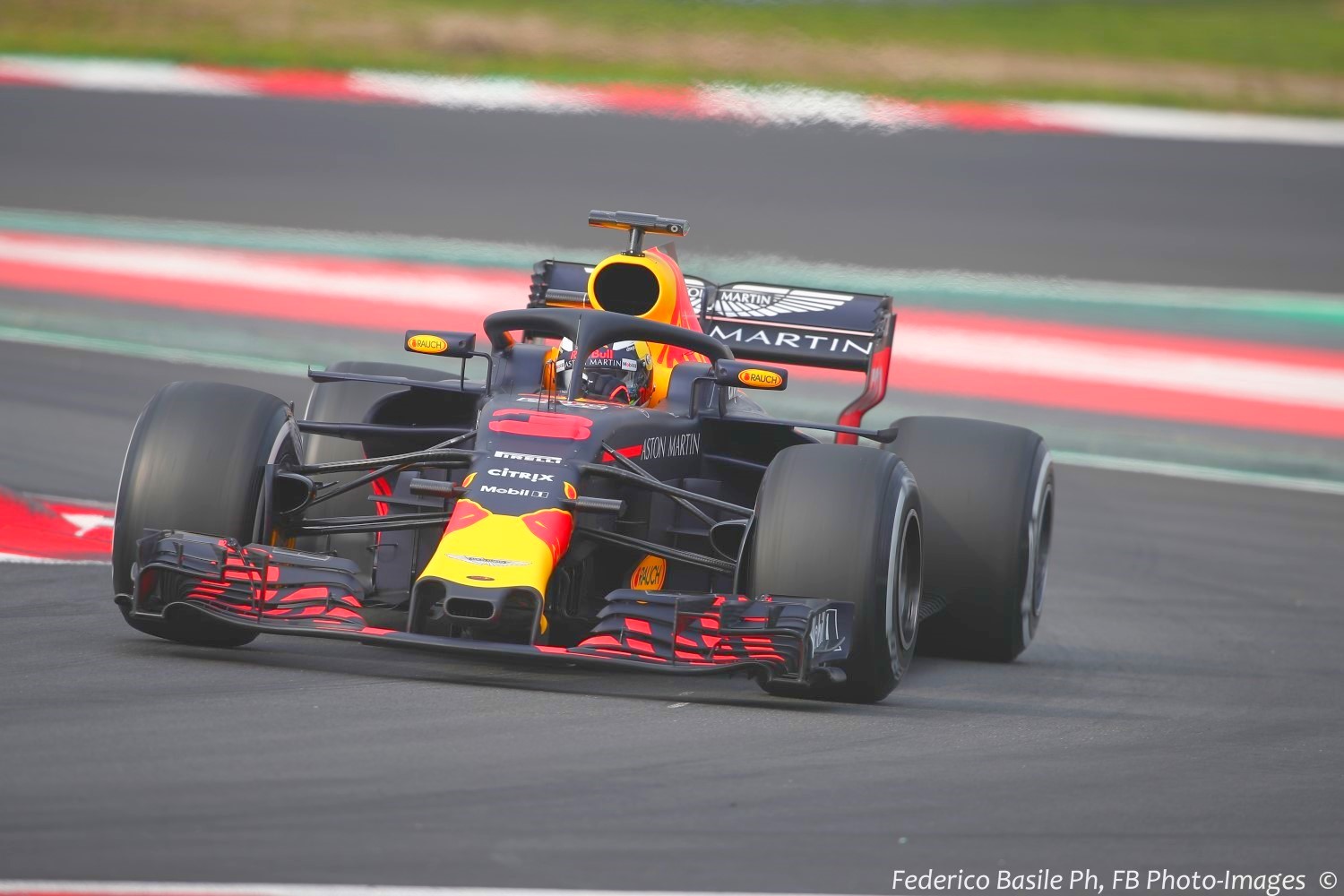 Aston Martin sponsors the Red Bull F1 team
Aston Martin CEO Andy Palmer declared "job done" on the company's turnaround after the British luxury car maker "raced back to profit last year, ahead of a possible flotation," according to Jon Yeomans of the London TELEGRAPH
Palmer, the former Nissan exec who "came on board" in '14 to reverse the company's fortunes, said, "It's an enormous growth story. Our core rebuilding is largely done. The next step is portfolio expansion."
Aston Martin "swung to a pre-tax profit" of $121.5M in '17, from a loss of over $200M the year before, "reversing eight years of losses."
It also hit "record revenues" of $1.22B, up 48% versus '16, as it shifted 5,117 units — a 58% "jump in volumes."
Additionally, Aston Martin struck a deal to sponsor the Red Bull Formula 1 team, which renamed itself Aston Martin Red Bull Racing, "with a view to eventually building engines for the sport." TELEGRAPH
Red Bull boss cries foul over Mercedes-Ferrari moves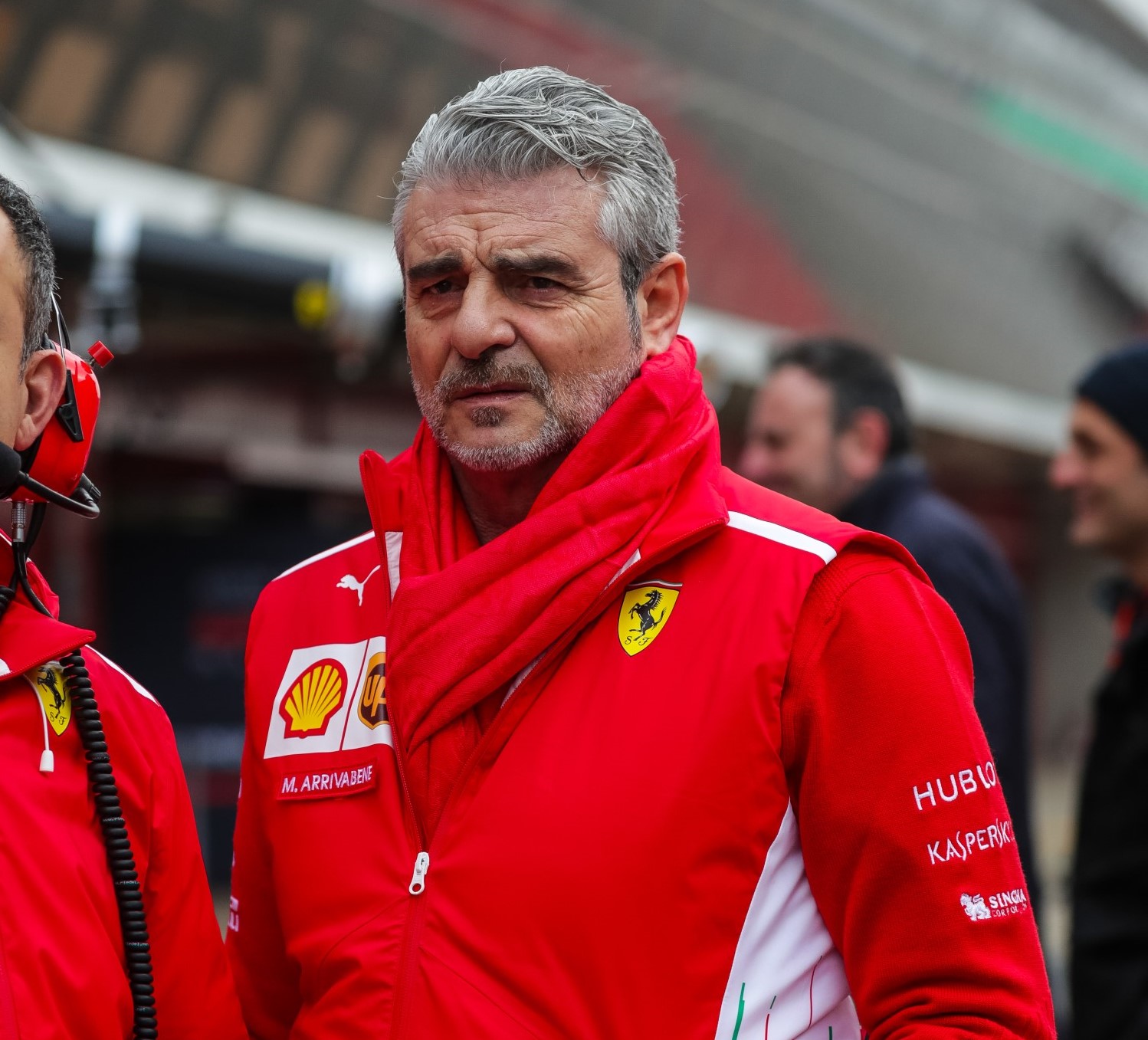 Ferrari boss Arrivabene. If Horner thinks Mercedes and Ferrari are going to let their premium car brands get beat by his econobox brand he's kidding himself
Mercedes and Ferrari are "working as one team these days", according to Red Bull team principal Christian Horner, as Formula 1's political battle reignited at winter testing.
Both Mercedes and Ferrari, F1's dominant teams in 2017, have raised opposition to Liberty Media's proposals for the future of F1 with Scuderia (Ferrari) president Sergio Marchionne warning Ferrari could quit the sport unless the plans are redrawn.
Speaking on the first day of pre-season testing, Mercedes boss Toto Wolff told Sky Sports that many of Marchionne's comments "make absolute sense".
Told of the remarks, Red Bull chief Horner responded: "Mercedes and Ferrari are working as one team these days.
"Sometimes it is difficult to tell which is which. For the last couple of years there has been a very tight relationship between Ferrari and Mercedes. They even broadcast each other's launches and things like that these days."
McLaren have called on Liberty Media to finalize their plans for the sport regardless of the threats of a revolt and a concurring Horner says F1's new owners must take control of F1's destiny.
"We are focused on going racing, things that we can control, there are new owners in Formula 1 in Liberty and they have to decide what they want Formula 1 to look like moving forwards," Horner said.
"I'm sure they will lay out their road map and plan during the course of this season and we will go from there. But of course there is going to be a lot of posturing and positioning and you can see that has already started in certain quarters."
IS THE BREAKAWAY THREAT REAL?
On the eve of the start of testing, former Formula 1 supremo Bernie Ecclestone suggested Ferrari could lead a breakaway series unless their demands were pacified and urged Liberty Media not to assume the Scuderia were bluffing in their threats to quit.
While Wolff has denied the world champions are considering walking out of F1, the Silver Arrows chief reserved the right to offer constructive criticism of Liberty Media's proposals.
"We are committed to Formula 1, this is our joint-platform and we all benefit if it is running well," Wolff said.
"This is what we are concentrating on, giving the management of Formula 1 and the FIA the utmost support to solve the problems, to make it great, better the show and this must be our clear No. 1 priority.
"Most of the things Sergio says make absolute sense to me and this overlays with our position. We are critical on some of the things because we want Formula 1 to do well. We invest a lot in this platform, it's a major global sport that has grown over the years and we feel responsible."
Horner also believes a rival series is unlikely.
"Bernie knows every time the Concorde came up for renewal there was talk of a different series," Horner said.
"Since my involvement over the past 14 years, every time it's up for renewal, bang there is another series mooted. It hasn't happened yet and I don't think it's going to happen at the moment.
"Formula 1 is and will be the pinnacle of motorsport and it is down to the commercial rights holder and the governing body to say 'this is what the future looks like' and then it's down to the teams whether they want to be part of it or not." by JONATHAN GREEN AND CRAIG SLATER, SKYSPORTS.COM
Williams Sponsorship Deal with Martini to Conclude at end of 2018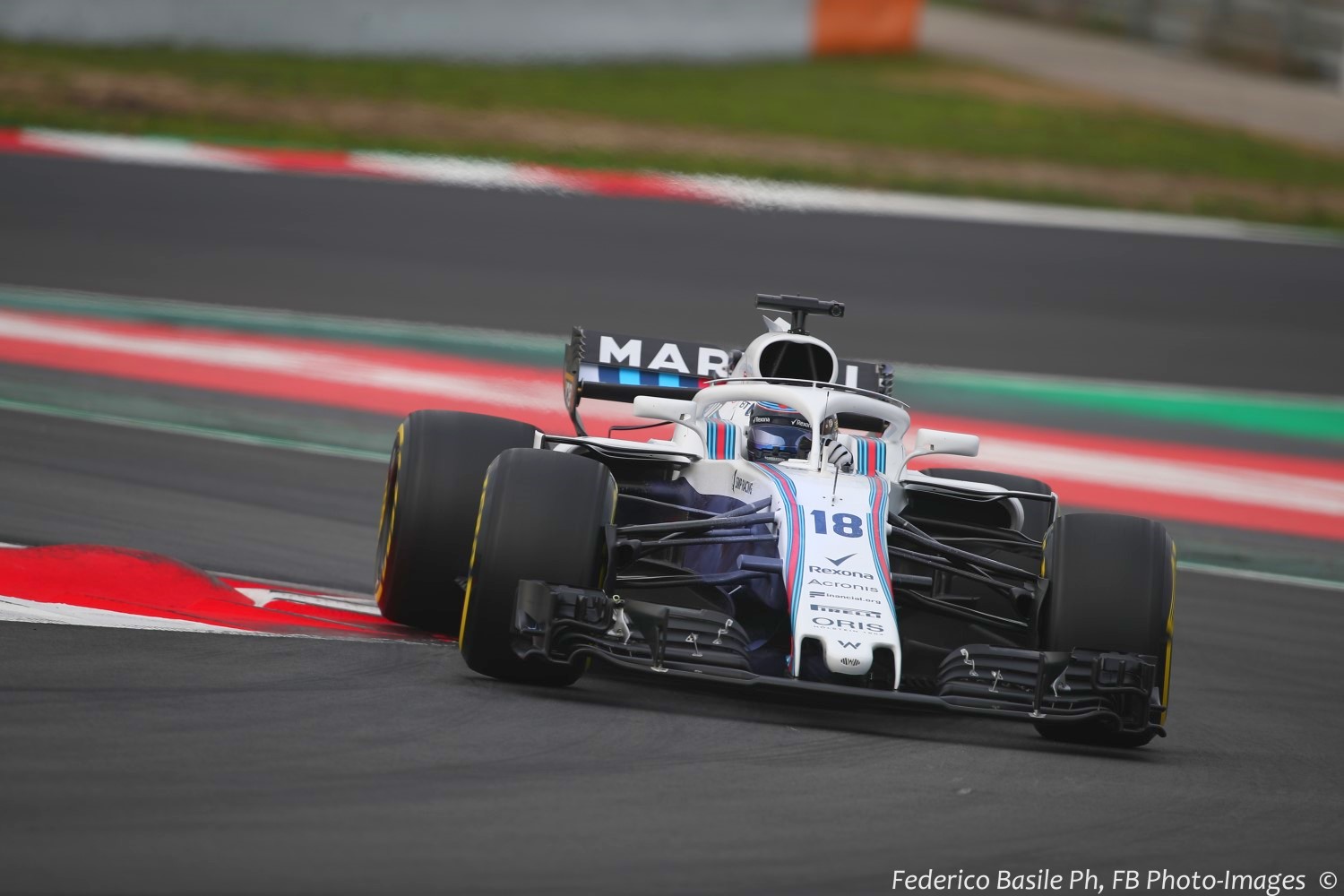 The Williams team will be fine. Daddy Stroll will keep it afloat
Martini will end their sponsorship of the Williams F1 Team at the end of 2018 and step away from Formula 1 completely, as their parent company, Bacardi Group, feels the sport is no longer aligned to its strategic objectives.
The sponsorship deal began in 2014, and has seen the likes of Valtteri Bottas, Felipe Massa and Lance Stroll race in the Martini colors, while Stroll and Sergey Sirotkin will don those colors in 2018.
According to Motorsport.com, the two parties discussed a potential extension to the contract with Williams, while Martini also discussed the possibility of switching to another team, but the final decision was made by Bacardi Group to sever its ties to the sport completely.
"We have discussed extending beyond 2018," said Claire Williams, deputy team principal of Williams, to Motorsport.com. "While we would both like to do so, the Bacardi Group have told us that they will step away entirely from Formula 1 when our contract expires at the end of this year.
"They have many brands to support and obviously their strategic priorities evolve over time."
Stroll's Billionaire father, Lawrence Stroll, will cough up more money if he has to.