Latest F1 news in brief – Monday
The new Toro Rosso on track in Barcelona

Bad weather could affect F1 testing

Ball in McLaren court after Honda exit – Vandoorne
No Super Formula campaign for Wehrlein
Alonso's new McLaren loses wheel to start F1 testing
Red Bull unveils real colors and more detail of RB14
Bad weather could affect F1 testing
(GMM) Bad weather could affect the start of winter testing in Barcelona this week.
The action kicks off on Monday, and the forecast for the next few days around the Spanish city is for cold conditions, some rain — and perhaps even snow.
"It should be cold," agreed Ferrari's Sebastian Vettel.
"I don't know how much we will learn."
The F1 world always studies winter test laptimes closely, but Mercedes technical boss James Allison warned against that.
"It's never easy to do your tire homework in Barcelona," he said.
"First, it's usually cold. Secondly, the circuit has recently been resurfaced, which distorts the comparative data from previous years.
"But the situation is the same for everyone," the Briton added.
Ball in McLaren court after Honda exit – Vandoorne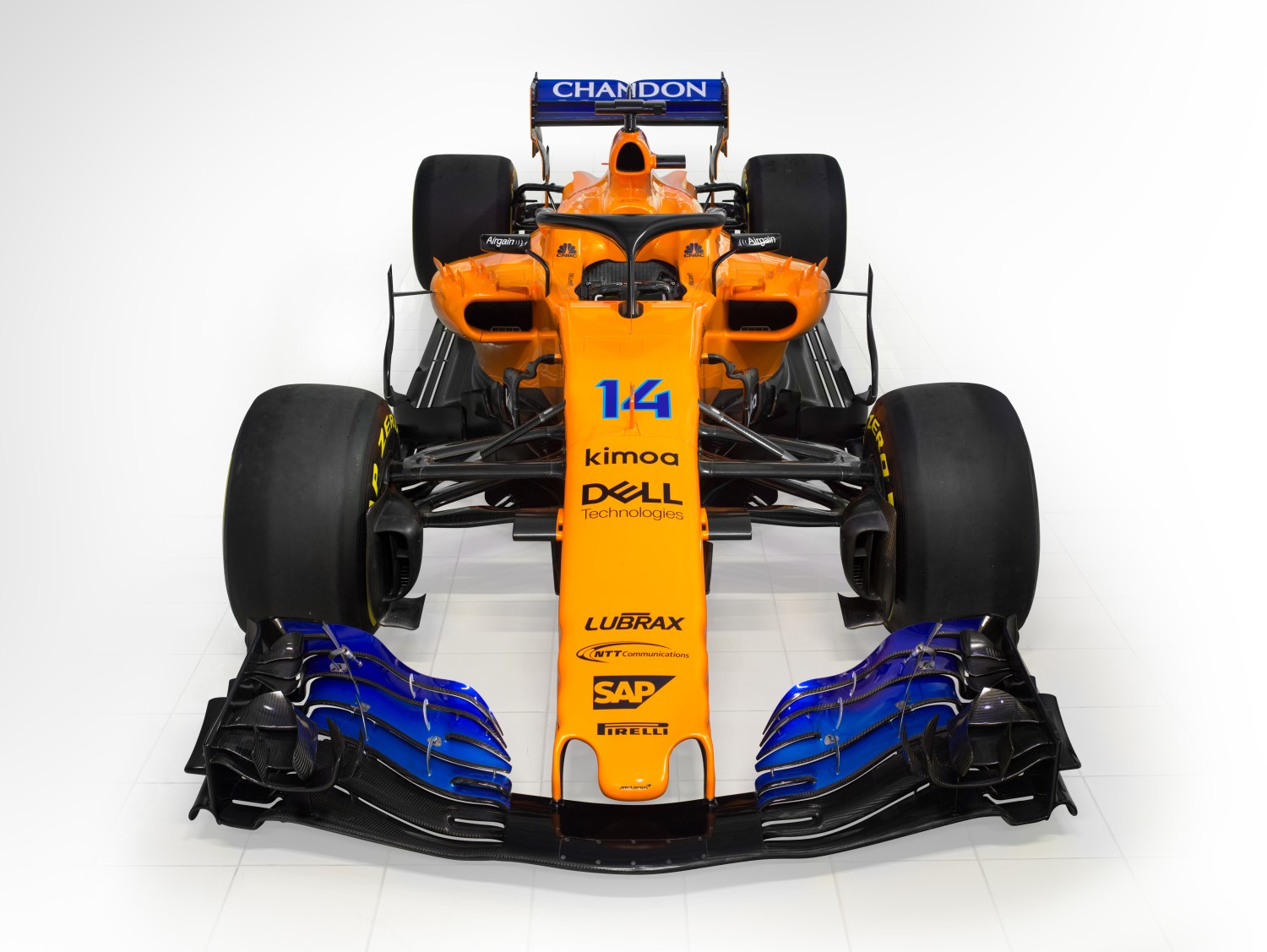 Stoffel Vandoorne – we can't blame Honda anymore
(GMM) Stoffel Vandoorne says the ball is now in McLaren's court after the British team dropped Honda at the end of last year.
In 2018, the team will use identical engines to race winner Red Bull and the Renault works team.
"Red Bull proved last year that you can win with a Renault engine," Vandoorne told the Belgian newspaper Het Laatste Nieuws.
"So you could say that the ball is in our court now that Honda is no longer here," he added.
However, 25-year-old Vandoorne said he is confident.
"The atmosphere is excellent and there is a much more direct contact with the Renault people than there ever was with Honda," he said.
"There are now far fewer problems that we have to deal with and therefore lose time and energy on."
The downside is that while McLaren insisted its 2017 chassis was good, engineers had to work hard over the winter to accommodate the very different Renault power unit.
But Vandoorne insisted: "The guys tell me that they had time to do everything that was needed. And as far as those adjustments are concerned, it was quite easy.
"You can safely say that the new car is a development of the chassis that we had already, which was excellent. So I do not think we have a disadvantage compared to the other teams that did not change their engine."
He is therefore confident that, after McLaren's three very bad years, better times are finally on the horizon.
"In principle we should do well, because our weakness is gone," said Vandoorne.
"But this is formula one and only the stopwatch will tell. At least we will have the advantage that we can really test this time in Barcelona, in contrast to last year when we were constantly in the garage."
As for reports cold and wet conditions could be descending on Barcelona, he smiled: "I do not want to think about that. The vibe in the garage is very positive."
No Super Formula campaign for Wehrlein
Pascal Wehrlein – where will he race?
(GMM) Pascal Wehrlein will not contest the top Japanese open wheeler series Super Formula in 2018.
Earlier, when it was announced that the ousted Sauber driver would be returning to DTM with Mercedes, he left the door open to a parallel Super Formula campaign.
But a Mercedes source told Speed Week: "We have decided together that Pascal will concentrate on the DTM and his activities in formula one.
"His calendar is already very full."
For instance, in addition to the full DTM calendar, Wehrlein will travel to every overseas F1 race this year to be Mercedes' official reserve driver.
However, he said: "I never associate racing with stress. I've been doing this since I was a kid.
"Of course I don't like to sit on a plane from 12 hours and suffer jetlag all the time, but that's just part of it," Wehrlein, 23, added.
His F1-related jetlag, however, won't result in any actual driving, with Mercedes confirming that Wehrlein will not do any Friday practice sessions.
"Of course it's always good to perform well in Friday practice, but in 90 minutes you can't show much anyway," Wehrlein said.
"I associate many more beautiful moments with winning DTM races than I do with performing well in a Friday practice session."
Alonso's new McLaren loses wheel to start F1 testing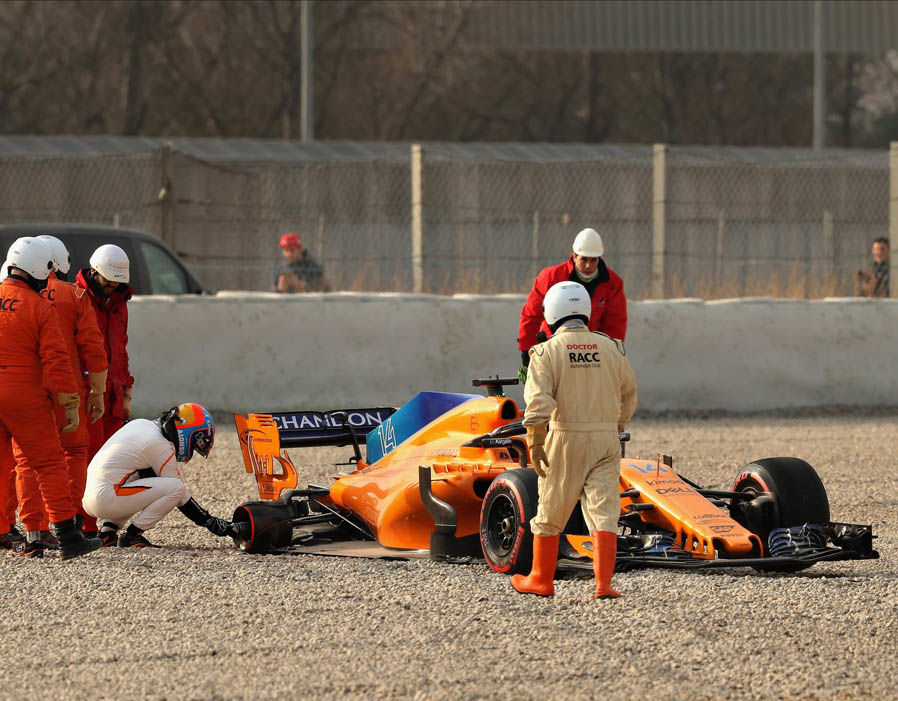 Alonso looks at car in gravel trap. It must have been Honda's fault
Fernando Alonso had a bad start to the Formula One season on Monday, going off the track and losing a wheel on his new McLaren on the first day of testing.
Alonso was about to complete his seventh lap when his car went into the gravel on the final turn at the Circuit de Barcelona-Catalunya, where it lost the right rear wheel.
The session was stopped for a few minutes while a crew hauled the damaged McLaren onto a flatbed truck and drove it back to the pit lane.
Red Bull unveils real colors and more detail of RB14
With the camouflage removed, we now see the new Red Bull is much more aggressive than first thought. See more images on our Day1 of Barcelona testing page – on our Home page