Cunha Fastest as New Pro Mazda Tatuus Impresses at Homestead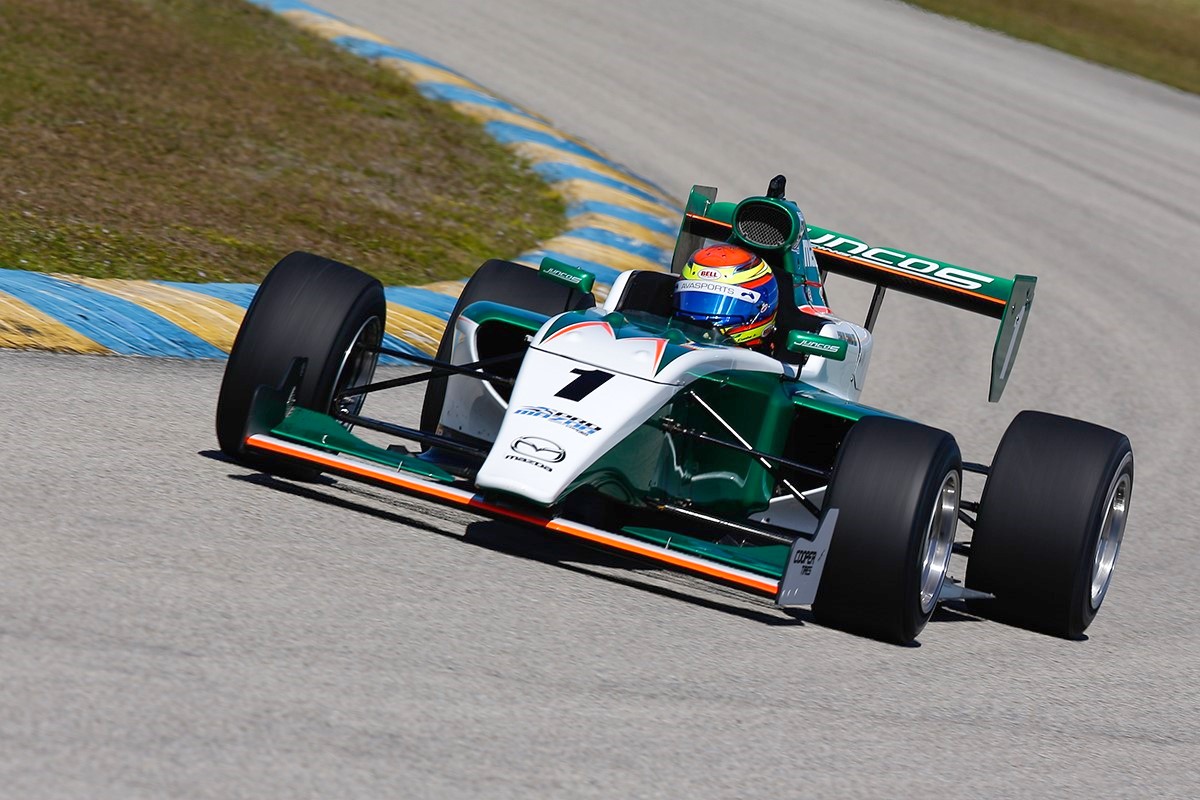 Brazilian Carlos Cunha
HOMESTEAD, Fla. – The new Mazda-powered Tatuus PM-18, introduced for this year's Pro Mazda Championship Presented by Cooper Tires – the middle rung on the Mazda Road to Indy open-wheel development ladder – continued to impress this weekend as 15 drivers completed a total of 1610 laps during two days of Spring Training road course testing which concluded this afternoon at Homestead-Miami Speedway.
Three different drivers topped one or more of the six sessions before second-year Pro Mazda competitor Carlos Cunha, from Campinas, Brazil, earned some bragging rights by posting the fastest time in the final one-hour session for defending champion team Juncos Racing.
Cunha, 18, who finished third in the 2017 title-chase, stopped the clocks in 1:19.2017 (100.452 mph) – more than four seconds faster than the best time from Spring Training one year ago in the older Elan/Van Diemen/Crawford car.
The youngest driver in the field, Sting Ray Robb, 16, from Payette, Idaho, turned some heads by also using a fresh set of Cooper tires to establish the second fastest time, 1:19.409s, in the final session for Team Pelfrey.
Robb, who claimed a trio of fourth-place finishes during his rookie campaign in 2017, edged out rookies David Malukas (BN Racing), from Chicago, Ill., and Rafael "Rafa" Martins (Team Pelfrey), from Sao Paulo, Brazil. Exclusive Autosport's Parker Thompson, from Red Deer, Alb., Canada, also was within a half-second of the ultimate pace. Thompson, 19, who will be stepping up to Pro Mazda after finishing among the top three in each of the past two years in the Cooper Tires USF2000 Championship Powered by Mazda, was fastest of all on Saturday and Sunday morning.
Englishman Harrison Scott, who won last year's Euroformula Open Championship in convincing style, completed a promising North American debut both for him and the Italian-based RP Motorsport Racing team by setting the sixth fastest time.
The youngest driver in the field at 16, Sting Ray Robb, was 2nd quick
Juncos Racing teammates and USF2000 graduates Robert Megennis, from New York, N.Y., and Dutchman Rinus VeeKay, who battled through a few gremlins, ended up seventh and eighth on the timing charts, ahead of USF2000 champion Oliver Askew, from Jupiter, Fla., whose Cape Motorsports team preferred to spend its time learning more about the new Tatuus instead of chasing ultimate lap times on a track which will not be part of the racing schedule.
Englishman James Raven, whose prior racing experience is limited to Formula Ford 1600 in his homeland, adapted well to the huge leap in grip and power and rounded out the top 10 for DEForce Racing. Kris Wright (BN Racing), from Pittsburgh, Pa., and Italian rookie Lodovico Laurini (RP Motorsport Racing) also circulated within one second of the fastest time.
Sixteen races will comprise the 2018 Pro Mazda Championship which will offer a Mazda Scholarship prize of $790,000 to assist in graduation to the highest rung on the Mazda Road to Indy ladder, Indy Lights Presented by Cooper Tires, in 2019. Final preparations will continue with another open test next weekend at Barber Motorsports Park, near Birmingham, Ala., prior to the opening two races of the season which will comprise the Pro Mazda Grand Prix of St. Petersburg Presented by Allied Building Products on March 9-11 in support of the Verizon IndyCar Series.
Carlos Cunha (#1 Juncos Racing Tatuus-Mazda PM-18): "I'm really happy, Juncos Racing is an amazing team. On track, we are always improving, never going backwards and that's very good. We have tested a lot but we still need to learn a lot about the car, though we are almost to a perfect setup. The team has given me everything I need to be comfortable inside the car, to know what the car needs, and to know what I need to be a better driver. We have time to improve and we are moving forward quickly."
Sting Ray Robb (#82 Trademark Dental/Munk Family Dental/Intervention.com-Team Pelfrey Tatuus-Mazda PM-18): "We've done several tests this winter, working on my driving and on the car setup – and the chemistry with the team has been a huge factor. Coming into the weekend we know what we can do and here at Spring Training we got P2. The new car is so fast, brakes well, corners well, and it's way nicer to drive than the old car. It feels like a real race car. Last year was my rookie season and it was a rough year, mentally and physically, so it's good to be back in the swing of things, back in my rhythm!"
| | | | | | | |
| --- | --- | --- | --- | --- | --- | --- |
| Rank | Car | Driver Name | Session | Time | Speed | Total Laps |
| 1 | 1 | Cunha, Carlos | Test Session 6 | 01:19.2017 | 100.452 | 132 |
| 2 | 82 | Robb, Sting Ray | Test Session 6 | 01:19.4094 | 100.190 | 123 |
| 3 | 79 | Malukas, David (R) | Test Session 3 | 01:19.5785 | 99.977 | 78 |
| 4 | 80 | Martins, Rafael (R) | Test Session 6 | 01:19.6037 | 99.945 | 111 |
| 5 | 90 | Thompson, Parker (R) | Test Session 4 | 01:19.6849 | 99.843 | 106 |
| 6 | 10 | Scott, Harrison (R) | Test Session 6 | 01:19.8004 | 99.699 | 39 |
| 7 | 9 | Megennis, Robert (R) | Test Session 3 | 01:19.8838 | 99.595 | 125 |
| 8 | 2 | VeeKay, Rinus (R) | Test Session 3 | 01:19.9137 | 99.557 | 129 |
| 9 | 3 | Askew, Oliver (R) | Test Session 2 | 01:19.9874 | 99.466 | 127 |
| 10 | 12 | Raven, James (R) | Test Session 4 | 01:20.0364 | 99.405 | 127 |
| 11 | 78 | Wright, Kris (R) | Test Session 3 | 01:20.1503 | 99.264 | 80 |
| 12 | 27 | Laurini, Lodovico (R) | Test Session 6 | 01:20.1974 | 99.205 | 61 |
| 13 | 81 | Gutierrez, Andres (R) | Test Session 3 | 01:20.2495 | 99.141 | 82 |
| 14 | 8 | Lastochkin, Nikita | Test Session 4 | 01:20.8762 | 98.373 | 121 |
| 15 | 91 | Seravalle, Antonio (R) | Test Session 6 | 01:21.0380 | 98.176 | 169 |
| | | (R) Rookie | | | | |
Total Laps for Combined Sessions: 1610