Latest F1 news in brief – Friday (Update)
Wolff to Hamilton: Re-sign with us son and Aldo Costa will make you an 8-time world champion
UPDATE Update shown in red below.
02/23/18
Wolff hopes for new Hamilton deal in 'weeks'
Wolff worried about Liberty Media changes
Vettel 'not worried' after seeing rival cars
Sainz 'excited' for better Renault – father
Wolff would like to take a chainsaw to the halo
Renault Formula 1 Announces Partnership With La Liga
Williams Signs Oliver Rowland as Official Young Driver
DUO partners with Sahara Force India Formula One Team New
Wolff hopes for new Hamilton deal in 'weeks'
(GMM) Lewis Hamilton and Toto Wolff think they will soon put together a contract beyond 2018 for the four-time world champion.
At the launch of Mercedes' 2018 car, which boss Wolff said is an evolution of last year's car, he predicted a new Hamilton deal would be decided in "weeks".
"Toto knows there is no one better and I know there's nowhere better, so we're comfortable and committed to each other," Hamilton, 33, said.
"Hopefully we'll have something done before the first race of the season."
He said Wolff doesn't have to worry that he might suddenly break off talks and look elsewhere for 2019.
"In the whole six years I have been here, I have not spoken to anyone else and that shows how committed I am," said the Briton.
Where there is change is in how Hamilton runs his social media accounts.
Earlier in the winter, Hamilton deleted his Twitter and Instagram content after a controversy broke about him saying his nephew should not wear a princess dress.
"I have been very open with my life for several years, but we're in a strange time in the world where things are magnified a lot more than they were," he said.
"I will continue to show the world what I am doing, but it is about being more strategic."
Wolff worried about Liberty Media changes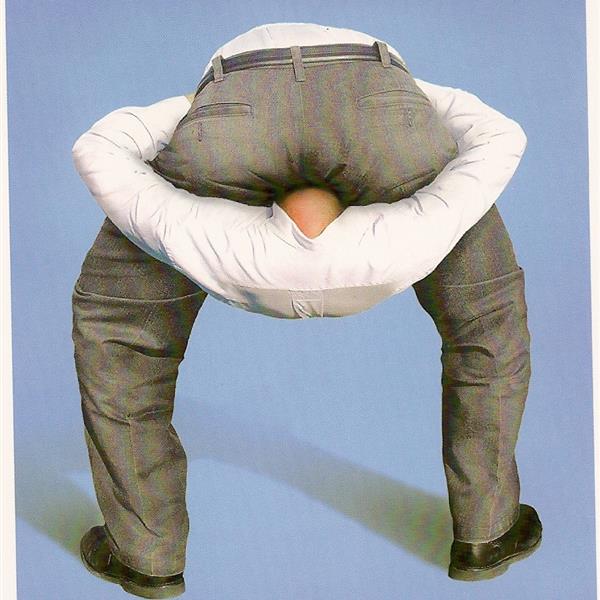 A day in the life of a F1 rules maker
(GMM) Toto Wolff has admitted he is worried about some of the most recent changes in formula one.
Recently, Mercedes and Ferrari have clashed with Liberty Media over reported plans for a budget cap and future engine rule changes.
But it's the new Halo that has Mercedes boss Wolff the most appalled.
"Give me a chainsaw and I'd cut it off," he said at the launch of Mercedes' 2018 car.
"It's right to protect the drivers, but this cannot be the final solution.
"We need to come up with something that simply looks better, but it's also a massive weight on the top of the car so it screws up the center of gravity.
"We have to remember this is a formula one car," Wolff added.
He also hit out at Liberty's most recent decisions: the grid girls ban, and the delay of the start of races for an hour and ten minutes.
"The shift of an hour to 2 to 3 o'clock I think is good, but I cannot understand the 10 minutes at all," he said. "I think that's a mistake."
As for the grid girl ban, Wolff admitted: "I don't understand it at all.
"I always liked it, and I don't think it was at all negative for women."
Vettel 'not worried' after seeing rival cars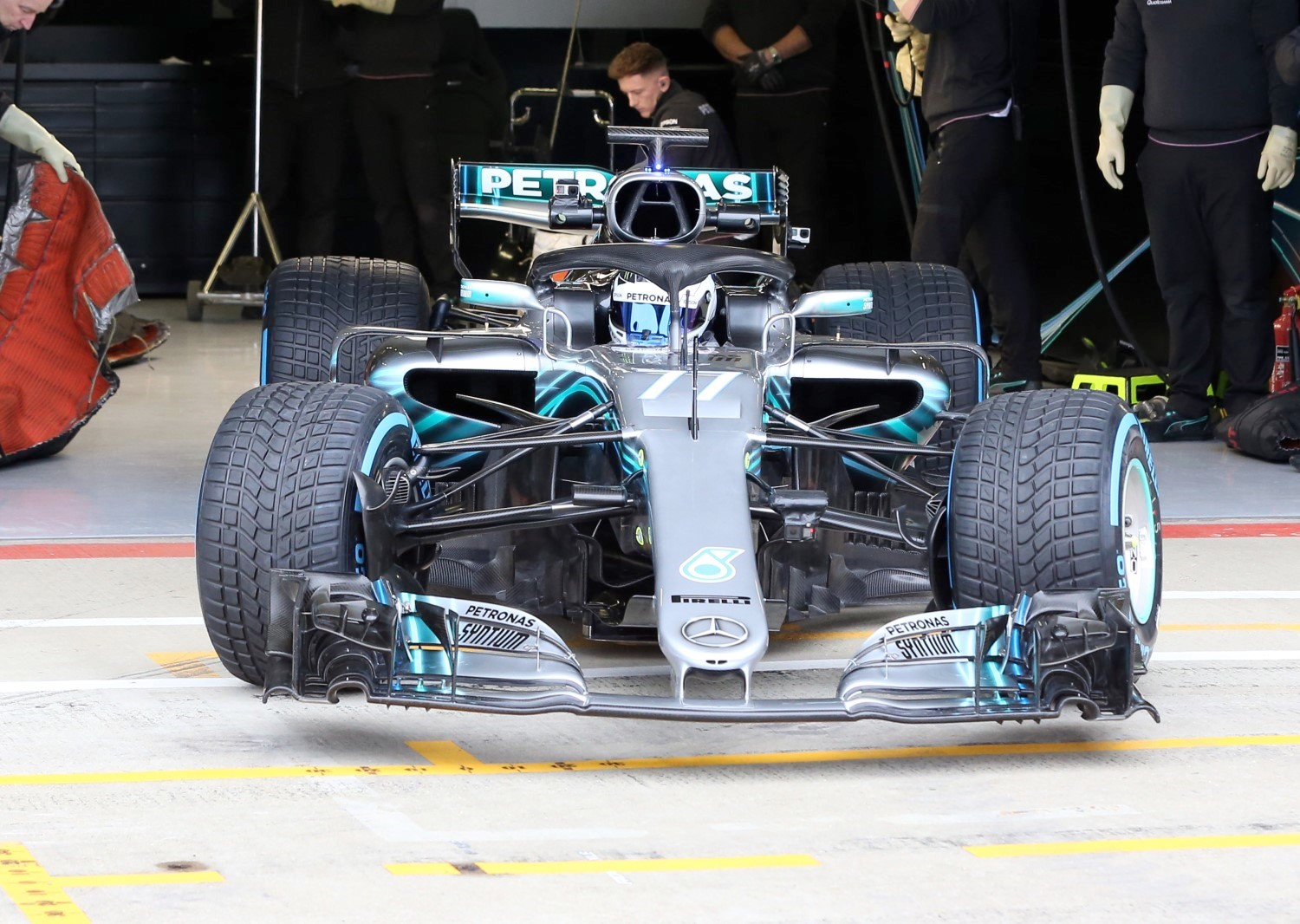 Not worried? Vettel should lose sleep at nights over this car.
(GMM) Ferrari this week joined arch-rival Mercedes in revealing its 2018 car.
Like Mercedes' offering, the new and even redder single seater is clearly an evolution of the 2017 car.
Ferrari's Sebastian Vettel said: "Mercedes remains the reference, but I do not think we are in the outsider role."
But the German said it is too early to say which of the other cars that have been launched may also be contenders in 2018.
"Clearly you look at the presentations of the other cars and ask the designers for their opinion," said Vettel.
"But it's still difficult to judge. The quality and angle of the photos plays a big role, so I will only form a first judgement in the tests.
"But so far I can say that I have not seen anything in the others that makes me worried."
Sainz Jr. 'excited' for better Renault – father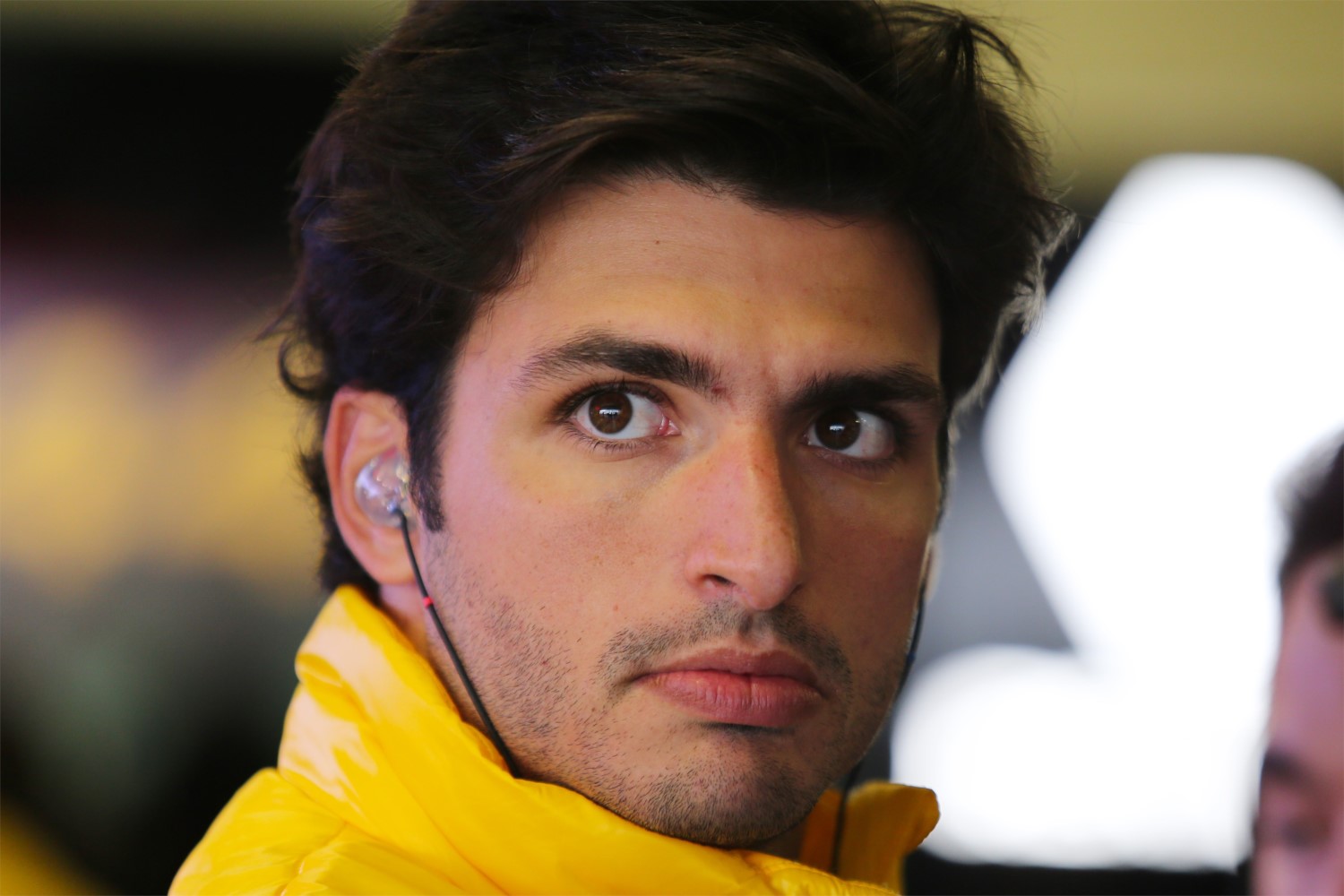 Sainz Jr.
(GMM) Famous former rally champion Carlos Sainz Sr. expects his son to take a "step forward" in formula one this year.
Last year, Carlos Sainz Jr stepped up from the Red Bull program to join the works Renault team.
His father and namesake now expects Sainz, 23, to take another "little step forward" in 2018.
"He is preparing for the season with a lot of enthusiasm," 55-year-old Sainz told EFE news agency.
"The tests start next week, the Renault was presented this week, he's very excited and those of us who are with him are too," the two-time rally champion added.
"From what he says, he is confident that they will take a step forward," Sainz said.
Renault driver Sainz told L'Equipe he has settled in well at the French team.
"I have the impression of building a team around me," he said.
"We have a good chance of doing great things together. The goal is to get closer to the best teams, but it's impossible to say exactly where we will be.
"We're not thinking so much in terms of championship position but rather pure performance," said Sainz.
Meanwhile, Sainz snr played down suggestions his son might consider trying his hand at a rallying career in the future.
In January, the 23-year-old drove two stages of the Monte Carlo rally.
"No, it was an act of marketing," Sainz snr insisted. "He was driving a course car only to get to know the stage."
Toto Wolff would like to take a chainsaw to the halo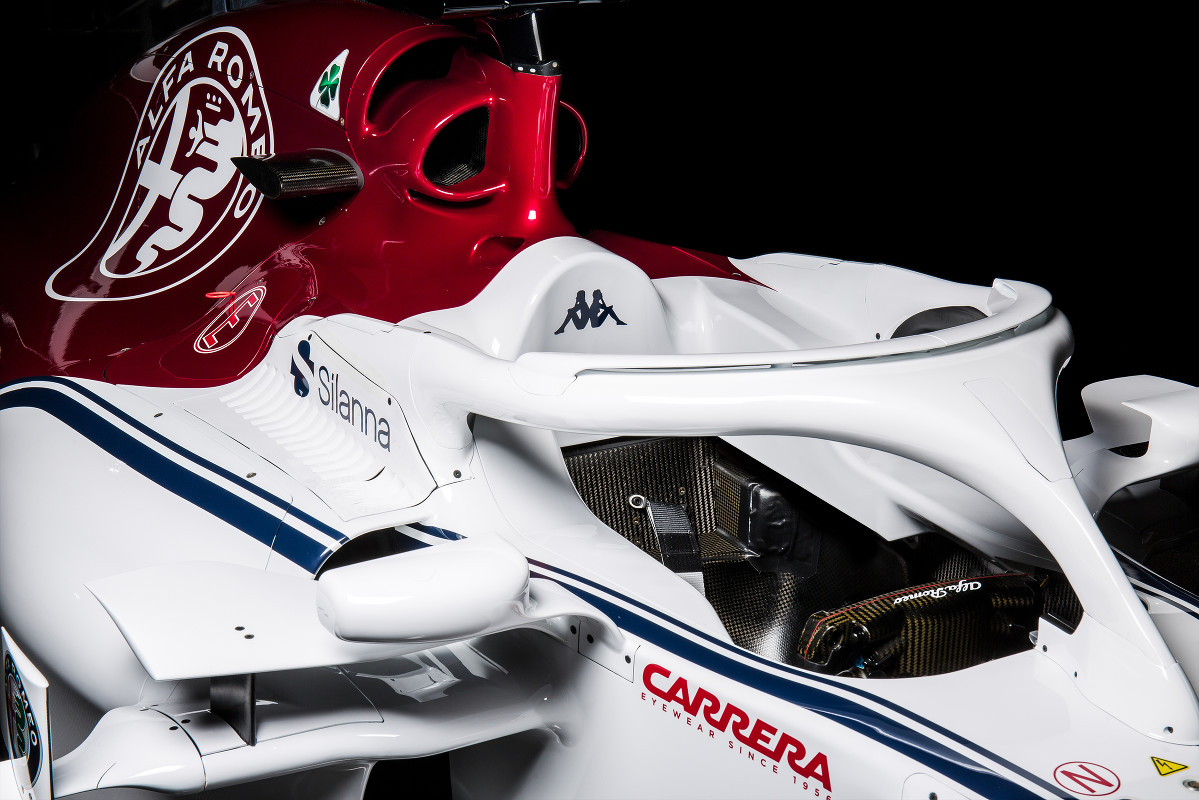 Toto Wolff hates the Halo. Who doesn't?
Toto Wolff says he would like to take a chainsaw to the halo head protection device, describing it as "not appealing" during the launch of Mercedes new car.
On Thursday morning Mercedes pulled the covers off of its W09 challenger at the Silverstone circuit, and like all the 2018 Formula 1 cars, it includes the FIA-mandated halo.
When asked for his thoughts on it, Wolff replied: "I'm not impressed with the whole thing and if you gave me a chainsaw I would take it off.
"I think we need to look after the driver's safety but what we have implemented is aesthetically not appealing. We need to come up with a solution that simply looks better.
"It's a massive weight on the top of the car, you screw up the center of gravity massively. As much as it's impressive to look at the statistic that you could put a bus on top, this is a Formula 1 car."
Wolff did concede that safety was paramount and tests showed that the halo would be beneficial in the majority of incidents.
"The FIA has thoroughly conducted all kinds of tests and possible scenarios and overall, the halo makes it much more safer for the driver," he added.
"Whether there are scenarios where a driver is trapped, probably these scenarios do exist, but overall it is safer with the halo than without the halo."
Renault Formula 1 Announces Partnership With La Liga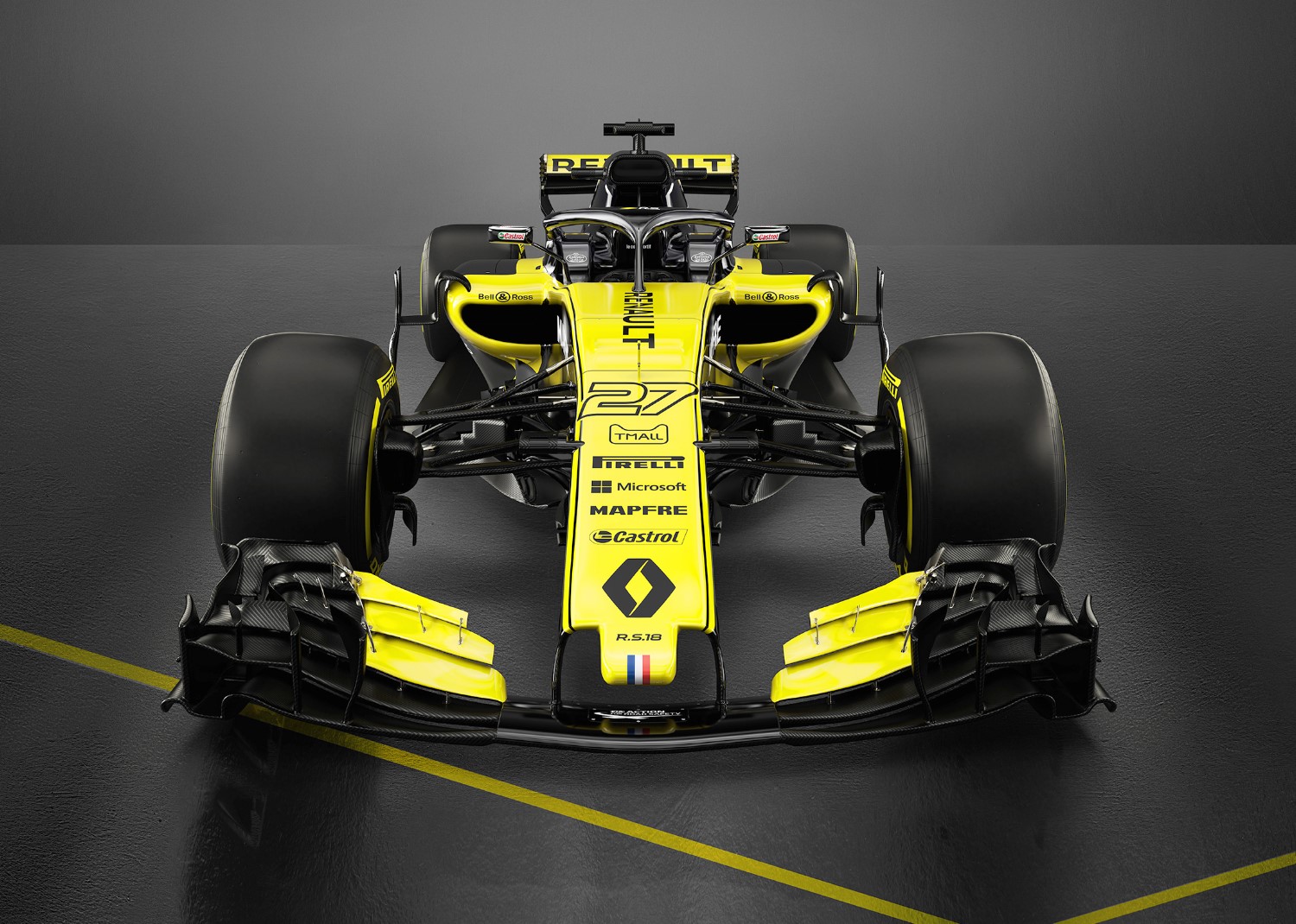 Renault RS18
Renault Formula 1 announced a partnership with La Liga, according to Valentin Khorounzhiy of MOTORSPORT.
The logo of the Spanish football competition will be present on Renault's recently-unveiled '18 challenger, RS18.
It will also be featured on the overalls of Renault drivers Nico Hulkenberg and Carlos Sainz.
The deal follows in the footsteps of a recent partnership between Chelsea and Sauber. MOTORSPORT
Williams Signs Oliver Rowland as Official Young Driver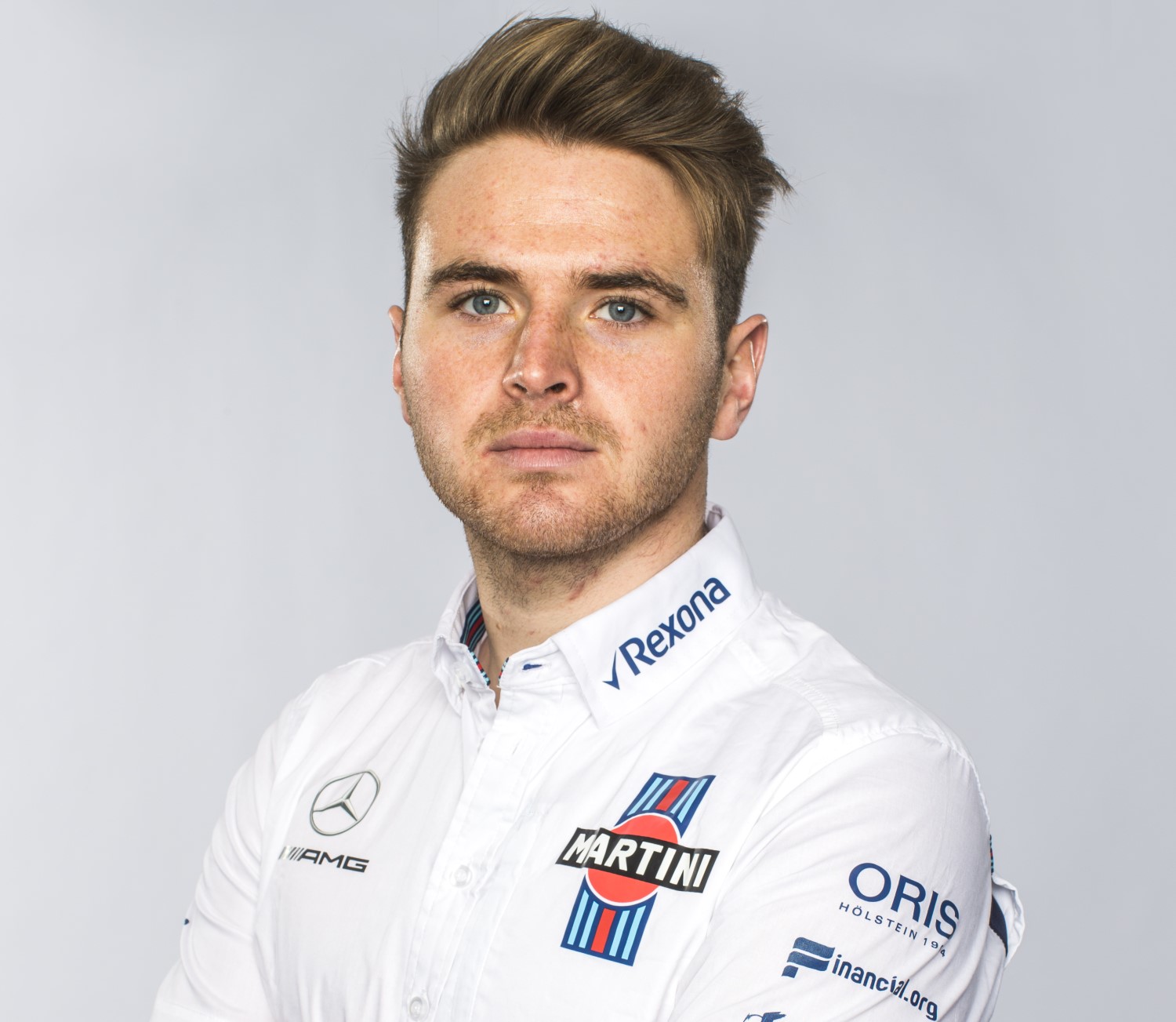 Oliver Rowland will not be doing any Friday morning track cleaning, that will be reserved for Robert Kubica
WILLIAMS MARTINI RACING is pleased to announce that Oliver Rowland will join the team as its Official Young Driver for the 2018 Formula One season.
Oliver will assist the team with simulator work at the Williams factory in Grove, and will drive the FW41 in the Young Driver Test.
Oliver finished third in last year's FIA Formula 2 Championship, taking race wins in Monaco and Hungary, as well as a total of 10 podium finishes. In the same year, he was appointed as Renault Sport F1's Development Driver, which included driving the team's 2012 car at Assen.
The 25-year-old Brit has additional Formula One experience, having tested McLaren and Red Bull machinery as a result of winning the 2012 McLaren Autosport Award and 2015 World Series by Renault Championship.
Alongside his role for Williams, Rowland will gain further experience in 2018 by competing in the World Endurance Championship with TRSM Racing in LMP1.
Claire Williams, Deputy Team Principal, commented; "I am pleased we have secured the services of Oliver, who is a talented and highly regarded young driver. He has raced at many Formula One circuits, and his experience and knowledge will complement the team's ongoing engineering work. His addition to Williams will further strengthen the team."
Oliver Rowland added; "I am immensely proud to be joining Williams Martini Racing as their official young driver. It's a fantastic opportunity for me and I will be working as hard as I possibly can to help them develop the car this season.
"Williams is a British team with a fantastic heritage and history which has made it one of the most respected teams in the sport. It's always been my ambition to get a role in Formula One and I'm very excited to be doing that with Williams. They have always given young drivers the opportunity to progress so it's now up to me to make a good impression and further my development as a driver.
"Hopefully with my hard work in the simulator and test I can impress the team. It's certainly going to be an exciting challenge ahead and I want to help Williams as the team continues to work to close the gap to the front of the grid in 2018."
DUO partners with Sahara Force India Formula One Team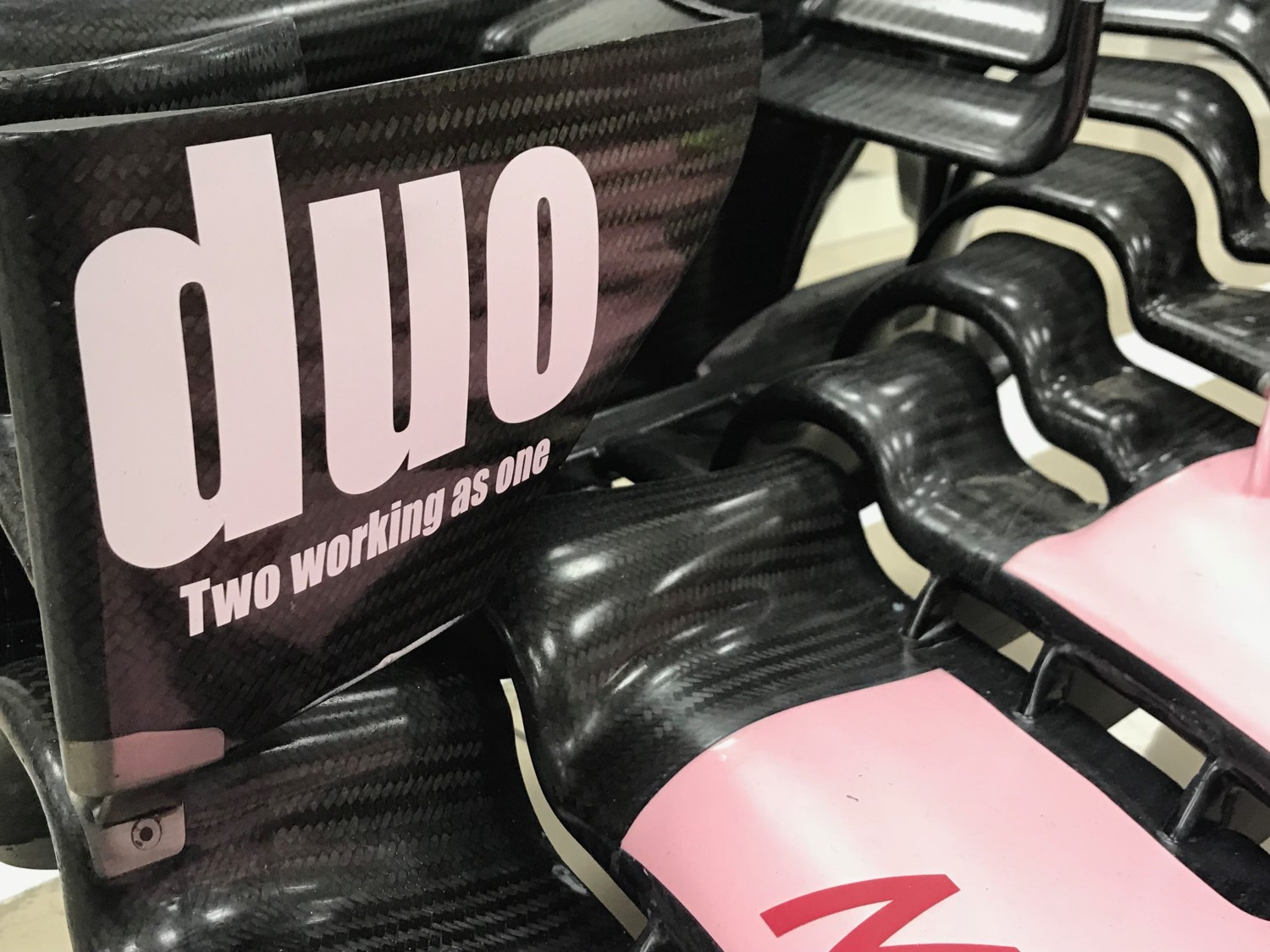 Duo logo
Sahara Force India is pleased to welcome DUO, a market leading industrial engineering brand, as a new partner ahead of the 2018 season.
DUO's logos will be visible on the team's 2018 car next week when the covers are pulled off the VJM11 in Barcelona. Branding will be located on the car's rear crash structure and elements of the front wing.
Vijay Mallya, Team Principal and Managing Director of Sahara Force India: "I'm pleased to welcome DUO as our newest partner as they venture into Formula One for the first time. DUO's business shares many parallels with the motorsport industry, especially precision engineering and manufacturing, and Formula One is an ideal platform to showcase their brand and technology."
Alex Moss, CEO at DUO Group: "We're very excited about our new partnership with Sahara Force India. We have been involved in motorsport for some years, but it's our first venture into Formula One. We have huge respect for Sahara Force India and what they have achieved over the last few years. They always deliver outstanding results and often punch well above their weight with tremendous efficiency. We really admire their racer's attitude and it's one of the reasons we chose to support the team. This partnership offers a great opportunity for us to develop our brand awareness on a global scale."
About DUO
DUO Group is a market leading company that provides the Aggregate, Recycling and Material Handling Industries with a comprehensive package of complete processing solutions, including specific industrial applications for the Quarrying, Recycling, Bulk Handling Industries and Transport Infrastructure. DUO has a history that dates to 1981 and now comprises of three main business areas; equipment sales, contract processing, and manufacturing, equipment sales support. They also offer pre-used equipment and a comprehensive parts & service package.