Road America Extends Partnerships With Pepsi, Anheuser-Busch and Torke Coffee
ELKHART LAKE, Wis.,
– Road America announced today an extended five-year partnership with Lakeside Pepsi Cola as the exclusive provider of carbonated beverages and select non-carbonated beverages served at Road America. Lakeside Pepsi Cola has been an official partner since 2013. In addition, Road America extended its partnership with Anheuser-Busch and Larry's Distributing of Sheboygan for three years and Torke Coffee of Sheboygan for one year. Road America's relationship with Anheuser-Busch, Larry's Distributing and Budweiser serving as the official beer of America's National Park of Speed spans more than 15 years. Torke Coffee has partnered with Road America for several years prior to this recent extension.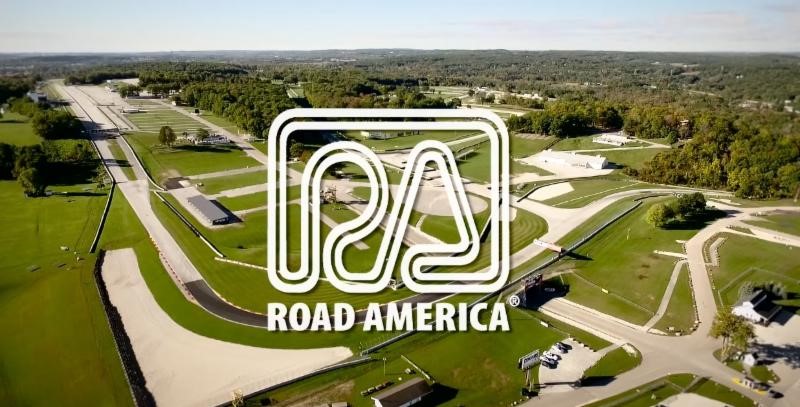 Road America
"We are very pleased to be extending our partnerships with Pepsi, Anheuser-Busch and Torke Coffee," said Road America president and general manager George Bruggenthies. "We've been very fortunate that we have what we feel are some of the greatest sponsors in the sport and continuing our relationships is a perfect fit for where we are and where we intend to go. We look forward to long and rewarding partnerships with these respected companies."
The multi-year partnerships between Road America, Lakeside Pepsi Cola, Anheuser-Busch through Larry's Distributing and Torke Coffee include a number of shared multi-state marketing initiatives designed to help all three entities increase brand awareness and promote their products throughout the area and the racing community.
Road America's first race weekend will be May 18-20, when it hosts the SVRA Spring Vintage Festival Weekend.
Two-wheeled action takes to the track when the MotoAmerica Series presents the Dunlop Championship at Road America June 1-3. One week later, June 8-10, vintage motorcycle enthusiasts will be on track during the Road America Vintage MotoFest and AHRMA Vintage Motorcycle Classic as fans and enthusiasts alike take in the on-track action and Rockerbox vintage motorcycle show. The WeatherTech Chicago Region SCCA June Sprints® returns to the 4-mile circuit from June 14-17 – Road America's longest running annual sports car event.
The Verizon INDYCAR Series KOHLER Grand Prix takes center stage June 21-24, as an international lineup of drivers will have their chance to battle it out for glory on one of the world's most revered road courses. They will be joined by the Pirelli World Challenge featuring many of the world's top sports cars and drivers in an all out wheel-to-wheel battle consisting of six classes headlined by separate GT and GTS races.
A mid-summer classic, The WeatherTech International Challenge with Brian Redman presented by HAWK, takes place July 19-22, and has quickly grown to become one of the largest vintage racing events in the country. A historic CAN-AM race with an impressive field of cars is also expected to gather at Road America along with a special historic Trans Am race featuring original racecars from the Trans Am era, which were painstakingly restored to their original condition. The annual concours d'elegance on Friday and Saturday night in downtown Elkhart Lake rounds out the festivities to make The WeatherTech® International Challenge with Brian Redman presented by HAWK a can't miss spectacle for any racing enthusiast.
August 2-5, the IMSA Continental Sports Car Challenge and WeatherTech SportsCar Championship takes over Road America's four mile circuit for what will be one of the most incredible weekends of sports car racing in the world during The Continental Road Race Showcase. Fans will get to see the IMSA Continental Sports Car Challenge Series race on Saturday, August 4, with the WeatherTech SportsCar Championship race on Sunday, August 5.
The NASCAR XFINITY Series Johnsonville 180 rolls into Road America August 23-25, bringing intense door-to-door racing action to the nation's most intimidating road course. The NASCAR XFINITY Series schedule and the event could prove to be a pivotal race for drivers looking to improve their standing in the championship points.
The weekend action continues with the widely popular Stadium SUPER Truck Series featuring identically prepared 650-horsepower trucks that are built to take flight. Being able to race on virtually any surface thrown at them, the Stadium SUPER Trucks will race the front half of Road America, crossing between turns 5 and 13 as compared to the entire 4-mile circuit utilized by NASCAR XFINITY Series and the SCCA Pro Trans Am Series. The SCCA Pro Trans Am Series will round out the on track action for the three-day event.
September 14-16, the Ariens Art on Wheels Weekend featuring VSCDA Elkhart Lake Vintage Festival returns, showcasing several impressive machines including many pre-war racers and Can-Am enthusiasts reliving history at America's National Park of Speed.
Event tickets are now available. Everyone 16-years-old and under gets in FREE with a paying adult at the gate. All racing runs rain or shine. To purchase season passes, tickets or learn more about upcoming events at Road America, please visit Road America online at www.roadamerica.com or call 800-365-RACE (7223).