Hughes ends Day 1 at Le Castellet on top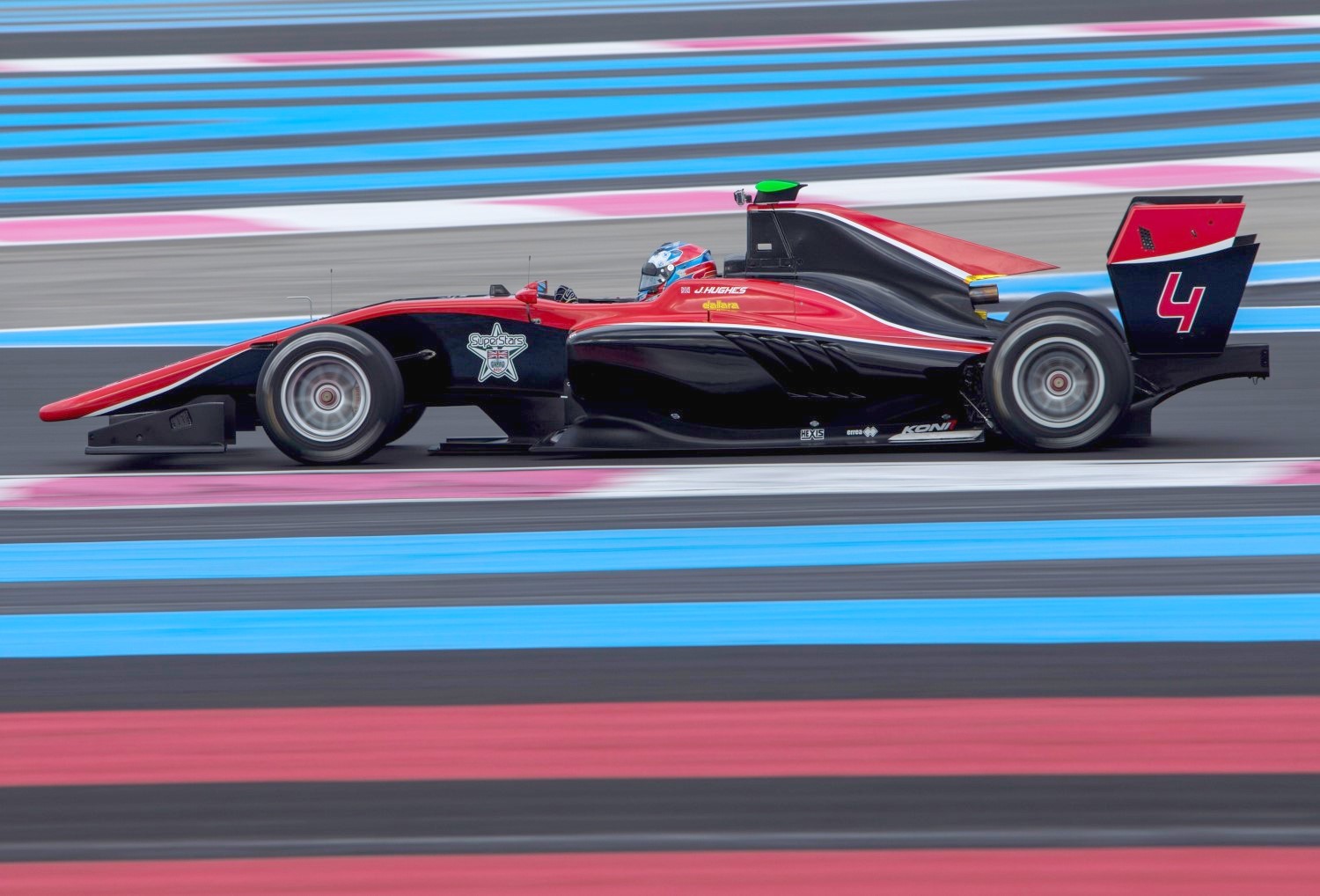 Jake Hughes
Jake Hughes was fastest overall in the first GP3 test session of 2018, setting a best lap of 1:49.456 to beat ART Grand Prix teammate Nikita Mazepin and Niko Kari of MP Motorsport to the top of the timesheets.
The day was greeted with a mixture of early snowfall and drizzle, and the teams spent the first hour of the session completing their customary installation laps in the wet. New team MP Motorsport were quickest out of the blocks, as Kari took to the circuit first and was shortly followed out by team-mates Dorian Boccolacci and Leonard Hoogenboom.
Following the flurry of activity in the opening hour, the teams waited for warmer conditions at the Circuit Paul Ricard before returning to the track for their first flying runs, Juan Manuel Correa of Jenzer Motorsport eventually breaking the stalemate after half an hour.
As the sun came out, the times quickly began to tumble. With 15 minutes left on the clock, Trident's Alessio Lorandi broke into the 2:00s before Hubert eclipsed the field with the first laptime below the two minute mark, ending the morning on top of the timesheets. At the end of the morning session, Lorandi and Alesi were second and third, followed by Trident stablemate Pedro Piquet.
Mazepin went into the break fifth fastest, ahead of Tatiana Calderon (Jenzer Motorsport) and Hughes, while Boccolacci, Leonardo Pulcini (Campos) and Joey Mawson (Arden) completed the initial top 10.
With the afternoon's track conditions much clearer compared to the morning's running, the drivers were lapping far quicker than they had managed earlier in the day.
The circuit was buzzing with activity in the opening 30 minutes – Jenzer's David Beckmann first to break ground – as all the teams sought to maximize their time on-track. Hubert immediately picked up from where he left off in the morning to set the early pace, heading fellow ART teammates Mazepin, Callum Ilott and Hughes after half an hour.
Newcomer Mawson leapfrogged the ARTs at the hour mark, becoming the first driver to drop into the 1m50s laptimes, before Hubert once again returned to the top of the timesheets half-way through the session.
The circuit was quiet at the midpoint of the session as the teams geared up for the final hour of the session. A number of drivers traded fastest times, with Boccolacci first to set a lap in the 1m49s bracket before being displaced by Hubert and Pulcini.
Hughes then surged to the top of the standings with 15 minutes remaining, jumping ahead of teammate Mazepin, and remained unchallenged for the rest of the session. Kari beat Pulcini to third fastest, while Hubert dropped to fifth overall.
Boccolacci was sixth fastest, ahead of Gabriel Aubry (Arden), while Trident trio Lorandi, Ryan Tveter and Piquet completed the top 10.
Day 1 Morning Results
| | | | | |
| --- | --- | --- | --- | --- |
| Pos | Driver | Team | Laptime | Laps |
| 1 | Anthoine Hubert | ART Grand Prix | 1:59.549 | 21 |
| 2 | Alessio Lorandi | Trident | 1:59.799 | 19 |
| 3 | Giuliano Alesi | Trident | 1:59.996 | 19 |
| 4 | Pedro Piquet | Trident | 2:00.391 | 16 |
| 5 | Nikita Mazepin | ART Grand Prix | 2:00.539 | 19 |
| 6 | Tatiana Calderon | Jenzer Motorsport | 2:00.548 | 27 |
| 7 | Jake Hughes | ART Grand Prix | 2:00.554 | 18 |
| 8 | Dorian Boccolacci | MP Motorsport | 2:00.569 | 17 |
| 9 | Leonardo Pulcini | Campos Racing | 2:00.621 | 15 |
| 10 | Joey Mawson | Arden International | 2:00.822 | 20 |
| 11 | Simo Laaksonen | Campos Racing | 2:00.957 | 28 |
| 12 | Ryan Tveter | Trident | 2:01.005 | 19 |
| 13 | Juan Manuel Correa | Jenzer Motorsport | 2:01.342 | 20 |
| 14 | Niko Kari | MP Motorsport | 2:01.630 | 9 |
| 15 | Leonard Hoogenboom | MP Motorsport | 2:02.103 | 18 |
| 16 | David Beckmann | Jenzer Motorsport | 2:03.042 | 17 |
| 17 | Diego Menchaca | Campos Racing | 2:03.490 | 15 |
| 18 | Callum Ilott | ART Grand Prix | 2:03.508 | 8 |
| 19 | Gabriel Aubry | Arden International | 2:03.752 | 13 |
| 20 | Julien Falchero | Arden International | 2:03.969 | 12 |
Day 1 Afternoon Results
| | | | | |
| --- | --- | --- | --- | --- |
| Pos | Driver | Team | Laptime | Laps |
| 1 | Jake Hughes | ART Grand Prix | 1:49.456 | 39 |
| 2 | Nikita Mazepin | ART Grand Prix | 1:49.563 | 41 |
| 3 | Niko Kari | MP Motorsport | 1:49.575 | 41 |
| 4 | Leonardo Pulcini | Campos Racing | 1:49.599 | 35 |
| 5 | Anthoine Hubert | ART Grand Prix | 1:49.786 | 39 |
| 6 | Dorian Boccolacci | MP Motorsport | 1:49.846 | 36 |
| 7 | Gabriel Aubry | Arden International | 1:50.003 | 39 |
| 8 | Alessio Lorandi | Trident | 1:50.197 | 35 |
| 9 | Ryan Tveter | Trident | 1:50.267 | 37 |
| 10 | Pedro Piquet | Trident | 1:50.335 | 37 |
| 11 | Joey Mawson | Arden International | 1:50.528 | 32 |
| 12 | Tatiana Calderon | Jenzer Motorsport | 1:50.568 | 41 |
| 13 | Simo Laaksonen | Campos Racing | 1:50.653 | 42 |
| 14 | Juan Manuel Correa | Jenzer Motorsport | 1:50.706 | 43 |
| 15 | David Beckmann | Jenzer Motorsport | 1.50.928 | 38 |
| 16 | Julien Falchero | Arden International | 1:50.943 | 25 |
| 17 | Giuliano Alesi | Trident | 1:51.264 | 41 |
| 18 | Leonard Hoogenboom | MP Motorsport | 1:51.849 | 31 |
| 19 | Diego Menchaca | Campos Racing | 1:51.888 | 37 |
| 20 | Callum Ilott | ART Grand Prix | 1:52.117 | 19 |