Repsol Honda Team unveil new 2018 livery in Jakarta (Update)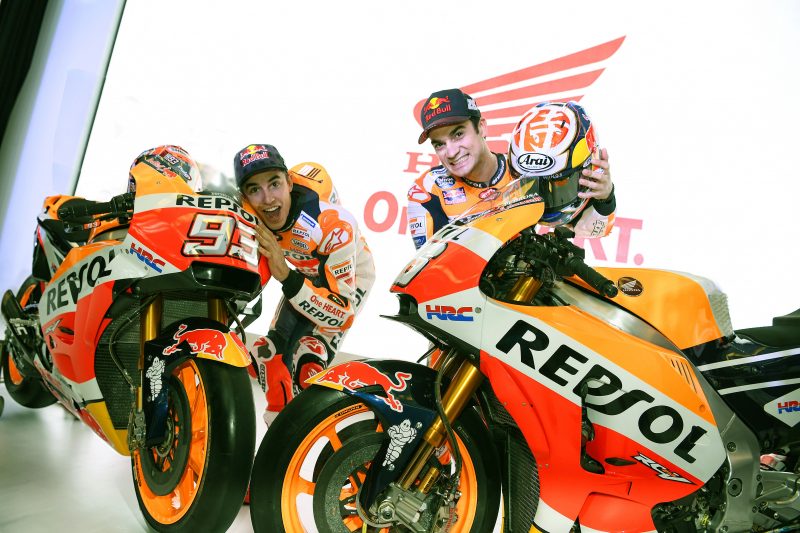 Marquez and Pedrosa show off the team's slightly revised livery
UPDATE Added video below.
02/20/18
The Repsol Honda Team unveiled their 2018 livery during the squad's official presentation, which took place today at the Jakarta International Expo, with Marc Marquez and Dani Pedrosa.
The reigning MotoGP World Champion and his teammate had just completed a successful test in Thailand before flying to Indonesia with Team Manager Alberto Puig and Tetsuhiro Kuwata, HRC's Director – General Manager Race Operations Management Division.
This marked the fourth consecutive year that the Repsol Honda Team launch has been hosted by Astra Honda in Indonesia, where MotoGP is hugely popular and Marc and Dani are heroes to the youth generation, and they're an inspiration for the young riders from Astra Honda's "Step Up Program," who attended today's event.
In the evening, the riders flew back to Europe for some recovery time ahead of the final pre-season test, scheduled for 1-3 March in Qatar.
Marc Marquez 93
"It's a real pleasure to once again be in Indonesia for our team launch because this is an important country for Honda and MotoGP. We've been here in Jakarta on many occasions, so it already seems very familiar to me! There are a lot of fans who make us feel very welcome, and it's good to be able to reward their support by coming here and dedicating some time to them. We've already done two tests this winter, and they both went quite well. We'll also work hard in Qatar, in order to put it all together and be ready for the coming season. We want to fight at the front again this year, and to put on a good show for our fans here and around the world."
Dani Pedrosa 26
"When you see how much people in Jakarta love MotoGP, it's easy to understand why we came here again for our team launch. From a rider's point of view, it's great to see the fans enjoying our sport so much, and to share our own passion. We also had another very good welcome just a few days ago in Thailand, where we had a positive test. So far everything seems to be going well enough, though we'll understand better where we really are when we're in Qatar, where the conditions will be quite different. I'm proud to start another season with the Repsol Honda Team, and I'm ready to give 100% to try and fight at the top."
Tetsuhiro Kuwata
HRC Director – General Manager Race Operations Management Division
"For the fourth time, we're officially presenting our team in Indonesia, and once again the beautiful city of Jakarta has welcomed us to what truly feels like home. For this we thank Astra Honda, who made this possible, along with Repsol and all of our sponsors. The passion for MotoGP is huge in Indonesia, and we're pleased to unveil our 2018 machines here with Alberto Puig, who has joined us as Repsol Honda's Team Manager, and our two outstanding, brilliant riders. Marc and Dani deserve the best tools in order to be successful this new season, and it's our mission to make that possible. Our engineers in Japan and our team around the world have done an impressive job, and I'm sure we'll achieve our goals again."
Alberto Puig
Team Manager
"I'm happy and grateful to be here in Jakarta at our Repsol Honda Team presentation, especially knowing that Indonesian fans are great followers of our riders and brand. From a racing point of view, we're confident that we can be ready to fight for the title again, because our engineers in Japan made a big effort this winter and our riders are ready. We know that our competitors will also be strong, and that they've taken some steps forward, but we expect a thrilling season in any case. Let's hope everything goes well!"