Andres Gutierrez returns with Pelfrey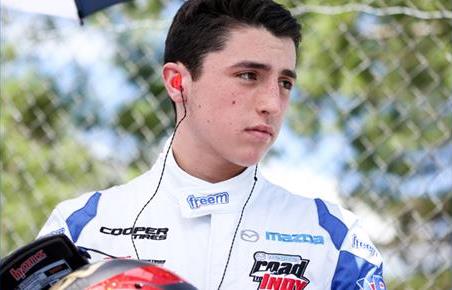 Andres Gutierrez
Team Pelfrey announced today Andres Gutierrez will compete in the iconic No. 81 Team Pelfrey Pro Mazda to begin the 2018 Pro Mazda Championship Presented By Cooper Tires series.
The 17-year-old sports car and open-wheel standout has already accumulated an impressive career, tallying two wins in the FIA Formula 4 Nacam Championship along with a pair of wins in the IMSA Prototype Challenge LMP3 class for Performance Tech Motorsports.
"Team Pelfrey is one of the most successful teams in the Road to Indy," said the Pro Mazda rookie. "The amount of success they have had in the last couple of years really motivates me to do well for the team. My cousin, Pato O'Ward, found a lot of success with this team in Pro Mazda only several years ago and he really pushed me to sign with Team Pelfrey because he knows what this team is capable of. Being with such a successful team will make me work even harder than ever to make sure I bring the results they deserve. I would also like to thank everyone involved in making this happen, Team Pelfrey for the opportunity, and my family who have been behind me in my journey as a racing driver."
The Monterrey, Mexican-resident competed in three races on the Mazda Road to Indy last season in the USF2000 Championship, finishing as high as sixth in the season ending round at Watkins Glen International Raceway. Last October, Gutierrez led six of the eight USF2000 testing sessions at the Chris Griffis Memorial Test at the Indianapolis Motor Speedway road course.
"I am looking forward to really showing people what I can do. This is my first proper shot at the Road to Indy, and I could not be more excited to be driving for Team Pelfrey. I am confident we have the speed to be up front in the field. It will be a very competitive field this year with the new Tatuus PM-18, but I am looking forward to the challenge ahead and racing against the other young talents in the field!"
Before the season begins March 9th in St. Petersburg, Fla., Gutierrez and the rest of Team Pelfrey will participate in Spring Training at the Homestead Miami Speedway road course, February 23-25. You can watch the coverage live on RoadToIndy.TV and follow along the Team Pelfrey social media channels.