Thailand: Dani Pedrosa puts Honda on top on final day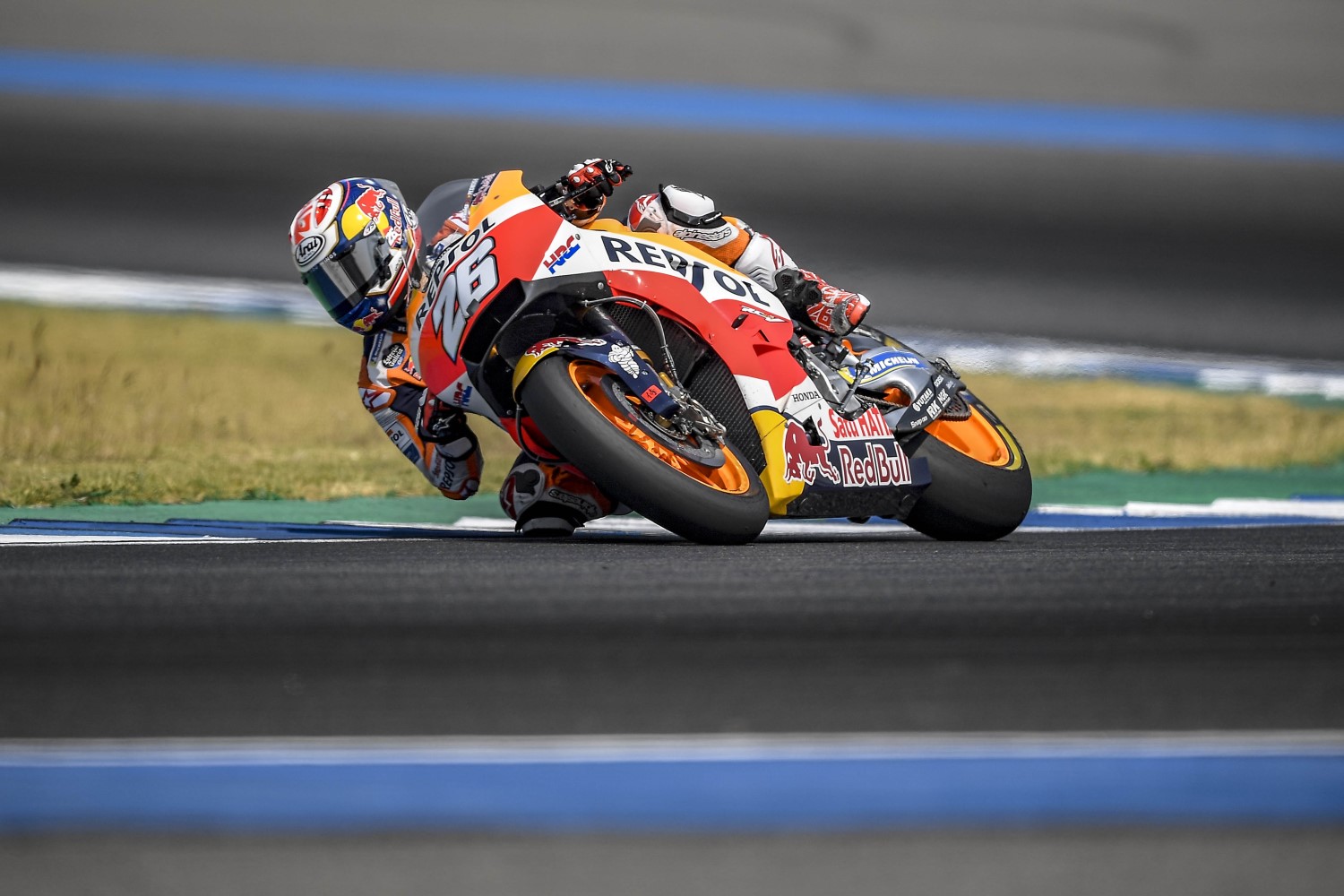 Dani Pedrosa fastest on Sunday
Dani Pedrosa (Repsol Honda Team) on Day 3 to make it three days in a row on top for Honda at the #ThaiTest. Pedrosa is quickest overall with a 1:29.781, with Marquez P3 on combined timesheets on a 1:29.969 and Crutchlow fourth, just outside the 1:29s. Johann Zarco (Monster Yamaha Tech 3) was second overall – just 0.086 off Pedrosa in the exclusive 1:29 club.
Marquez suffered a small crash on Day 3 – just outside the realm of a super save – but the six-time Champion nevertheless pounded through another huge workload of laps. One innovation spotted on Sunday was a carbon swing arm, which was also used in Sepang and Valencia, but the biggest headline for the Japanese factory was the incredible pace. It bodes well ahead of the season opener, with Honda bidding to retain both the riders' and constructors' titles.
The interloper in the Honda party at the top was the man who looked set to go fastest until right at the end – Johann Zarco (Monster Yamaha Tech 3). The Frenchman broke the 1:30 barrier on Day 3 twice, with his fastest effort a 1:29.867 before he called it a day some time before the end of the test, work completed. Zarco, who will be using the 2016 chassis on his Tech 3 machine this year, did 47 laps and was top Yamaha.
Fellow sophomore Alex Rins (Team Suzuki Ecstar) made it a clean sweep of impressive performances on Day 3, as the Spaniard ended the test in fifth overall. Despite a crash, Rins did another 66 laps on Sunday. Teammate Andrea Iannone also ended the test positive but a little further down in P15 overall, finding it hard to unlock better pace on new tires. The Hamamatsu factory brought a number of things to the test, including a previous aero fairing and two iterations of a new aero fairing, as well as chassis updates.
Jack Miller (Alma Pramac Racing) was once again a star attraction on Sunday, and finished the test in P6 overall – only 0.007 off Rins ahead of him. The Australian has settled in incredibly quickly on the GP17, and teammate Danilo Petrucci on the GP18 and Ducati test duty made it both Alma Pramac Racing machines in the top ten as he slotted into P9 on combined timesheets.
Andrea Dovizioso (Ducati Team) was finished early on Day 3, with the track having proven more useful than expected during the hotter parts of the day and the Italian getting through the program. He finished the #ThaiTest with 58 laps on Day 3, P7 on combined timesheets after trying three aero fairings and comparing chassis updates. Teammate Jorge Lorenzo was P16 on combined times after a more difficult test than his domination of Sepang with a record lap, comparing the GP18 and GP17 on the final day in Thailand.
Maverick Vinales (Movistar Yamaha MotoGP) ended Thailand in eighth overall, with a lap set on Saturday – when the Spaniard said the afternoon had seen them take a big step forward. But on Sunday, teammate Valentino Rossi (Movistar Yamaha MotoGP) was quicker, P10 compared to Vinales' twelfth place on the Day 3 timesheets. Rossi's Sunday best was a 1:30.511 and the 'Doctor' set it on lap 69 of 70, but was P12 overall.
Takaaki Nakagami (LCR Honda Idemitsu) was a big headline at the conclusion of the #ThaiTest. The Japanese rookie put in a 1:30.456 and took a stunning tenth overall – moving forward throughout the sessions and keeping himself top debutant. But Franco Morbidelli (EG 0,0 Marc VDS) surged forward on the chase, moving up to P13 overall and just two tenths off. His teammate Tom Luthi improved on Sunday too, having missed the available track time at the end of 2017, and did a 1:31.354.
Hafizh Syahrin (Monster Yamaha Tech 3) was the next rookie up, and the Malaysian got another 47 laps under his belt in his first ever MotoGP™ test. Just 0.183 off Luthi, it was another impressive move forward for the first ever Malaysian in the premier class.
Tito Rabat (Reale Avinta Racing) took P11 overall as he was another who is settling into life on a Ducati well, just ahead of Rossi and Morbidelli. Aleix Espargaro (Aprilia Racing Team Gresini) was fourteenth and top Noale factory machine, with the timesheets incredibly tight, as teammate Scott Redding also moved forward on Day 3.
Bradley Smith (Red Bull KTM Factory Racing) and KTM test rider Mika Kallio also made progress with their pace on Sunday, but with so much to test, time attacks weren't high on the agenda. One headline-grabber for the Austrian factory on the final day was a new aero fairing, and Smith fulfilled the target of getting into the 1:30 bracket with a 1:30.921.
Although the #ThaiTest is now over, three more days of testing remain – with Losail International Circuit in Qatar the next host. Action begins there on 1st March.
Dani Pedrosa 26
1ST 1'29.781 ON LAP 77 OF 78
"We leave Thailand with positive feelings. The test was quite tough as the temperatures were high, and we worked really hard over the three days. In the end we didn't have many tyres left, so we had to carefully manage the planning of our work. We worked on many aspects of the bike's setup, and step-by-step we improved our speed and pace. Among other things, today we tested a carbon swing arm that's a new area for us to work on, so we're still in the process of learning and of finding the feeling. I'm very happy with the job my team is doing at the track, and with what the engineers are doing back in Japan. They're really helping us to improve, and this is good and gives us confidence. Hopefully we'll be able to continue this trend at the final test in Qatar, which will be very interesting as conditions will be different."
Session 3 Results
| | | | | | | |
| --- | --- | --- | --- | --- | --- | --- |
| Pos | Rider | Team | Fastest lap | Behind | Gap | Laps |
| 1 | PEDROSA, Dani | Repsol Honda Team | 1:29.781 | 0.000s | 0.000s | 77 / 78 |
| 2 | ZARCO, Johann | Monster Yamaha Tech 3 | 1:29.867 | 0.086 | 0.086 | 44 / 47 |
| 3 | CRUTCHLOW, Cal | LCR Honda CASTROL | 1:30.064 | 0.283 | 0.197 | 50 / 81 |
| 4 | MARQUEZ, Marc | Repsol Honda Team | 1:30.143 | 0.362 | 0.079 | 27 / 96 |
| 5 | RINS, Alex | Team SUZUKI ECSTAR | 1:30.178 | 0.397 | 0.035 | 15 / 66 |
| 6 | MILLER, Jack | Alma Pramac Racing | 1:30.190 | 0.409 | 0.012 | 17 / 50 |
| 7 | DOVIZIOSO, Andrea | Ducati Team | 1:30.192 | 0.411 | 0.002 | 52 / 58 |
| 8 | NAKAGAMI, Takaaki | LCR Honda IDEMITSU | 1:30.456 | 0.675 | 0.264 | 60 / 78 |
| 9 | RABAT, Tito | Reale Avintia Racing | 1:30.476 | 0.695 | 0.020 | 42 / 52 |
| 10 | ROSSI, Valentino | Movistar Yamaha MotoGP | 1:30.511 | 0.730 | 0.035 | 69 / 70 |
| 11 | PETRUCCI, Danilo | Alma Pramac Racing | 1:30.573 | 0.792 | 0.062 | 11 / 43 |
| 12 | VINALES, Maverick | Movistar Yamaha MotoGP | 1:30.590 | 0.809 | 0.017 | 66 / 69 |
| 13 | MORBIDELLI, Franco | EG 0,0 Marc VDS | 1:30.648 | 0.867 | 0.058 | 69 / 71 |
| 14 | ESPARGARO, Aleix | Aprilia Racing Team Gresini | 1:30.701 | 0.920 | 0.053 | 64 / 65 |
| 15 | IANNONE, Andrea | Team SUZUKI ECSTAR | 1:30.718 | 0.937 | 0.017 | 19 / 78 |
| 16 | SMITH, Bradley | Red Bull KTM Factory Racing | 1:30.921 | 1.140 | 0.203 | 56 / 71 |
| 17 | KALLIO, Mika | Red Bull KTM Factory Racing | 1:31.169 | 1.388 | 0.248 | 54 / 84 |
| 18 | REDDING, Scott | Aprilia Racing Team Gresini | 1:31.311 | 1.530 | 0.142 | 8 / 63 |
| 19 | LUTHI, Thomas | EG 0,0 Marc VDS | 1:31.354 | 1.573 | 0.043 | 71 / 81 |
| 20 | BAUTISTA, Alvaro | Angel Nieto Team | 1:31.486 | 1.705 | 0.132 | 36 / 37 |
| 21 | SYAHRIN, Hafizh | Monster Yamaha Tech 3 | 1:31.537 | 1.756 | 0.051 | 46 / 47 |
| 22 | LORENZO, Jorge | Ducati Team | 1:31.627 | 1.846 | 0.090 | 14 / 68 |
| 23 | SIMEON, Xavier | Reale Avintia Racing | 1:32.019 | 2.238 | 0.392 | 21 / 51 |
| 24 | ABRAHAM, Karel | Angel Nieto Team | 1:32.024 | 2.243 | 0.005 | 18 / 38 |
Combined Results over 3 Days
| | | | | | | | | | |
| --- | --- | --- | --- | --- | --- | --- | --- | --- | --- |
| Pos | No. | Rider | Nat | Team | Motorcycle | Time | Diff | Gap | Session |
| 1 | 26 | Dani PEDROSA | SPA | Repsol Honda Team | HONDA | 1:29.781 | 0.000s | 0.000s | Session 3 |
| 2 | 5 | Johann ZARCO | FRA | Monster Yamaha Tech 3 | YAMAHA | 1:29.867 | 0.086 | 0.086 | Session 3 |
| 3 | 93 | Marc MARQUEZ | SPA | Repsol Honda Team | HONDA | 1:29.969 | 0.188 | 0.102 | Session 2 |
| 4 | 35 | Cal CRUTCHLOW | GBR | LCR Honda CASTROL | HONDA | 1:30.064 | 0.283 | 0.095 | Session 3 |
| 5 | 42 | Alex RINS | SPA | Team SUZUKI ECSTAR | SUZUKI | 1:30.178 | 0.397 | 0.114 | Session 3 |
| 6 | 43 | Jack MILLER | AUS | Alma Pramac Racing | DUCATI | 1:30.185 | 0.404 | 0.007 | Session 2 |
| 7 | 4 | Andrea DOVIZIOSO | ITA | Ducati Team | DUCATI | 1:30.192 | 0.411 | 0.007 | Session 3 |
| 8 | 25 | Maverick VIÃ'ALES | SPA | Movistar Yamaha MotoGP | YAMAHA | 1:30.274 | 0.493 | 0.082 | Session 2 |
| 9 | 9 | Danilo PETRUCCI | ITA | Alma Pramac Racing | DUCATI | 1:30.367 | 0.586 | 0.093 | Session 2 |
| 10 | 30 | Takaaki NAKAGAMI | JPN | LCR Honda IDEMITSU | HONDA | 1:30.456 | 0.675 | 0.089 | Session 3 |
| 11 | 53 | Tito RABAT | SPA | Reale Avintia Racing | DUCATI | 1:30.476 | 0.695 | 0.020 | Session 3 |
| 12 | 46 | Valentino ROSSI | ITA | Movistar Yamaha MotoGP | YAMAHA | 1:30.511 | 0.730 | 0.035 | Session 3 |
| 13 | 21 | Franco MORBIDELLI | ITA | EG 0,0 Marc VDS | HONDA | 1:30.648 | 0.867 | 0.137 | Session 3 |
| 14 | 41 | Aleix ESPARGARO | SPA | Aprilia Racing Team Gresini | APRILIA | 1:30.701 | 0.920 | 0.053 | Session 3 |
| 15 | 29 | Andrea IANNONE | ITA | Team SUZUKI ECSTAR | SUZUKI | 1:30.718 | 0.937 | 0.017 | Session 3 |
| 16 | 99 | Jorge LORENZO | SPA | Ducati Team | DUCATI | 1:30.729 | 0.948 | 0.011 | Session 2 |
| 17 | 19 | Alvaro BAUTISTA | SPA | Angel Nieto Team | DUCATI | 1:30.883 | 1.102 | 0.154 | Session 2 |
| 18 | 38 | Bradley SMITH | GBR | Red Bull KTM Factory Racing | KTM | 1:30.921 | 1.140 | 0.038 | Session 3 |
| 19 | 36 | Mika KALLIO | FIN | Red Bull KTM Factory Racing | KTM | 1:31.169 | 1.388 | 0.248 | Session 3 |
| 20 | 45 | Scott REDDING | GBR | Aprilia Racing Team Gresini | APRILIA | 1:31.311 | 1.530 | 0.142 | Session 3 |
| 21 | 12 | Tom LUTHI | SWI | EG 0,0 Marc VDS | HONDA | 1:31.354 | 1.573 | 0.043 | Session 3 |
| 22 | 55 | Hafizh SYAHRIN | MAL | Monster Yamaha Tech 3 | YAMAHA | 1:31.537 | 1.756 | 0.183 | Session 3 |
| 23 | 17 | Karel ABRAHAM | CZE | Angel Nieto Team | DUCATI | 1:31.661 | 1.880 | 0.124 | Session 2 |
| 24 | 10 | Xavier SIMEON | BEL | Reale Avintia Racing | DUCATI | 1:32.019 | 2.238 | 0.358 | Session 3 |