Thailand: Honda's Marc Marquez ends test day two on top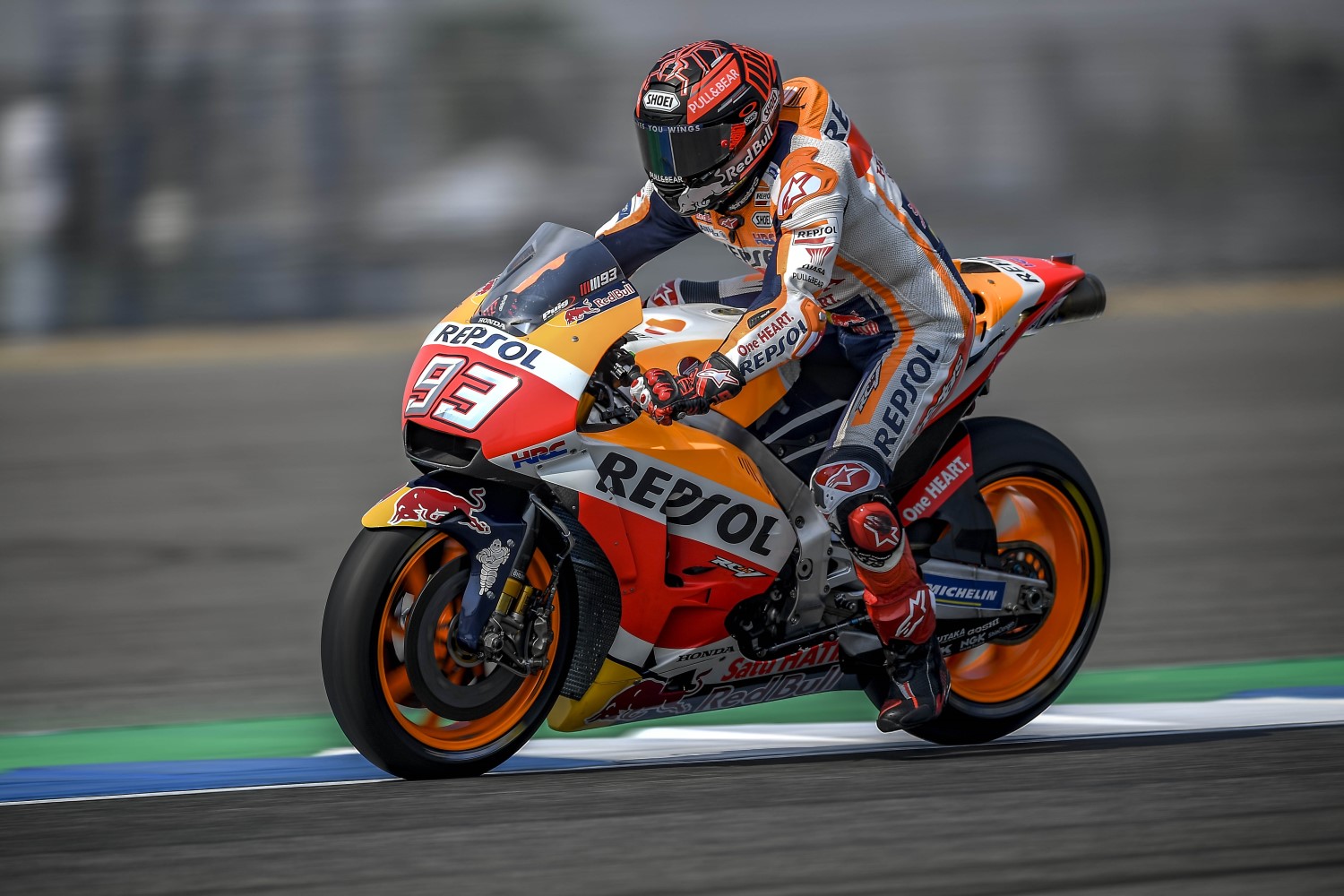 Marc Marquez in Thailand
Marc Marquez (Repsol Honda Team) celebrated his 25th birthday in style at the #ThaiTest, leaving it late to set the first ever sub-1:30 laptime of Buriram on Lap 91 of a mammoth 90+ lap workload for the six-time World Champion. That took the top spot back from teammate Dani Pedrosa, who ended the day second fastest and a tenth and a half down after having led for the majority of the latter stages of the session. Third was another stunning lap from Jack Miller (Alma Pramac Racing), who was 0.058 off Pedrosa as he continues his run of top performance in 2018.
One of the big headlines on Saturday was once again aero. Part of Marquez' 94 laps in the incredible heat of Thailand was spent on an aero package, with the number 93, teammate Pedrosa and HRC test rider Cal Crutchlow (LCR Honda Castrol) – Friday's fastest – all having tried updates across the Sepang and Thai tests. Behind the lockout for the Repsol squad at the top, Crutchlow was the third quickest Honda and was eighth, but quicker than his Friday lap. The Brit concentrated on test duty rather than a time attack.
Miller, meanwhile, continued to show how he's settled into life on the Ducati GP17. By the end of action, a late run from the Australian saw him shoot ahead of teammate Danilo Petrucci – on a GP18 and also on Ducati test duty – who ended the day in P6 after hovering further up earlier in the day.
Fourth and fifth were locked out by Yamaha – on Saturday, Maverick Vinales (Movistar Yamaha MotoGP) leading Johann Zarco (Monster Yamaha Tech 3) after Valentino Rossi (Movistar Yamaha MotoGP) had been quicker on Friday. Vinales' best was a 1:30.274, with Zarco just 0.086 behind. Vinales had a more difficult morning before making a big step in the afternoon – aiming to confirm it tomorrow.
Alex Rins (Team Suzuki Ecstar), after going second quickest on the first day of the test, was seventh on Day 2 and again top Hamamatsu machine. Starting 2018 healthy after injury problems last year, the Spanish sophomore did around half a century of laps and tried new aero from Suzuki, with the factory fielding the fairing they'd previously had as well as longer and shorter version of a new package. Both Rins and teammate Andrea Iannone, who ended the day in eleventh but only three tenths back on Rins, tried everything – and both crashed, but both with no consequences.
The Ducati Team, meanwhile, moved on with the program. They have three aero fairings at Buriram as well as a chassis update, and on Day 2 Andrea Dovizioso was ninth and teammate Jorge Lorenzo tenth. 'DesmoDovi' was just 0.004 off Crutchlow ahead of him and two tenths ahead of Lorenzo, with the Italian putting in over 70 laps and the Spaniard more than 50.
Two more Independent Team riders on Ducatis took P12 and P13, with Reale Avinta Racing's Tito Rabat ahead of Alvaro Bautista (Angel Nieto Team) by only 0.028. Both were ahead of Valentino Rossi, who ended the second day in fourteenth.
Takaaki Nakagami (LCR Honda Idemitsu) completed the top fifteen on Saturday, fastest rookie once again and the last man in the 1:30 bracket. He had a three tenth advantage on key rival Franco Morbidelli (EG 0,0 Marc VDS), with the reigning Moto2 World Champion doing a best of 1:31.185. His teammate Tom Luthi did a 1:31.994, with the Sepang test having been his first time on the bike – and he ended the day just ahead of Hafizh Syahrin (Monster Yamaha Tech 3) and Xavier Simeon (Reale Avintia Racing).
Syahrin, on a MotoGP machine for only the second day ever, was impressive once again on Saturday. The Malaysian rider was only 0.004 seconds off fellow rookie Luthi, and was ahead of Simeon by the end of action.
Bradley Smith (Red Bull KTM Factory Racing) was the fastest KTM on Day 2, in P16 and only 1.144 off the front in order good showing of progress for the Austrian factory. With teammate Pol Espargaro absent due to injury, test rider Mika Kallio was the second representative for the Red Bull-backed team – and the Finn did the most laps of anyone, only a handful off a full 100.
Aleix Espargaro (Aprilia Racing Team Gresini) had a positive first day and ended Day 2 a tiny margin off Smith ahead of him, just 0.017 off the Brit. Noale factory teammate Scott Redding, who ended Friday just behind Espargaro after some technical issues affecting his running, was a little further back on Day 2 as he continues to adapt to the RS-GP.
Sunday is a slightly different schedule for the #ThaiTest as action gets underway half an hour earlier at 9:00 local time (GMT +7), and also ends an hour earlier at 17:00.
Quotes
Marc Marquez 93
1ST 1'29.979 (ON LAP 91 OF 97)
"First of all, I'd like to say thank you to all my fans as I've received many, many messages for my birthday! The best way to celebrate is on my bike, as I really enjoy riding it! Today was a good day. We started by playing with the setup a bit in the beginning of the session. Then we went on to try some Michelin rear tires, which weren't bad, and we also worked on the aerodynamics. At the end of the day, we put together our best package and we went faster. We'll see how it goes tomorrow, as it seems that the track gets better and better every day, and so do the other riders. That said, I think we're doing a great job in our garage and we'll try to continue on that path."
Dani Pedrosa 26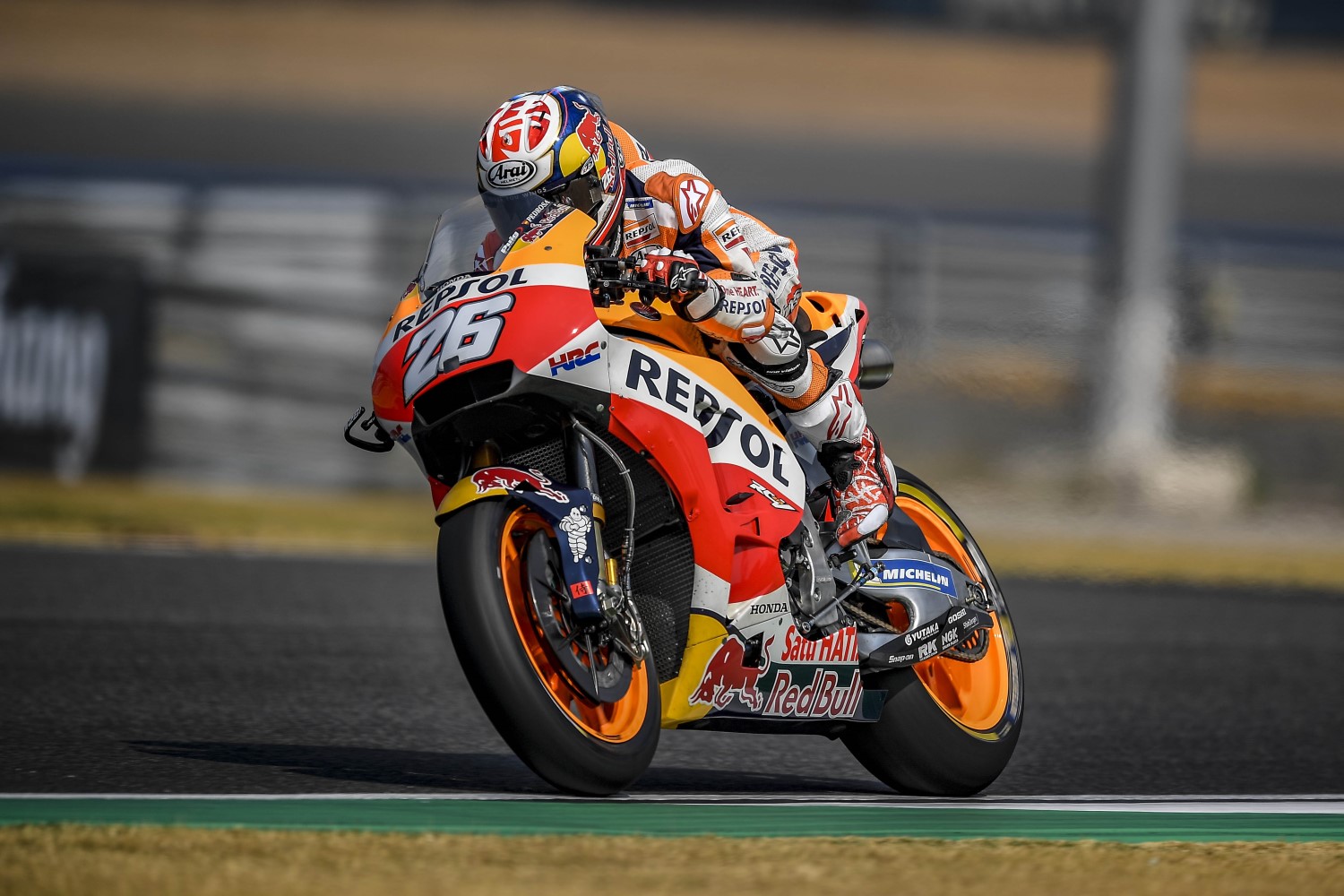 Dani Pedrosa
2ND 1'30.127 (ON LAP 39 OF 71)
"We're working a lot these days because we have to understand many things, like the track, the setup, and so on. Today we were able to keep a better pace than yesterday, and we've already improved the riding and the setting a bit. We're not there yet however, as we want to continue making progress. We tested some Michelin tires, though it seems that they won't be the ones we'll use for the race, and we worked on suspension, electronics, and the gearbox setting among other things. Tomorrow we'll probably also work on the aerodynamics. So far we're working well, and tomorrow we'll try to make the best of the final day!"
Saturday test times
| POS | DRIVER | TEAM | CAR | TIME | GAP | LAPS |
| --- | --- | --- | --- | --- | --- | --- |
| 1 | Marc Marquez | Honda | Honda | 1m29.969s | 0.000s | 97 |
| 2 | Dani Pedrosa | Honda | Honda | 1m30.127s | 0.158s | 71 |
| 3 | Jack Miller | Pramac Ducati | Ducati | 1m30.185s | 0.216s | 69 |
| 4 | Maverick Vinales | Yamaha | Yamaha | 1m30.274s | 0.305s | 90 |
| 5 | Johann Zarco | Tech3 Yamaha | Yamaha | 1m30.360s | 0.391s | 60 |
| 6 | Danilo Petrucci | Pramac Ducati | Ducati | 1m30.367s | 0.398s | 75 |
| 7 | Alex Rins | Suzuki | Suzuki | 1m30.446s | 0.477s | 56 |
| 8 | Cal Crutchlow | LCR Honda | Honda | 1m30.490s | 0.521s | 85 |
| 9 | Andrea Dovizioso | Ducati | Ducati | 1m30.494s | 0.525s | 78 |
| 10 | Jorge Lorenzo | Ducati | Ducati | 1m30.729s | 0.760s | 57 |
| 11 | Andrea Iannone | Suzuki | Suzuki | 1m30.775s | 0.806s | 76 |
| 12 | Tito Rabat | Avintia Ducati | Ducati | 1m30.855s | 0.886s | 69 |
| 13 | Alvaro Bautista | Aspar Ducati | Ducati | 1m30.883s | 0.914s | 89 |
| 14 | Valentino Rossi | Yamaha | Yamaha | 1m30.888s | 0.919s | 65 |
| 15 | Takaaki Nakagami | LCR Honda | Honda | 1m30.901s | 0.932s | 83 |
| 16 | Bradley Smith | KTM | KTM | 1m31.113s | 1.144s | 79 |
| 17 | Aleix Espargaro | Aprilia | Aprilia | 1m31.130s | 1.161s | 65 |
| 18 | Franco Morbidelli | MVDS Honda | Honda | 1m31.185s | 1.216s | 68 |
| 19 | Mika Kallio | KTM | KTM | 1m31.598s | 1.629s | 99 |
| 20 | Scott Redding | Aprilia | Aprilia | 1m31.637s | 1.668s | 67 |
| 21 | Karel Abraham | Aspar Ducati | Ducati | 1m31.661s | 1.692s | 72 |
| 22 | Thomas Luthi | MVDS Honda | Honda | 1m31.994s | 2.025s | 71 |
| 23 | Hafizh Syahrin | Tech3 Yamaha | Yamaha | 1m31.998s | 2.029s | 49 |
| 24 | Xavier Simeon | Avintia Ducati | Ducati | 1m32.267s | 2.298s | 60 |