IndyCar drivers comment on first day with new car on ISM oval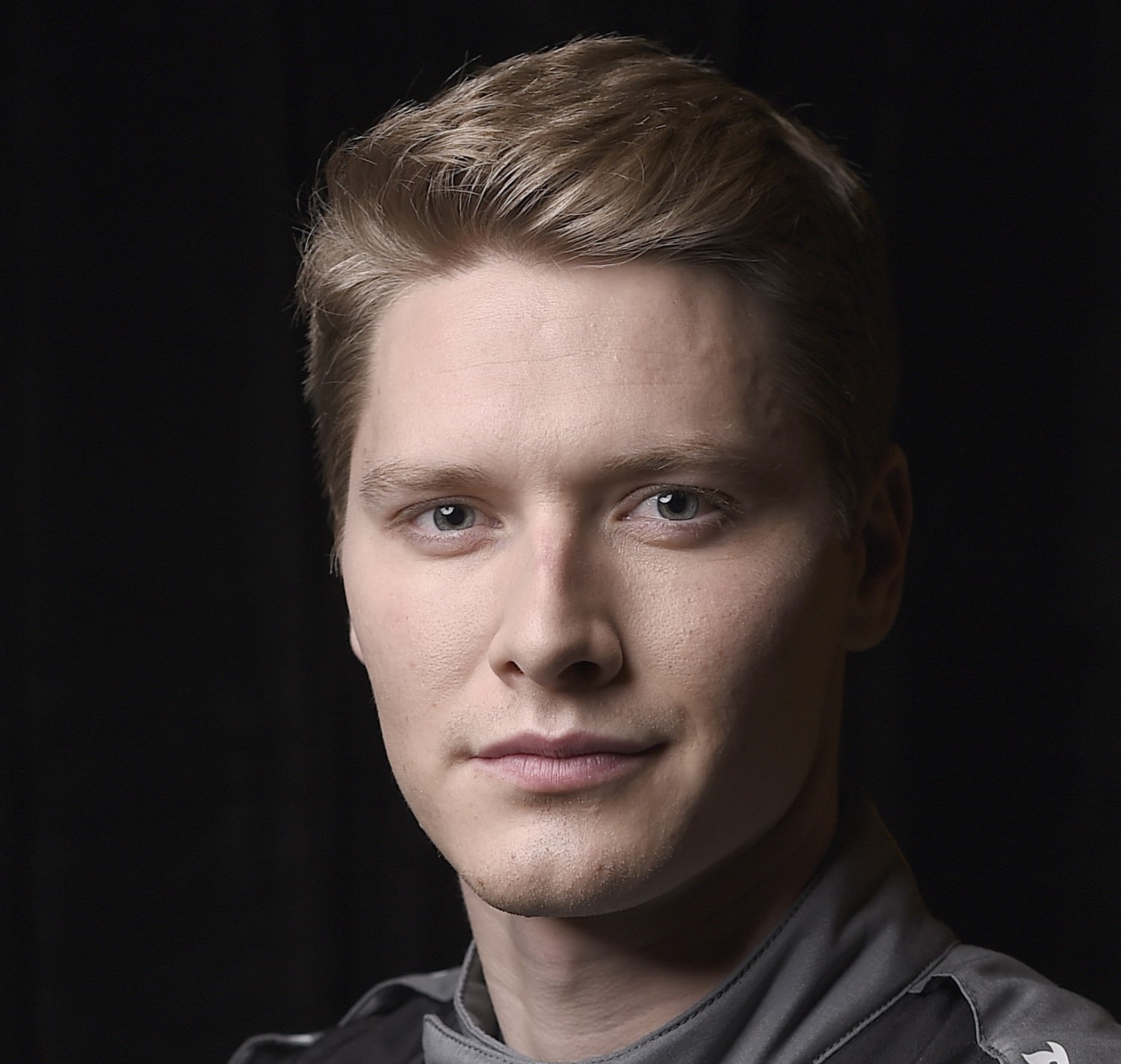 Josef Newgarden
JOSEF NEWGARDEN (No. 1 Hitachi Team Penske Chevrolet): "It was an OK day. It's good to get back. It's fun driving the Hitachi car officially today in an official session. We have a little bit of work to do and I feel like we got off to a good start. We'll try and debrief tonight with everyone and see what we can do for tomorrow and make some more progress. Then we'll come back here in April and we'll be ready to rock."
MATHEUS "MATT" LEIST (No. 4 ABC Supply AJ Foyt Racing Chevrolet): "The car is great. The first practice we were fast. We have been working mainly on my side just for me to feel comfortable in the car, get laps down. I'm really happy with the performance of the whole team and with myself as well. We had two sessions and two top 10 (finishes), including one top five which is good. We need to do some race stints tomorrow to see how the car feels and probably improve a little bit. I'm happy with everything and I think we're going the right way, and hopefully we'll have a great day tomorrow."
JAMES HINCHCLIFFE (No. 5 Arrow Schmidt Peterson Motorsports Honda): "We certainly have things we can build on. I don't really know what we expected (from today), obviously everything is so new. It's funny how for the same fundamental car – the chassis is the same, the suspension's all the same, all the rest of it – how much just a change in the bodywork can affect the setups, what you need to do, and what the car likes, how it behaves. We're all, up and down pit lane, in a bit of a learning process at the moment, and we found some good things, and found some bad things, but it's all part of the process."
ROBERT WICKENS (No. 6 Lucas Oil Schmidt Peterson Motorsports Honda): "I thought it was a very productive day. The rookie test yesterday was fairly straightforward, and today was very interesting for me. We got through some setup stuff, got to run in traffic, got to run with a lot of people on track – unlike yesterday where it was a maximum four of the six people were on track at the same time. I thought it all went well. The Lucas Oil team did a great job. I feel very comfortable in the car, which was the first thing I wasn't actually sure about with it being my first oval, and I wasn't even sure if I liked them to be honest. But I do – they're good fun. I'm looking forward to another day on track tomorrow."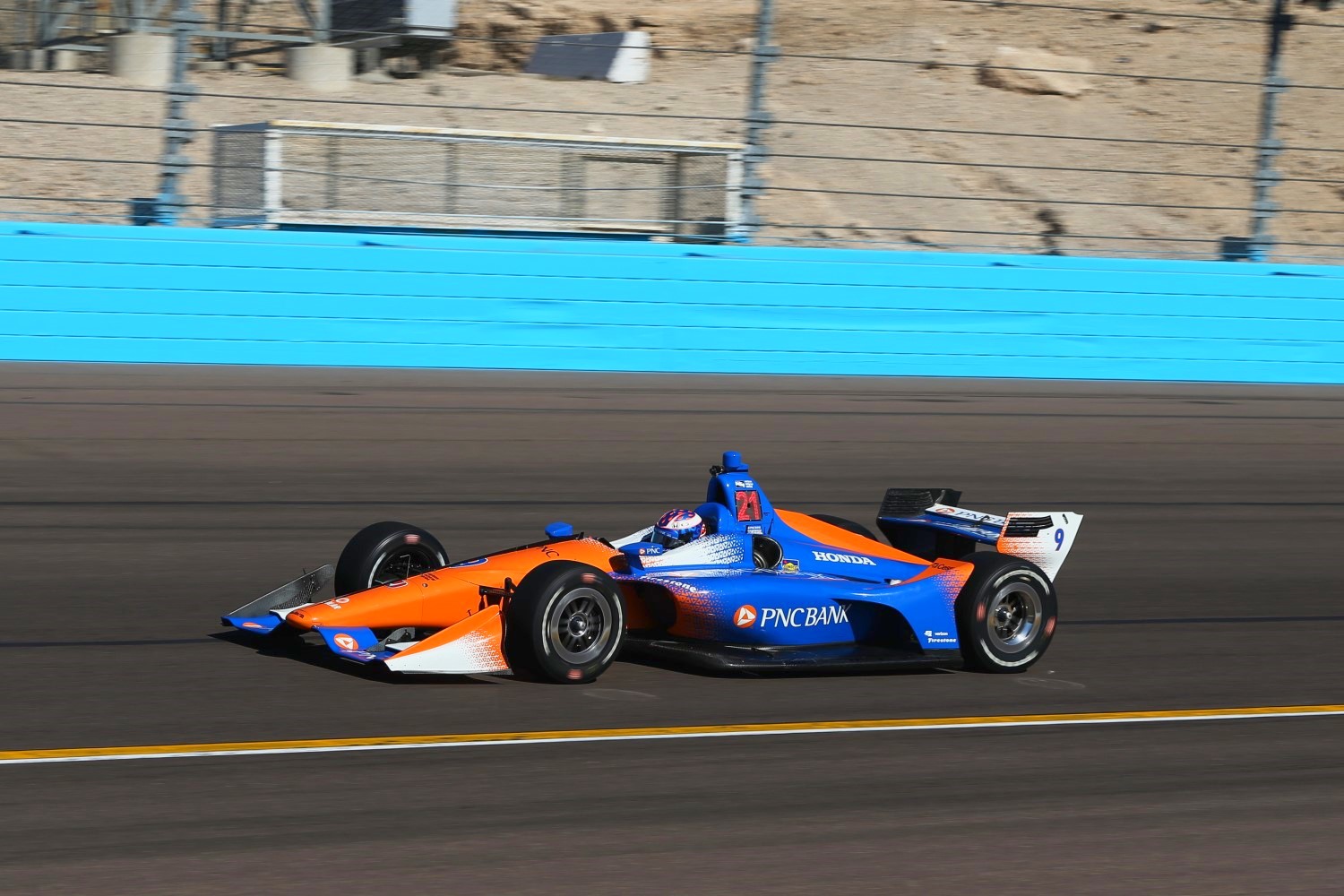 Scott Dixon sans windscreen
SCOTT DIXON (No. 9 PNC Bank Chip Ganassi Racing Honda): "There are a lot of unknowns here with the new car to be honest. We are trying to do a lot of things and go through a lot of changes to understand this car. One of the main focuses here at the Phoenix test is mechanical grip. We are spending time developing it and doing our homework with the goal of being ready for the start of the season, as well as when we come back here for the race in the PNC Bank car."
ED JONES (No. 10 NTT Data Honda): "I've been looking forward to getting back behind the wheel of the NTT Data car since our test in Sebring earlier this year. This is obviously my first oval test in the new car, so track time is key and I have a lot to pick up in a short time before we start the season. Today we focused on trying different things in order to see what suits me best."
WILL POWER (No. 12 Verizon Team Penske Chevrolet): "Not bad. We ran through a lot of different stuff, and we got to do a full-tank run, and running in some traffic. We're making some progress with the new car."
TONY KANAAN (No. 14 ABC Supply AJ Foyt Racing Chevrolet): "Positive day for us. First day on the oval, first day with this car. A lot of work to do trying to understand what we need when we come back, but I'm happy. We had a trouble-free day apart from problems that we had that were not up to us to solve them – some telemetry issues and software issues. Slowly we're getting the team to work better together. It's nice to have the Boss (A.J. Foyt) around all the time. He lights up the timing stand for sure."
GRAHAM RAHAL (No. 15 Rahal Letterman Lanigan Racing Honda): "Overall, a lot of positives to be taken out of today's session. We're good, and Takuma (Sato) is right behind us. And frankly, that lap wasn't anywhere near what the potential was. We were on a (19.30 second lap), but I caught traffic, I caught (Charlie) Kimball. My sense is what's good is that I'm ultimately not super happy, ideally, with the car. The car has pace. Both cars have pace, and so that's awesome. Trust me, to come here, Takuma and I were talking last night and we were like, 'You know, I don't really like this place.We haven't had a lot of luck here the last few years, we're used to coming here and getting our butts kicked.' To be able to come here and be competitive with this aero kit is awesome. Obviously Honda has done a good job with the engines, but I mean it's competitive. It's close, kit's going to be close. It's our first time being on a short oval with this aero kit. It's the most fun I have had on a short oval in years. The car is much more driver sensitive. To me it's what an Indy car should be on a track like this. The car doesn't obviously corner as quick, but it accelerates down the straightaways a lot better."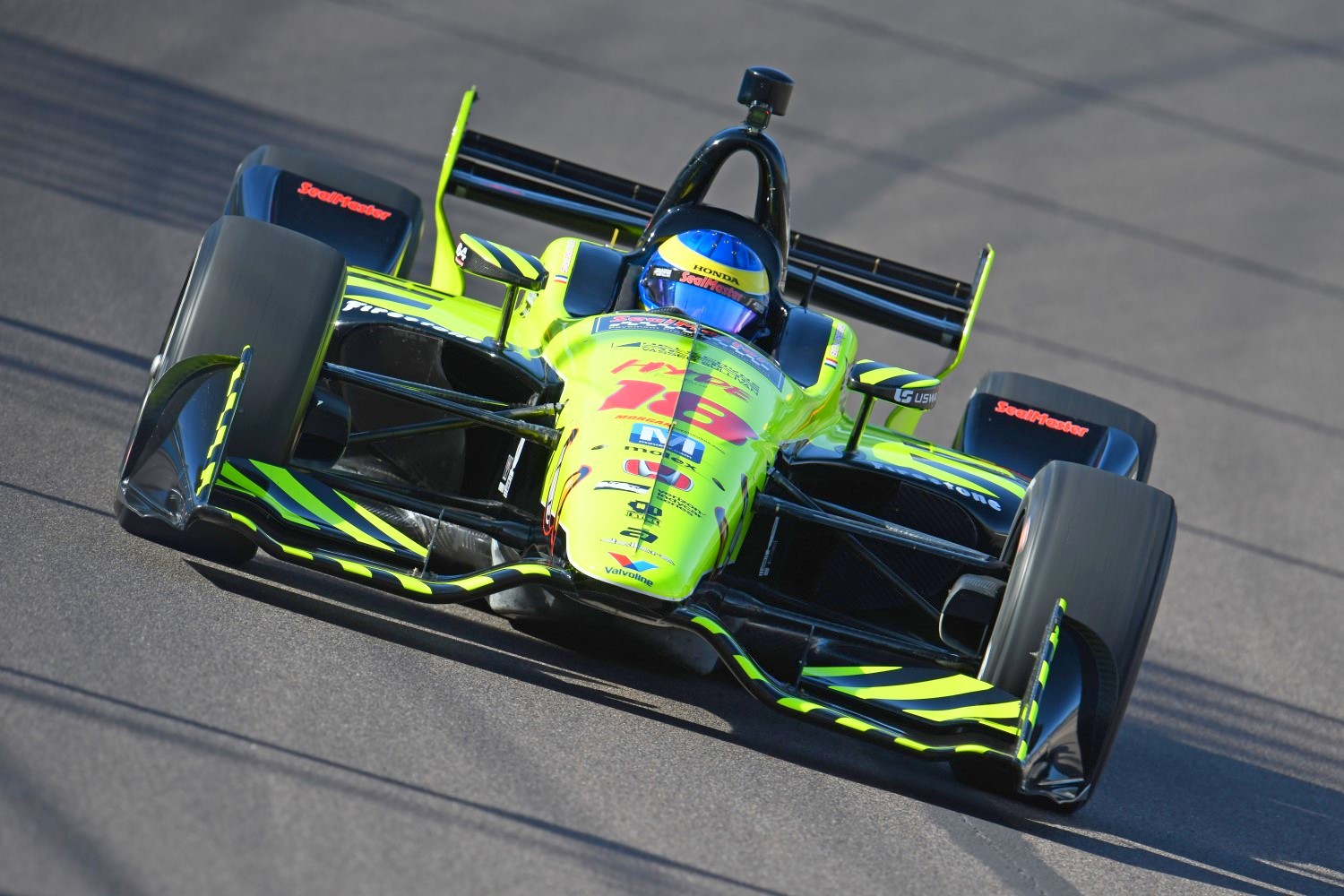 Sebastien Bourdais
SEBASTIEN BOURDAIS (No. 18 Sealmaster Honda): "A bit of a trying day for us. We unloaded a car that was fairly similar to what we had mechanically last year and that wasn't awesome, so we tried something different and it's probably a bit worse. I don't know. We have work to do. I think we can kind of fake it on new tires, but that's not going to last too long. We just need to review the data and try and find something better."
PIETRO FITTIPALDI (No. 19 Paysafe Honda): "It was awesome getting the first run on the oval yesterday. The team did a great job to help me get up to speed, to learn as much as I can because it's very different from running on a road course, obviously. The track is not very forgiving, if you make a mistake you're in the wall. We've been using the test to get up to speed and we're making some steps on the setup. We'll keep working on it tomorrow. I enjoy being on an oval with an Indy car a lot. It's obviously a different experience and it's a different driving style. You to have to a bit of a specialty towards it. I think there are some drivers that really excel on this type of track because it's a completely different world. I'm really enjoying it and working with the team and my engineers and I'm looking forward to the season."
ED CARPENTER (No. 20 Fuzzy's Vodka Chevrolet): "This wasn't the kind of start we had last year at the open test, but at the same time it doesn't really mean anything yet. We have some improvement to do and things we need to figure out with this new car. That's definitely something we can accomplish at this point. We didn't get as much done today as what we would have liked and need to work more on getting the car where it needs to be to get a solid lap time out of it. The car isn't bad by any means, our race pace is good, we are still just missing a little something to get higher lap times."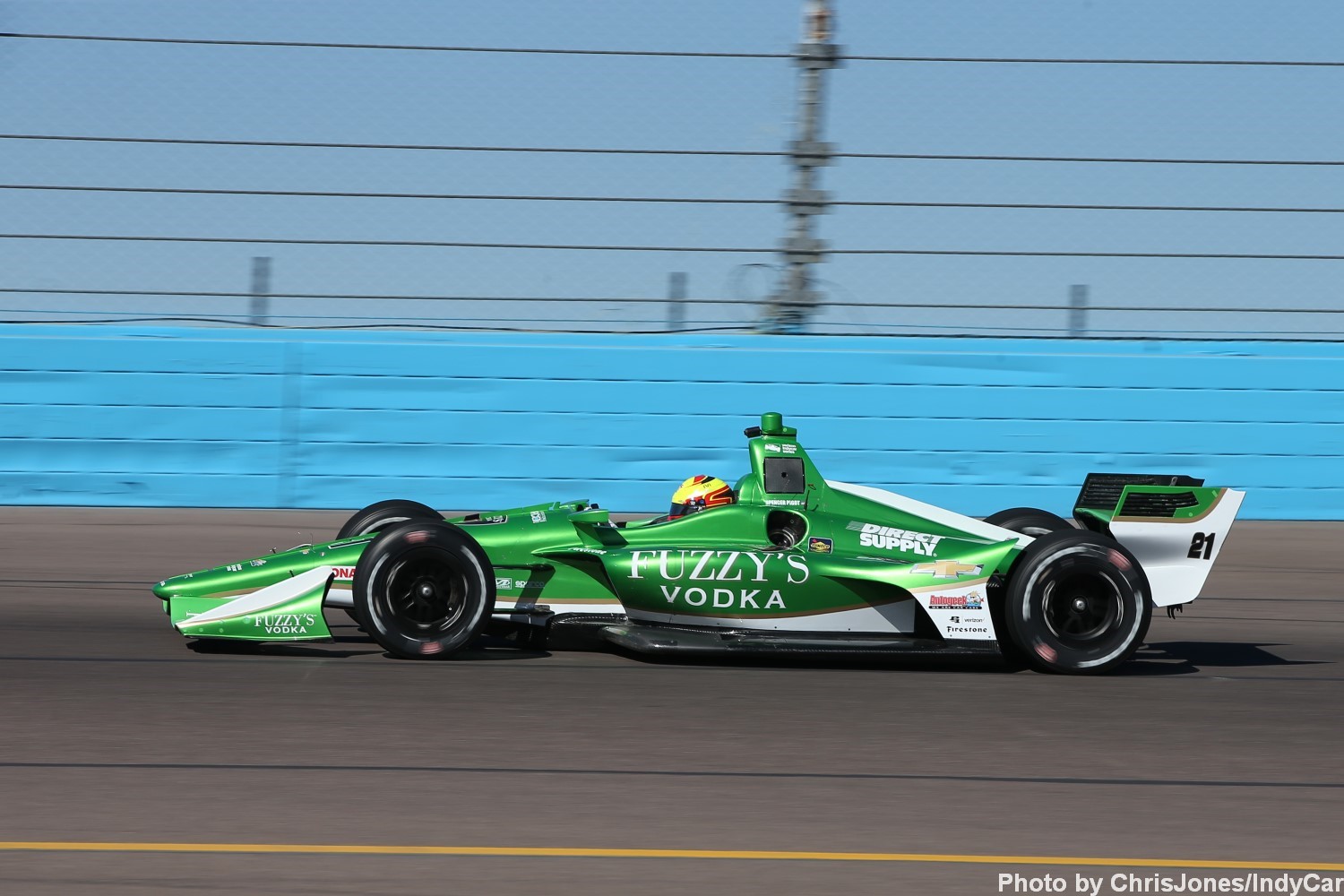 Spencer Pigot
SPENCER PIGOT (No. 21 Fuzzy's Vodka Chevrolet): "We really got through quite a few changes today. Some of the things we did were good, some of there were not so good, but that's how you learn. It was nice to get some more track time on the oval, especially with more cars out there. It was the first time I've run on an oval in more race-like conditions and it was nice to get used to that. We are ending tonight with a good idea of what we need to fix for tomorrow."
SIMON PAGENAUD (No. 22 Menards Team Penske Chevrolet): "It's awesome to be back at an oval, especially here for me, since my first oval win was at Phoenix last year. I just love the new package with this car. It's quite a bit different, but that's the kind of day I love. It's when you have to work really hard with the engineer to figure it out and understand what does what. We got some good understanding today. We have a bit of homework ahead of us. So now we need to recoup and recap what happened today and understand the package. Overall, it's a good start. They're doing a good job with Chevy and I had a blast tonight."
CHARLIE KIMBALL (No. 23 NovoNordisk Chevrolet): "It was a great first day with the new car. It's a brand new car to the team and a brand new car on the oval. It ran really well – no mechanical issues at all. We had a few electronic gremlins, but it sounds like a lot of people up and down pit lane were struggling with the same issues. The team has just been working flat out all day, especially on the electronics side, just trying to get the data where they need it and getting all the sensors where they need them. Mechanically we've got a little ways to go on the car, but we made progress and we learned a lot. From this afternoon to this evening we took a big step forward in competitiveness and speed. There's still a ways to go, but I have a lot of confidence in everyone here at Carlin."
ZACH VEACH (No. 26 Group One Thousand One Honda): "It's incredible to be here at ISM Raceway. The track is really fast and my teammates have told me the car is quite a bit lighter from last year's. It feels like the same amount of grip as an Indy Lights car, but we're going 20 to 30 mph faster. We've had a great start to the test with the rookie test yesterday and the session this afternoon. This evening we ran into a bit of an issue with the car, but we're learning a lot from my teammates. This is the first time we've run the new car on the short oval as a team, so there's a lot to learn still, but the Group One Thousand One car is well on its way."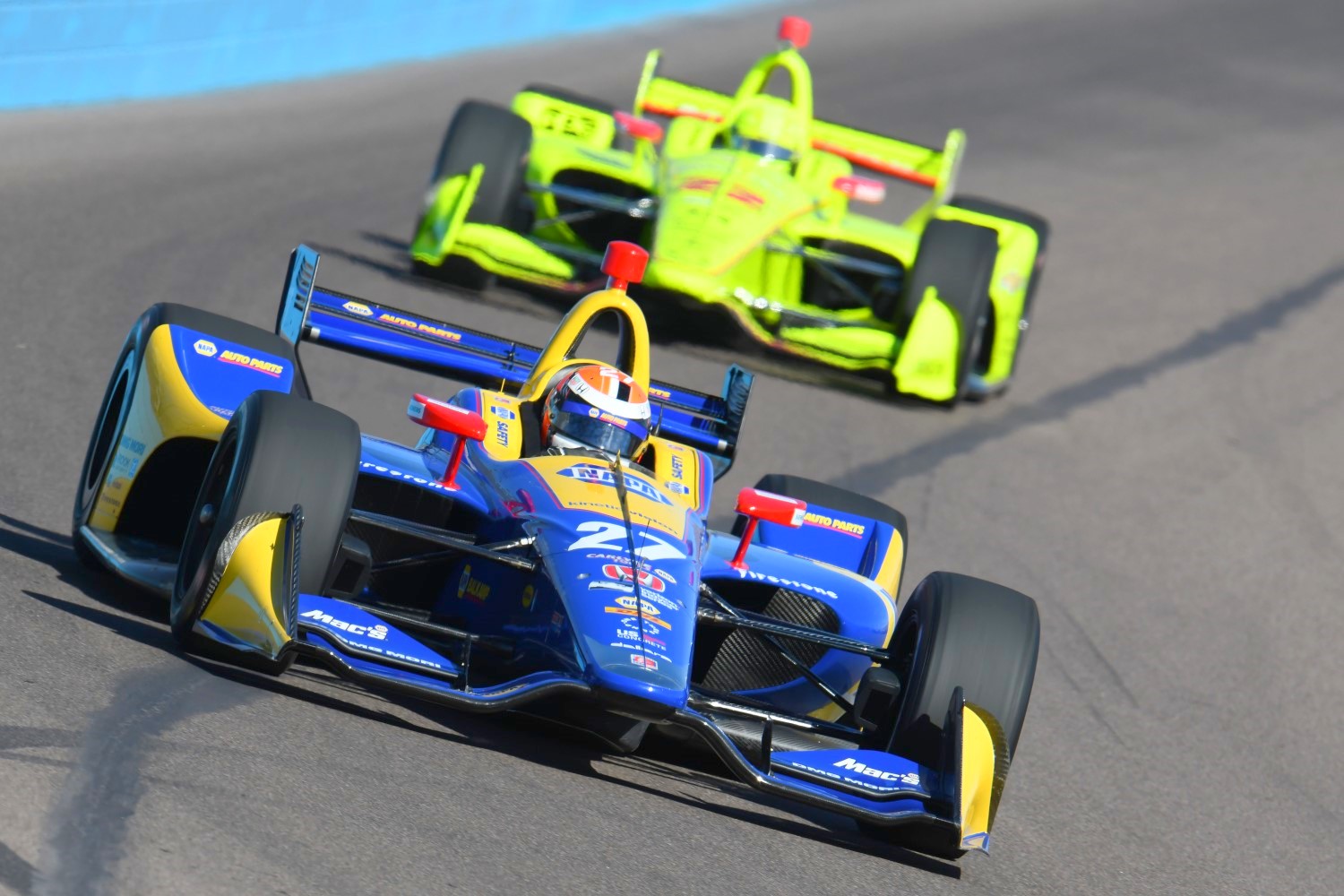 Rossi leads Pagenaud
ALEXANDER ROSSI (No. 27 NAPA Auto Parts Honda): "It was a busy first day. As usual, when testing we have more time than tires, so we maximized as much as we could. We had an issue in the afternon with something, so we started the evening practice from ground zero, where I think we made OK progress. Our single-lap pace is fine, but we need to work on the race running still. Overall, the NAPA Auto Parts car handed me a pretty positive day."
RYAN HUNTER-REAY (No. 28 DHL Honda): "It was a good first day behind the wheel of the new car. We checked off a lot of boxes and the DHL Honda had some good pace – we ended the day in the top six. We had the chance to work the car in no traffic and then tried it in heavy traffic. We know what we need to work on for tomorrow and hopefully we'll see some heavy progress before we pack up and head back home."
TAKUMA SATO (No. 30 Rahal Letterman Lanigan Racing Honda): "It was a good day for our first day on an oval. The team did a lot of preparation over the course of the winter and we had a very productive, positive day. There is a lot to learn and still a lot of things to be done for race weekend, but we made progress today and showed good speed. I'm very happy considering it was our first day. It was a good day and hopefully it continues tomorrow."
MAX CHILTON (No. 59 Gallagher Chevrolet): "We have a lot to learn. I think it was a challenging day for everyone. There's just a whole new way of driving to learn, especially for Carlin who has never run an Indy car on an oval. We made big progressions today, which is really nice to see and we got into the ballpark at the end of the day. I'm glad it's a two-day test and we still have tomorrow to continue progressing. If we can make the same jumps tomorrow that we made today, we'll be looking really good."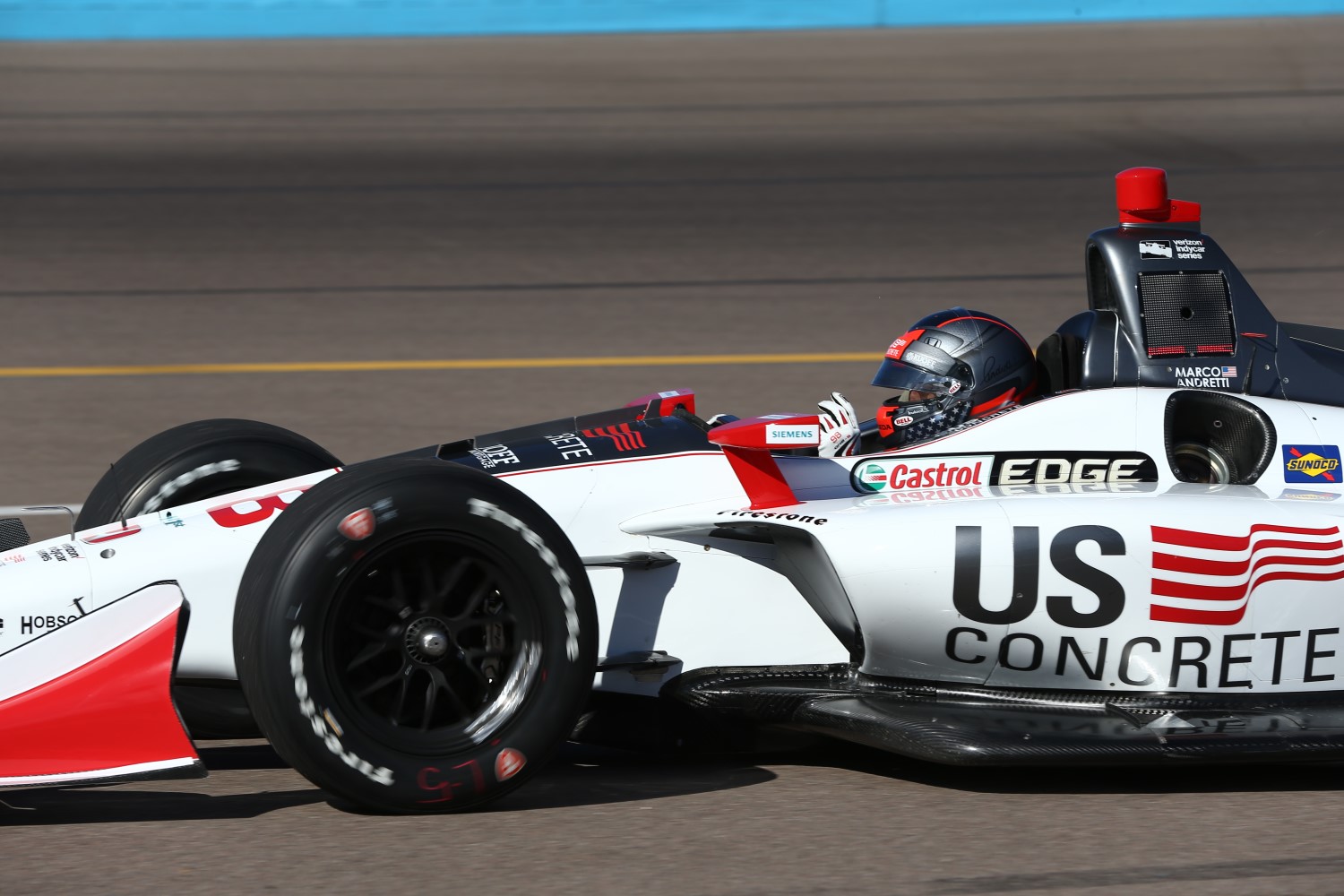 Marco Andretti
GABBY CHAVES (No. 88 Harding Group Chevrolet): "We just finished our first official team day at ISM Raceway today. We went through our run plan, made some changes and learned a few things. We didn't end up where we wanted to be with the car, but we will take what we learned today and apply that for tomorrow and improve from there. We'll be working hard to get our Harding Racing No. 88 Team Chevy car up to the front."
MARCO ANDRETTI (No. 98 Andretti Herta Autosport with Curb-Agajanian Honda): "It was nice to finally get into the new car on an oval track. We're playing a bit of catch up, but the pace seems OK. I think once we are able to get the car more comfortable, the pace will come, but right now the car is on edge. We're still in the early stages, but I think the U.S. Concrete car will show its potential soon."