Mostert breaks Audi domination at Liqui-Moly Bathurst 12 Hour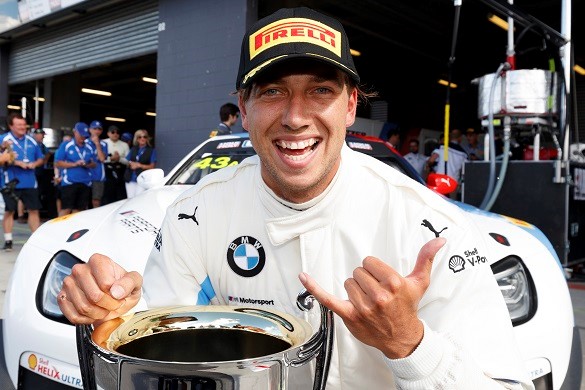 Chaz Mostert
Chaz Mostert has taken the Allan Simonsen pole award trophy ahead of tomorrow's Liqui-Moly Bathurst 12 Hour with a blistering lap in the Top 10 Shootout. (See video of lap at bottom)
The BMW Team Schnitzer driver, who shares the M6 GT3 with co-drivers Augusto Farfus and Marco Wittmann, lapped the 6.2km Mount Panorama circuit in a 2:01.934, holding off the charging Audi of Kelvin van der Linde who was unable to better Mostert's time.
Van der Linde's lap, which was only 0.235s slower than Mostert's, was good enough to secure the South African Audi gun a front row start for tomorrow's race in second, aboard the #22 Jamec Pem Racing Audi he shares with Garth Tander and Frederich Vervisch.
"We were close last year in the Pro-Am entry but it's pretty special to go to the pointy end and actually get the pole this time with Schnitzer Motorsport and the BMW Motorsport group," said Mostert.
"For me it's amazing, the boys gave enough trust in me to qualify the car and we made the car better and better over practice. It's a lot of hard work to fly a car all the way from Germany to put it on the pole so it's fantastic."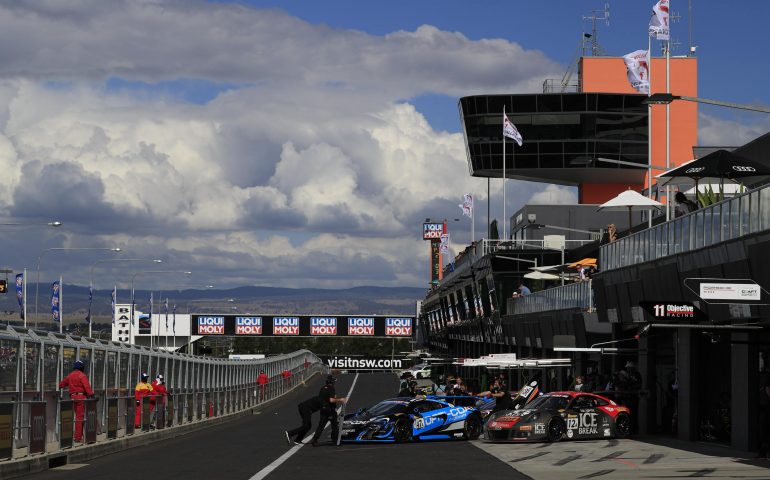 Bathurst Pits
The sister Audi of Christopher Haase, Christopher Mies and Markus Winkelhock will start from third on the grid, with Haase setting a 2:02.434 as being the fifth car out on track.
Reigning Supercars Champion Jamie Whincup had a tough day in the Mercedes AMG and will start from grid spot 16 for tomorrow's race.
Lee Holdsworth became a casualty in qualifying when he spun his Audi R8 on the way up the mountain, causing a lengthy red flag. Despite the heavy crash the team has declared the car a starter for tomorrow, starting from 20th on the grid.
Aside from Whincup missing the shootout, the other major news of the day was the elimination of the Steven Richards Motorsport BMW after being found guilty of an unspecified technical breach.
Tomorrow's Liqui-Moly Bathurst 12 Hour begins at 5:45am local time, with Live coverage across Australia kicking off at 5:30am on channel 7mate.
Full Bathurst 12 Hour starting grid:
Pos
Num
Team
Drivers
Car
Time
1
43
BMW Team Schnitzer
C. Mostert
A. Farfus
M. Wittmann
BMW M6 GT3
2:01.9340
2
22
Jamec Pem Racing
K. van der Linde
G. Tander
F. Vervisch
Audi R8 LMS
2:02.1697
3
74
Jamec Pem Racing
C. Haase
C.Mies
M. Winkelhock
Audi R8 LMS
2:02.4344
4
777
Buik Motorworks
L. Youlden
T. Enge
Y. Shahin
Lamborghini R-EX
2:03.2352
5
47
YNA Autosport
S. McLaughlin
F.Ross
A. Watson
A. West
McLaren 650S GT3
2:03.3481
6
55
Strakka Racing
C. Waters
D. Fumanelli
N. Leventis
L. Williamson
Mercedes-AMG GT3
2:03.4181
7
37
Audi Sport Team WRT
R. Frijns
S. Leonard
D. Vanthoor
Audi R8 LMS GT3
2:03.4485
8
58
YNA Autosport
S. van Gisbergen
C. Lowndes
C. Ledogar
McLaren 650S GT3
2:03.6690
9
17
Bentley Team M-Sport
S. Kane
G. Smith
J. Gounon
Bentley Continental GT3
2:03.7475
10
12
Competition Motorsposrt
M. Campbell
D. Calvert-Jones
P. Long
A. Davison
Porsche 911 GT3-R
2:05.1117
11
56
Mercedes-AMG Team Strakka Racing
M.Gotz
A.Parente
Mercedes-AMG GT3
2:03.0857
12
82
Internatioal Motorsport
M.Halliday
J.Reid
Audi R8 LMS
2:03.1625
13
32
Lago Racing
R.Lago
D.Russell
S.Owen
Lamborghini R-EX GT3
2:03.3660
14
18
Bentley Team M-Sport
Maxime Soulet
Bentley Continental GT3
2:03.3817
15
75
Mercedes-AMG Team SunEnergy1 Racing
T. Vautier
J.Whincup
R.Marciello
Mercedes-AMG GT3
2:03.4383
16
69
Audi Sport Customer Racing
A.Walsh
D.Padayachee
Audi R8 LMS
2:03.4797
17
991
Craft Bamboo Racing
L.Vanthoor
K.Estre
E.Bamber
Porsche 911 GT3 R
2:03.5313
18
39
Audi Sport Team WRT
P.Lamy
W.Davison
Audi R8 LMS
2:03.5409
19
9
Audi Sport Customer Racing
M.Cini
L.Holdsworth
D.Fiore
Audi R8 LMS
2:03.6538
20
3
Audi Sport Customer Racing
Daniel Gaunt
Audi R8 LMS
2:03.6603
21
8
Scott Taylor Motorsport
C.Baird
T.D'Alberto
Mercedes-AMG GT3
2:03.6936
22
19
Nineteen Corp P/L
D.Reynolds
J.Martin
M.Griffith
Mercedes-AMG GT3
2:03.6959
23
29
Trofeo Motorsport
J.Manolios
D.Canto
Lamborghini Huracan
2:03.7569
24
11
Objective Racing
T.Slade
J.Evans
McLaren 650S
2:04.2409
25
540
Black Swan Racing
J.Bleekemolen
L.Stolz
M.Lieb
Porsche 911 GT3 R
2:04.2721
26
911
Manthey-Racing
R.Dumas
F.Makowiecki
D.Werner
Porsche 911
2:04.5779
27
91
MARC Cars Australia
K.Kassulke
W.Brown
MARC II V8
2:06.1184
28
67
MARC Cars Australia
Morgan Haber
MARC II V8
2:06.5310
29
66
Daytona Sportscars
Ben Schoots
Dodge Viper
2:06.5967
30
4
Grove Motorsport Pty Ltd
Ben Barker
Porsche GT3 Cup
2:08.0716
31
23
Team Carrera Cup Asia
P.Tresidder
C.van der Drift
Porsche 991
2:09.2162
32
65
Daytona Sportscars
D.Thomas
R.Howell
Daytona Coupe
2:09.7100
33
54
MARC Cars Australia
P.Morris
C.Parrish
MARC II V8
2:10.2220
34
95
Eastgate Engineering
Bryce Fullwood
MARC Focus V8
2:10.5471
35
93
MARC Cars Australia
Garry Jacobson
MARC Mazda V8
2:11.0258
36
21
JFC – Carter Grange
D.Stutterd
A.Fawcet
Porsche 911
2:11.7320
37
85
Wall Racing
C.Espenlaub
J.Foster
Porsche 911 GT3 Cup
2:12.0096
38
96
MARC Cars Australia
J.Goodacre
P.Major
MARC Focus V8
2:12.5664
39
30
Boat Works Racing
Aaron Seton
BMW M4 GT4
2:16.2626
40
44
BMW Team SRM
X.West
C.Hill
BMW M4 GT4
2:16.9769
41
13
RHC-Lawrence/Strom (MarcGT)
B.Strom
K.Wittmer
BMW M4 GT4
2:17.2531
42
49
KTM / M Motorsport
Glen Wood
KTM X-Bow GT4
2:17.4416
43
46
Prosport Performance GABH
J.Viebahn
M.Braams
N.Verdonck
Porsche Cayman PRO4
2:18.0965
44
48
M Motorsport P/L
J.McMillan
T.Macrow
KTM X-Bow GT4
2:18.2490
45
77
Ginetta Australia
Mike Simpson
Ginetta G55
2:18.2649
46
40
On Track Motorsport
G.Mennell
M.Caine
Porsche 997 GT3 Cup
2:19.4251
47
33
MARC Cars Australia
Rob Thomson
MARC Mazda V8
2:20.8149
48
88
Ginetta Australia
W.Tregurtha
J.Robson
Ginetta G55
2:22.1424
ROG
100
BMW Team SRM
S. Richards
T. Glock
P. Eng
BMW M6 GT3
2:02.665