Ford CGR Earns Back-to-Back Wins at Rolex 24, 200th Win for Chip Ganassi (Update)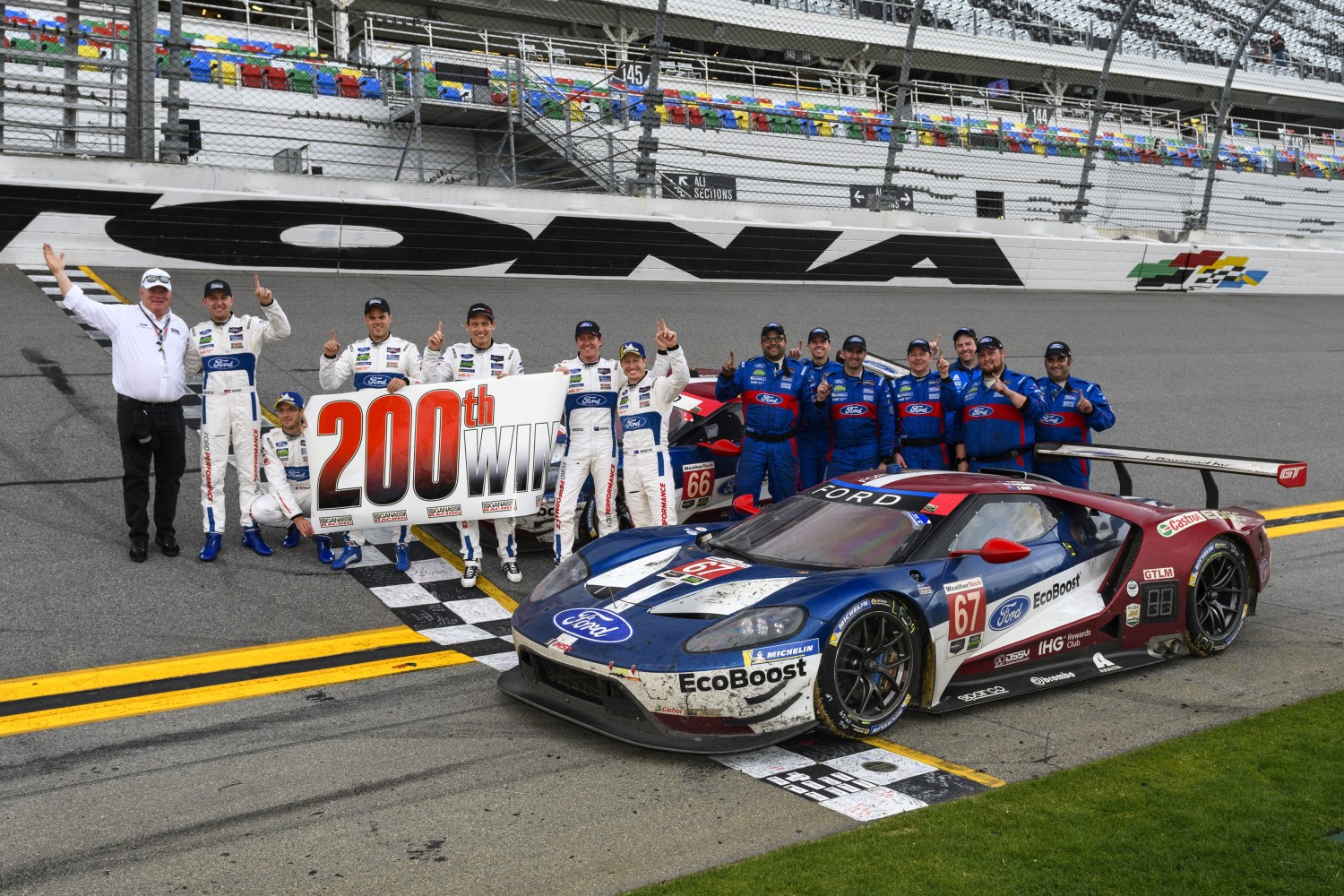 The Ganassi Ford team celebrates their 1-2 finish in GTLM class at the Rolex 24
UPDATE Added a Ford Victory video below.
01/28/18
Ford Chip Ganassi Racing has won back-to-back IMSA GTLM titles at the Rolex 24 At Daytona and the Ford EcoBoost-powered Ford GT also broke a distance record for the race that has stood since 1982.
One year after their team car, the No. 66 Ford GT, won the event, drivers Ryan Briscoe, Richard Westbrook and Scott Dixon combined to earn the title for themselves. After leading most of the race, the No. 66 Ford GT team of Joey Hand, Dirk Muller and Sebastien Bourdais finished p2.
The win was historic for team owner Chip Ganassi, who reached the 200 wins mark among all his teams when the No. 67 Ford GT crossed the finish line. It was the 11th global Ford GT win for Ford Chip Ganassi Racing, including those earned in IMSA and the FIA World Endurance Championship.
"It's really a tribute to our Ford GT team and drivers that we've been able to win the Rolex 24 here at Daytona two years in a row, and to have three 24-hour wins within the first couple of years of this program," said Raj Nair, Executive Vice President and President, Ford North America. "These races are so tough to win and it says a lot about our car, our Ford EcoBoost engine, as well as the engineering and technology we have put into the Ford GT. This race win is special, not just because we helped bring Chip Ganassi his 200th win, but also because we had a chance to honor our friend Dan Gurney and his legacy today."
All Ford entries who competed during the IMSA weekend bore a special decal for Ford racing legend Dan Gurney, who died Jan. 14, 2018. The serial number on the winning Ford EcoBoost engine is "GT40."
Together, Ford Performance and Chip Ganassi Racing have earned 15 total wins and 41 podiums, including Ford GT and prototype, since the two combined forces in 2014.
"It was just an amazing 24-hour race," Westbrook said. "Racing with our teammates, they're our friends, and racing that hard for 24 hours, there was just nothing in it. It felt like ages we were just one second apart. It was just incredible and was so intense. I thought we put on a really good show. To come away with the 200th win for Chip and have Dan Gurney on our car made it ever so sweet."
The No. 66 and 67 cars traded leads during a 24-hour period with very few cautions. With just hours to go, a missed gear meant a pit stop went a little long for the No. 66 and the No. 67 assumed the lead. Hand, who had qualified on the front row at p2, and Westbrook got around the polesitter in the opening laps, then dominated the category after that.
"It's obviously a great win and a great weekend," Ganassi said. "In terms of the win, it was one of the most nerve-wracking races. You know, when you come out of the blocks like that and leading it after about three or four hours or something. After a certain amount of hours go around the clock a little bit, it's your race to lose. It's one thing not to win a race, it's another to lose it. It was our race to lose and those are one of the worst races from my point of view, because everything is out of my control. My hats off to the team, the drivers, the engineers, the mechanics, the people that build the engines, and the people who built the cars. They're the ones that deserve to be sitting up here along with the drivers and myself."
"I mean, unbelievable," Muller said. "Throughout the whole day Ford Chip Ganassi Racing ran p1-2. We made no mistakes and that's the silver lining. We're making no mistakes, staying out of trouble, and the cars are running flawless. We could have repeated this year in the No. 66, but hats off to those No. 67 guys. Either way I think they would have been happy for us and we are happy for them because we're all one team."
It was the fourth win for Westbrook and Briscoe and their first since Mosport in 2016.
"To get to drive a Ford GT is just a dream come true and to win the Rolex 24 is just awesome," Briscoe said.
The No. 67 and No. 66 each completed 781 race laps, a distance record for the race. The previous record for distance was 719 laps of the older format 3.84-mile circuit. Today's cars needed to make 776 laps of the 3.56-mile circuit to break the record.
"You always want to be the guy or the car that wins on a two-car team," Hand said. "But for the program, it just goes to show that we had two flawless cars. I've never seen two cars run nose-to-tail for a whole 24 hours like we did. That just goes to show what these Ford Chip Ganassi Racing guys are capable of. From the preparation to the leadership from Chip, he puts the right people in the right places and that's really all there is to it. After it's all said and done, all he asks is that we go out there and do our job. I did my best today. I drove a lot. We drove a lot of laps and it just wasn't enough at the end."
"This is quite the start to the 2018 season for Ford, winning the WRC rally at Monte Carlo earlier today and now having our teams go 1-2 here in the Rolex 24 At Daytona," said Mark Rushbrook, Global Director, Ford Performance Motorsports. "There's been so much technical work that has gone on in the off-season by so many people to prepare for an event like this, and to have this kind of success gives our program momentum for the year. We are proud to help bring Ganassi its 200th win, but just as happy this gives us a good start to one of our goals for 2018 – which is to win the IMSA season championship."