Latest F1 news in brief – Monday
If you take away Ferrari's and Mercedes' ability to outspend everyone, they will quit F1. They cannot afford to risk hurting their brand image by getting beat by a econo-box brand like Honda or Renault

F1 at risk of political turmoil – Berger

'Facts' show McLaren better in 2018 – Alonso
2018 Williams 'more aggressive' – Sirotkin
McLaren to be competitive in 2018 – Isola
Alonso made Honda 'look bad' – Marko
F1's Whiting gives thumbs up to Assen track
Alonso wants Indy 500-style orange McLaren
Halo caused teams 'a lot of work' – Szafnauer
Sky Deutschland will no longer carry F1 races in Germany and Austria
F1 at risk of political turmoil – Berger
(GMM) Toto Wolff says he misses F1 supremo Bernie Ecclestone's ability to get things done.
The Mercedes boss says Liberty Media has been in a "honeymoon period" since succeeding the Ecclestone era, but many are now predicting a fiery showdown with top teams including Ferrari.
One criticism from Wolff is that while the Ecclestone era was contentious, he would regularly pull off lucrative deals.
"Bernie invented this sport so to speak, and he had strong qualities to increase sales," he told DPA news agency.
"If I picked one point, it would be the ability to complete deals that he had."
On the other hand, Wolff pointed out that Liberty has made many plans and ideas public, but the real test will be putting them into action.
"We've heard many interesting things," he said. "But the difficulty is not having good ideas, but actually implementing them."
For instance, Liberty has unveiled plans for new engine rules and a budget cap, but Ferrari is already threatening to quit.
"Right now, many in formula one are moving in different directions," former F1 driver Gerhard Berger told Auto Motor und Sport.
"You have Mercedes and Ferrari on one side, Ross Brawn and the Americans on the other, and the FIA in the middle," he explained.
"In the good old days there was unity between Bernie Ecclestone and Max Mosley, so it was hard for the teams to have an influence. So at the moment there is the danger of great political disruptions," said Wolff.
'Facts' show McLaren better in 2018 – Alonso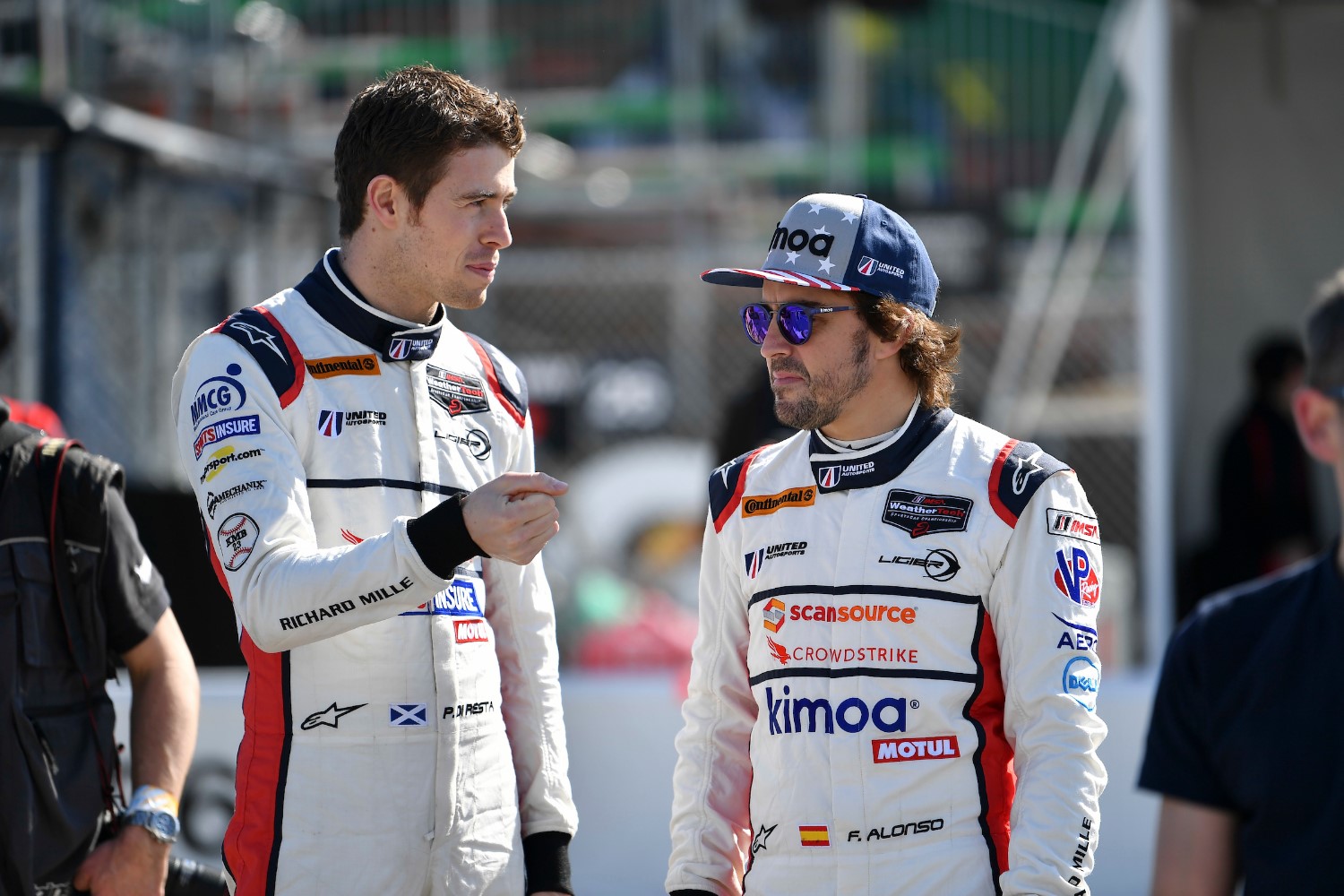 Alonso in Daytona with teammate Paul di Resta
(GMM) Fernando Alonso says he is likely to return to Daytona in the future.
The Spaniard had a less than perfect endurance sports car debut at the American event in 2018, but he said he now feels "much better prepared" for Le Mans.
"I can drive prototypes better than I could two weeks ago," Alonso is quoted by Spain's Diario Sport.
But the McLaren driver said F1 remains his "number 1 priority" this year, although admitting that his chances of racing at Le Mans increased from 50 to 60 per cent.
"If and when I drive Le Mans, then it will be my second time driving at night, knowing how long to rest and sleep etc," Alonso added.
And he said a return to Daytona in 2019 is probable, as he can prepare for F1 at the wheel of a racing car "much better" than in the gym or on a bike.
As for his chances of podiums in F1 this year, he said McLaren is "very confident".
"In recent years we have always hoped that the next season will be better, but these were just hopes. This time we also have facts," Alonso added.
2018 Williams 'more aggressive' – Sirotkin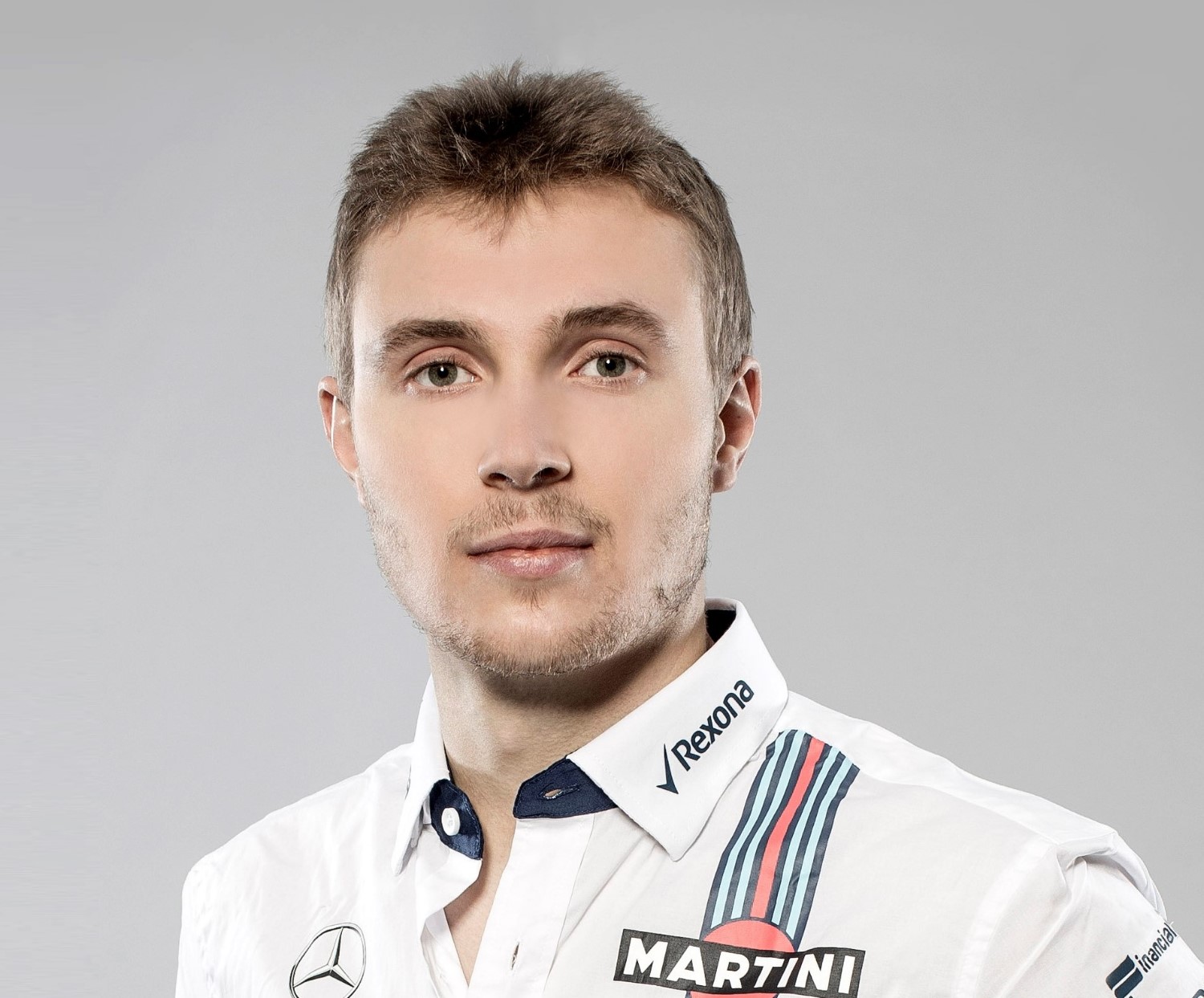 Sergey Sirotkin has seen new car
(GMM) Sergey Sirotkin says Williams' 2018 car is "much more aggressive" than its predecessor.
It has emerged that the British team will beat many of its competitors to the launch of their new machines, with a Williams reveal event to take place in London next month.
Sirotkin, the team's newly-announced Russian driver, says the team will be ready.
"Although we announced our cooperation not so long ago, we started preparing at the Abu Dhabi test," he told the Russian publication Sport-Express.
"I have seen the new car in the wind tunnel and I can say that it looks cool — much more aggressive. The simulator and other indicators confirm that a tangible step forward has been made," Sirotkin added.
Many have criticized Williams' 2018 driver lineup, with Sirotkin instead of F1 legend Robert Kubica chosen to be Lance Stroll's teammate.
Sirotkin denied that the influence of Stroll, whose father is a billionaire, will disadvantage him.
"Some people talk about the influence of his father on the team, but I do not see that within the team," he insisted.
"I try to do my work as well as I can every day, and I'm sure that the team will see and appreciate it."
As for being chosen as Stroll's teammate over Kubica, Sirotkin said he wants to form a good relationship with Williams' new reserve driver.
"Robert is a very nice guy with character and charisma, which is important because we have to spend time together," he said.
"He is a talented and fast driver and completely understands the nuances of working with the car, which everyone knows.
"I will not compare him with myself, but it's good to have someone like him to help me to develop and also Lance and the whole team. Together we have a very good and quite young team," Sirotkin said.
McLaren to be competitive in 2018 – Isola
Mario Isola
(GMM) McLaren should have a competitive car in 2018.
That is the view of Mario Isola, the F1 boss for the sport's sole tire supplier Pirelli.
"The world championship this year will be interesting," he told Spain's Marca sports newspaper.
"Last year we saw that Ferrari was very close to Mercedes and also Red Bull progressed a lot, so I hope we will see five or six teams fighting for victories including McLaren," Isola added.
He said one of the British team's biggest assets is Fernando Alonso.
"Fernando is undoubtedly one of the best drivers in the world, and this year he will be able to demonstrate what he is capable of," said Isola.
"I am sure that McLaren will develop a lot and return to the place they deserve in 2018."
Alonso made Honda 'look bad' – Marko
Alonso did what he could to get Honda replaced
(GMM) Dr Helmut Marko says Red Bull's new plan for 2018 is still on track.
Recently, Marko said the team had learned from 2017, when it started with a car off Mercedes and Ferrari's pace.
"Based on our experience last year, we gave the engineers a deadline," he now explains to Auto Motor und Sport.
"There is no worrying this time about whether we can make it to the first test."
Quietly, Marko is optimistic about the RB14 car amid whispers from France that Renault has got the reliability problems of its engine under control.
But there are no public goals from Red Bull, with Marko saying only: "Let us surprise.
"We have optimal values, but we do every year," he said.
Another positive factor is the strong involvement of Adrian Newey, although Marko admits the famous designer is not involved "100 per cent".
As for the future, Red Bull is reportedly looking beyond 2018 with Renault and considering joining sister team Toro Rosso in using Honda power.
"Honda is very active and have already found something," Marko said.
"Perhaps they will manage to be on Renault's level with their second engine (specification).
"Honda had to compromise because of the McLaren chassis and were not able to develop freely. And Alonso did everything he could to make the engine look bad," he added.
For 2018, Marko expects Mercedes to dominate again.
"The worst thing is their qualifying mode, because you cannot overtake on most tracks," he said.
F1's Whiting gives thumbs up to Assen track
Charlie Whiting
(GMM) The Netherlands has taken another step towards F1 with a visit to the Assen circuit by race director Charlie Whiting.
De Telegraaf newspaper reports that Whiting gave the track a "positive assessment" during his visit, pointing out that new curbs, barriers and layout tweaks are necessary.
And Assen chief Arjan Bos predicted that the changes would cost EUR 2 million at most.
"We are not there yet, but it is nice to hear that Whiting is so positive about the circuit, the modern facilities and the state of maintenance," Bos said.
"We have always said that we hope to bring the grand prix back to The Netherlands within three years. At the moment I estimate the chance at 50-50," he added.
De Telegraaf also reports that as for securing a race promoter for the Dutch grand prix, Assen has received "interest from home and abroad".
Alonso wants Indy 500-style orange McLaren
Alonso at Indy
(GMM) Fernando Alonso has admitted he would like McLaren to adopt an all-orange color scheme in F1 this year.
Last year, the Spaniard drove the British team's orange and black livery, but then contested the fabled Indy 500 with an all 'papaya' McLaren entry.
"I'm happy with any color, but orange is part of the DNA of McLaren," Alonso is quoted by Speed Week.
"So it would be nice if we saw an orange car like my Indycar," he admitted.
Halo caused teams 'a lot of work' – Szafnauer
Force India tested the Halo in Abu Dhabi during the Pirelli Tire test held after the race
(GMM) Integrating 'Halo' with this year's cars is a huge challenge for designers.
That is the claim of Force India's sporting chief Otmar Szafnauer, referring to the controversial driver protection that is mandatory from 2018.
"The time pressure was created by the Halo," he told Auto Motor und Sport.
"We got the final specifications very late, but one also cannot underestimate the influence. It weighs 14kg and the FIA's stress tests are strict. There is a lot of work to do," Szafnauer added.
"Then there is the aerodynamic damage, which is more than we had thought."
Last year, Force India finished 'best of the rest' behind the top three teams and expects Williams to be an obvious challenger in 2018.
"They use the same engine as us, and now Paddy Lowe and Dirk de Beer – people from Mercedes and Ferrari – are involved. They bring experience from winning teams," he said.
"We have the better driving pairing, but if they have a really good car that can make all the difference."
Szafnauer said Renault will be another tough challenger in 2018.
"They have pumped a lot of money and people into their project," he explained. "We have the Mercedes (engine) advantage but it's not as big as many people believe."
As for F1's forthcoming political struggle, Szafnauer denies that Force India will vote with its engine partner Mercedes.
"We pay for our engines so we have our own opinion," he said. "Only when they give us the engine can they also tell us what opinion we should have."
And finally, Szafnauer said he is not losing sleep over the possibility that Force India could lose Esteban Ocon to Mercedes after this season.
"We have a contract with Esteban for 2019 but of course this possibility exists," he said.
"It's not nice to build up a driver and then a bigger team takes him away, but you have to live with it. F1 is not a children's birthday party," Szafnauer smiled.
Sky Deutschland will no longer carry F1 races in Germany and Austria
In "view of rising rights costs, the pay-TV broadcaster wants to concentrate" in the future on sports events that can be broadcast exclusively, "at least in part," according to a spokesperson. BROADBAND TV NEWS