Rolex 24: Hour 21 – 3 Hours to go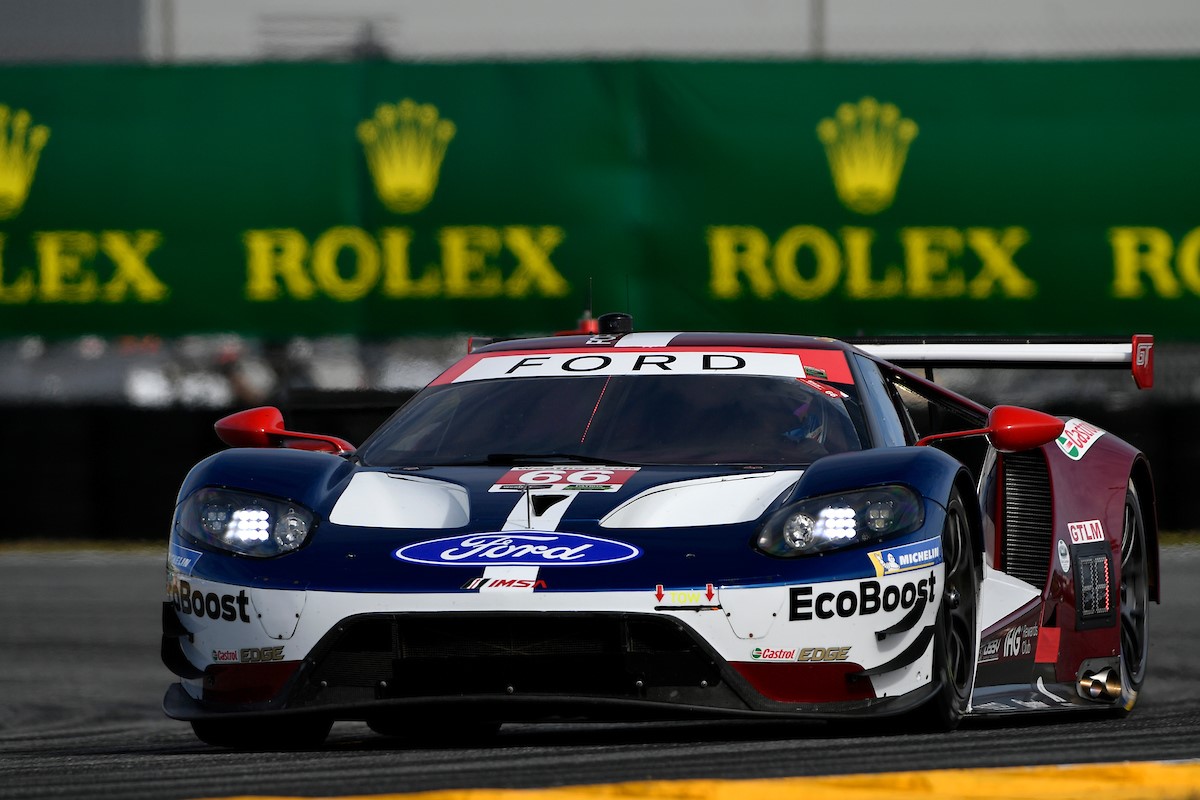 Sebastien Bourdais leading Scott Dixon with 3 hours remaining.
LAT for IMSA
With 3 hours to run in the Rolex 24, the race in prototypes is fairly boring with the #5 Cadillac now almost 4 laps ahead of the #31 sister Action Express Cadillac. The only thing that could turn the borefest into an exciting finish is if the forecast rain hits the track before the finish.
Barbosa and his co-drivers Joao Barbosa and Christian Fittipaldi No. 5 Cadillac DPi-V.R have led overall for the better part of the last five hours.
Lois Duval has the #54 Oreca in third place over 4 laps behind the leader.
The #66 and #67 Ford GTs continue to parade around the track within seconds of each other with IndyCar drivers Sebastien Bourdais holding off Scott Dixon. The #3 Corvette runs third 43 seconds back and will need a phony NASCAR yellow to close the gap.
The #11 Lamborghini now tops GTD but the running order changes with pitstops.
Hour 21 Standings
| | | | | | | | | |
| --- | --- | --- | --- | --- | --- | --- | --- | --- |
| Pos | CP | Car | CL | Current Driver | Lap | Gap | Int | Make |
| 1 | 1 | 5 | P | J.Barbosa | 705 | — | — | Cadillac DPi |
| 2 | 2 | 31 | P | F.Nasr | 702 | -3 L | -3 L | Cadillac DPi |
| 3 | 3 | 54 | P | L.Duval | 701 | -4 L | -1 L | ORECA LMP2 |
| 4 | 4 | 78 | P | F.Habsburg-Lothringen | 699 | -6 L | -2 L | ORECA LMP2 |
| 5 | 5 | 32 | P | P.Di Resta | 698 | -7 L | -1 L | Ligier LMP2 |
| 6 | 6 | 85 | P | S.Trummer | 694 | -11 L | -4 L | ORECA LMP2 |
| 7 | 7 | 99 | P | G.Menezes | 693 | -12 L | -1 L | ORECA LMP2 |
| 8 | 8 | 38 | P | K.Masson | 692 | -13 L | -1 L | ORECA LMP2 |
| 9 | 9 | 7 | P | R.Taylor | 686 | -19 L | -6 L | Acura DPi |
| 10 | 10 | 6 | P | D.Cameron | 685 | -20 L | -1 L | Acura DPi |
| 11 | 1 | 66 | GTLM | S.Bourdais | 679 | — | — | Ford GT |
| 12 | 2 | 67 | GTLM | S.Dixon | 679 | 2.331 | 2.331 | Ford GT |
| 13 | 3 | 3 | GTLM | J.Magnussen | 679 | 43.610 | 41.279 | Chevrolet Corvette C7.R |
| 14 | 4 | 4 | GTLM | T.Milner | 678 | -1 L | -1 L | Chevrolet Corvette C7.R |
| 15 | 5 | 62 | GTLM | D.Rigon | 672 | -7 L | -6 L | Ferrari 488 GTE |
| 16 | 6 | 912 | GTLM | G.Bruni | 672 | -7 L | 17.246 | Porsche 911 RSR |
| 17 | 11 | 37 | P | F.Rosenqvist | 672 | -33 L | -13 L | ORECA LMP2 |
| 18 | 7 | 24 | GTLM | J.Krohn | 672 | -7 L | 26.343 | BMW M8 GTLM |
| 19 | 12 | 23 | P | P.Hanson | 670 | -35 L | -2 L | Ligier LMP2 |
| 20 | 13 | 52 | P | G.Yacaman | 666 | -39 L | -4 L | Ligier LMP2 |
| 21 | 1 | 11 | GTD | F.Perera | 653 | — | — | Lamborghini Huracan GT3 |
| 22 | 2 | 33 | GTD | L.Stolz | 653 | 19.230 | 19.230 | Mercedes-AMG GT3 |
| 23 | 3 | 86 | GTD | A.Allmendinger | 653 | 22.485 | 3.255 | Acura NSX GT3 |
| 24 | 4 | 48 | GTD | B.Sellers | 653 | 25.557 | 3.072 | Lamborghini Huracan GT3 |
| 25 | 5 | 44 | GTD | A.Lally | 652 | -1 L | -1 L | Audi R8 LMS GT3 |
| 26 | 6 | 64 | GTD | T.Bell | 652 | -1 L | 12.725 | Ferrari 488 GT3 |
| 27 | 8 | 911 | GTLM | N.Tandy | 651 | -28 L | -21 L | Porsche 911 RSR |
| 28 | 7 | 29 | GTD | S.van der Linde | 651 | -2 L | -1 L | Audi R8 LMS GT3 |
| 29 | 8 | 15 | GTD | D.Heinemeier Hansson | 647 | -6 L | -4 L | Lexus RCF GT3 |
| 30 | 9 | 75 | GTD | T.Jaeger | 647 | -6 L | 57.140 | Mercedes-AMG GT3 |
| 31 | 10 | 93 | GTD | C.Ledogar | 646 | -7 L | -1 L | Acura NSX GT3 |
| 32 | 11 | 63 | GTD | G.Jeannette | 646 | -7 L | 30.536 | Ferrari 488 GT3 |
| 33 | 12 | 71 | GTD | K.Koch | 644 | -9 L | -2 L | Mercedes-AMG GT3 |
| 34 | 13 | 19 | GTD | C.Engelhart | 642 | -11 L | -2 L | Lamborghini Huracan GT3 |
| 35 | 14 | 96 | GTD | M.Tomczyk | 636 | -17 L | -6 L | BMW M6 GT3 |
| 36 | 9 | 25 | GTLM | A.Sims | 630 | -49 L | -21 L | BMW M8 GTLM |
| 37 | 15 | 69 | GTD | S.Rayhall | 629 | -24 L | -7 L | Acura NSX GT3 |
| 38 | 16 | 14 | GTD | D.Baumann | 623 | -30 L | -6 L | Lexus RCF GT3 |
| 39 | 17 | 82 | GTD | M.Griffin | 617 | -36 L | -6 L | Ferrari 488 GT3 |
| 40 | 18 | 59 | GTD | M.Cairoli | 614 | -39 L | -3 L | Porsche 911 GT3 R |
| 41 | 19 | 73 | GTD | N.Siedler | 581 | -72 L | -33 L | Porsche 911 GT3 R |
| 42 | 20 | 51 | GTD | P.Dalla Lana | 571 | -82 L | -10 L | Ferrari 488 GT3 |
| 43 | 21 | 58 | GTD | R.Renauer | 568 | -85 L | -3 L | Porsche 911 GT3 R |
| 44 | 14 | 20 | P | B.Gaughan | 559 | -146 L | -107 L | Multimatic/Riley LMP2 |
| 45 | 15 | 10 | P | R.Van Der Zande | 555 | -150 L | -4 L | Cadillac DPi |
| 46 | 16 | 55 | P | J.Bomarito | 541 | -164 L | -14 L | Mazda DPi |
| 47 | 17 | 77 | P | T.Nunez | 530 | -175 L | -11 L | Mazda DPi |
| 48 | 18 | 22 | P | P.Derani | 438 | -267 L | -92 L | Nissan DPi |
| 49 | 19 | 2 | P | R.Dalziel | 338 | -367 L | -100 L | Nissan DPi |
| 50 | 20 | 90 | P | M.McMurry | 291 | -414 L | -47 L | Cadillac DPi |