Rolex 24: Hour 16 Standings – Cadillac 1-2 at 2/3rd mark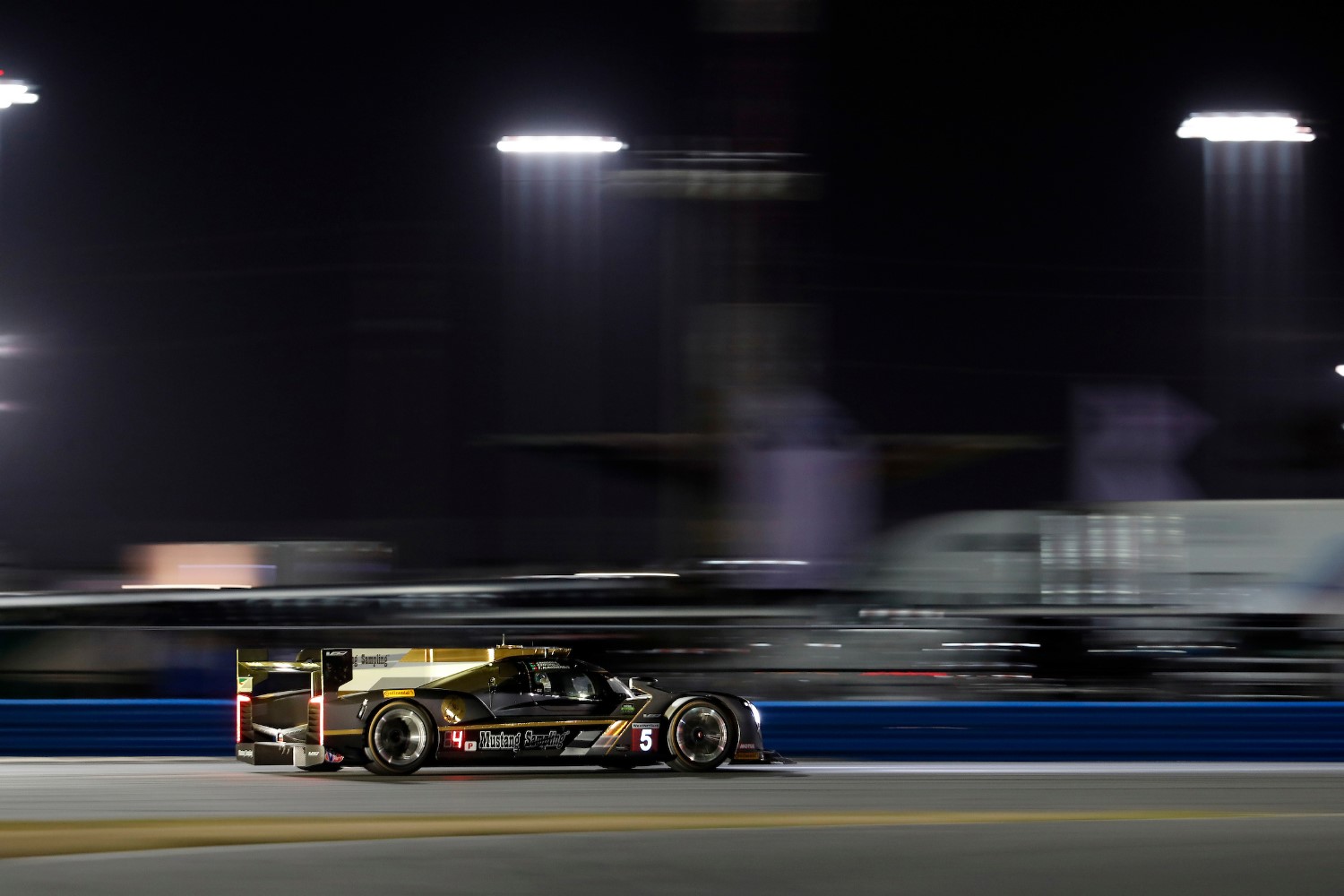 The #5 Cadillac holds a 1-lap lead in the Rolex 24
LAT for IMSA
The No. 7 Acura ARX-05 with Helio Castroneves at the wheel has gone behind the wall to repair damage from contact with the No. 31 Action Express Racing Cadillac DPi-V.R with eight hours of the Rolex 24 at Daytona left to run.
Helio Castroneves was driving the No. 7 Acura at the time of the incident, battling with Felipe Nasr for second place and the car has left-side tub, bodywork and radiator damage.
Joao Barbosa is leading the way in the other Action Express car (#5) while the No. 32 United Autosports Ligier JS P217 Gibson is now third 4 laps behind.
Ford Chip Ganassi Racing continues to run 1-2 in GT Le Mans with the #66 of Sebastien Bourdais re-passing the #67 team car of Richard Westbrook, the two sandbagging cars running just 1/2-sec apart for many hours and a full lap up on the #3 Corvette in third.
The #48 Lamborghini of Andrea Caldarelli leads GT Daytona for Paul Miller Racing, while Alvaro Parente is second for Michael Shank Racing 7.3 seconds behind.
Hour 16 Standings
| | | | | | | | | |
| --- | --- | --- | --- | --- | --- | --- | --- | --- |
| Pos | CP | Car | CL | Driver | Lap | Gap | Int | Make |
| 1 | 1 | 5 | P | J.Barbosa | 538 | — | — | Cadillac DPi |
| 2 | 2 | 31 | P | F.Nasr | 537 | -1 L | -1 L | Cadillac DPi |
| 3 | 3 | 32 | P | B.Senna | 534 | -4 L | -3 L | Ligier LMP2 |
| 4 | 4 | 54 | P | L.Duval | 532 | -6 L | -2 L | ORECA LMP2 |
| 5 | 5 | 10 | P | R.Van Der Zande | 531 | -7 L | -1 L | Cadillac DPi |
| 6 | 6 | 78 | P | A.Felix da Costa | 530 | -8 L | -1 L | ORECA LMP2 |
| 7 | 7 | 85 | P | R.Alon | 527 | -11 L | -3 L | ORECA LMP2 |
| 8 | 8 | 38 | P | P.O'Ward | 526 | -12 L | -1 L | ORECA LMP2 |
| 9 | 9 | 99 | P | S.Simpson | 526 | -12 L | 53.157 | ORECA LMP2 |
| 10 | 10 | 7 | P | H.Castroneves | 524 | -14 L | -2 L | Acura DPi |
| 11 | 11 | 37 | P | D.Juncadella | 520 | -18 L | -4 L | ORECA LMP2 |
| 12 | 1 | 66 | GTLM | S.Bourdais | 518 | — | — | Ford GT |
| 13 | 2 | 67 | GTLM | R.Westbrook | 518 | 0.695 | 0.695 | Ford GT |
| 14 | 3 | 3 | GTLM | A.Garcia | 517 | -1 L | -1 L | Chevrolet Corvette |
| 15 | 4 | 4 | GTLM | T.Milner | 516 | -2 L | -1 L | Chevrolet Corvette |
| 16 | 5 | 912 | GTLM | G.Bruni | 515 | -3 L | -1 L | Porsche 911 RSR |
| 17 | 12 | 6 | P | J.Pablo Montoya | 514 | -24 L | -6 L | Acura DPi |
| 18 | 13 | 23 | P | F.Alonso | 513 | -25 L | -1 L | Ligier LMP2 |
| 19 | 14 | 52 | P | R.Gonzalez | 512 | -26 L | -1 L | Ligier LMP2 |
| 20 | 6 | 24 | GTLM | J.Edwards | 511 | -7 L | -4 L | BMW M8 GTLM |
| 21 | 7 | 62 | GTLM | D.Rigon | 511 | -7 L | 68.355 | Ferrari 488 GTE |
| 22 | 15 | 55 | P | S.Pigot | 506 | -32 L | -6 L | Mazda DPi |
| 23 | 8 | 911 | GTLM | N.Tandy | 499 | -19 L | -12 L | Porsche 911 RSR |
| 24 | 1 | 48 | GTD | A.Caldarelli | 498 | — | — | Lamborghini Huracan |
| 25 | 2 | 86 | GTD | A.Parente | 498 | 7.329 | 7.329 | Acura NSX GT3 |
| 26 | 3 | 33 | GTD | J.Bleekemolen | 498 | 9.778 | 2.449 | Mercedes-AMG GT3 |
| 27 | 4 | 64 | GTD | F.Montecalvo | 498 | 10.769 | 0.991 | Ferrari 488 GT3 |
| 28 | 5 | 51 | GTD | P.Dalla Lana | 498 | 22.631 | 11.862 | Ferrari 488 GT3 |
| 29 | 6 | 11 | GTD | F.Perera | 498 | 55.246 | 32.615 | Lamborghini Huracan |
| 30 | 7 | 44 | GTD | A.Lally | 497 | -1 L | -1 L | Audi R8 LMS GT3 |
| 31 | 8 | 29 | GTD | S.van der Linde | 496 | -2 L | -1 L | Audi R8 LMS GT3 |
| 32 | 9 | 15 | GTD | D.Heinemeier Hansson | 494 | -4 L | -2 L | Lexus RCF GT3 |
| 33 | 10 | 93 | GTD | C.Ledogar | 493 | -5 L | -1 L | Acura NSX GT3 |
| 34 | 11 | 75 | GTD | M.Grenier | 492 | -6 L | -1 L | Mercedes-AMG GT3 |
| 35 | 12 | 73 | GTD | J.Bergmeister | 492 | -6 L | 2.798 | Porsche 911 GT3 R |
| 36 | 16 | 77 | P | O.Jarvis | 492 | -46 L | -14 L | Mazda DPi |
| 37 | 13 | 71 | GTD | K.Koch | 491 | -7 L | -1 L | Mercedes-AMG GT3 |
| 38 | 14 | 63 | GTD | C.MacNeil | 491 | -7 L | 25.944 | Ferrari 488 GT3 |
| 39 | 15 | 59 | GTD | R.Walls | 490 | -8 L | -1 L | Porsche 911 GT3 R |
| 40 | 16 | 19 | GTD | C.Engelhart | 488 | -10 L | -2 L | Lamborghini Huracan |
| 41 | 17 | 96 | GTD | C.Lawrence | 488 | -10 L | 16.344 | BMW M6 GT3 |
| 42 | 17 | 20 | P | M.Drumwright | 484 | -54 L | -8 L | Multimatic/Riley LMP2 |
| 43 | 18 | 69 | GTD | S.Rayhall | 484 | -14 L | -4 L | Acura NSX GT3 |
| 44 | 9 | 25 | GTLM | B.Auberlen | 471 | -47 L | -28 L | BMW M8 GTLM |
| 45 | 19 | 14 | GTD | K.Marcelli | 469 | -29 L | -15 L | Lexus RCF GT3 |
| 46 | 20 | 82 | GTD | M.Molina | 466 | -32 L | -3 L | Ferrari 488 GT3 |
| 47 | 18 | 22 | P | P.Derani | 438 | -100 L | -46 L | Nissan DPi |
| 48 | 21 | 58 | GTD | C.Nielsen | 413 | -85 L | -53 L | Porsche 911 GT3 R |
| 49 | 19 | 2 | P | R.Dalziel | 338 | -200 L | -100 L | Nissan DPi |
| 50 | 20 | 90 | P | M.McMurry | 291 | -247 L | -47 L | Cadillac DPi |