Rolex 24: Hour 9 Standings – Barbosa keeps #5 Cadillac out front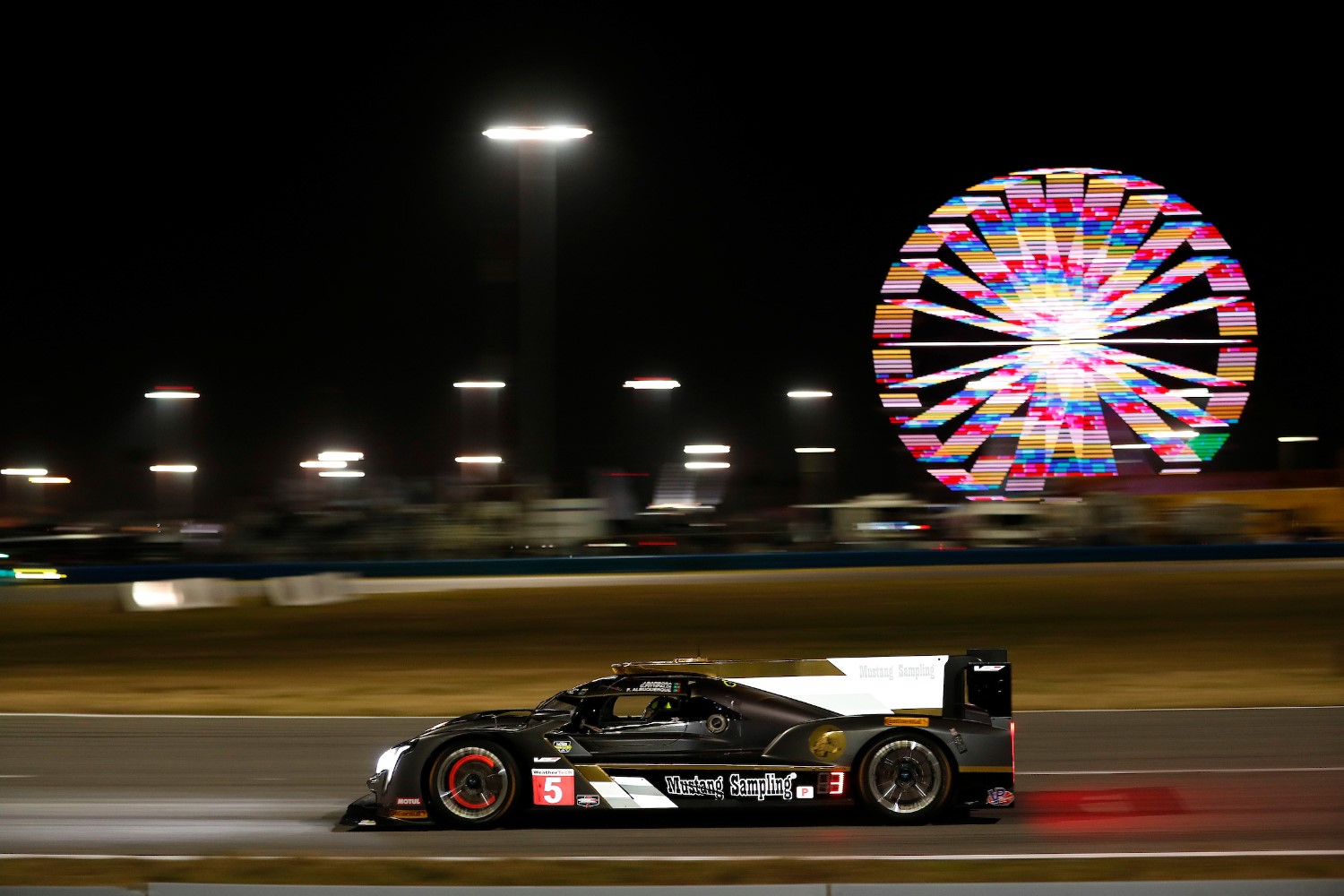 #5 Cadillac remains out front
LAT for IMSA
Joao Barbosa took over in the #5 Cadillac just before the 9 hour mark and was out front as the clock struck 9 hours down in the Rolex 24. It's remained dry since the rain in Hour 6 but more rain is forecast Sunday.
Ricky Taylor ran 2nd in the #7 Penske Acura some 29 seconds in arrears.
Fernando Alonso is back in the #23 Ligier but the car runs 3 laps behind in 10th place, the LMP2 cars from Europe being no match for the DPIs of IMSA – unfair balance of power set to favor IMSA of course.
The two sandbagging Ford GTs are showing their real pace come race time and are dominating the GTLM class with the #66 leading the #67. Over 90 seconds behind the two Ford GTs was the #4 Corvette with Tomy Milner behind the wheel.
In GTD the #29 Audi was leading the #33 Mercedes.
Hour 9 Standings
| | | | | | | | | |
| --- | --- | --- | --- | --- | --- | --- | --- | --- |
| Pos | CP | Car | CL | Current Driver | Lap | Gap | Int | Make |
| 1 | 1 | 5 | P | J.Barbosa | 305 | — | — | Cadillac DPi |
| 2 | 2 | 7 | P | R.Taylor | 305 | 29.395 | 29.395 | Acura DPi |
| 3 | 3 | 31 | P | F.Nasr | 305 | 71.409 | 42.014 | Cadillac DPi |
| 4 | 4 | 6 | P | J.Pablo Montoya | 305 | 72.737 | 1.328 | Acura DPi |
| 5 | 5 | 2 | P | R.Dalziel | 304 | -1 L | -1 L | Nissan DPi |
| 6 | 6 | 32 | P | H.de Sadeleer | 303 | -2 L | -1 L | Ligier LMP2 |
| 7 | 7 | 37 | P | R.Frijns | 303 | -2 L | 31.621 | ORECA LMP2 |
| 8 | 8 | 78 | P | A.Brundle | 303 | -2 L | 59.685 | ORECA LMP2 |
| 9 | 9 | 22 | P | J.van Overbeek | 302 | -3 L | -1 L | Nissan DPi |
| 10 | 10 | 23 | P | F.Alonso | 302 | -3 L | 0.071 | Ligier LMP2 |
| 11 | 11 | 54 | P | C.Braun | 300 | -5 L | -2 L | ORECA LMP2 |
| 12 | 12 | 52 | P | R.Gonzalez | 299 | -6 L | -1 L | Ligier LMP2 |
| 13 | 13 | 85 | P | R.Alon | 299 | -6 L | 15.311 | ORECA LMP2 |
| 14 | 14 | 38 | P | P.O'Ward | 297 | -8 L | -2 L | ORECA LMP2 |
| 15 | 15 | 55 | P | S.Pigot | 296 | -9 L | -1 L | Mazda DPi |
| 16 | 16 | 10 | P | R.Van Der Zande | 295 | -10 L | -1 L | Cadillac DPi |
| 17 | 17 | 99 | P | M.Goikhberg | 294 | -11 L | -1 L | ORECA LMP2 |
| 18 | 1 | 66 | GTLM | J.Hand | 294 | — | — | Ford GT |
| 19 | 2 | 67 | GTLM | R.Westbrook | 294 | 1.189 | 1.189 | Ford GT |
| 20 | 3 | 4 | GTLM | T.Milner | 293 | -1 L | -1 L | Chevrolet Corvette C7.R |
| 21 | 4 | 911 | GTLM | N.Tandy | 293 | -1 L | 15.495 | Porsche 911 RSR |
| 22 | 5 | 3 | GTLM | A.Garcia | 293 | -1 L | 3.553 | Chevrolet Corvette C7.R |
| 23 | 6 | 62 | GTLM | J.Calado | 292 | -2 L | -1 L | Ferrari 488 GTE |
| 24 | 7 | 912 | GTLM | G.Bruni | 292 | -2 L | 57.256 | Porsche 911 RSR |
| 25 | 18 | 90 | P | M.McMurry | 291 | -14 L | -3 L | Cadillac DPi |
| 26 | 8 | 24 | GTLM | J.Edwards | 291 | -3 L | -1 L | BMW M8 GTLM |
| 27 | 19 | 77 | P | R.Rast | 286 | -19 L | -5 L | Mazda DPi |
| 28 | 1 | 29 | GTD | J.Schmidt | 284 | — | — | Audi R8 LMS GT3 |
| 29 | 2 | 33 | GTD | B.Keating | 283 | -1 L | -1 L | Mercedes-AMG GT3 |
| 30 | 3 | 11 | GTD | R.Breukers | 282 | -2 L | -1 L | Lamborghini Huracan GT3 |
| 31 | 4 | 86 | GTD | K.Legge | 282 | -2 L | 22.042 | Acura NSX GT3 |
| 32 | 5 | 64 | GTD | F.Montecalvo | 282 | -2 L | 2.830 | Ferrari 488 GT3 |
| 33 | 6 | 44 | GTD | J.Potter | 282 | -2 L | 13.789 | Audi R8 LMS GT3 |
| 34 | 7 | 48 | GTD | M.Snow | 282 | -2 L | 7.487 | Lamborghini Huracan GT3 |
| 35 | 8 | 51 | GTD | M.Lauda | 281 | -3 L | -1 L | Ferrari 488 GT3 |
| 36 | 9 | 75 | GTD | M.Grenier | 280 | -4 L | -1 L | Mercedes-AMG GT3 |
| 37 | 10 | 15 | GTD | S.Pruett | 280 | -4 L | 1.464 | Lexus RCF GT3 |
| 38 | 11 | 69 | GTD | C.Gilsinger | 280 | -4 L | 1.788 | Acura NSX GT3 |
| 39 | 12 | 59 | GTD | H.Proczyk | 278 | -6 L | -2 L | Porsche 911 GT3 R |
| 40 | 13 | 73 | GTD | J.Bergmeister | 277 | -7 L | -1 L | Porsche 911 GT3 R |
| 41 | 14 | 71 | GTD | R.Foley | 277 | -7 L | 58.218 | Mercedes-AMG GT3 |
| 42 | 20 | 20 | P | M.Drumwright | 276 | -29 L | -10 L | Multimatic/Riley LMP2 |
| 43 | 15 | 19 | GTD | C.Lenz | 275 | -9 L | -2 L | Lamborghini Huracan GT3 |
| 44 | 16 | 93 | GTD | C.Ledogar | 275 | -9 L | 42.041 | Acura NSX GT3 |
| 45 | 9 | 25 | GTLM | A.Sims | 275 | -19 L | -16 L | BMW M8 GTLM |
| 46 | 17 | 96 | GTD | J.Klingmann | 274 | -10 L | -1 L | BMW M6 GT3 |
| 47 | 18 | 63 | GTD | C.MacNeil | 274 | -10 L | 53.352 | Ferrari 488 GT3 |
| 48 | 19 | 82 | GTD | S.Creel | 257 | -27 L | -17 L | Ferrari 488 GT3 |
| 49 | 20 | 14 | GTD | K.Marcelli | 255 | -29 L | -2 L | Lexus RCF GT3 |
| 50 | 21 | 58 | GTD | C.Nielsen | 199 | -85 L | -56 L | Porsche 911 GT3 R |