Rolex 24: Hour 4 Standings – #32 Ligier takes lead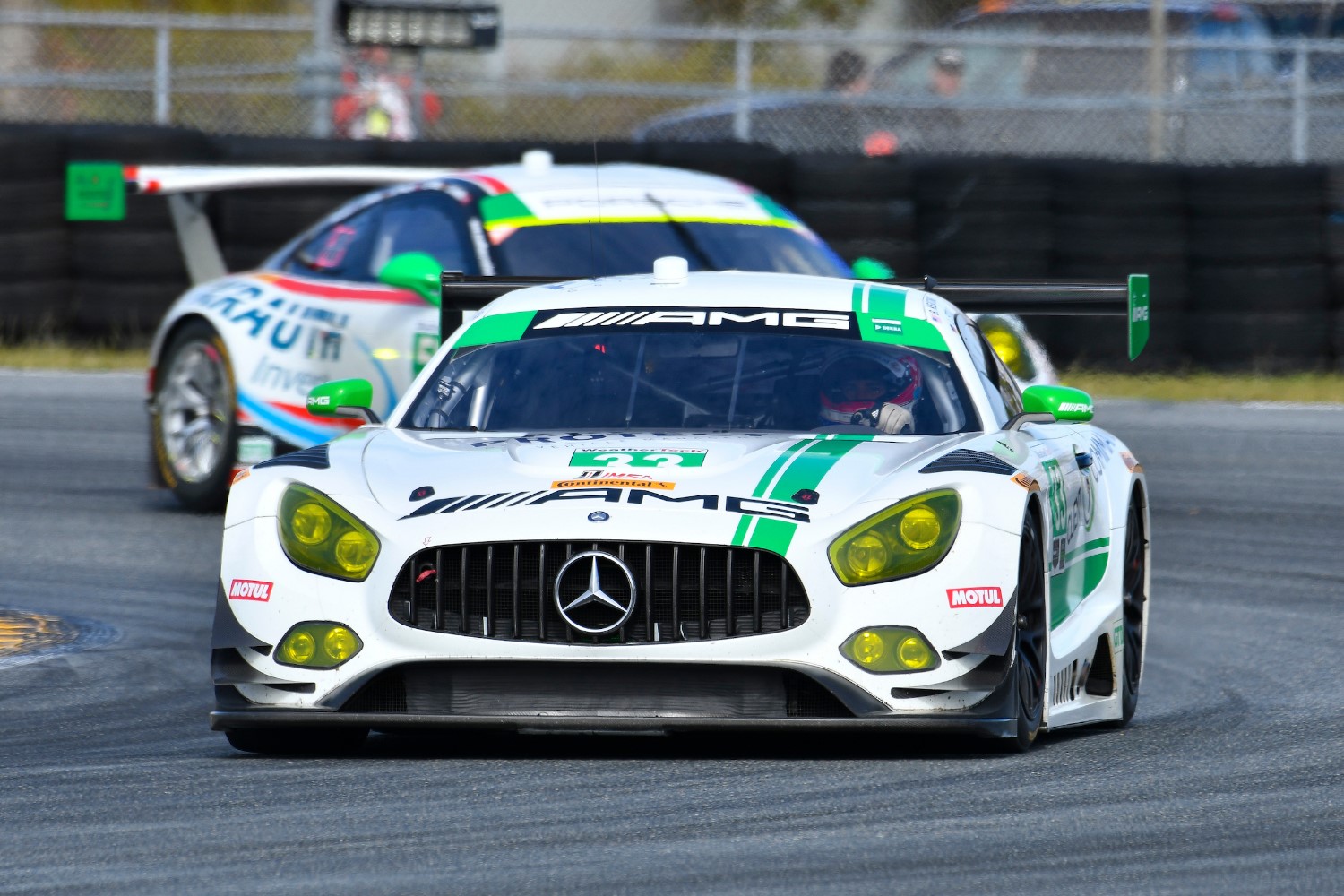 The #33 Mercedes narrowly leads GTD
As the clock struck the 4 hour mark in the Rolex 24 Hour race and the sun began to set, Paul di Resta took the #32 Ligier LMP2 car to the lead 1.9 sec.ahead of the sister #23 Ligier started by Fernando Alonso but now driven by Phil Hanson. Christian Fittipaldi was third in the #5 Cadillac and will assume the lead when the Ligiers finally pit.
The 66 Ford GT continued to lead GTLM with Mueller at the wheel ahead of the 911 Porsche. Scott Dixon was third in the #67 Ford GT.
The #33 Mercedes assumed the lead in GTD with Stolz at the wheel just 0.6 sec ahead of the #29 Audi.
Hour 4 Standings
| | | | | | | | | |
| --- | --- | --- | --- | --- | --- | --- | --- | --- |
| Pos | CP | Car | CL | Driver | Lap | Gap | Int | Marque |
| 1 | 1 | 32 | P | P.Di Resta | 135 | — | — | Ligier LMP2 |
| 2 | 2 | 23 | P | P.Hanson | 135 | 1.934 | 1.934 | Ligier LMP2 |
| 3 | 3 | 5 | P | C.Fittipaldi | 135 | 17.713 | 15.779 | Cadillac DPi |
| 4 | 4 | 2 | P | R.Dalziel | 135 | 26.943 | 9.230 | Nissan DPi |
| 5 | 5 | 6 | P | S.Pagenaud | 135 | 35.432 | 8.489 | Acura DPi |
| 6 | 6 | 10 | P | J.Taylor | 135 | 37.604 | 2.172 | Cadillac DPi |
| 7 | 7 | 7 | P | G.Rahal | 135 | 38.615 | 1.011 | Acura DPi |
| 8 | 8 | 90 | P | E.Cheever | 135 | 39.278 | 0.663 | Cadillac DPi |
| 9 | 9 | 31 | P | M.Conway | 134 | -1 L | -1 L | Cadillac DPi |
| 10 | 10 | 37 | P | F.Rosenqvist | 134 | -1 L | 20.037 | ORECA LMP2 |
| 11 | 11 | 78 | P | H.Tung | 134 | -1 L | 10.458 | ORECA LMP2 |
| 12 | 12 | 52 | P | S.Saavedra | 133 | -2 L | -1 L | Ligier LMP2 |
| 13 | 13 | 54 | P | R.Dumas | 133 | -2 L | 17.018 | ORECA LMP2 |
| 14 | 14 | 99 | P | C.Miller | 133 | -2 L | 24.840 | ORECA LMP2 |
| 15 | 15 | 85 | P | A.Cindric | 132 | -3 L | -1 L | ORECA LMP2 |
| 16 | 16 | 22 | P | J.van Overbeek | 131 | -4 L | -1 L | Nissan DPi |
| 17 | 17 | 38 | P | K.Masson | 131 | -4 L | 21.565 | ORECA LMP2 |
| 18 | 1 | 66 | GTLM | D.Mueller | 130 | — | — | Ford GT |
| 19 | 2 | 911 | GTLM | F.Makowiecki | 130 | 9.563 | 9.563 | Porsche 911 RSR |
| 20 | 3 | 67 | GTLM | S.Dixon | 130 | 10.694 | 1.131 | Ford GT |
| 21 | 4 | 4 | GTLM | M.Fassler | 130 | 19.613 | 8.919 | Chevrolet Corvette C7.R |
| 22 | 5 | 3 | GTLM | M.Rockenfeller | 130 | 23.133 | 3.520 | Chevrolet Corvette C7.R |
| 23 | 6 | 912 | GTLM | G.Bruni | 130 | 39.967 | 16.834 | Porsche 911 RSR |
| 24 | 7 | 62 | GTLM | A.Pier Guidi | 130 | 47.560 | 7.593 | Ferrari 488 GTE |
| 25 | 8 | 25 | GTLM | P.Eng | 129 | -1 L | -1 L | BMW M8 GTLM |
| 26 | 9 | 24 | GTLM | A.Farfus | 129 | -1 L | 39.887 | BMW M8 GTLM |
| 27 | 18 | 55 | P | J.Bomarito | 126 | -9 L | -5 L | Mazda DPi |
| 28 | 1 | 33 | GTD | L.Stolz | 126 | — | — | Mercedes-AMG GT3 |
| 29 | 2 | 29 | GTD | C.Mies | 126 | 0.639 | 0.639 | Audi R8 LMS GT3 |
| 30 | 3 | 11 | GTD | R.Breuers | 125 | -1 L | -1 L | Lamborghini Huracan GT3 |
| 31 | 4 | 93 | GTD | L.Aschenbach | 125 | -1 L | 3.043 | Acura NSX GT3 |
| 32 | 5 | 86 | GTD | A.Allmendinger | 125 | -1 L | 0.508 | Acura NSX GT3 |
| 33 | 6 | 48 | GTD | A.Caldarelli | 125 | -1 L | 4.625 | Lamborghini Huracan GT3 |
| 34 | 7 | 15 | GTD | J.Hawksworth | 125 | -1 L | 3.461 | Lexus RCF GT3 |
| 35 | 8 | 63 | GTD | G.Jeannette | 125 | -1 L | 6.606 | Ferrari 488 GT3 |
| 36 | 9 | 51 | GTD | M.Lauda | 125 | -1 L | 5.338 | Ferrari 488 GT3 |
| 37 | 10 | 64 | GTD | B.Sweedler | 125 | -1 L | 10.040 | Ferrari 488 GT3 |
| 38 | 11 | 69 | GTD | S.Rayhall | 125 | -1 L | 6.323 | Acura NSX GT3 |
| 39 | 12 | 44 | GTD | A.Davis | 125 | -1 L | 11.016 | Audi R8 LMS GT3 |
| 40 | 13 | 71 | GTD | L.Spinelli | 124 | -2 L | -1 L | Mercedes-AMG GT3 |
| 41 | 14 | 96 | GTD | D.Yount | 124 | -2 L | 20.240 | BMW M6 GT3 |
| 42 | 15 | 73 | GTD | P.Lindsey | 124 | -2 L | 15.150 | Porsche 911 GT3 R |
| 43 | 19 | 77 | P | R.Rast | 123 | -12 L | -3 L | Mazda DPi |
| 44 | 16 | 75 | GTD | K.Habul | 123 | -3 L | -1 L | Mercedes-AMG GT3 |
| 45 | 17 | 59 | GTD | H.Proczyk | 123 | -3 L | 31.037 | Porsche 911 GT3 R |
| 46 | 18 | 19 | GTD | M.van Splunteren | 122 | -4 L | -1 L | Lamborghini Huracan GT3 |
| 47 | 20 | 20 | P | A.Popow | 121 | -14 L | -2 L | Multimatic/Riley LMP2 |
| 48 | 19 | 14 | GTD | K.Marcelli | 107 | -19 L | -15 L | Lexus RCF GT3 |
| 49 | 20 | 82 | GTD | M.Fuentes | 104 | -22 L | -3 L | Ferrari 488 GT3 |
| 50 | 21 | 58 | GTD | C.Nielsen | 47 | -79 L | -57 L | Porsche 911 GT3 R |