Rolex 24: Hour 2 Standings – #5 Cadillac still leads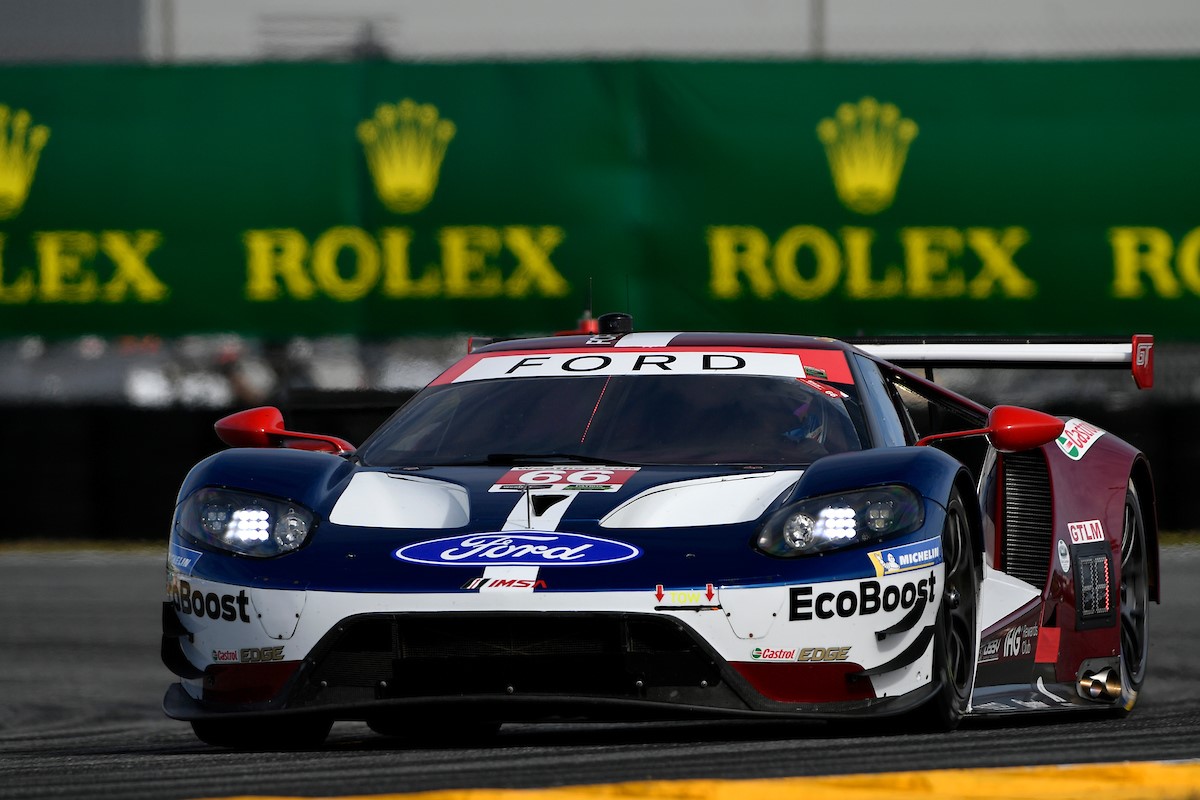 Joey Hand leads in GTLM
The #5 Action Express Cadillac continues to lead in prototype with Joao Barbosa now at the wheel. The #90 Cadillac runs 2nd and Ryan Hunter Reay is trying to pass him in the #10 pole sitting Cadillac.
Joey Hand leads GTLM in the #66 Ford GT over the #3 Corvette.
The #29 Audi leads in GTD over the #15 Lexus.
Hour 2 Standings
| | | | | | | | |
| --- | --- | --- | --- | --- | --- | --- | --- |
| Pos | PIC | Current Driver | Make | Class | Laps | Behind | BIC |
| 1 | 1 | Joao Barbosa | #5 CADILLAC | Prototype | 69 | –.— | –.— |
| 2 | 2 | Matthew McMurry | #90 CADILLAC | Prototype | 69 | 20.073 | 20.073 |
| 3 | 3 | Ryan Hunter Reay | #10 CADILLAC | Prototype | 69 | 1 LAP | 1 LAP |
| 4 | 4 | Pipo Derani | #22 NISSAN | Prototype | 68 | 1 LAP | 1 LAP |
| 5 | 5 | Juan Pablo Montoya | #6 ACURA | Prototype | 68 | 1 LAP | 1 LAP |
| 6 | 6 | Ricky Taylor | #7 ACURA | Prototype | 68 | 1 LAP | 1 LAP |
| 7 | 7 | Stuart Middleton | #31 CADILLAC | Prototype | 68 | 1 LAP | 1 LAP |
| 8 | 8 | James French | #38 ORECA | Prototype | 68 | 1 LAP | 1 LAP |
| 9 | 9 | Felix Rosenqvist | #37 ORECA | Prototype | 68 | 1 LAP | 1 LAP |
| 10 | 10 | Phil Hanson | #23 LIGIER | Prototype | 68 | 1 LAP | 1 LAP |
| 11 | 11 | Olivier Pla | #2 NISSAN | Prototype | 68 | 1 LAP | 1 LAP |
| 12 | 12 | Alex Brundle | #78 ORECA | Prototype | 68 | 1 LAP | 1 LAP |
| 13 | 13 | Hugo De Sadeleer | #32 LIGIER | Prototype | 68 | 1 LAP | 1 LAP |
| 14 | 14 | Misha Goikhberg | #99 ORECA | Prototype | 68 | 1 LAP | 1 LAP |
| 15 | 15 | Robert Alon | #85 ORECA | Prototype | 67 | 2 LAPS | 2 LAPS |
| 16 | 16 | Jonathan Bennett | #54 ORECA | Prototype | 67 | 2 LAPS | 2 LAPS |
| 17 | 17 | Roberto Gonzalez | #52 LIGIER | Prototype | 67 | 2 LAPS | 2 LAPS |
| 18 | 18 | Harry Tincknell | #55 MAZDA | Prototype | 66 | 3 LAPS | 3 LAPS |
| 19 | 1 | Joey Hand | #66 FORD GT | GTLM | 65 | 4 LAPS | –.— |
| 20 | 2 | Antonio Garcia | #3 CHEVROLET CORVETTE C7.RM | GTLM | 65 | 4 LAPS | 26.689 |
| 21 | 3 | Nick Tandy | #911 PORSCHE 911 RSRM | GTLM | 65 | 4 LAPS | 33.910 |
| 22 | 4 | Tommy Milner | #4 CHEVROLET CORVETTE C7.RM | GTLM | 65 | 4 LAPS | 36.381 |
| 23 | 5 | Connor De Phillippi | #25 BMW M8 | GTLM | 65 | 4 LAPS | 41.069 |
| 24 | 6 | Earl Bamber | #912 PORSCHE 911 RSRM | GTLM | 65 | 4 LAPS | 1:03.284 |
| 25 | 7 | Nicky Catsburg | #24 BMW M8 | GTLM | 65 | 4 LAPS | 1:11.633 |
| 26 | 8 | Ryan Briscoe | #67 FORD GTM | GTLM | 65 | 4 LAPS | 1:12.293 |
| 27 | 9 | James Calado | #62 FERRARI 488 GTEM | GTLM | 64 | 5 LAPS | 1 LAP |
| 28 | 19 | Eric Lux | #20 MULTIMATIC/RILEY | Prototype | 64 | 5 LAPS | 5 LAPS |
| 29 | 20 | Tristan Nunez | #77 MAZDA | Prototype | 64 | 5 LAPS | 5 LAPS |
| 30 | 1 | Jeffrey Schmidt | #29 AUDI R8 LMS GT3C | GTD | 63 | 6 LAPS | –.— |
| 31 | 2 | Dominik Farnbacher | #15 LEXUS RC F GT3C | GTD | 63 | 6 LAPS | 9.741 |
| 32 | 3 | Kyle Marcelli | #14 LEXUS RC F GT3C | GTD | 63 | 6 LAPS | 10.098 |
| 33 | 4 | Rolf Ineichen | #11 LAMBORGHINI HURACAN GT3C | GTD | 63 | 6 LAPS | 23.877 |
| 34 | 5 | Ben Keating | #33 MERCEDES-AMG GT3C | GTD | 63 | 6 LAPS | 24.227 |
| 35 | 6 | Katherine Legge | #86 ACURA NSX GT3C | GTD | 63 | 6 LAPS | 28.571 |
| 36 | 7 | Pedro Lamy | #51 FERRARI 488 GT3C | GTD | 63 | 6 LAPS | 33.665 |
| 37 | 8 | Justin Marks | #93 ACURA NSX GT3C | GTD | 63 | 6 LAPS | 39.179 |
| 38 | 9 | Chad Gilsinger | #69 ACURA NSX GT3C | GTD | 63 | 6 LAPS | 40.006 |
| 39 | 10 | Townsend Bell | #64 FERRARI 488 GT3C | GTD | 62 | 7 LAPS | 1 LAP |
| 40 | 11 | Cooper Macneil | #63 FERRARI 488 GT3C | GTD | 62 | 7 LAPS | 1 LAP |
| 41 | 12 | John Potter | #44 AUDI R8 LMS GT3C | GTD | 62 | 7 LAPS | 1 LAP |
| 42 | 13 | Madison Snow | #48 LAMBORGHINI HURACAN GT3C | GTD | 62 | 7 LAPS | 1 LAP |
| 43 | 14 | Mark Kvamme | #96 BMW M6 GT3C | GTD | 62 | 7 LAPS | 1 LAP |
| 44 | 15 | Timothy Pappas | #73 PORSCHE 911 GT3 RC | GTD | 62 | 7 LAPS | 1 LAP |
| 45 | 16 | Steve Smith | #59 PORSCHE 911 GT3 RC | GTD | 61 | 8 LAPS | 2 LAPS |
| 46 | 17 | Kenton Koch | #71 MERCEDES-AMG GT3C | GTD | 61 | 8 LAPS | 2 LAPS |
| 47 | 18 | Thomas Jaeger | #75 MERCEDES-AMG GT3C | GTD | 60 | 9 LAPS | 3 LAPS |
| 48 | 19 | Louis Machiels | #19 LAMBORGHINI HURACAN GT3C | GTD | 60 | 9 LAPS | 3 LAPS |
| 49 | 20 | Santiago Creel | #82 FERRARI 488 GT3C | GTD | 57 | 12 LAPS | 6 LAPS |
| 50 | 21 | Robert Renauer | #58 PORSCHE 911 GT3 RC | GTD | 0 | –.— | 63 LAPS |