Legends meet: Mutual respect for Jimmie Johnson, F1's Fernando Alonso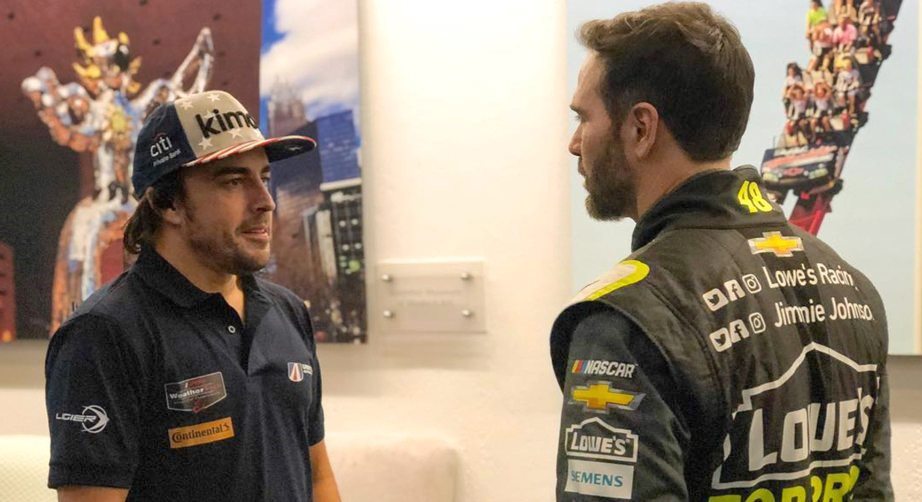 Alonso meets Johnson
Grand Prix star Fernando Alonso's first encounter with seven-time NASCAR champion Jimmie Johnson was a virtual one, some 15 years ago.
"The first time I heard his name, it was probably 2003, 2004 in the NASCAR video game," Alonso says. "I used to choose him, not knowing him or not knowing the name — just because the car."
Tuesday, the two legends from different motorsports disciplines met in person, in conjunction with the two-time Formula One champion's visit to the NASCAR Media Tour. In the years since Alonso's first exposure to the stock-car world, the 36-year-old Spaniard has come to appreciate Johnson's accomplishments, beyond just a snazzy look to his No. 48 Chevrolet.
"That was the first time," Alonso says, "and obviously the success that he had in the years in motor racing, he became a legend of our sport, and massive respect."
The admiration was mutual from Johnson's side.
"I've been a huge Alonso fan for a lot of years," Johnson said. "Just mentioned to him out there that the way he came and ran Indy — and certainly did an amazing job in the car, but outside of the car — the friends I have on the IndyCar circuit, he just handled himself so well, did a great job, and really brought a lot to the table when he raced here. His worldwide exposure in motorsports is really good for us here state-side."
Alonso met the press ahead of his first start in the Rolex 24 at Daytona, the endurance kickoff this weekend for the IMSA WeatherTech SportsCar Championship. He'll be sharing the driving duties in the No. 23 United Autosports Ligier LMP2 for his first competition at Daytona International Speedway.
The Rolex appearance is Alonso's latest diversion from his Formula One career. He made his first Indianapolis 500 start last May, wowing the crowd by leading 27 laps before engine failure derailed his first IndyCar effort. The natural question, as Alonso dipped his toe Tuesday into the NASCAR media rounds: Is stock-car racing next on his exploration list?
"Now I'm going to endurance racing in a closed cockpit, so maybe one day try a different series and maybe even NASCAR, no? Why not?" Alonso said. "Right now, it looks quite far because I think the driving technique and the experience that all those guys have, it's quite difficult for me to achieve that level, but I will never know until I try. So I would like maybe one day to test the car and after that, driving the car, I would know how enjoyable it could be in racing."
For now, Alonso's only taste has been through video games and simulator racing, an experience that hasn't quite given him a favorite track on the NASCAR circuit.
"To be honest, I cannot pick up one," Alonso said. "I think the Daytona 500 is one race that I watch on television as well, not only on the video games because it's an iconic race that all the world is following that weekend in NASCAR.
"What I like about the racing in NASCAR is how unpredictable it is and until the last lap, everyone is pushing each other and they're trying to manage the strategy and think ahead of what is going to happen in the last lap, even 20 laps ahead. That's something that is unique in motorsport, what NASCAR does. From the outside, it is very attractive. But from the inside, I don't know in the cockpit how it would feel."