IndyCar CEO thinks old car with new bodywork will attract manufacturers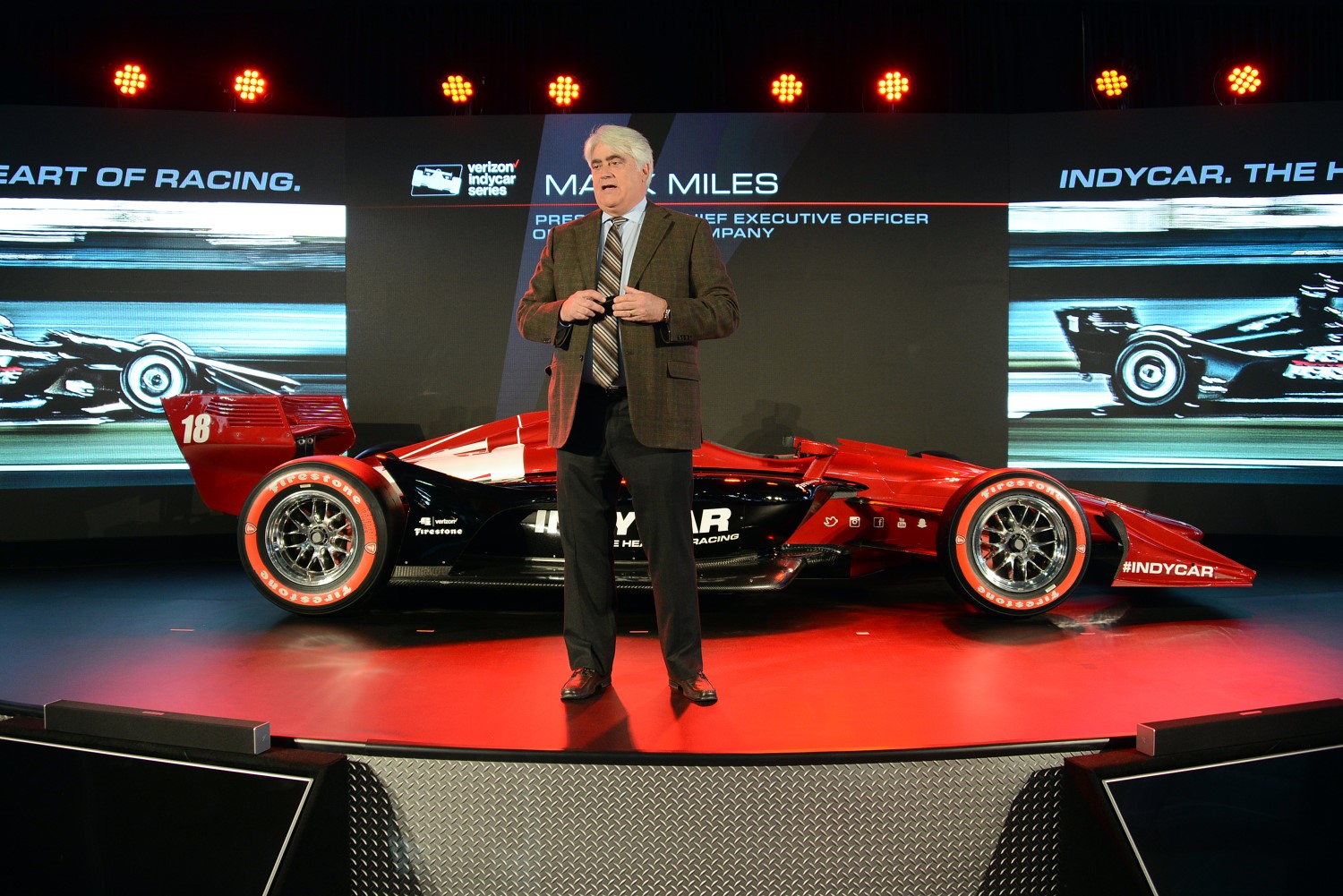 Mark Miles thinks a better looking car will attract new manufacturers. Psst, someone please tell him manufacturers are not coming until IndyCar gets a minimum of 1 million TV viewers per race. IndyCar needs a 16-race network TV deal. Will he succeed or fail?
Mark Miles was recently asked why the Verizon IndyCar Series' brain trust visionaries place so much importance on eventually adding a third engine manufacturer.
The president and CEO of Hulman & Company, the parent company of INDYCAR and Indianapolis Motor Speedway, reiterated why growth is a continual priority after unveiling the Verizon IndyCar Series' new redesigned car with a universal aero kit last week.
"We're standing here at the North American International Auto Show and you just see the marketing power of these companies," Miles said, referring to the many eye-catching auto industry displays at Cobo Center. "Our two (engine manufacturers Chevrolet and Honda) are great, but add another one and, sure, there would be an alternative engine supplier and that's important, but it's also you'd have a third major global company that's invested in and we'll be talking about in marketing the series. It's really for both technical and commercial purposes."
That's why Miles and Jay Frye, INDYCAR president of competition and operations, didn't just seek input from Chevrolet and Honda on the new-look car, whose evolution is the result of more than two years of planning and will culminate in its first true competition at the season opener, the Firestone Grand Prix of St. Petersburg in 48 days. They talked to prospective engine manufacturers who are interested in the series and recognize its progress in recent years.
One key was to make the new car cost-effective — utilizing the same Dallara IR-12 chassis while adding an affordable universal aero kit — which makes it more enticing for a new engine manufacturer to join the series.
"First of all, as a marketing platform, we're better than we were," Miles said. "We're stronger, we're growing and I believe there will be reason to believe that will continue.
"Secondly, technically, Jay is doing all the right things. I think he traveled to call on six prospective (engine manufacturers) after Sonoma at the end of '17. He was talking to those companies for their input just as though they were Honda and Chevy already engaged. We're at a place where we've already taken into account the thinking of a third and there's a common view between Chevy and Honda and another of other car companies. We can say that all day, but we want to get another one in."
Frye reiterated that interest from prospective engine manufacturers and how INDYCAR's current plan — to use this car from 2018 to 2020 with an option year in 2021 — is conducive to bringing in a third builder.
"We talked to other (engine manufacturer) friends, partners," he said. "There's a lot of (engine manufacturers) who aren't in INDYCAR who are fans of INDYCAR or have been in INDYCAR. They're paying attention. We wanted their opinion.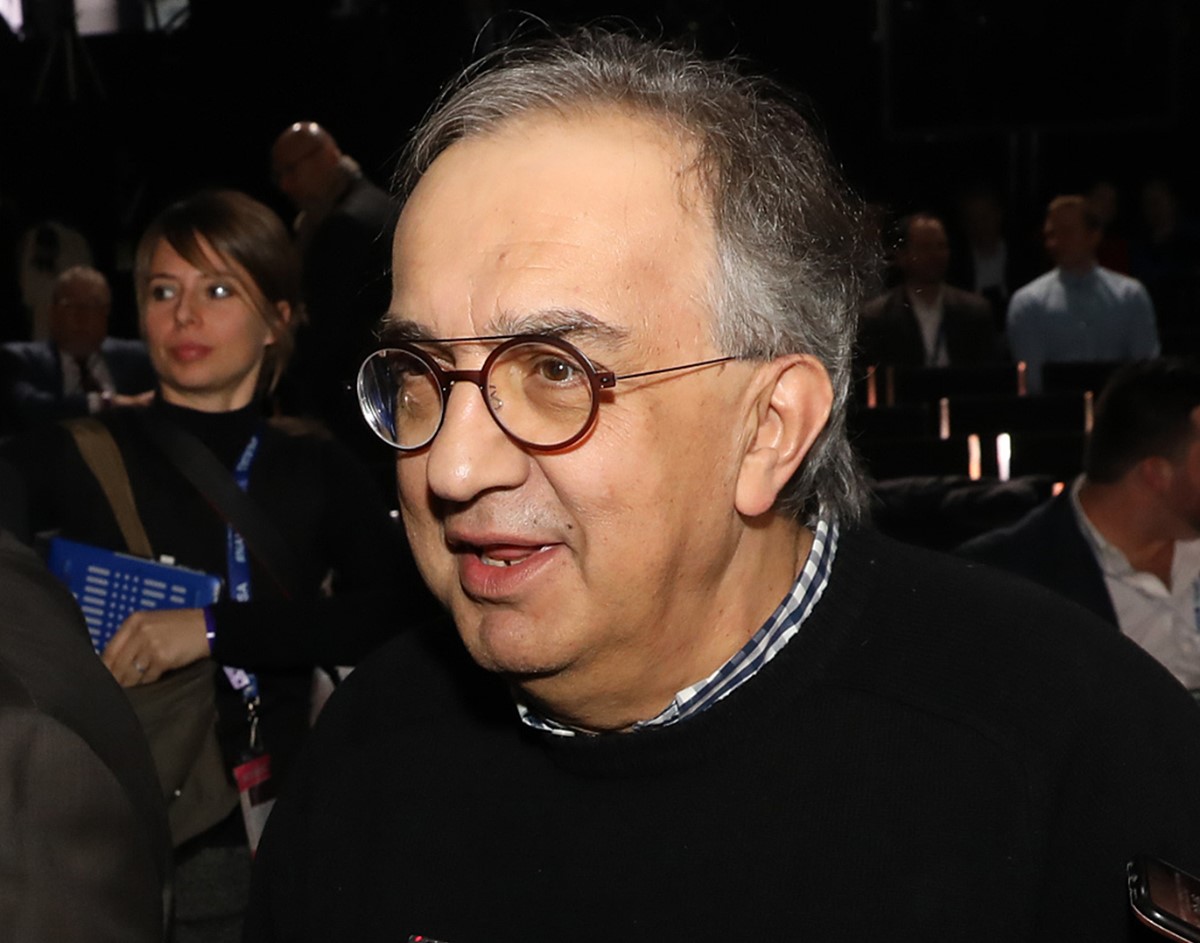 If Sergio Marchionne is eyeing IndyCar for Alfa Romeo as rumors suggest, he wants to sell cars in the USA and will want as many eyeballs as possible to see the Alfa Romeo brand. Will Miles keep manufacturers invisible to customers with another cable TV deal? If so, Alfa Romeo isn't coming
"The worst thing we would have done is come out with this five-year plan and take it to an (engine manufacturer) who's not participating and they say, 'We don't do that, either.' We wanted them to be part of this. They were certainly part of what we're doing and where we're going. Does that mean they're coming? No, not necessarily. But a big hurdle has been removed. The prospect is much better than what it was before."
Frye and Miles said Chevrolet and Honda would welcome the competition, too.
"Chevrolet and Honda have been hugely supportive," Frye said. "It helps feed the whole ecosystem. If another manufacturer comes in, it's good for the racetrack, it's good for the broadcast partners, it's good for the teams, it's good for everybody. Chevrolet and Honda do a spectacular job. If we could have one more, that would be a good thing."
Those prospective engine manufacturers are paying close attention to the tests of the new car, which have received overwhelmingly positive reviews since initial testing at Indianapolis Motor Speedway last July. Teams started turning laps in private tests this month.
"We're showing them that we're paying attention and listening, here's our approach and our plan," Frye said. "If they came in, it would be very simple. We have a couple-month window here that we could possibly get one to come in for '20. If we miss this window, it would be '21.
"There's enthusiasm, there's curiosity. A couple of them we have met with, we really didn't know them. We were surprised at how much they are paying attention. They understood what we're doing already. We're optimistic."
Miles said there's no such thing as INDYCAR being satisfied with where it is now. Thoughts are always on the future, how the sanctioning organization and its premier series can continue to thrive and grow.
"I quickly get tired of saying we're positioned for growth," Miles said. "We're here to talk about how we have grown, we are growing and the future trajectory continues to be up. There's a lot to celebrate.
"Somebody once said you can be on the right road and headed in the right direction, but if you're standing still, you get run over." Phillip B. Wilson/Indycar.com