Stunning ROC Riyadh track features return of famous Race Of Champions crossover bridge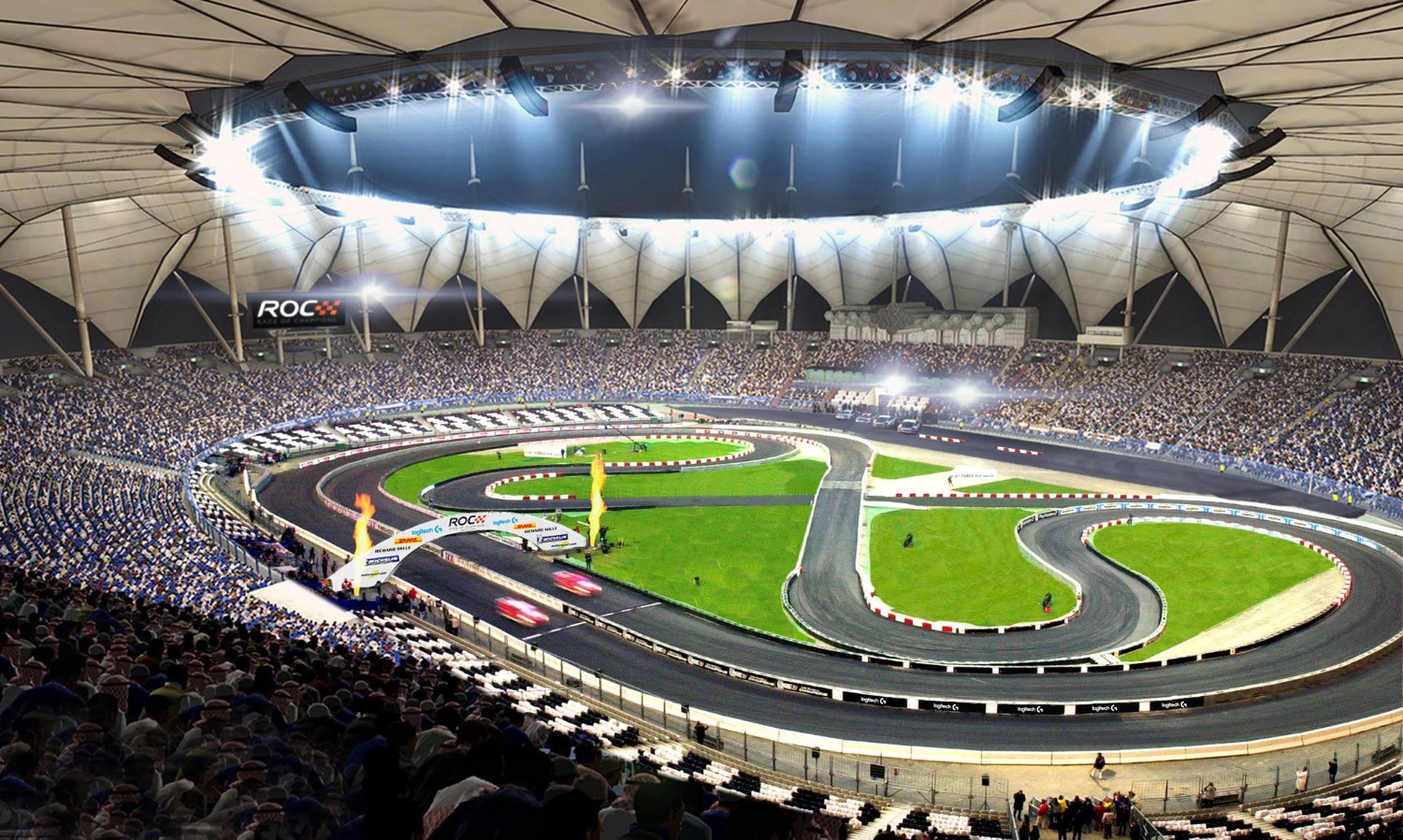 Riyadh track
The next Race Of Champions – to be held on February 2-3, 2018 in the Kingdom of Saudi Arabia at Riyadh's King Fahad International Stadium – will feature a newly designed ROC parallel track including the return of its famous crossover bridge.
For recent events at London's Olympic Stadium and Miami's Marlins Park, the Race Of Champions has adapted its track format. But next month race fans watching ROC Riyadh will be treated to a return of the traditional ROC parallel track with a figure-of-eight circuit linked by the bridge. Track construction will begin tomorrow (January 19).
The brand new track layout has been designed by ROC co-founder Michele Mouton, the greatest female rally driver of all time. Moreover stunt legend and ROC test driver Terry Grant, who has driven a mock-up of the Riyadh course, has described it as 'the best ROC stadium track ever…'

>> Click here to watch the track test video
The new track is sure to prove a major challenge to the driving royalty who will travel to Riyadh next month. The field includes some of the greatest names in the history of motorsport – including Indianapolis 500 winner and F1 veteran Juan Pablo Montoya, who will defend the ROC Champion of Champions crown he won in Miami last year. Fellow Indy 500 winners Helio Castroneves and Ryan Hunter-Reay will be in action too, alongside reigning IndyCar champion Josef Newgarden.
'Mr Le Mans' Tom Kristensen and FIA World Rallycross Champion Petter Solberg will compete, as will 13-time F1 grand prix winner David Coulthard and newly crowned 2017 FIA Formula 3 European Champion Lando Norris. ROC Factor winners from Saudi Arabia and the Middle East will also earn the chance to take on this illustrious line-up – with even more competitors to be unveiled in the run-up to the event.
The driving greats in action will take to the track in a stunning range of supercars that have been specially prepared for the event to test them to the absolute limit. Vehicles in action include the Vuhl 05 ROC Edition (pictured below in Miami), Ariel Atom Cup, Xtreme Pickup, Whelen NASCAR, KTM X-Bow Comp R and the ROC Car.
In order to be crowned Champion of Champions the drivers will have to master both the track and this mix of machinery that will put all their hard-earned skills to the test, forcing them to adapt their driving style as they make regular switches between cars.
The Race Of Champions is an annual contest which is now in its 30th year. It brings together some of the world's greatest drivers from motor sport's major disciplines – including Formula 1, IndyCar, Le Mans, World Rally and the X Games – and sets them free to battle head-to-head in identical machinery.
In recent years ROC has visited some of the world's best stadiums: the Stade de France in Paris (2004-2006), London's Wembley Stadium (2007-2008), the 'Bird's Nest' Olympic Stadium in Beijing (2009), Düsseldorf's Esprit Arena (2010-2011), the Rajamangala Stadium in Bangkok (2012), Bushy Park Barbados (2014), London's Olympic Stadium (2015) and Miami's Marlins Park (2017).
Now the event is heading to the Middle East for the first time to soak up the heat of Riyadh. Saudi motorsport fans – including women for the first time at an international event – have a chance to watch the speediest action the city has ever seen as many of the world's greatest drivers push to the absolute limit on a brand new track winding its way around the confines of the King Fahad International Stadium.
The Race Of Champions is run over two days: first comes the ROC Nations Cup (on Friday February 2) when drivers pair up in teams based on nationality – including the hosts Saudi Arabia – to bid for the title of 'World's Fastest Nation'. Then on Saturday February 3 it's time for the Race Of Champions itself, when teamwork goes out of the window and it's a flat-out battle for individual glory. All the racing takes place in a stunning range of superfast cars.
But that's not all. The Race Of Champions is a non-stop show from start to finish and also features stunt shows on four wheels and two plus plenty of other entertainment to keep the race fans on the edge of their seats
ROC President Fredrik Johnsson said: "The Race Of Champions has a long history of action and excitement – and this year will be no exception thanks to this stunning new track layout in Riyadh. Long-time ROC fans will no doubt be as delighted as we are to be bringing back our famous crossover bridge, and if stunt legend Terry Grant thinks this is the best stadium track we've ever had, who am I to argue?
"Our greatest tradition of all is to get some of the world's best drivers competing in identical competition cars – and once again we have a dazzling range of machinery for our racing royalty to compete in next month. We guarantee non-stop thrills and entertainment for everyone watching, both inside the stadium and around the world."
For access to rights-free high-resolution imagery and to keep up with all the latest news ahead of this year's event please visit www.raceofchampions.com, Race Of Champions on Facebook plus @raceofchampions and #ROCRiyadh on Twitter.