Latest F1 news in brief – Wednesday (Update)
UPDATE
Update shown in
red
below.
01/17/18
Stroll and Sirotkin

Sirotkin, Stroll is 'hungry' driver lineup – Salo

2018 Ferrari could be 'monster' – Marchionne
Head of aero departs Toro Rosso
Former McLaren boss Whitmarsh takes on new F1 role
F1 bosses to present plans to race promoters at meeting this week
Toro Rosso boss reveals the truth of working with Honda New
Sirotkin, Stroll is 'hungry' driver lineup – Salo
(GMM) Williams has put together a "hungry" driver lineup for the 2018 season.
That is the claim of former Ferrari and Toyota driver Mika Salo, who is now the sporting director of Russian bank SMP's motor racing program.
The cream of that program is Russian 22-year-old Sergey Sirotkin, who has been controversially appointed to become teammate to Lance Stroll, 19, for 2018.
It means the popular candidate Robert Kubica misses out on the seat, even though the Pole will instead be a key reserve, test and occasional Friday driver this year.
The wait for confirmation about the last race seat on the 2018 grid was long, but Finn Salo said: "The Williams agreement was born quickly.
"The negotiations were not that long," he told the Finnish broadcaster MTV.
"Williams is the best choice for Sirotkin. It's a good team, he has a young teammate and both are definitely hungry," Salo added.
Many say Sirotkin is little more than a 'pay driver' with a reported $20 million in SMP Bank backing, but Salo defended the Russian.
"He's a smart guy. He knows a lot about engineering and technology and has good experience of F1 cars with Renault," he said.
But Salo won't predict which Williams driver – Canadian Stroll or Sirotkin – will have the upper hand in 2018.
"I think they're pretty much the same, but we'll only find out in the races," he said.
"They will certainly fight hard against each other, which takes the team forward and brings results for both of them."
SMP Bank's Boris Rothenberg, a billionaire, is quoted by Ria Novosti news agency: "In 2018 we are making our debut in formula one with Williams and Sergey Sirotkin.
"This will undoubtedly please Russian fans and have a significant impact on the development of Russian motor sport," he added.
2018 Ferrari could be 'monster' – Marchionne
Can the 2018 Ferrari catch the Mercedes?
(GMM) Sergio Marchionne thinks it's possible Ferrari has put together a "monster" of a formula one car for 2018.
The Italian publication Autosprint says the 2017 runner-up's new project is codenamed project 669, and will be launched by Ferrari on February 22.
"I was in Maranello for the last few days and the guys are busy but they seem too relaxed," Fiat and Ferrari president Marchionne is quoted as saying at the Detroit motor show.
"I can only conclude that we have either made a real monster or garbage!" he smiled.
"We have done everything to have a super strong car but we will have to wait until February 22 when we reveal it," the Italian-Canadian added.
La Gazzetta dello Sport claims that Kimi Raikkonen will have a new race engineer this year, as his regular Dave Greenwood returns to Britain.
The newspaper said Raikkonen will now be engineered by Carlo Santi, who is promoted from within.
Meanwhile, Marchionne did not deny rumors that he has bigger plans in F1 for Alfa Romeo, as the Italian brand becomes Sauber's title sponsor this year.
"We are sponsors but it is a work in progress with Sauber. It will take time," he said.
Head of aero departs Toro Rosso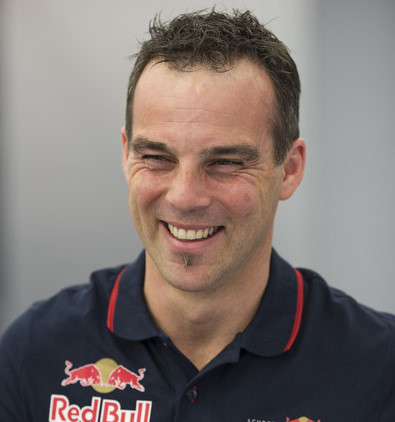 Brendan Gilhome
Toro Rosso's season has not got off to the best of starts with news filtering through that its head of aerodynamics, Brendan Gilhome, has left the team.
The move comes weeks ahead of the unveiling of the Faenza outfit's 2018 challenger, the STR13, which will feature the Honda engine in the back.
Gilhome first entered F1 in 2005, spending six years at BMW-Sauber before departing for Mercedes in 2010 where he was principal aerodynamicist.
He quit the German team for Toro Rosso in 2013 and has been working closely in recent months with technical director James Key on the STR13.
The news comes on the day the team celebrated the 2018 car passing its mandatory FIA crash test.
The Faenza outfit has yet to confirm whether it will replace Gilhome from within its own ranks or will seek to recruit from elsewhere. pitpass
Former McLaren boss Whitmarsh takes on new F1 role
Martin Whitmarsh
Former McLaren team boss Martin Whitmarsh is returning to Formula One in a temporary role advising the sport's governing body on cost control measures.
A spokesman for the International Automobile Federation (FIA) said on Tuesday that the Briton had been invited to help them "in defining financial regulations for fair and sustainable competition."
Whitmarsh left former world champions McLaren, a team he had been with for 25 years, in 2014 when his predecessor Ron Dennis resumed control. Dennis has since also left McLaren and sold his shares.
After leaving Formula One, where he had also been chairman of the now-defunct teams' association FOTA, Whitmarsh became chief executive of Olympic yachtsman Ben Ainslie's America's Cup challenge in 2015.
He was replaced in that role last November, taking an advisory position instead.
Whitmarsh is also on the Global Advisory Board of electric series Formula E. Reuters
F1 bosses to present plans to race promoters at meeting this week
Will F1 do more grandiose driver introductions like at COTA last year?
Formula 1 bosses will present their vision for the future to all current race promoters at a conference in London on Wednesday, Autosport has learned.
Since completing its takeover of F1 in January last year, Liberty Media has held discussions with all the stakeholders and conducted its own research as part of plans to reshape the championship.
It will present its findings and plans during an eight-hour conference on Wednesday.
F1 chairman Chase Carey, commercial chief Sean Bratches and sporting boss Ross Brawn are expected to give presentations and answer questions.
It is hoped the promoters and F1 bosses can share and discuss ideas regarding improving the grand prix weekend product as a whole.
It is believed this is the first conference of its kind that involves all the promoters meeting with F1 chiefs in a formal setting.
The conference comes after informal meetings between F1 chiefs and the majority of the promoters at the Spanish and Abu Dhabi Grands Prix last year.
"I think it's great they are putting us all in the same room and discussing our ideas and their ideas together," Azerbaijan Grand Prix promoter Arif Rahimov told Autosport.
"It will work really well, especially if they keep doing it, perhaps meeting on a bi-annual basis.
"It can keep everyone informed about their plans and we can give them feedback on what we think. It's a great idea." Autosport
Toro Rosso boss reveals the truth of working with Honda
Franz Tost
In an exclusive interview with the Austrian publication Speedweek, Franz Tost team Principal of Scuderia Toro Rosso, talks about the new engine partner Honda: "It's something very different from the previous one [Renault},"before it was a case of like it or lump it".
Having finished the 2017 season 7th with 53 points after a tight battle with Renault and Haas, from 2018 onwards, everything will be different for the team from Faenza, which emerged from Giancarlo Minardi's team at the end of 2005. After the break-up between McLaren and Honda, Toro Rosso now works exclusively with the Japanese.
Q. Franz, after Cosworth, Ferrari and Renault the Scuderia Toro Rosso 2018 works for the first time with Honda. What are your expectations for the new season?
For the first time in the history of Toro Rosso, we work exclusively with an engine partner. This offers a completely new approach and starts with the design of the new chassis. For example, we were able to design the placement of the drive unit in accordance with the designers' ideas. This is something quite different from the earlier "like it or lump it".
Toro Rosso is also much more involved in the whole development process. We have already completed countless test bench trials with the transmission in order to optimize various ratios. Of course, the season is a tough challenge, but we accept it gladly.
Q. Should fans are worried? Honda has had major challenges with stability and engine performance over the last three years as a McLaren partner. What gives you confidence in the Honda project?
Nobody will disagree when I say: Honda offers a fantastic infrastructure. There are also very clever and highly motivated technicians. The shortcomings of the past are recognized, and everyone is about to eliminate them.
Q. The number of engine parts will be further reduced for 2018. In 2018, only three internal combustion engines are permitted, three MGU-Hs, three turbochargers, but only two MGU-Ks, two batteries and two control units. What does that mean for you?
That depends primarily on how Honda keeps their durability under control. But clearly, it will not be easier. This reduced number of units will give us a bit of a headache.
Q. Japan has a very different corporate and communication culture than a European country. How does this affect working with Honda? How should we imagine cooperation with an engine partner located on another continent with eight hours' time difference?
To better understand Japanese culture, we organize special seminars for our employees, which are received with great interest. We all know that Japan has its own culture and it is one of the really exciting challenges to synchronize it with our culture. But if we were not convinced that this could succeed, we would never have embarked on this project.
Sometimes there are quite unexpected benefits. You're talking about the time difference – which has so far proven to be primarily positive. If our technicians have questions, send them to Japan in the afternoon, and they'll have the answers the next morning. What more do you want?
Q. It was not until mid-September that it was clear that you would be using Honda engines in 2018. How difficult was it to change the engine relatively late?
Actually we've rarely had a decision so early! I recall that two years ago the change to the Ferrari was not decided until December, but we managed the timely completion of our cars for the following season. The use of our own gearbox has simplified the process.
Q. In which areas can Toro Rosso benefit from Honda's vast resources – beyond the engine?
Collaboration with such a reputed company will increase the visibility and the number of fans of Toro Rosso. I am convinced that this will help with the sponsorship search.
Q. How is the structural and personnel development of the Scuderia Toro Rosso going?
The structure of the team remains the same. The number of employees also provides room for a healthy, successful future.