Dakar Stage 7: Sainz wins 2nd stage in row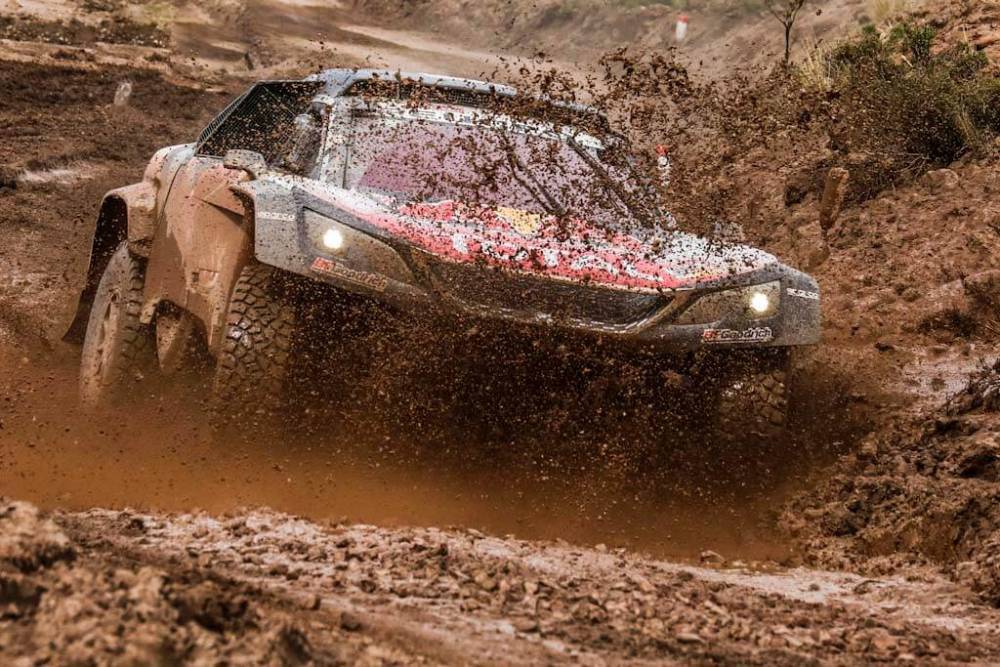 Stage 7 was a muddy day for Carlos Sainz and all competitors
Refreshed after a well-deserved rest day at 3,600 meters in Bolivia's beautiful capital, La Paz, the competitors tackled the longest special since the start of the rally. Rain had made the fast earth and sand tracks on the 425 km course even trickier. As if this were not enough, this was a marathon stage, so competitors will have to personally carry out any necessary repairs at the bivouac.
The essentials
A spectacular Joan Barreda produced another of his epic rides on the way to Uyuni, going in all guns blazing and grabbing his third stage win this year. Even a nasty fall and the resulting knee injury could not stop the Honda rider from putting eight minutes into everyone bar Adrien Van Beveren, who moved back into the overall lead with a solid performance. Carlos Sainz now leads the car classification by a wide margin thanks to his second consecutive victory in Bolivia, as well as the woes that befell Stéphane Peterhansel, stuck for 1 h 45 repairing his Peugeot. Giniel De Villiers and Nasser Al-Attiyah finished a distant second and third. Axel Dutrie stamped his authority on the quad special to claim his maiden Dakar victory, as did Ton van Genugten in the truck category. The Dutchman had already showed flashes of talent in previous stages, but today he and his Iveco PowerStar translated it into a win.
Performance of the day
Axel Dutrie had been eagerly waiting for this day. The Frenchman's fifth place in his debut in the quad category in 2017 filled him with confidence at the start in Lima, but he ran into bad luck right from the start. Only today did the Drag'On leader get his reward at the end of a stage he dominated throughout. He also vaulted up to fifth place overall.
A crushing blow
Stage winner Joan Barreda should have been all smiles in Uyuni, but instead a grimace of pain crossed his face as the Spaniard explained how he fell 300 km into a special in which he crushed the opposition. The accident left the Honda rider with a seriously hurt knee that will probably bury his dreams, cruelly forcing him to withdraw from the 2018 Dakar.
Stat of the day
Now that Carlos Sainz enjoys a 1 h 11 advantage over Nasser Al-Attiyah in the general classification, the Dakar is his to lose. For perspective, the gap between Sainz and the next driver in the overall is greater than that between number 1 and 13 in the motorcycle classification, Adrien Van Beveren and Daniel Nosiglia!
Quote of the day
Stéphane Peterhansel: "We were crossing a long straight with big puddles. I saw a stationary quad, so I moved to avoid it and then I heard a deafening crash. The entire rear was broken: suspension, transmission shaft, shock absorbers… Everything was smashed up. We spent 1 h 50 making repairs and cannibalizing Cyril's car. I'm still happy, this wasn't a make-or-break moment for me. It's just a blow to morale and some damage to the 3008."
Top-10 Autos
| | | | | |
| --- | --- | --- | --- | --- |
| Pos. | No. | Driver/Navigator | Mark-Model | Behind |
| 1 | 303 | Carlos Sainz/ Lucas Cruz | Team Peugeot Total | + 0.000S |
| 2 | 304 | Giniel De Villiers/ Dirk Von Zitzewitz | Toyota Gazoo Racing Sa | + 00H 12' 05'' |
| 3 | 301 | Nasser Al-Attiyah/ Matthieu Baumel | Toyota Gazoo Racing Sa | + 00H 14' 19'' |
| 4 | 312 | Jakub Przygonski/ Tom Colsoul | Orlen Team / X-Raid | + 00H 20' 56'' |
| 5 | 311 | Martin Prokop/ Jan Tomanek | Mp-Sports | + 00H 23' 57'' |
| 6 | 318 | Lucio Alvarez/ Robert Howie | Overdrive Toyota | + 00H 28' 49'' |
| 7 | 309 | Bernhard Ten Brinke/ Michel Perin | Toyota Gazoo Racing Sa | + 00H 31' 33'' |
| 8 | 319 | Sheikh Khalid Al Qassimi/ Xavier Panseri | Ph-Sport | + 00H 39' 30'' |
| 9 | 317 | Boris Garafulic/ Filipe Palmeiro | X-Raid Team | + 00H 54' 42'' |
| 10 | 334 | Peter Van Merksteijn/ Maciej Marton | Overdrive Toyota | + 00H 57' 21'' |
Top-10 Bikes
| | | | | |
| --- | --- | --- | --- | --- |
| Pos. | No. | Drive-Team | Mark-Model | Behind |
| 1 | 5 | Joan Barreda Bort | Monster Energy Honda Team | +0.000S |
| 2 | 4 | Adrien Van Beveren | Yamalube Yamaha Official Rally Team | + 00H 02' 51'' |
| 3 | 47 | Kevin Benavides | Monster Energy Honda Team | + 00H 08' 02'' |
| 4 | 8 | Toby Price | Red Bull Ktm Factory Team | + 00H 08' 43'' |
| 5 | 10 | Pablo Quintanilla | Rockstar Energy Husqvarna Factory Racing | + 00H 08' 53'' |
| 6 | 2 | Matthias Walkner | Red Bull Ktm Factory Team | + 00H 09' 16'' |
| 7 | 9 | Stefan Svitko | Slovnaft Rally Team | + 00H 09' 30'' |
| 8 | 23 | Xavier De Soultrait | Yamalube Yamaha Official Rally Team | + 00H 10' 03'' |
| 9 | 19 | Antoine Meo | Red Bull Ktm Factory Team | + 00H 12' 46'' |
| 10 | 20 | Ricky Brabec | Monster Energy Honda Team | + 00H 13' 48'' |