Danish Consortium Presents Plans For Formula 1 Race In Copenhagen By '20 (Update)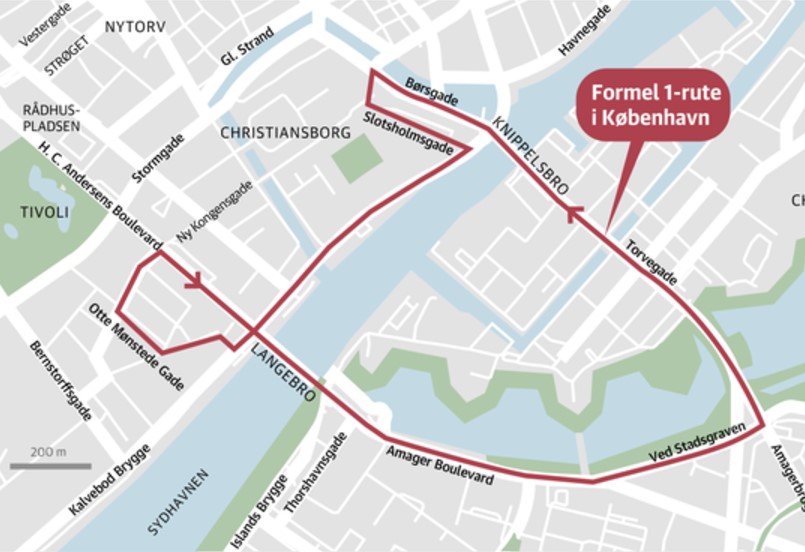 Copenhagen street circuit
UPDATE (GMM) Chase Carey has given Copenhagen the thumbs-up as a potential grand prix venue of the future.
The Danish capital is vying to secure a place on the 2020 grid with a city street circuit.
"We are very excited to explore the possibility of a race here in Denmark," F1 chief executive Carey told BT newspaper during his visit on Wednesday.
"We have talked a lot about the importance of our events being at iconic locations that capture the world's interest, and I think Copenhagen does that," he added.
However, there are some hurdles. Private investors are still raising money and trying to secure the full support of government and the community.
And they would prefer an initial three-year race deal.
But Carey said: "Our goal is to have long term partnerships that benefit both sides."
The government, however, is supportive, with industry minister Brian Mikkelsen attending Wednesday's meeting with Carey.
"We had a really good meeting with Chase Carey," he said. "The Danish government is interested in attracting major sporting events, and formula one is definitely that.
"I have told Chase that the Danish government supports this project and is willing to discuss the economics. But we will not be funding the majority."
Carey would not say how close F1 is to a Danish grand prix deal.
"I do not want to say anything about how close we are, as we are interested in many places in the world. But Copenhagen is a special city and we have an opportunity to do something and make this a win-win for everyone," he said.
09/27/17
Plans for Formula One to run a Danish Grand Prix in Copenhagen in 2020 have taken a step closer with the publication of plans for a 4.5-kilometer street circuit in the Danish capital.
The unusual course, details for which have been published by Danish newspaper Jyllands-Posten, would include two major bridges (four in total) and a crossover. The figure-of-eight layout would include two very high-speed stretches.
The design is still at an early stage and does not yet include plans for a pit complex. However the race organizers believe any changes between it and the final design would be "minimal".
Parts of the layout were designed by former F1 driver Jan Magnussen, father of Haas driver Kevin Magnussen. The track layout has had input from F1 circuit designer Hermann Tilke, who visited the city in March.
The circuit passes near to several major attractions in Copenhagen including the Christiansborg Palace, where the Danish parliament sits, and the Tivoli Gardens.
The plan is being backed by Lars Seier Christensen, one of the co-founders of Saxo Bank, and Helge Sander, a former Danish member of parliament. They are seeking financial and political backing for the project and have already held meetings with Formula One's new management, who are keen to expand the schedule. The 2018 F1 calendar will feature 21 races.
Denmark has never previously held a round of the Formula One world championship. Kevin Magnussen is the country's most successful F1 driver and the only Dane to have scored a podium.