Newey turned down Ferrari three times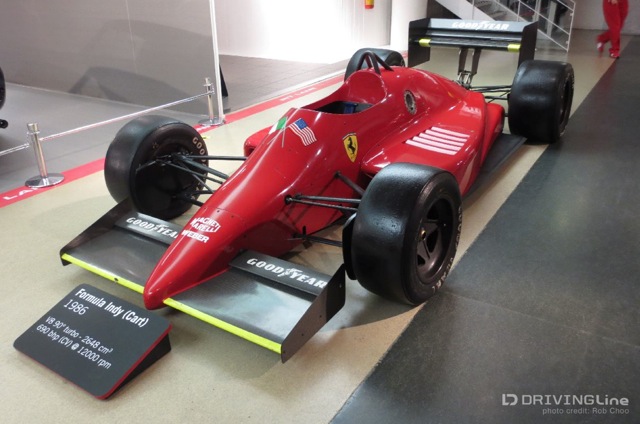 Newey was asked to design the Ferrari IndyCar
In this Sky Sports interview about his new book, 'How to build a Car', Red Bull technical chief Adrian Newey has detailed how Ferrari tried to hire him on three separate occasions.
Though renowned as Formula 1's best and record-breaking designer, Newey has never worked for the sport's most successful team – instead winning championships with Williams, McLaren and Red Bull.
However, that was not for the want of trying on the Scuderia's behalf.
"It's come close three times," Newey told Sky Sports F1. "Initially in my IndyCar career where Ferrari decided to build an IndyCar, I was offered to join as chief designer on their project but didn't feel it was right so I turned that one down.
"Then, much more seriously, Jean Todt offered for me to join as technical director in 1996. At that point, I had offers to stay at Williams, join McLaren or join Ferrari.
"I thought long and hard about it but I had a young family at the time, and decided I wanted to stay in the UK."
If he had accepted that second offer, Newey may well have blocked Ross Brawn's path to Ferrari. Brawn went on to join the team as technical chief in 1997, winning six constructors' titles in nine years.
By far the most attractive offer for Newey, however, was Ferrari's advance in 2014. He had just won four consecutive championships with Red Bull, but the team were struggling for engine power at the start of the new hybrid era.
Newey explained in his newly-launched book, How To Build A Car, how Ferrari made him a "film-star lifestyle" and a "ridiculously large" financial offer, prepared to more than double his Red Bull salary – while there were also talks with Mercedes.
Adrian Newey in 2006
"It became evident that the Renault was a long way behind the Mercedes in particular and to some extent the Ferrari – with no obvious end in sight," Newey added to Sky F1's Natalie Pinkham.
"Renault didn't seem to be willing to put the funding in to really sort the problem out, which was the depressing and worrying bit.
"I was in a bit of a difficult position. I didn't want to walk out of Red Bull because it feels like home and I'd been heavily involved from the start with Christian [Horner, team principal], building the team up from the ashes of Jaguar to where it was today.
"I didn't want to walk out on that but equally I didn't want to be in a position where we were operating with one hand tied behind our back in the engine department.
"It was a very difficult decision. Ferrari came up with an incredible offer, very attractive, and it caused me a lot of sleepless nights deciding what to do and who to go for. In the end, it would have felt wrong to walk out on Red Bull."
The three drivers Newey wish he worked with
"One would have been Michael Schumacher, for sure," Newey explained. "He's obviously a great competitor, a supreme competitor, but always felt like the enemy in truth.
"It's a shame he let himself down in terms of his driving stunts, but I think that's just his competitive instincts taking him too far.
"Then there's Fernando Alonso. Again, I came close a few times. Another supreme competitor, for him to only have won two championships all those years ago, who could have forecast that at the end of 2007?
"And Lewis Hamilton. His early championships were a bit up and down, but the championship he has put together this year has without doubt been his best one in my opinion, because he's put together such a strong campaign.
"There haven't been any weak races, he's known whether to battle and when to let a position go and not be taken out."
Extract from How To Build A Car

Newey in 2013
"The spring of 2014 was a depressing time, with no apparent light at the end of the tunnel. I was considering my options, when who should approach me but Niki Lauda from Mercedes. There began a series of talks about me joining Mercedes, Niki paying me a couple of visits at home in order to discuss it. I was tempted but not that much. To move to Mercedes, the team that was clearly going to win the championship that year, 2014, effectively replacing Ross Brawn, just didn't feel right, and I would have felt like a trophy hunter. So I thanked Niki but turned that one down.
"I was also approached by one of the LMP1 sports car teams. That was very interesting in principle; to be involved in a team with the aim of winning Le Mans remains on my bucket list. But the team is based in Germany and that bit didn't appeal. Then came a third approach, and it was from Ferrari. I'd been courted by them before, but this time they meant business. I traveled to visit Luca Montezemolo, the President of Ferrari at the time, seeing him at his farmhouse close to Tuscany. We held serious talks and their offer was amazing. Luca wanted to give me the whole Ferrari operation, road and race car. The promise was of an almost film-star lifestyle and the most ridiculously large financial offer, well over double the already generous salary I was receiving at Red Bull.
"I had a very difficult decision to make, and it was one that cost me many nights' sleep as I went over and over the various factors; family, cultural, work differences, the chances of success or failure, the repercussions of either…
"But in the end I thanked Luca and turned him down." Matt Morlidge/Sky Sports