Portland to host big PWC weekend in July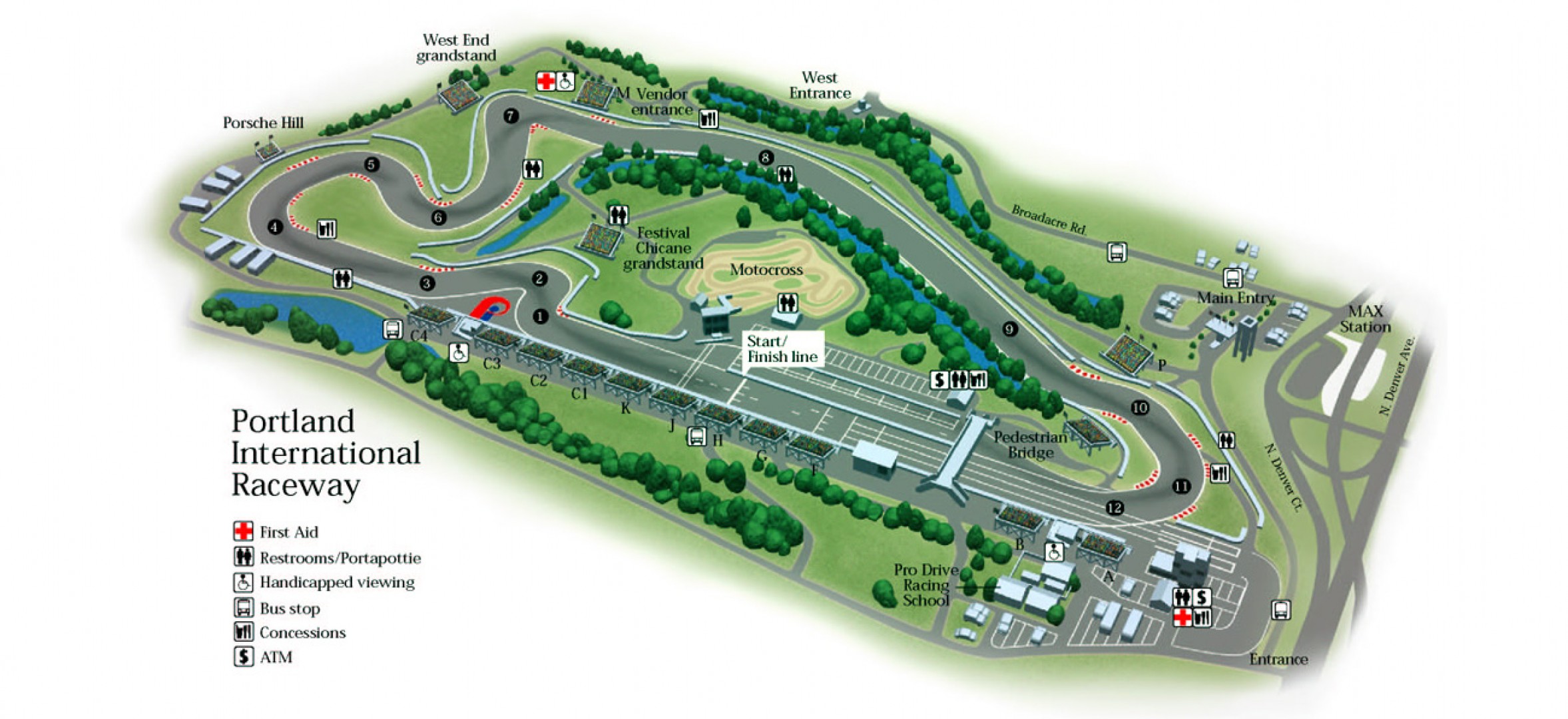 Portland layout
WC Vision, producers of the Pirelli World Challenge, announced today Portland International Raceway will play host to North America's top GT Production-based road racing sports car series on July 13-15, 2018 as part of the 58th Rose Cup Races.
The return to the popular PIR 1.967-mile, 12-turn Delta Park road circuit near the Columbia River marks an important swing to the Northwest for the Pirelli World Challenge. The last PWC event held at Portland International Raceway was in 2005.
All seven of the Pirelli World Challenge racing classes will compete in doubleheader races at PIR in the 58th edition of the famed Rose Cup Races including GT, GTS and Touring Car categories with some of the world's top sports car drivers. The popular SprintX two-driver, 60-minute format will be a part of the PWC weekend at PIR.
The Portland round will be the eighth stop on the 2018 Pirelli World Challenge 10-weekend road racing series with two GT SprintX events, two GTS races and two Touring Car contests.
In 2017, Pirelli World Challenge featured 26 different auto manufacturers with 44 separate models in all divisions including the prestigious GT and GTS series sporting some of the world's most iconic sports cars including Acura, Audi, Aston Martin, Bentley, Chevrolet, Ferrari, Ford, Lamborghini, McLaren, Mercedes, Nissan, Panoz and Porsche.
In addition to the GT and GTS categories, Pirelli World Challenge Touring Car classes have some spectacular wheel-to-wheel action in the three divisions with makes from Audi, BMW, Honda, Lotus, Mazda, Nissan and Scion.
Portland International Raceway's vast history includes some of the world's greatest drivers and racing machines dating back to 1961 with the inaugural Rose Cup Races.
2017 St. Pete PWC start
"We are very pleased to bring our entire Pirelli World Challenge field to the famed Portland International Raceway and the racing fans in the Northwest," said Greg Gill, President and CEO of WC Vision. "The tradition of the Rose Cup races has been a staple in the Portland area for nearly 60 years and we believe the PWC weekend will be another exciting chapter to the legacy of road racing at PIR. With many of the iconic automobile marques in our series, fans will see some outstanding competition at a great race track. We can't wait to get back to Portland next July."
The Portland International Raceway 1.967-mile, 12-turn road circuit was redesigned in selected corners (turns 5-7) in 2007 and 2008 and the entire track was repaved the same year.
The Rose Cup Races are now operated by the Friends of PIR, a 501(c3) nonprofit committed to the preservation and enhancement of the racing facility. PIR is financially self-sustaining and does not receive public funding.
"The Pirelli World Challenge road racing series is one of North America's premier racing series and we are very excited to have many of the world's top sports cars and drivers return to Portland International Raceway," said Gary Bockman, president, Friends of PIR. "The variety of PWC machinery that will come to PIR for the 58th Rose Cup Races will make for a great addition to the three amateur race groups forming a very attractive motorsports weekend in the Rose City. Our fans will enjoy the PWC action."
Pirelli World Challenge has been held at Portland International Raceway on three occasions with events in 2001, 2004 and 2005. Past PWC race winners at PIR include Michael Galati (GT) and Neal Sapp (TC) in 2001, Tommy Archer (GT) and Pierre Kleinubing (TC) in 2004 and Dino Crescentini (GT) and Randy Pobst (TC) in 2005.
The Portland International Raceway PWC weekend will have practice and qualifying on Friday, July 13, and racing events on Saturday, July 14, and Sunday, July 15.
More information on the Pirelli World Challenge Rose Cup races at Portland International Raceway will be announced in the near future.