Will Michelin now switch to Champ Car?
UPDATE #2
To add a little fuel to the fire about Michelin, they were very close to purchasing the PPG Pace Car team after the company dropped the sponsorship. The deal fell through, though, after CART announced that Bridgestone was going to be the series official tire.
12/14/05
Since 2004 we have been hearing rumors that Michelin has a keen eye on Champ Car because the USA is by far its most lucrative market. With Michelin's announced withdrawal from F1 after 2006, with Champ Car's new car due out in 2007, with speculation that Champ Car may soon have no ovals on their schedule, and with Al Speyer previously saying that Bridgestone would welcome competition, this rumor may have just taken on new life.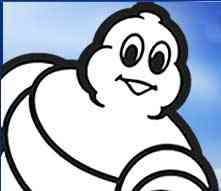 Michelin has little oval track experience, which has kept it out of Indy Car racing until now. And their experience at the USGP this year (and last) that saw its tires fail on the high-speed oval part of the track, does not leave the French company with a love for oval racing.
Couple that with the fact Champ Car is now down to one oval, Milwaukee, and Milwaukee's attendance as been dismal at best, the time is ripe for Michelin to jump into Champ Car in 2007.
Many people say a tire war is bad and it drives cost and speeds up because the tire companies want to test a lot. However, if testing remains limited, the tire companies can't keep on changing their tires because no one is going to test them, at least not significantly, because test days will be limited. If the rules state specific tire test dates and venues during pre-season and 2 or 3 times during the year, the number of new compounds that the tire companies will be able to roll out will be limited. This will curb tire development. If the tires must last an entire race, marbles will be limited because the tires will have to be reasonably hard to last the full race distance.


Will the Michelin Man soon do battle with Bridgestone in Champ Car?
11/19/04 Although Michelin will supply 60% of the F1 grid next year, they were left out of a recent meeting at the Heathrow Airport Hilton to discuss the possibility of going to a single tire supplier, and they are not happy about it. Is this a sign that F1 will choose Bridgestone as their sole source supplier? Meanwhile, we keep hearing rumors that Michelin has shown some interest in the Champ Car World Series. With the USA being its biggest market, it's quite possible they will throw their hat in the ring with Champ Car, especially since Champ Car will soon be as "international" as F1, yet deliver a far greater presence in North America. Bridgestone's Al Speyer has gone on record as saying they would welcome a challenge in Champ Car. The question is whether Champ Car is capable of managing a tire war that will result in increased speeds. Given the Champ Cars are too slow, perhaps that is not a bad thing, but marbles caused by soft tires are. Mark C.