Latest F1 news in brief – Thursday
Rosberg knows it's nearly impossible to beat an Aldo Costa designed car

Rosberg tips Mercedes to beat Ferrari

Honda wants to pass Renault in 2017
Leclerc 'would be useful' for Sauber – boss
USL Announces Return to Austin in 2019
F1 has 'two different categories' – Sainz Jr.
Bottas now feels 'fully settled in' at Mercedes
French GP organizers explain decision to add chicane to F1 layout
Rosberg tips Mercedes to beat Ferrari
(GMM) Nico Rosberg is not sure Ferrari has the ability to stay ahead of Mercedes in 2017.
A year ago, it was the now-retired German who was en route to the world championship for Mercedes, but now he is merely watching as former teammate Lewis Hamilton pushes to catch title leader Sebastian Vettel.
"Ferrari did a really great job over the winter," Rosberg told Sport Bild. "But from now on it is a development race.
"And I find it hard to believe that Ferrari can keep up. After Silverstone I already thought 'That's it now' and was surprised to see Ferrari fight back in Hungary.
"But Spa will once again be a real Mercedes track and Ferrari is unlikely to have a chance," he added.
However, Rosberg thinks Vettel is Ferrari's ace card, even though his German countryman is susceptible to the kind of "extreme" emotional outbursts as was seen in Baku.
"We know that he does not control his emotions sometimes," Rosberg said. "Last year we already saw that on the radio in Mexico.
"But this thick skin in the consequences of such an action is also a strength of Sebastian's," he explained. "In the short term and in the moment it may seem weak, but over a whole season that can actually make the difference.
"His basic character, in spite of everything else, is poised for victory, and that cannot hurt," Rosberg said.
Honda wants to pass Renault in 2017
Honda F1 engine
(GMM) Honda is aiming to leave behind the dubious honor of being F1's least powerful engine supplier by the end of the season.
Despite swirling speculation about the future of the McLaren-Honda collaboration, the Japanese manufacturer has vowed to keep improving its 2017 power unit.
McLaren-Honda had a good, technical trouble-free weekend and post-race test in Hungary, and plans are now afoot for Honda's 'spec 4' upgrade after the August break.
"We can continue to improve in terms of performance," said Honda's Yusuke Hasegawa, "but it will be difficult to catch Ferrari and Mercedes.
"But by the end of the season, we want to move past Renault," the Japanese is quoted by Speed Week.
"The drivers are now happy with the drivability of the engine, we just have to have more power. We're working on that now," Hasegawa added.
McLaren intends to make a decision about its 2018 engine supplier in September, but team boss Eric Boullier backed Hasegawa in the plans for the rest of this year.
"After half the season, we are working hard to at least regain our competitiveness of last year," he is quoted by Spain's El Confidencial.
Leclerc 'would be useful' for Sauber – boss
Charles Leclerc
(GMM) Rumors the Swiss team Sauber could become a junior platform for Ferrari are gaining strength.
New boss Frederic Vasseur's first task at Sauber was scrapping the planned 2018 engine deal with Honda, replacing it instead with a new arrangement to use the up-to-date Ferrari power unit next year.
At the same time, Ferrari president Sergio Marchionne is quoted by Italy's Autosprint as saying: "We have to find a place to lay the groundwork for tomorrow's Ferrari."
Earlier, Marchionne has spoken about setting up a satellite Ferrari team, perhaps to be branded as Alfa Romeo.
As for Sauber, boss Vasseur seems open to reserving at least one seat for one of the Ferrari juniors Antonio Giovinazzi or Charles Leclerc for 2018.
"It would be quite useful for Sauber to have someone like Leclerc as a driver," Speed Week quotes the Frenchman as saying.
Indeed, Monaco-born Leclerc impressed when testing the 2017 Ferrari in Hungary recently, and both the 19-year-old and Giovinazzi have subsequently been in action to help Pirelli with 2018 tire testing in Barcelona.
Leclerc was quoted by Italy's Autosprint as saying afterwards: "I feel ready for formula one."
USL Announces Return to Austin in 2019
Proposed soccer field at COTA
The United Soccer League, one of the most prominent Division II leagues in the world, announced on Wednesday the league would return to Austin, Texas for the 2019 season. Circuit of The Americas Chairman Bobby Epstein will lead the organization after taking majority ownership in the club, and a new soccer-specific venue at the Circuit of The Americas has been approved by the USL to become the club's new home.
"The USL's return to Austin is a major moment for the league as it continues to lead the growth of professional soccer across the country," said USL CEO Alec Papadakis. "We could not be happier to be doing so with Bobby Epstein as the new leader of the organization's ownership group. His work alongside the league's leadership over the past two years to ensure professional soccer's long-term stability in an outstanding city with a passionate fanbase has been exceptional, and we are delighted that this day has arrived.
"Bobby was named as one of the most influential people in Formula 1 racing in 2016 by Paddock Magazine, a sign of the high regard he is held by his peers in sport that encompasses the world. He is another outstanding addition to the strong ownership groups that have helped drive the USL toward its goal of being viewed in the same light as the English Championship, Liga Adalante and 2. Bundesliga."
READ MORE: USL OFFICIALLY AWARDS FRANCHISE TO BIRMINGHAM
Epstein had been working alongside the league to find a suitable venue that would ensure the long-term success of the organization after the former club was displaced from its original home at House Park due to flooding during the 2015 season. Having taken a majority stake in the club this year, Epstein is now set to lead the club forward into its new era.
"I'm excited to help bring professional soccer back to Austin and want to thank the USL for helping in the process to secure a suitable venue to host a high-level soccer experience for our fans," Epstein said. "Preparations for kickoff in 2019 are already underway, and I look forward to revealing more information about the club in the coming future."
"We have worked diligently with Austin's ownership group to secure a permanent home for a USL club, and are pleased to have arrived at a great solution that will ensure the long-term success of the franchise," USL President Jake Edwards added. "The Circuit of The Americas is an outstanding venue that has been home to world-class events for a number of years. We're excited to work with a Bobby and his strong local ownership group as the USL returns to Austin for the 2019 season."
Circuit of The Americas is a unique multi-purpose sports and entertainment destination. It has been home to the Formula One United States Grand Prix since its official opening in 2012, for ESPN's Summer X Games from 2014-16, the MotoGP Red Bull Grand Prix of The Americas, as well as other globally renowned races, and to more than 25 major concerts annually at the Pollstar award-winning Austin360 Amphitheater. Combined with a purpose-build soccer stadium, and the new FC Barcelona training academy set to open this summer, the Circuit continues to become an unparalleled venue for major events.
F1 has 'two different categories' – Sainz Jr.
Sainz Jr. stares at the monitors knowing he has zero chance of winning a race with Toro Rosso. With that said Sebastian Vettel won at Monza for Toro Rosso, so it could be done
Toro Rosso's Carlos Sainz Jr. believes Formula 1 has "two different categories" in 2017 due to the performance gap between the leading three teams and the remainder of the pack.
Formula 1 introduced new technical regulations for 2017, aimed at boosting the spectacle, with lap times tumbling due to overhauled aerodynamics and wider tires.
Mercedes and Ferrari have led the way, competing for wins and the title, with Red Bull chasing the pair, leaving the midfield, fronted by Force India, further back.
The lead trio have captured 32 of the 33 podium spaces in 2017 – Williams' Lance Stroll breaking the hegemony in Azerbaijan – and have locked out the first five grid spots at each event.
Sainz Jr. has taken seven points finishes this year, with a best finish of sixth in Monaco, and fears that the situation could get worse, due to the superior resources of the top teams.
"I want to think the gap will be closed a bit, and I do think it's a massive difference, a difference that's way too big," he said of the gap between the leading trio and the rest.
"On the other hand the gap has just increased this year, throughout the year Mercedes and Ferrari have run away because they have more resources, more money to develop.
"In my opinion at the moment we have two different categories in Formula 1 and it's not what Formula 1 should be about, you know, so hopefully it's something that will not happen next year.
"For us, as a midfield team, we don't even look at what Mercedes is doing, as it's just a different category at the moment."
Leading non-Mercedes/Ferrari/RB driver in qualifying (gap to pole):
Australia: 6. Romain Grosjean, Haas (1.886s)
China: 6. Felipe Massa, Williams (1.829s)
Bahrain: 7. Nico Hulkenberg, Renault (1.073s)
Russia: 6. Felipe Massa, Williams (1.916s)
Spain: 7. Fernando Alonso, McLaren (1.899s)
Monaco: 6. Carlos Sainz Jr., Toro Rosso (0.984s)
Canada: 7. Felipe Massa, Williams (1.399s)
Azerbaijan: 6. Sergio Perez, Force India (1.518s)
Austria: 7. Romain Grosjean, Haas (1.229s)
Britain: 6. Nico Hulkenberg, Renault (2.256s)
Hungary: 7. Nico Hulkenberg, Renault (1.192s)
Leading non-Mercedes/Ferrari/RB driver in race (gap):
Australia: 6. Felipe Massa, Williams (83.386s)
China: 6. Carlos Sainz Jr., Toro Rosso (72.893s)
Bahrain: 6. Felipe Massa, Williams (54.326s)
Russia: 6. Sergio Perez, Force India (86.788s)
Spain: 4. Sergio Perez, Force India (1 lap)
Monaco: 6. Carlos Sainz Jr., Toro Rosso (12.038s)*
Canada: 5. Sergio Perez, Force India (40.476s)
Azerbaijan: 3. Lance Stroll, Williams (4.009s)
Austria: 6. Romain Grosjean, Haas (73.160s)
Britain: 6. Nico Hulkenberg, Renault (68.109s)
Hungary: 6. Fernando Alonso, McLaren (71.223s)
*Safety Car restart with 12 laps remaining
Bottas now feels 'fully settled in' at Mercedes
Bottas knows now what it is like to drive the best car
Valtteri Bottas says he now feels "fully settled in" at Mercedes, and cannot attribute any potential performance deficit to his inexperience with the team.
Bottas was set to remain with Williams for a fifth season but the retirement of newly-crowned World Champion Nico Rosberg opened a berth at Mercedes, which was filled by Bottas in January.
Bottas admitted during pre-season testing that moving to Mercedes was "bigger than expected" and that he was trying to become accustomed to the different working methods of the team.
He trailed team-mate Lewis Hamilton during the early stages of the campaign but enters the summer break as the in-form driver, having taken five straight podium finishes.
Bottas, twice a victor in 2017, remains firmly in the title hunt, 33 points behind Sebastian Vettel, and reckons he is now at the point where he can operate to his potential.
"I feel I'm fully settled in, you know, I cannot say I'm lacking performance because of being new to the team," Bottas explained.
"I feel very much part of the team, the team has been really supportive of that, getting me up to speed with everything.
"For sure, Lewis has been with the team many years, and it's always a benefit, I know [that from] being at Williams a long time.
"I've got to the point with the team that I feel that I can definitely perform at my best level and now we'll continue to work ahead.
"Sure, there's plenty more to come, but I'm feeling good in the team."
Bottas is currently on a one-year deal with Mercedes and is hopeful that discussions can begin shortly regarding his future at the squad.
"For sure, soon we will start to… we need to speak [about] what's going to happen, obviously," he said.
"I have no idea about the future yet so, for sure, we will speak at some point, but the problem is that the mobile phone is not so good in the sauna!
"It doesn't work, so it could take a while, so don't expect anything in Spa…"
French GP organizers explain decision to add chicane to F1 layout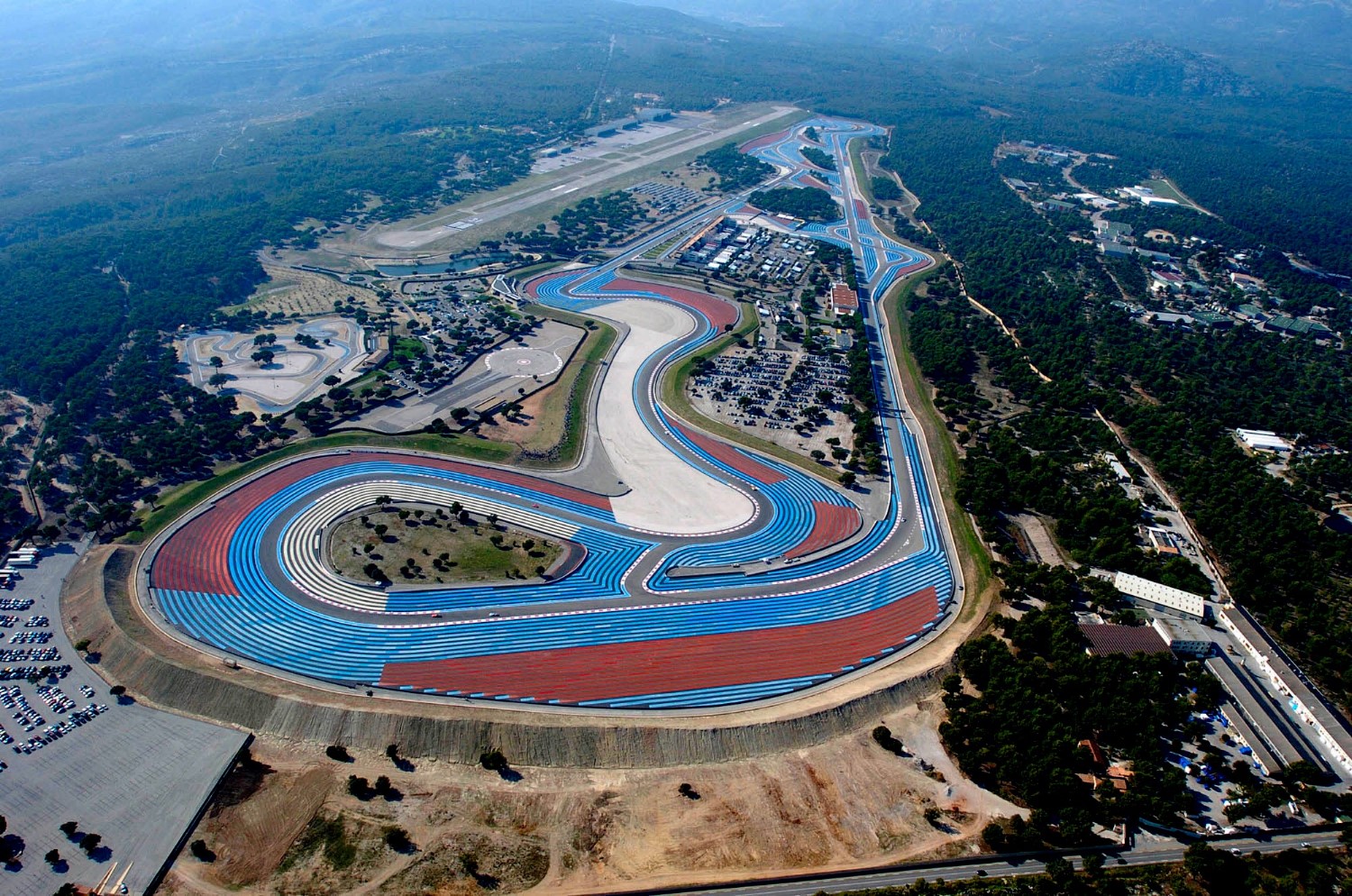 Paul Ricard has had a chicane in the long backstraight (Mistral Straight) for years. The chicane was not just added.
French Grand Prix organizers chose to place a chicane on Paul Ricard's Mistral Straight to stop Formula 1 engines running at full speed for 1.12 miles and boost overtaking opportunities.
F1 will return to France after a 10-year hiatus in 2018, with the June 24 race marking the first leg of the championship's first triple header that also comprises the Austrian and British Grands Prix.
Organizers have chosen the full 3.6-mile circuit configuration for the race but with a chicane to break-up the long Mistral Straight.
"The FIA did some research and the speed before the chicane will be 343km/h [213mph], so the chicane is useful," French GP managing director Gilles Dufeigneux told Autosport.
"The chicane has been added (used not added) to prevent the engines from running at full speed on a straight uphill line of 1.8km.
"We also wanted to facilitate the creation of an additional overtaking area.
"It will provide three straight lines where the cars can go at full speed before two massive decelerations – Turn 1 and Turn 8 and a flat out turn – Signes.
"According to the FIA, cars will reach 344km/h before the chicane and 343km/h at the apex of Signes.
"The drivers have told us the chicane will probably be an opportunity for non-DRS overtakes during the race.
"We presented the new configuration of the circuit during the Austrian Grand Prix weekend to several drivers including Lewis Hamilton, Sebastian Vettel and Fernando Alonso.
"They liked it and said the 5.8km configuration was a nice option."
Paul Ricard, which has a five-year deal to run the event, last hosted the French Grand Prix in 1990 before Magny Cours took over until 2008.
The venue was closed for racing between 1999 and the mid-2000s.
Contemporary F1 cars have tested at the venue this year, while last year Ferrari, Red Bull and McLaren took part in a wet-weather tire test in January.
As Paul Ricard is mainly used for testing, the biggest investment required ahead of the race will be on the grandstands.
"With respect to the circuit itself, minor changes [will be made]," added Arnaud Pericard, who is part of the French GP organization team.
"The FIA had an inspection visit a couple of months ago and it's just minor changes with respect to the curbs, which we'll do this winter.
"The circuit is already F1 graded for a long time, so it's not massive change.
"The most important investment will be the stands, they are a big deal."
Organizers are working towards a "conservative" capacity of between 60,000-65,000 for race day.
That will be split between 40,000-45,0000 in grandstands and 20,000-25,000 in general admission. Autosport