How Andretti won the 1977 USGP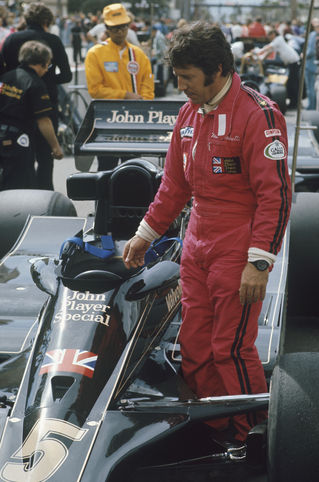 Andretti gets ready for the 1977 Long Beach GP
Longtime fans of the Toyota Grand Prix of Long Beach can argue about the greatest of the 42 races held on the streets of the city since 1975, but unless they reach the conclusion that 1977's Formula One race deserves the No. 1 spot, it's just idle chatter writes Tim Grobaty of the Long Beach Press Telegram.
The Grand Prix was on wobbly legs in 1977, as you'd maybe expect from an event in its toddler years. Conceived by travel agent Chris Pook as a spectacle to bring the world's attention and the attendant influx of financially cavalier tourists to Long Beach, it had accomplished that, but at considerable, if not prohibitive, expense to the race organizers and to the city. The event had piled up losses estimated as high as $800,000, and many businesses and residents were peeved by the race's street closures, its loud citywide racket, and there was a real doubt regarding the value of the race. Its future was questionable at its rosiest.
Then, along came Mario Andretti.
The sole American driver in the 1977 Long Beach Grand Prix, the 37-year-old driver banked on a last-chance gamble to pass the race-long leader, Jody Scheckter of South Africa, on lap No. 77 of the 80-lap race and held on to win by less than a second over Austrian driver Niki Lauda.
And the crowd went wild.
MARIO'S MEMORIES
We spoke with Andretti last week and kicked things off with a stupid question.
"Well, obviously it was a huge win for me," he answered by phone from his hometown of Nazareth, Pennsylvania. "To win on a home track is extra special. And later in 1977 I won the Italian Grand Prix, so to win in my native Italy and in my permanent home in the United States, it just doesn't get any better than that."
That race 40 years ago featured some of the greatest drivers in Formula One history. Besides Andretti, Lauda and Scheckter, the field included Brazil's Emerson Fittipaldi, England's James Hunt, Sweden's Ronnie Peterson, Switzerland's Clay Regazzoni, Australia's Alan Jones and Argentina's Carlos Reutemann.
On a course where passing is extraordinarily difficult (the late P-T motorsports writer Allen Wolfe likened it to trying to pass someone on the log ride at Knott's Berry Farm), winning the pole position is key. In 1977 Scheckter posted the fastest time in the first practice session. Andretti beat that time in the second session, but in final qualifying on Saturday, Lauda's Ferrari beat both Andretti's and Scheckter's times to win the pole.
Sunday, April 3, brought clear skies, a perfect 68-degree temperature and some 70,000 fans to the track.
'I LOVE STREET RACING'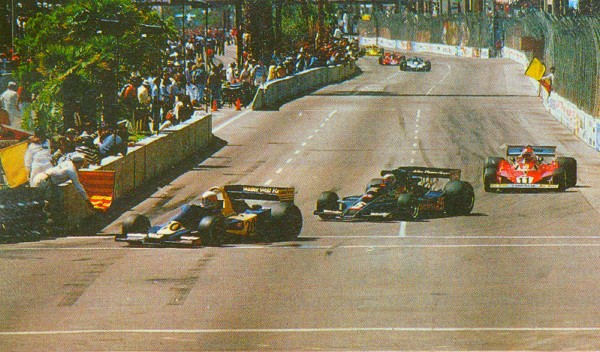 Lap after lap after lap, Scheckter, Andretti and Lauda battled nose-to-tail
Andretti was looking forward to an enjoyable race. In those early days, the cars started on Ocean Boulevard, hooked a right on Linden Avenue for the Linden Leap, which saw the cars fly off the ground before nose-diving down the hill and head into the first of two 180-degree hairpins, then a long straightaway leading to the Queen's Hairpin, a brisk chicane section and a hair-raising launch up Pine Avenue to Ocean.
"I love street racing, and street racing was being reborn in a very big way in Long Beach," said Andretti. "It's kind of fun to drop down from Ocean. Wherever you are in street racing, you've gotta roll with the geography. It's a matter of taking everything to the limit, no matter what you're given. Long Beach had some characteristics that are more challenging, like flying off Ocean. You could gain or lose time depending on how you line up your car."
Remember what we said about the difficulties of passing a car on the Long Beach track? At the 1977 Grand Prix green light, Scheckter bolted from his second-row position to pass both Andretti and pole-winner Lauda. And Reutemann, also in the second row, pulled alongside Andretti as they headed toward the Linden turn. Braking too late, Reutemann slid through the turn and Andretti narrowly avoided him. The mess continued with James Hunt's McLaren hitting Britain's John Watson's right rear wheel and flying six feet in the air before skidding down an escape road. Hunt limped to the pits and continued in the race but was never a threat.
Following that initial, first-lap flurry of excitement it was down to a three-way battle with Scheckter in the lead, followed closely by Andretti and Lauda. The trio stayed within seconds of one another for lap after lap … after lap. Go out and grab a beer and a barbecued turkey leg, just make sure you're back in your seat for Lap No. 77.
VICTORY LANE MAYHEM
3 laps to go and Andretti outbrakes Scheckter at Queens Hairpin for the lead
"I made a couple of tries at passing Scheckter on the Shoreline Drive straightaway, but I had to be cautious, because Lauda was right on my tail the whole time," said Andretti. "I knew I could underbrake and pass him at the (Queen's) Hairpin, but to do it I basically had to shift from fifth gear to first and hope the gearbox didn't explode, but I only had one chance to do that. I couldn't have tried it twice [or the gearbox would have broken]."
By Lap 76, Scheckter's Wolf has leaking oil ("It was worse for me than it was for him," said Andretti. "I was being sprayed with a mist of oil.") and his front tires were losing air.
Still, it was Andretti's gear-crushing gambit that made the difference as he slid under the Austrian and held off Lauda, who had also passed Scheckter on Lap 77, to win the race.
Though he couldn't hear the crowd, he could see the delirious fans celebrating in the stands and on the balconies of buildings along the course.
"Victory Lane was crazy," he said. "And I like that kind of crazy.
"It was a very happy moment for me for many reasons," said Andretti, who remains the last American to win an F1 race in the United States. "I had a very tight battle with Jody. I was right on his tail, but he was too fast on the straightaway. It was do or die for our team, then, when we pulled it off, it was a great feeling."
MOST PIVOTAL RACE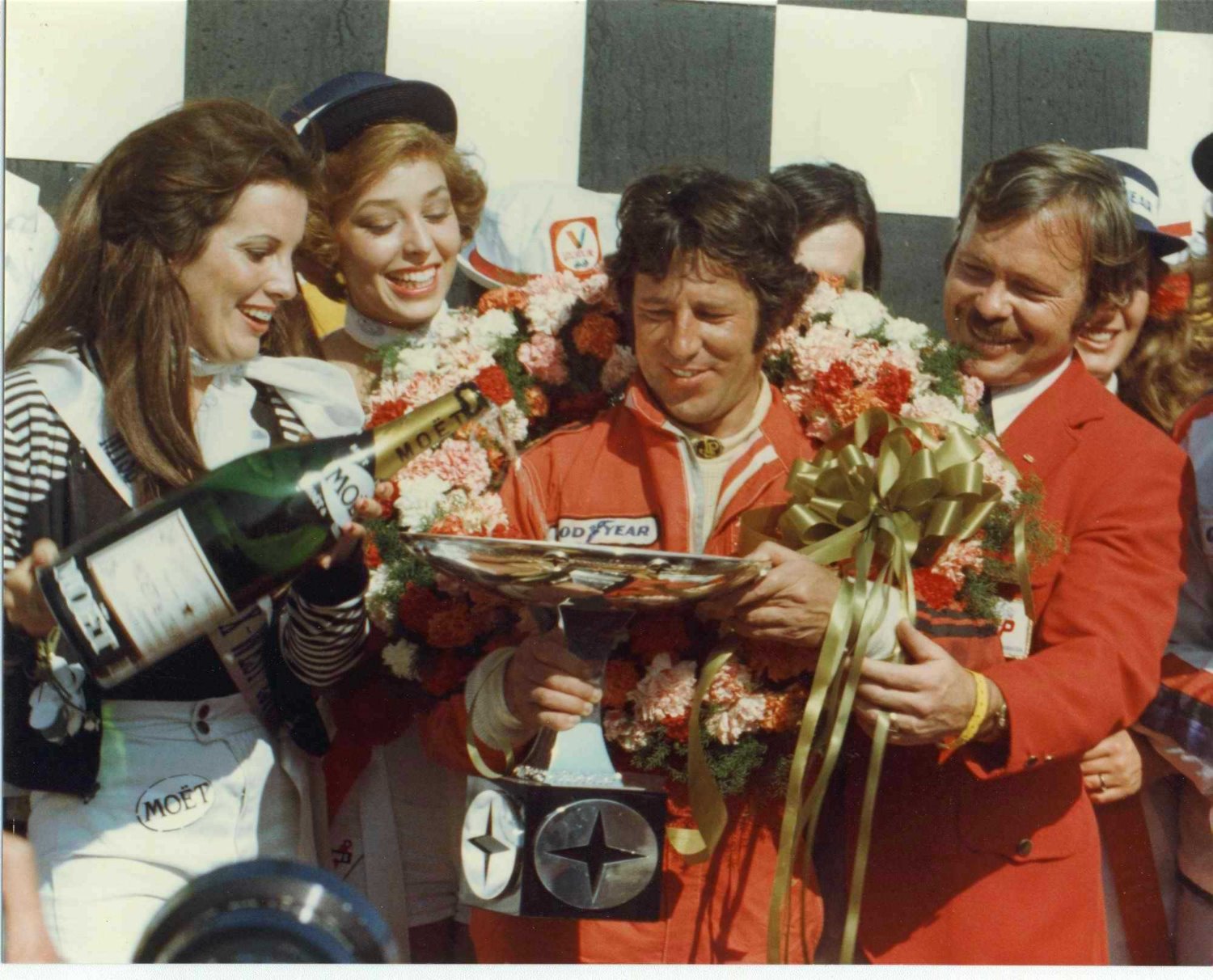 1977 Long Beach podium
It was a great feeling for race organizers as well. Jim Michaelian, CEO and president of the Grand Prix Association, called it the most pivotal race in its history.
"It's no secret that we had suffered some financial difficulty, even though the first two races were successful, but the costs were extraordinary," said Michaelian. "We were being challenged in terms of getting enough money to continue on. We managed to get the 1977 race, though it took some last-minute financial maneuvering to make that happen.
"But when Mario won and it had that impact of an American driver winning a Formula 1 race in Long Beach, it was a very positive reflection on the city and the event," he said. "It enabled us to go out and get more sponsorships and involvement. That was really the race that turned our financial situation around, and we've maintained that ever since."
Andretti's not going to disagree. He's been to every Grand Prix race in Long Beach, winning the CART/Champ Car race here in 1984, 1985 and 1987, with the streak interrupted in 1986 when his son Michael won.
"I think that when I won in 1977 it might've helped Long Beach gain the notoriety that it deserved," he said. "As the race became more successful, the city grew around the track and suddenly we had a convention center and hotels. It wasn't that way at the beginning, if you'll recall. In 1977 there were porno theaters and boarded-up shops along Ocean."
After he retired from racing, Andretti continued to come to Long Beach for the race, as he will this year. Generally, he watches the race carefully and doesn't stroll around like thousands of fans do.
"Once, I had to leave early, which is very rare, and I was walking through the paddock and all around I saw all these people who didn't care about the race as much as they just wanted to be there, and that speaks volumes for the ambience that Long Beach has.
"It's been a great race for Michael and me," Andretti said, "and I look forward to coming every year because it's such a special event, and the word is 'Event,' with a capital E." Tim Grobaty/Long Beach Press Telegram