Hamlin holds off Harvick to win Sunday Pocono Race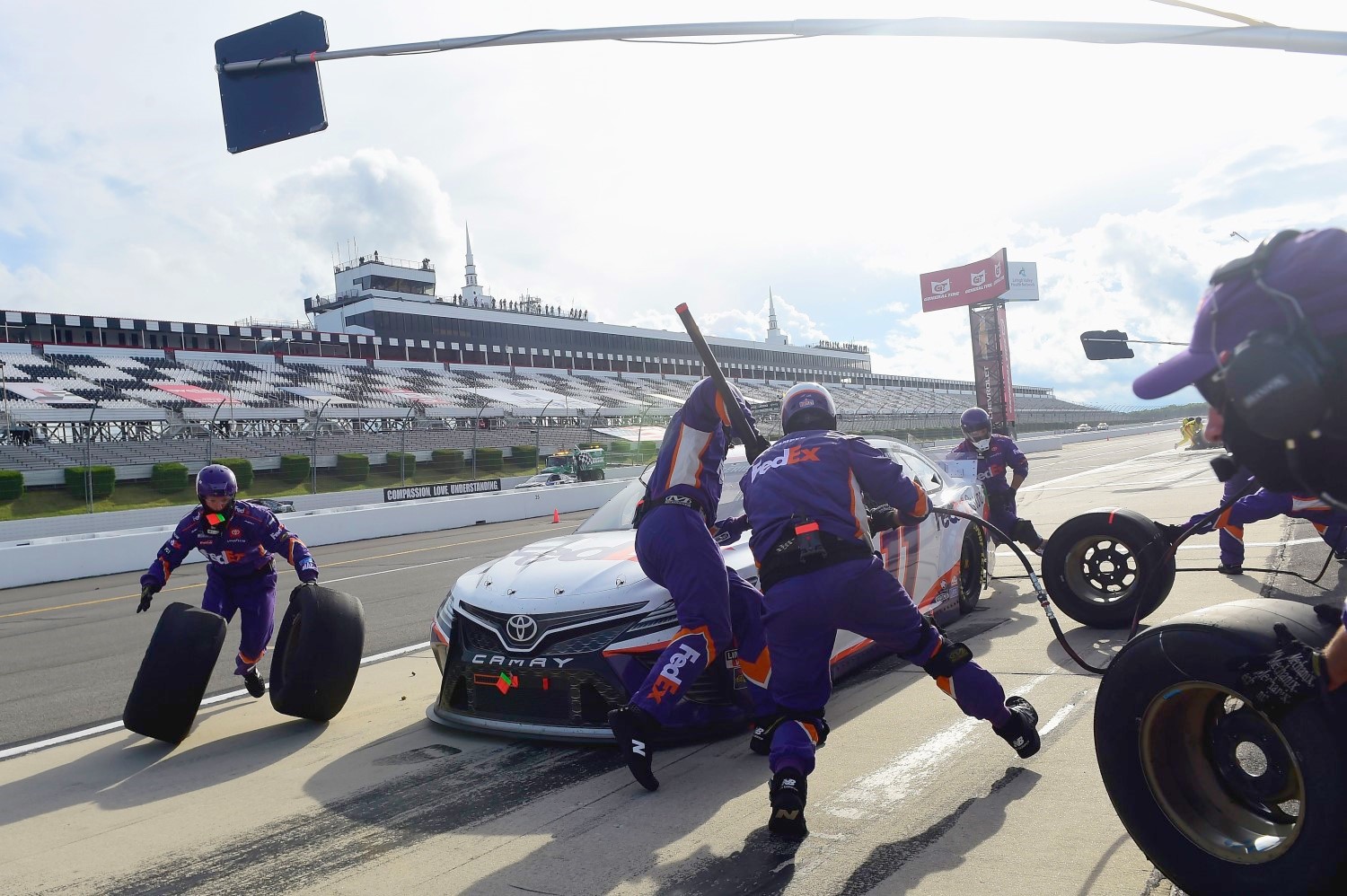 Winner Hamlin gets quick work from his Joe Gibbs pit crew
Jared C. Tilton/Getty Images
On Saturday, in the first half of the Pocono NASCAR Cup doubleheader, it was Kevin Harvick beating Denny Hamlin, but on Sunday, with darkness falling over the 2.5-mile tri-oval, Hamlin reversed the tables in his #11 Joe Gibbs Racing Toyota to beat the #4 Stewart Haas Ford of Harvick by 3-seconds in the 2nd Pocono 350.
It was the 6th Pocono win for Hamlin, typing Jeff Gordon for the post wins at the track, and his 41st Cup win. It was also Hamlin's 4th Cup win of the year.
Erik Jones (Toyota), Chase Elliott (Chevy) and Aric Almirola (Ford) rounded out the top-5.
Sunday's race — the second of two Cup Series events on back-to-back days — was delayed 30 minutes by lightning before the start and then for an additional 50 minutes, 50 seconds after just six laps were complete.
The race didn't resume in earnest until nearly 6:15 p.m. ET, and the laps wound down as darkness neared.
Kyle Busch crashed late in Stage 2, ending the day for the Joe Gibbs Racing No. 18 Toyota with a 38th-place finish.
The incident pushed the defending Cup Series champion's winless streak to 15 races to start the season.
More to follow…..
Quotes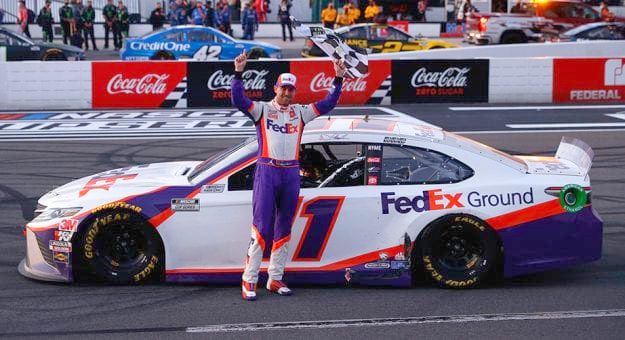 Denny Hamlin
DENNY HAMLIN, No. 11 FedEx Ground Toyota Camry, Joe Gibbs Racing
Finishing Position: 1st
What can you say about Chris Gabehart's strategy for today's race and victory?
"He's (Chris Gabehart, crew chief) just unbelievable. He's done a great job with this race team. This is work that happens in the shop, this is way beyond what happens on race day. Can't say enough for FedEx, Toyota, Coca-Cola, the Jordan Brand. I mean six (career wins at Pocono), I can't even put it into words, how much it means to me."
What is the moment like when you were getting nervous about the strategy and Kevin Harvick's position on the track?
"I was just hoping for no cautions, I knew we had the car. I was just maintaining my gap right there and didn't want to make any mistakes like I did at Bristol and threw that win away. I just tried to work through the traffic as best I could and obviously Chris (Gabehart) is paying attention to strategy there and made the right call."
How did this race unfold for you today?
"A lot of adversity early. We got some nose damage and had to fix that. Then we just worked on the car and got it better and better. It finished the race there a lot better than we finished yesterday and I thought we had a race-winning car yesterday. We knew after yesterday's race and showing the speed that we had, just don't mess it up and we've got a good shot today and that's what we did."
How patient are you with strategy races?
"You have to work it, but ultimately the two fastest cars finished one-two both days. I think that there's no secret there and this team has been strong every week. We're in contention to win every single week and that's all you can ask for as a race car driver and we're just on a roll right now."
How do you feel about your race team at this stage of the season?
"Working to keep getting better and keep getting faster race car and giving me a bigger box to work in. If we don't have the exact right setup or the handling isn't perfect, we're still going out there and winning races because we have decent car speed. We're just continuing to make ourselves a little bit better and it's making that room for error just a little bit bigger."
Results
| | | | | | |
| --- | --- | --- | --- | --- | --- |
| POS | CAR | DRIVER | MANUF | BEHIND | LAPS |
| 1 | 11 | Denny Hamlin | Toyota | 0.000s | 140 |
| 2 | 4 | Kevin Harvick | Ford | 3.068 | 140 |
| 3 | 20 | Erik Jones | Toyota | 16.756 | 140 |
| 4 | 9 | Chase Elliott | Chevy | 23.298 | 140 |
| 5 | 10 | Aric Almirola | Ford | 25.305 | 140 |
| 6 | 21 | Matt DiBenedetto | Ford | 25.656 | 140 |
| 7 | 24 | William Byron | Chevy | 27.621 | 140 |
| 8 | 14 | Clint Bowyer | Ford | 28.385 | 140 |
| 9 | 88 | Alex Bowman | Chevy | 28.388 | 140 |
| 10 | 19 | Martin Truex Jr. | Toyota | 28.499 | 140 |
| 11 | 2 | Brad Keselowski | Ford | 29.551 | 140 |
| 12 | 42 | Matt Kenseth | Chevy | 32.658 | 140 |
| 13 | 1 | Kurt Busch | Chevy | 34.658 | 140 |
| 14 | 3 | Austin Dillon | Chevy | 45.599 | 140 |
| 15 | 47 | Ricky Stenhouse Jr. | Chevy | 47.996 | 140 |
| 16 | 48 | Jimmie Johnson | Chevy | 50.622 | 140 |
| 17 | 41 | Cole Custer # | Ford | 53.460 | 140 |
| 18 | 6 | Ryan Newman | Ford | -1 Lap | 139 |
| 19 | 38 | John Hunter Nemechek # | Ford | -1 | 139 |
| 20 | 43 | Bubba Wallace | Chevy | -1 | 139 |
| 21 | 32 | Corey LaJoie | Ford | -1 | 139 |
| 22 | 12 | Ryan Blaney | Ford | -1 | 139 |
| 23 | 13 | Ty Dillon | Chevy | -1 | 139 |
| 24 | 22 | Joey Logano | Ford | -1 | 139 |
| 25 | 37 | Ryan Preece | Chevy | -1 | 139 |
| 26 | 96 | * Daniel Suarez | Toyota | -1 | 139 |
| 27 | 15 | Brennan Poole # | Chevy | -2 | 138 |
| 28 | 27 | JJ Yeley(i) | Ford | -2 | 138 |
| 29 | 66 | * Timmy Hill(i) | Toyota | -3 | 137 |
| 30 | 77 | James Davison | Chevy | -4 | 136 |
| 31 | 00 | Quin Houff # | Chevy | -4 | 136 |
| 32 | 53 | Garrett Smithley(i) | Chevy | -4 | 136 |
| 33 | 51 | Joey Gase(i) | Ford | -4 | 136 |
| 34 | 7 | * Josh Bilicki(i) | Chevy | -4 | 136 |
| 35 | 8 | Tyler Reddick # | Chevy | -5 | 135 |
| 36 | 17 | Chris Buescher | Ford | -5 | 135 |
| 37 | 78 | * BJ McLeod(i) | Chevy | -7 | 133 |
| 38 | 18 | Kyle Busch | Toyota | -66 | 74 |
| 39 | 95 | Christopher Bell # | Toyota | -101 | 39 |
| 40 | 34 | Michael McDowell | Ford | -125 | 15 |
# DENOTES ROOKIE
(i) NOT ELIGIBLE FOR POINTS
(*) REQUIRED TO QUALIFY ON TIME
[adinserter name="GOOGLE AD"]