Tsunoda on top again in Spielberg F2 Free Practice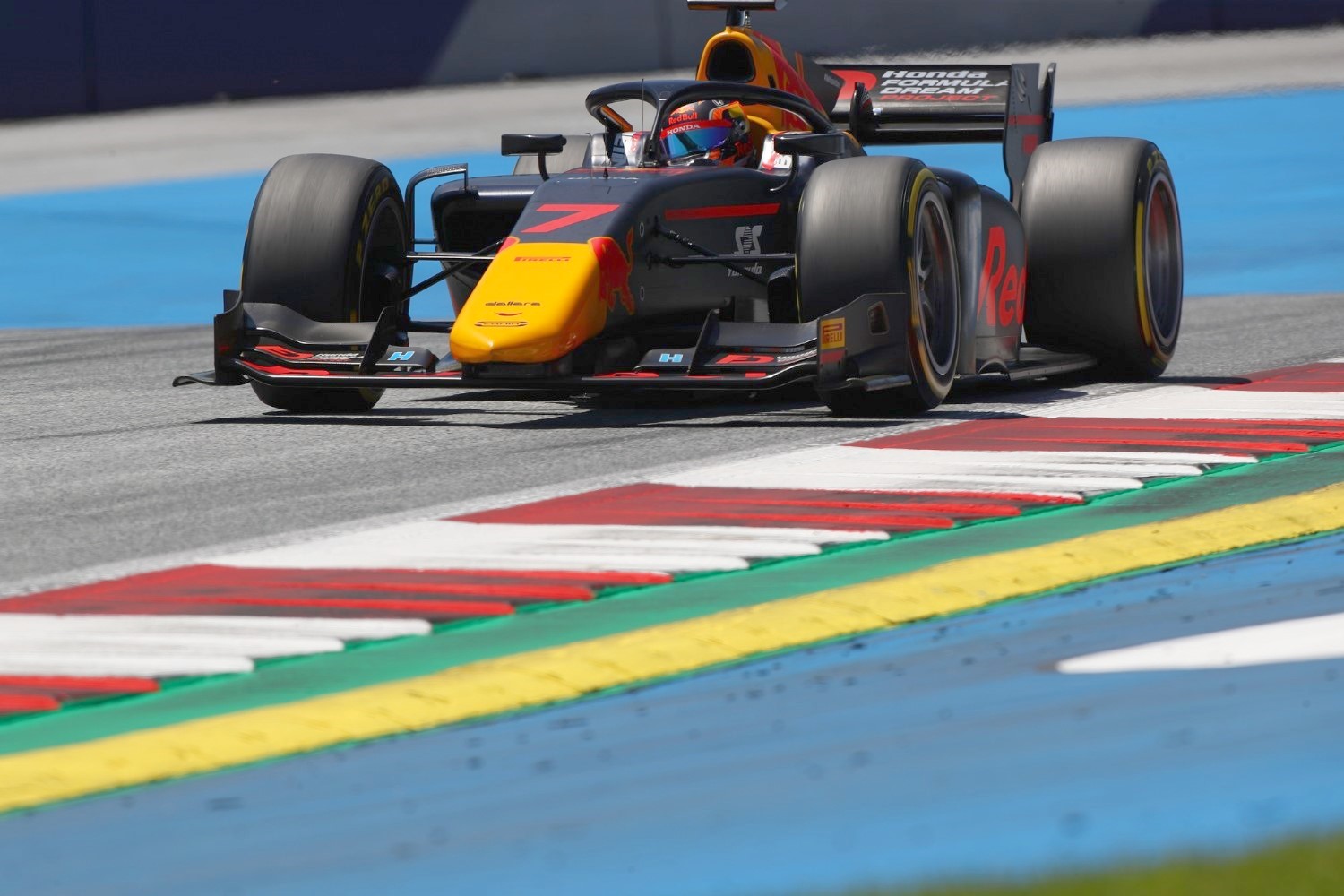 Yuki Tsunoda
Yuki Tsunoda topped Free Practice around the Red Bull Ring for the second round in a row, ahead of a much-improved Nikita Mazepin for Hitech Grand Prix, and his Carlin teammate Jehan Daruvala.
The sun was beaming down for the first session of Round 2, with track temperatures hitting 52 degrees in Spielberg. You would have expected the tires to heat up pretty quickly, and yet there appeared to be a real lack of grip in the opening stages with both Marcus Armstrong and Mick Schumacher spinning on their flying laps.
The ART Grand Prix racer was able to get back onto the track, but Schumacher wasn't as lucky. The German ended up in the gravel, which brought out a red flag and ended his session before it had even really begun.
The return to track was a lot more successful as Nobuharu Matsushita set the first meaningful lap of the afternoon, before Round 1 Feature Race winner Callum Ilott took P1, with a time of 1:16.462.
Carlin's rookie pairing of Tsunoda and Daruvala had both looked quick in Free Practice last weekend, but were unable to translate that into Qualifying. This clearly hadn't knocked their confidence, as the pair rose to first and second with Tsunoda dipping under the 1m 16s barrier for the first time on Friday afternoon.
Mazepin suffered a frustrating first round of the season, failing to score any points on his debut for Hitech Grand Prix. The Russian appears to be in a much stronger position for Round 2 though, as he broke up the two Carlin machines to nestle into P2.
Very little would change in the remaining 15 minutes, as teams appeared to focus on gathering data and undertaking longer runs.
The grid will switch from the medium to the supersoft Pirelli's for Qualifying, which takes place today at 5pm local time.
Practice Times
| | | | | | | | |
| --- | --- | --- | --- | --- | --- | --- | --- |
| Pos | No. | Driver | Team | Laps | Time | Behind | Gap |
| 1 | 7 | Y. Tsunoda | Carlin | 24 | 1:15.692 | 0.000s | 0.000s |
| 2 | 24 | N. Mazepin | Hitech Grand Prix | 22 | 1:15.838 | 0.146 | 0.146 |
| 3 | 8 | J. Daruvala | Carlin | 25 | 1:16.017 | 0.325 | 0.179 |
| 4 | 25 | L. Ghiotto | Hitech Grand Prix | 21 | 1:16.045 | 0.353 | 0.028 |
| 5 | 17 | G. Alesi | BWT HWA RACELAB | 22 | 1:16.066 | 0.374 | 0.021 |
| 6 | 6 | C. Lundgaard | ART Grand Prix | 24 | 1:16.100 | 0.408 | 0.034 |
| 7 | 21 | R. Shwartzman | PREMA Racing | 22 | 1:16.160 | 0.468 | 0.060 |
| 8 | 2 | D. Ticktum | DAMS | 23 | 1:16.217 | 0.525 | 0.057 |
| 9 | 5 | M. Armstrong | ART Grand Prix | 14 | 1:16.218 | 0.526 | 0.001 |
| 10 | 9 | J. Aitken | Campos Racing | 21 | 1:16.262 | 0.570 | 0.044 |
| 11 | 3 | G. Zhou | UNI-Virtuosi | 22 | 1:16.293 | 0.601 | 0.031 |
| 12 | 14 | N. Matsushita | MP Motorsport | 25 | 1:16.319 | 0.627 | 0.026 |
| 13 | 4 | C. Ilott | UNI-Virtuosi | 23 | 1:16.322 | 0.630 | 0.003 |
| 14 | 16 | A. Markelov | BWT HWA RACELAB | 24 | 1:16.470 | 0.778 | 0.148 |
| 15 | 12 | P. Piquet | Charouz Racing System | 25 | 1:16.576 | 0.884 | 0.106 |
| 16 | 1 | S. Gelael | DAMS | 24 | 1:16.592 | 0.900 | 0.016 |
| 17 | 23 | M. Sato | Trident | 23 | 1:16.737 | 1.045 | 0.145 |
| 18 | 22 | R. Nissany | Trident | 22 | 1:16.741 | 1.049 | 0.004 |
| 19 | 11 | L. Deletraz | Charouz Racing System | 25 | 1:16.899 | 1.207 | 0.158 |
| 20 | 15 | F. Drugovich | MP Motorsport | 24 | 1:17.307 | 1.615 | 0.408 |
| 21 | 10 | G. Samaia | Campos Racing | 25 | 1:17.511 | 1.819 | 0.204 |
| 22 | 20 | M. Schumacher | PREMA Racing | 4 | 1:28.122 | 12.430 | 10.611 |