Rumor: F1 back to South Africa 30 years later
(5th Update)
This rumor is upgraded to 'strong' today.
Africa could be Formula 1's next new destination, even though the sport has decided not to replace the axed Russian GP this year.
The New York Times claims a deal between former F1 host Kyalami, located near Johannesburg in South Africa, is "close to being completed".
"Johannesburg is definitely on our list," Liberty Media CEO Greg Maffei confirmed.
"You'd love to have one in Cape Town, but I'm not sure that's doable, so Johannesburg is the more likely."
Formula 1 chief executive Stefano Domenicali confirmed that South Africa is the "most likely" new venue for F1 that he hopes will happen "as soon as possible".
Maffei continued: "There's a desire to do another Asian race potentially.
"We've had interest from places like Indonesia, going back to Malaysia, and there's been interest in other South American countries, Argentina and Colombia."
Some, however, are concerned that Formula 1 is too aggressively pushing into new markets whilst marginalizing some of the sport's most historic European venues including France and even Monaco.
Domenicali insists that F1 is just reminding older venues to improve.
"For those saying we are pushing too far and not being respectful to racing in Europe, this is wrong," said the Italian.
"What we are doing is pushing the system for a different approach, to force the promoters to think big because the level of the events we are building is getting bigger."
What seems quite clear is that Russia, whose Vladimir Putin-backed grand prix at Sochi will not be replaced in 2022, will not be back in F1 any time soon.
Former Williams driver Sergey Sirotkin, who has just become a new director of the Russian Automobile Federation, says Russian drivers have been completely marginalized over the Ukraine conflict.
Even in Russia, it is even being said that drivers who have agreed to race as a neutral athlete or with a non-Russian racing license are unpatriotic.
"Many drivers have a choice," he told Championat. "Either continue your career and not give up on what you've been doing for many years, or do something else instead of racing.
"So I don't think people should make such loud statements in such a situation. I would treat such decisions with respect," Sirotkin insisted. (GMM)
---
April 15, 2022
Is it any coincidence that Porsche is close to entering F1 in 2026 and the fact that the Kyalami track is owned by the CEO of Porsche South Africa – Toby Venter?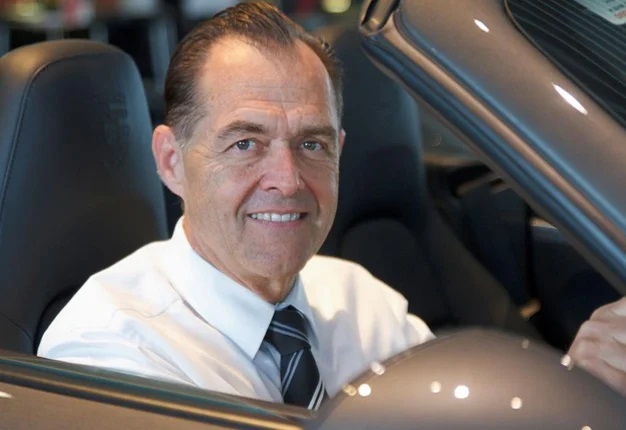 The Kyalami circuit was redesigned and extended since Porsche South Africa CEO Toby Venter bought the track in 2014, but it still needs minor upgrades to secure FIA Grade 1 status.
Connecting the dots, and given the South African Grand Prix won't be added until 2024 at the earliest, it does hint that Porsche will be entering the sport in some way, shape or form over the next few years. Whether that ends up being a collaboration with Red Bull, or starting their own team when sustainable fuels are required in 2026, remains to be seen.
---
April 12, 2022
Almost every continent hosts at least one round of the current F1 Grand Prix series. The last South African F1 Grand Prix took place at Kyalami in 1993 and was won by French driver Alain Prost in a Williams Renault, with Ayrton Senna second in a McLaren Ford and Mark Blundell third in a Ligier Renault.
Kyalami has hosted 21 of the 28 South African Grands Prix held on and off between 1960 and 1993.
Hosting the race would cost about $40 million a year or more.
Kyalami does not currently conform to the FIA's Level 1 requirement needed to host a Grand Prix, but it is close. Modifying the venue could cost only another $1.4 million.
Kyalami received a major upgrade to Level 1 requirements back in 2016 – see video below.
"We could probably bring the MotoGP circus here at a tenth of Formula One's price, with the added bonus of two South Africans, Brad and Darren Binder, racing at the top level of the sport," said former motorcycle Grand Prix racer and motorsport expert Dave Petersen.
He added that the ticket prices for a Formula One event would probably be more than $350 each – well beyond the means of South African motorsport fans.
---
October 13, 2021
(GMM) Kyalami is in pole position to return to the Formula 1 calendar.
Although the schedule is now bursting at the seams with 22-23 races per year, F1 CEO Stefano Domenicali has admitted he would like to add an event on the African continent.
"Compared to the street circuits that were identified, the most sensible choice remains Kyalami for its history and for its immediate availability to host this event," said Warren Scheckter.
Scheckter, leading a group pushing for a South African GP, is the nephew of 1979 world champion Jody.
"In recent years, starting with Chase Carey, we have welcomed the top management of F1 with visits to the racetrack," he is quoted by Corriere dello Sport.
"We will discuss the opportunity again next year with the aim of formalizing the return at the beginning of 2023."
---
October 13, 2021
Organizers are hopeful of securing the return of the South African Grand Prix to the Formula 1 World Championship in 2023 – exactly 30 years after F1 last raced there.
Warren Scheckter, CEO of SAGP the company trying to revive the South African Grand Prix revealed that the venue needs some work to get up to Formula 1 standards.
Kyalami last hosted a Formula 1 Grand Prix in 1993 but the sport's chief executive Stefano Domenicali remains eager to secure a return to the African continent.
"The target date is still 2022 but that could shift due to the effects of the pandemic, so 2023 is maybe more likely," Scheckter told RaceFans.
Seven-time Formula 1 World Driver's Champion Lewis Hamilton has supported the notion of a return to Africa, seeing it as crucial to the growth of the sport.
"It's great that Lewis, a person as high-profile and influential as himself, has indicated his support for an African Grand Prix," said Scheckter.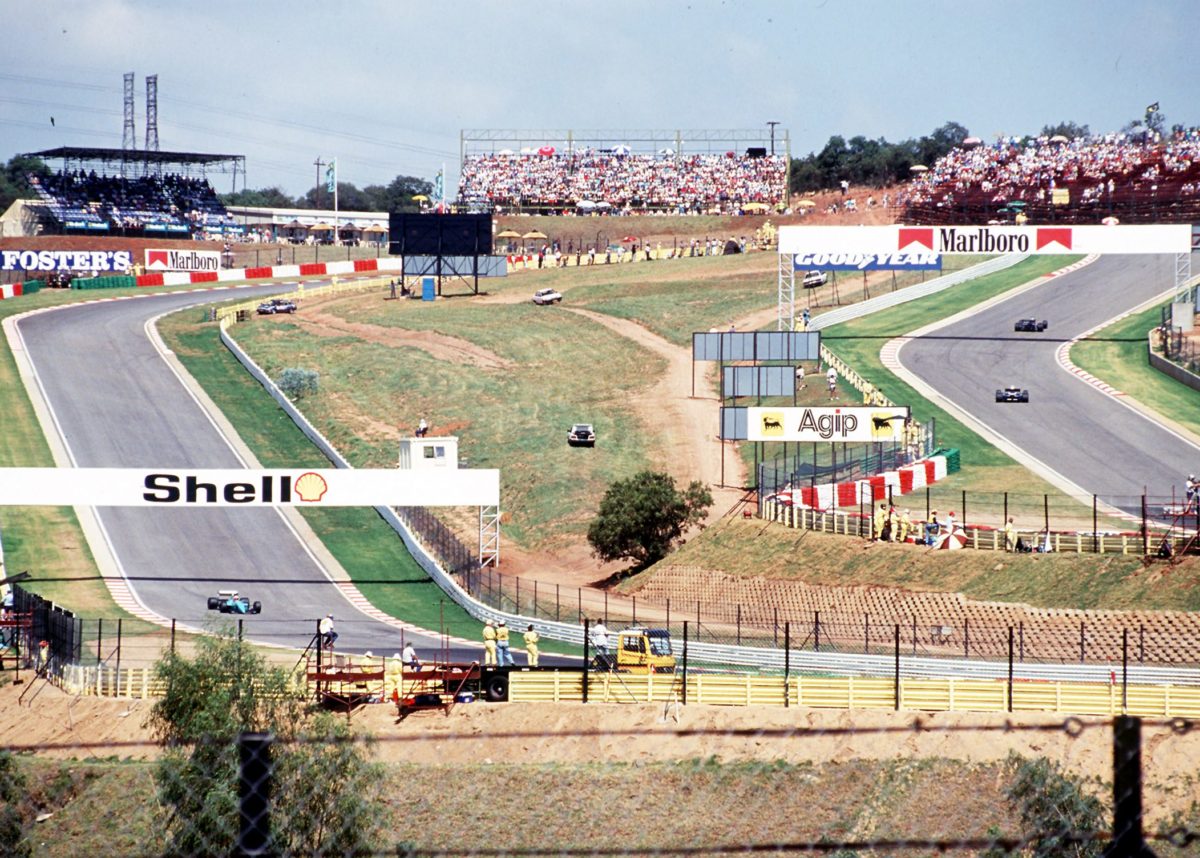 "Obviously South Africa is the most likely place for that to happen being that it's a country that has a huge history in Formula 1. It had its own Formula 1 racing series back in the seventies, had a Formula 1 world champion itself and as a country, it has quite a big following.
"Most importantly it has a race track that's really ready to go, that's very close to being F1-standard. If there were to be an African Grand Prix, South Africa and Kyalami is the most logical place that it would happen.
"It's great that Lewis is showing his support for an African Grand Prix. An African Grand Prix is going to be a huge boost for bringing diversity to the sport at all levels."
There has been talk of a street race in one of South Africa's major centers possibly attracting Formula 1 back to the country but at this stage Kyalami does appear to be the best bet for promoters.
Two venues have staged the South African Grand Prix with the Prince George Circuit in East London hosting the race from 1934 until 1966 and Kyalami staging the race 21 times between 1967 and 1993.
---
February 21, 2021
In a video of fan questions with Mercedes team partner Petronas, Lewis Hamilton was asked which location he would choose for a new F1 race, and replied: "Easy, Africa.
"It's such an important place to go back.
"At the moment Formula 1 goes to countries and doesn't really leave much behind, if anything.
"F1 has to shift to being a sport that does go to places and leaves behind something that can really help the communities.
"I think bringing the attention back to Africa and really highlighting the beautiful place that it is, that's the most important place we have to go to.
"It needs to be held where it's not all about money. It's about the people. In business, that's not always the case.
"That's something I'm really pushing for."
South Africa's last GP was held before the country abolished a policy of Apartheid, a system of strict racial segregation that protected power and control for a minority white population, in 1994, and now the question is whether a race in Africa is financially feasible.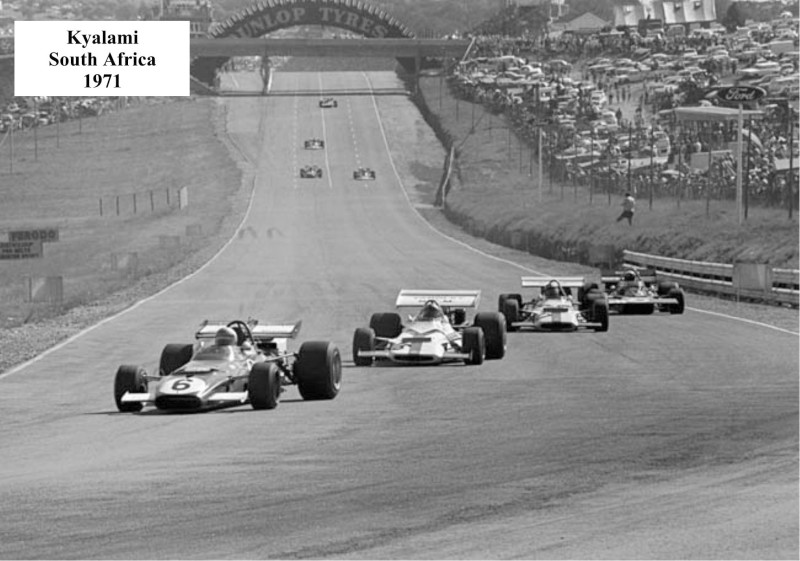 ---
02/21/20 (GMM) Formula 1 is taking a step closer to Africa.
Last year, the sport's former commercial boss Sean Bratches observed: "We are now racing on five continents.
"Africa is the last habitable continent that we don't race on. We want to change that."
So it is interesting that F1 has announced that the sport is heading to South Africa in March for a fan festival on the streets of Johannesburg.
Mercedes, Renault and Red Bull are all taking part.
"South Africa has a very special place in Formula 1 history and we remain committed to returning to South Africa in the future," said F1's marketing boss Ellie Norman.
Also involved in the event will be 1979 world champion Jody Scheckter, who the F1 press release named as 'President of South African GP'.
South Africa has held 33 grands prix, most recently in 1993.
---
02/19/20 According to Olav Mol, a commentator for Ziggo Sport, rumors are circulating in the paddock that we can expect to hear an announcement on whether or not Formula 1 will revisit South Africa.
The tweet translates to: "[Rumor in] the paddock says that in the coming 2 months we will hear whether the South African GP will return to the F1 calendar…"
Andrew Baldwin
05/21/19 Kyalami was substantially redeveloped to FIA Grade 2 standard and last week F1 commercial boss Sean Bratches referenced it while confirming "very productive conversations" about hosting a race in South Africa after 2020.
Autosport reports that the owner, Porsche SA, is not interested in promoting a grand prix itself.
However, it is keen to facilitate the return of F1 to Kyalami should an independent organizer raise the funds to make it happen, which has been rumored.
A spokesperson for Porsche SA told Autosport: "We support all efforts and remain committed to hosting a Formula 1 Grand Prix at Kyalami."
Group property manager Andrew Baldwin, who oversaw the redevelopment, said trying to " replicate the original Kyalami" was also behind a decision to extend the start-finish straight.
Baldwin said that staff at Porsche in Johannesburg were "buzzing" after Bratches referenced the prospect of F1 returning to South Africa.
"There are always entrepreneurial people trying to put deals together," he told Autosport.
"We've just had general elections, the country's facing all kinds of issues – the question is if there's a desire.
"You know the model, governments have to have some kind of involvement to make a grand prix happen."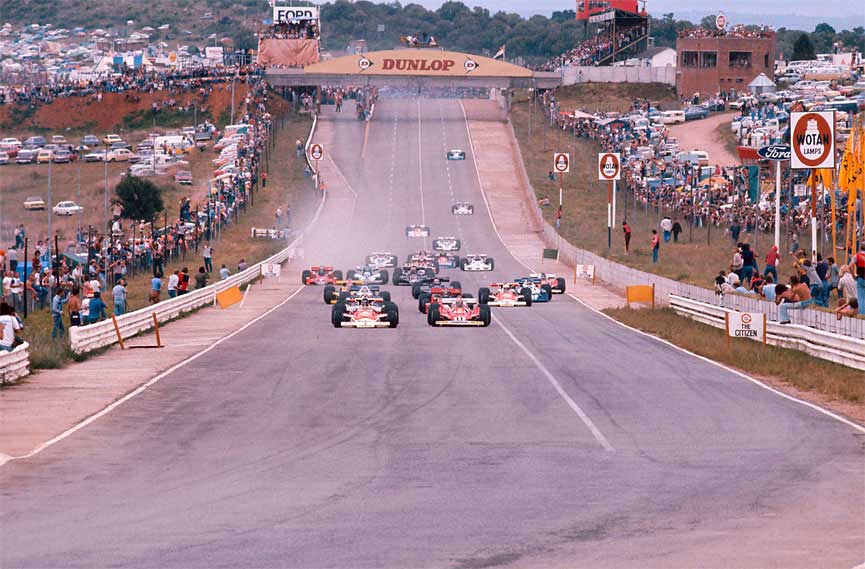 Kyalami will become an international motor racing circuit again later this year when it hosts the Intercontinental GT Challenge season finale on November 23. Further investment is required before that race, such as timing loops and additional lighting.
"I can't say much about Formula 1," Baldwin said.
"In simple terms [of making the circuit eligible for F1] it's really a fairly major investment in Tecpro, plus a modification to increase the run-off physically at the end of the long straight.
"The basic layout, facilities are all great for Formula 1. We're ready for that.
"It's just an extra sum of money to push you over the finish line for Grade 1."
"We'd love to see it," said Baldwin.
"It was a dream of course, but we didn't base it on that."
---
05/01/16 Formula 1 will not be racing on the African continent before the end of the decade, according to a racetrack official.
Kyalami Grand Prix Circuit developer Andrew Baldwin told SBD Global that F1's return to the South African racetrack is a "long shot at the moment," with money being the biggest obstacle. "I can't see it in the next five years, but maybe in a timeframe of five to 10 years you could potentially see developments," he said. "It's about the money."
Baldwin pointed to F1's hosting fees that have led financial difficulties at a number of circuits around the world. The latest venue threatened to fall victim to the series' high cost is Monza, home of the Italian Grand Prix.
"We made a conscious decision to not be a promoter to international motorsport," Baldwin said.
"We can't afford to do that. We can't afford to take that risk. We are not going to put our own money up to make that happen … The modern grand prix, they need government support to make them happen."
Kyalami, which is located between Johannesburg and Pretoria in the country's northeast, hosted 21 F1 races from '67-93. Frenchman and four-time world champion Alain Prost was the last winner of the South African Grand Prix at Kyalami. The track is currently undergoing a complete overhaul after Porsche SA purchased the venue for 250M rand at auction in '14. The remodeling is in its final stages, with the racetrack and handling circuit already completed.
Work on the pit building and other open exhibition spaces are scheduled to be finished by the end of the month. The initial renovation budget of 100M rand is now heading toward 300M rand ($19.2M), Baldwin said. Track owners hope to recoup their investment in eight to 10 years, he added.
Kyalami has applied for an FIA grade 2 license, which would allow the track to host any FIA-sanctioned series except F1. The venue is currently the only one in Africa that could potentially host an F1 grand prix, though it would require further investments, Baldwin said. Kyalami was put in the spotlight after F1 CEO Bernie Ecclestone and defending world champion Lewis Hamilton both called for the series' return to Africa.

Despite its rich history, motor racing will only play a small role in Kyalami's future business plan. Baldwin said racing will contribute only 5-10% to the track's total revenue. "The ideal number of race meetings is about 10 over the course of the year," he said. "We try to get revenue streams coming in on a regular basis. We need income every day because we know that racing circuits all over struggle financially."
Track owners will put a focus on corporate and public events to make the place a "vibrant" year-round venue, Baldwin added.
Kyalami has already hosted car launches, driver training courses and conferences. The South Africa Bike Festival will be the first public event at the remodeled venue from May 27-29. Cycling events as well as a food and music festival will also be staged on the grounds later this year.
Track officials look at every income opportunity and are "learning as we go," Baldwin said. He added that Kyalami could play host to int'l racing series such as the World Endurance Championship, but nothing is imminent.
"Are we close to anything? No, but it's not really our focus," he said. "Our focus is to get the venue finished."
HJ Mai/SBD Global
---
02/23/15 F1 could make its "long-awaited return to South Africa" as early as '16, according to Sameer Naik of INDEPENDENT ONLINE. Africa is the only continent without an F1 race and it would represent a "historic achievement should the event return to South Africa." F1 CEO Bernie Ecclestone revealed he was in the process of "proposing terms for the country to figure on the world championship schedule again, hopefully from 2016, and with Cape Town as the venue."
South Africa's bid team, known as CapetownGrandprixSA, said it had been in contact with Ecclestone from '00, and hoped it had come a "significant step closer to bringing the major sporting event back to the country." CapetownGrandprixSA COO Bjorn Buyst said it had been in communication with Ecclestone for many years, "sometimes with some success."
He said, "Every step we get closer to hosting a Grand Prix in South Africa is a success for our bid team." The proposed venue is the Green Point Sport Precinct. While the bid team has submitted a layout for a proposed street circuit, "this has yet to be approved." Buyst: "This area is earmarked for sports events and we believe our street circuit going through the stadium will be a world first." INDEPENDENT ONLINE
---
01/21/15 We've done a little more digging on the possible Formula 1 race in South Africa and come up with a few things.
1. As reports suggest, Cape Town would be the likely destination:
There is no permanent facility in South Africa that is up to Formula One standards, safety and otherwise. Kyalami, which hosted 27 Formula One Grand Prix between 1961 and 1993, has endured financial problems in recent years. Also, one South African correspondent told us the parking situation at the circuit would only accommodate around 10,000 spectators. Other circuits such as Phakisa Freeway and Zwarktops would be unlikely unless major investments were made in those facilities.
Durban also hosted A1 Grand Prix from 2005-2008. However, the Durban municipality surrender the rights to Top Gear about a year ago, and the city's desire for motorsport seems to be at a low ebb. Further, there has been significant political violence in Durban in recent months.
2. Preliminary work has been done on a possible high-level motor race in Cape Town.
In particular, a source confirmed to AR1 that work has been done in the Green Point area of Cape Town around the soccer stadium built for the 2010 World Cup. The area is quite picturesque and would seem to be the ideal setting for a Grand Prix. However…
3. Cape Town administrators have flatly refused permission for proposed events citing budget priorities as the hurdle.
The Western Cape area of South Africa would be ideal from a tourism standpoint for a GP. However, as is the case with numerous Formula One events, local government funding is necessary to pull them off. Our people in South Africa say the local government has no appetite for such an event at this time, and that overtures for major motorsports events such as Formula E have been firmly rebuffed.
Also, the Rand (South Africa's currency) is currently pretty weak relative to the Euro.
4. This isn't a good time for South African motorsport.
Kyalami use to have around 45-50,000 spectators for the races back in the 1960s and 1970s. However, those were quite different times.
Last year, South Africa's biggest motorsports event, a historic race at Zwarktops, drew a mere 5,000 people.
Of course, you never know with Bernie Ecclestone. However, our intelligence suggests that a lot of hurdles will need to be cleared prior to any Grand Prix in South Africa.
We'll continue to follow the story.
Brian C. reporting for AR1
---
01/21/15 Formula 1 supremo Bernie Ecclestone hopes the sport can return to South Africa next year.
Ecclestone explained last month that he wanted to revive the country's Grand Prix, most recently held at the Kyalami circuit in 1993.
The 82-year-old is now believed to be working on plans for a race in Cape Town, one of South Africa's three national capital cities.
"I've been looking to go back to South Africa for a long time, and now we have a good chance," Ecclestone told the Press Association.
"They're getting on with it. We're hoping to be back in 2016, but we will have a look and see."
Should South Africa return in 2016, there is the potential for a record-breaking 22-race calendar, with Azerbaijan also due to arrive.
---
12/19/14 Bernie Ecclestone has admitted that he is keen to get South Africa back on the F1 schedule along with a second race in the United States.
Although Grands Prix were held in South Africa prior to 1962, it was that year's event which was the country's first race to count as part of the official Formula One World Championship.
In the 70s and 80s the Kyalami circuit regularly hosted the Grand Prix until it slipped off the calendar after 1985, the sport no longer able to resist the growing global condemnation of apartheid.
In the wake of the end of apartheid the sport returned again in 1992 and 1993 but by then the sheer cost of hosting a round of the world championship meant the circuit's new owners, the South African Automobile Association, could no longer justify the expense.
Over the years since there has been talk of a return, and a couple of pre-season tests at Kyalami proved that there was still great interest in the sport, thousands flocking to see just a couple of teams on duty.
Now, despite a calendar already bursting at the seams, Bernie Ecclestone admits that he would like to see the sport return.
"We want to have a race in South Africa, it would be great to get back to this part of the world," he told RIA Novosti.
Sadly, if the sport does return to South Africa it would most likely be as a street race, Porsche South Africa having bought the heavily modified circuit earlier this year.
"Americans have one race and want to have one more," he added, though with New Jersey now virtually dead in the water, attention appears to be shifting to Las Vegas.
Unsurprisingly, the F1 supremo was keen to lavish further praise on the latest addition to the calendar, citing Sochi as one of the great circuits.
"Russia is a very, very, very, very important country and we worked toward this event for 30 years," he said. "The organization was perfect, absolutely super. All the teams have been happy here and want to come back, be here."
In a move sure to raise eyebrows, Ecclestone admitted that that Russia won its place on the calendar in spite of better (financial) offers from elsewhere.
"Maybe they are ready to pay more money than we got here. But it's not the most important thing in the world," he said. Pitpass
---
05/31/12 (GMM) Organizers of next year's inaugural New Jersey street race have once again dismissed claims the event is in doubt.
Bernie Ecclestone said last month that the American grand prix could be pushed back to 2014.
And the F1 chief executive repeated his doubts this week, revealing the organizers are having trouble with "funds" and had therefore missed deadlines in the contract.
But when asked about Ecclestone's latest comments, a spokesman for the race, which would be played out amid the famous Manhattan skyline, insisted preparations are "precisely on schedule".
According to njbiz.com, he added that organizers are "still on track for a June 2013 race".
The spokesman added: "We don't comment on our contractual relationship with formula one or its details."
The land that will be used for the race is co-owned by Roseland Property Co., whose boss Carl Goldberg said he had "heard nothing to suggest that there's going to be a delay from any of the American promoters".
He added there is "a significant amount of time and money being invested, all pointed to a first race in 2013."
Goldberg said Ecclestone's comments are "disconcerting" in light of the money, time and manpower invested so far.
---
04/17/12 Bernie Ecclestone talks to BBC Sport's Jake Humphrey about upcoming changes to the calendar, nodding in agreement when asked if a new Grand Prix in South Africa could be on the cards.
The Formula 1 boss confirms that the Belgian race at Spa-Francorchamps will "probably" alternate each year with a new French Grand Prix to be held at a redeveloped Paul Ricard circuit at Le Castellet.
Ecclestone also implies that the addition of the New Jersey and Russian races to the calendar in 2013 and 2014 will likely mean two European races are removed from the schedule, but expresses some doubt about whether the American track will be ready in time.