NASCAR Texas Genesys 300 postscript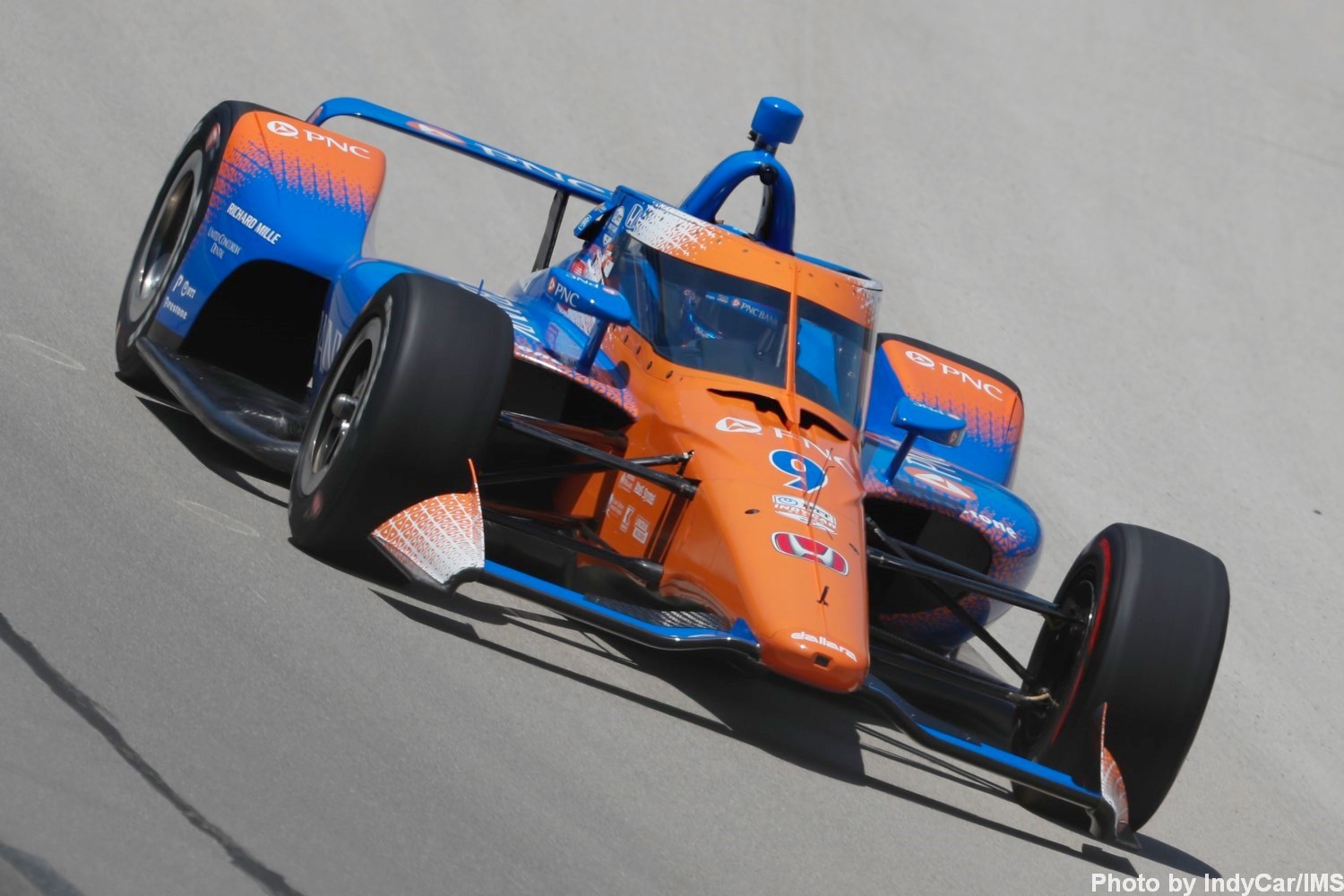 Scott Dixon
Following a delay of nearly three month due to the COVID-19 global pandemic, the 2020 NTT INDYCAR SERIES finally began Saturday evening at Texas Motor Speedway. With no fans in attendance, very few media, and much of the "non-essential" personnel that habitate IndyCar tracks on a race weekend absent, it was a strange, almost surreal setting.
As you surely know, Scott Dixon drove the No. 9 PNC Bank Chip Ganassi Racing Honda to victory lane, scoring his 47th career Indy Car Racing victory. The win did extend the Kiwi's incredibly impressive streak of winning at least one race in 16 straight campaigns.
I've made my thoughts on Dixon quite clear in these pages so won't repeat them. But very briefly, as so often happens when Dixon leads, there was a sense very early in Saturday's race that no one was beating him. In essence, one of Dixon's great strengths has always been his ability to demoralize the competition. We saw that again Saturday in another classic Dixon/Ganassi win.
More on Ganassi….
[adinserter name="GOOGLE AD"]While Dixon controlled the proceedings, the one driver who theoretically could have challenged him for the win was his CGR teammate Felix Rosenqvist. This was something of a surprise given the driver of the No. 10 NTT Data Chip Ganassi Racing Honda was not very good on ovals last season. Rosenqvist scored a best oval finish last season of 11th at Gateway.
However, during the second half of the race, the 28-year-old Swede settled comfortably into second-place behind Dixon, and had even begun to close on his teammate. Unfortunately, Rosenqvist's race would end on lap 191 of 200 with a somewhat ambitious move trying to lap James Hinchcliffe resulting in a crash. Rosenqvist finished 20th.
But let's not forget, the Swede had the speed to challenge Dixon. And Rosenqvist even seemed to sense the big picture himself. "The NTT DATA car was really unbelievable tonight. It was my breakthrough on ovals, I think. I had a really good shot there and threw it away. I'm really disappointed," said Rosenqvist.
The young Swede should be disappointed. But all indications are that better days are ahead. And those better days might be sooner rather than later.
The race itself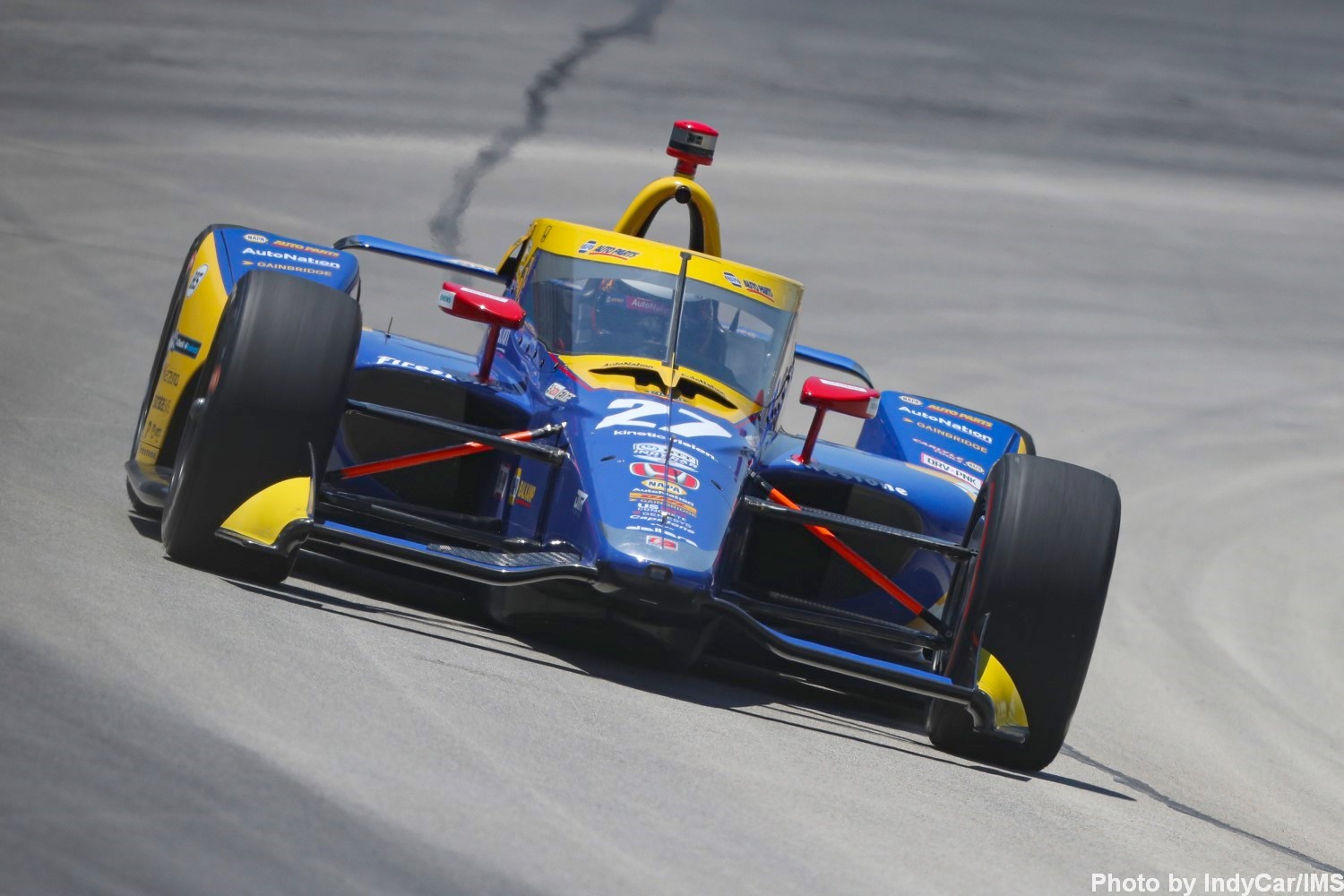 Drivers stayed well below the NASCAR traction compound
There was a surprising level of angst on social media directed at the windscreen and PJ1 TrackBite Compound as culprits in lessening the quality of the show Saturday. First off, I'm sick of the simplistic standard that lots of passing makes for a good race. Personally, I thought Saturday's race was pretty good even if it didn't feature the passing of a motorcycle race.
As for the windscreen, I'm willing to cut IndyCar some slack, particularly given the shutdown and lack of testing. If it takes a little time to figure out exactly how the screen affects the cars to prevent objects from flying at drivers' heads, that's a price I'm willing to pay.
Regarding the track compound, yes, it would be nice if it had not been put down for the NASCAR race in November. But so long as IndyCar races at tracks in which the track's biggest revenue producer is NASCAR, they will have to work around measures enacted to benefit NASCAR. Period.
What we learned from Saturday
For at least the foreseeable future, the world of IndyCar is going to look a lot more like Saturday evening than whatever it did pre-COVID-19. There will be little if not zero testing away from the track. There will be little practice during the race weekend (or more likely race day). And judging from Saturday, there are a few things we can take away.
1) Equipment and experience are at even more of a premium…
In qualifying, Team Penske took the pole, and 8 of the top-9 spots were Penske, Andretti or Ganassi cars. In the race, those three teams swept the top-4 positions.
Of course, TMS is not an easy place for rookies under ideal circumstances. However, throwing pout Takuma Sato who was scored 24th after he was unable to take the green flag following his qualifying crash, positions 19-23 were as follows.
19. Marcus Ericsson – 2nd year
20. Felix Rosenqvist – 2nd year
21. Santino Ferrucci – 2nd year
22. Rinus Veekay – rookie
23. Alex Palou – rookie
I concede that we're dealing with a very small sample. But the condensed schedule placed more of a premium on not making mistakes, and certainly rewarded "rolling off the trailer fast."
This will reward experience and equipment going forward.
2) You pay a heavy price for mistakes in practice and qualifying.
To be perfectly honest, I wondered why some teams even made qualifying runs three hours before the green flag Saturday. Not making an attempt would have meant starting 24th at worst, while a mistake could have meant not racing at all a la Sato.
If you don't have ton of speed to begin with what's the point in attempting to make a qualifying run and maybe starting 18th?
Anyway, you often hear on a 'normal' race weekend when a team has a practice or qualifying accident: "they're going to have a late night fixing that car." Well, a late night is a now a luxury of a bygone time. Teams will pay dearly for mistakes before the race.
And because we're in such a different time, I don't think it's crazy to adopt different thinking.
Speaking of missing the race…
I'm not exactly sure what the damage was on Takuma Sato's car, or why Rahal Letterman Lanigan Racing was unable to get the No. 30 Honda ready to race. However, what I would like to know is the level of cooperation there was amongst teams in the moments leading up to the green flag.
While no team is under any obligation to bend over backwards for a wounded foe in a competitive situation, again, I think these are unique times. Teams are not travelling with the capacity of previous years. Could RLL have borrowed a part from another team? If RLL did not have a chassis, did another team have one?
Part of the reason we don't know these things is there was very little print and digital media on-site. And it's usually the print and digital media that chase the more 'inside baseball' stories if you will.
Anyway, I'm not suggesting any malfeasance amongst anyone. I'm simply saying I would like to know exactly 'why' Sato was unable to start Saturday's race, and what it means for the series in these very unique times.
TV Rating
I don't mean to be Mr. Piss in Anyone's Cheerios Guy. But with a prime-time network television slot, essentially no live sporting competition, and an audience that presumably is dying for live sporting content, I thought the rating for Saturday's race would be better. Yes, the 1.2 million viewers on NBC were a non-Indianapolis 500 best for the series since the second Detroit race on ABC in 2016.
That said, if Saturday had been a 'normal' June evening the series would have been up against perhaps the NBA Finals, NHL finals and Major League Baseball in season. With that in mind, it's probably fair to assume that Saturday's rating represents something of a ceiling for IndyCar in that slot. And that concerns me.
DFS
I'll tell you something that will encourage more people to watch the race: gambling. What is the easiest way to do that while these bumbling state legislatures figure out how to monetize sports betting?
DFS.
DFS is short for Daily Fantasy Sports. As opposed to traditional fantasy sports, in which contestants draft a fantasy team for a given season, DFS players draft a team based on a salary cap for that day's game, match or race. While traditional stick and ball sports like football, basketball and baseball tend to draw the most DFS action, sports such as racing and MMA have even gained traction amongst players in recent years. Furthermore, NASCAR and MMA are two sports back in action, and have both seen significant action amongst DFS players during this shutdown.
For some perspective, DFS industry leader DraftKings is offering a $10/entry contest for Wednesday's race at Martinsville with a top-prize of $100,000. DraftKings also regularly offers contest for NASCAR Xfinity Series and Gander RV & Outdoors Truck Series races.
Now, if the fact Xfinity and Trucks have contests for every race doesn't persuade you people will bet on IndyCar, maybe this will. DraftKings currently is offering hundreds of contests for, get this: Korean Baseball. Call me crazy, but if Americans are willing to bet on Korean Baseball at 3 in the morning, I think you can sell them on a Saturday night IndyCar race.
Granted, IndyCar poses some difficulties for such contests, one being the relatively small field of drivers. For example, in NASCAR players draft 6 drivers from the 40-car field, spreading out the action to some degree. IndyCar would run into the issue of more duplicate lineups with its smaller fields.
Still, these sites have been figuring out a way to make contests for different sports appealing for about a decade now. And there are currently people watching NASCAR that would not be doing so without a little skin in the game. With America changing its perspective on sports betting, there's no reason IndyCar should not be working with these companies to take advantage of the potential audience out there.
All in all, it's nice to write a column about actual racing again. Allow me to thank you for your support of my writing and AutoRacing1's racing coverage during these unique times. Clearly, the world is a very different place than we left off at the end of last season. Saturday's race at Texas made that more than clear.
Brian Carroccio is a senior columnist for AutoRacing1. He can be contacted at BrianC@AutoRacing1.com.