Kevin Harvick Drives Away For Atlanta Cup Series Win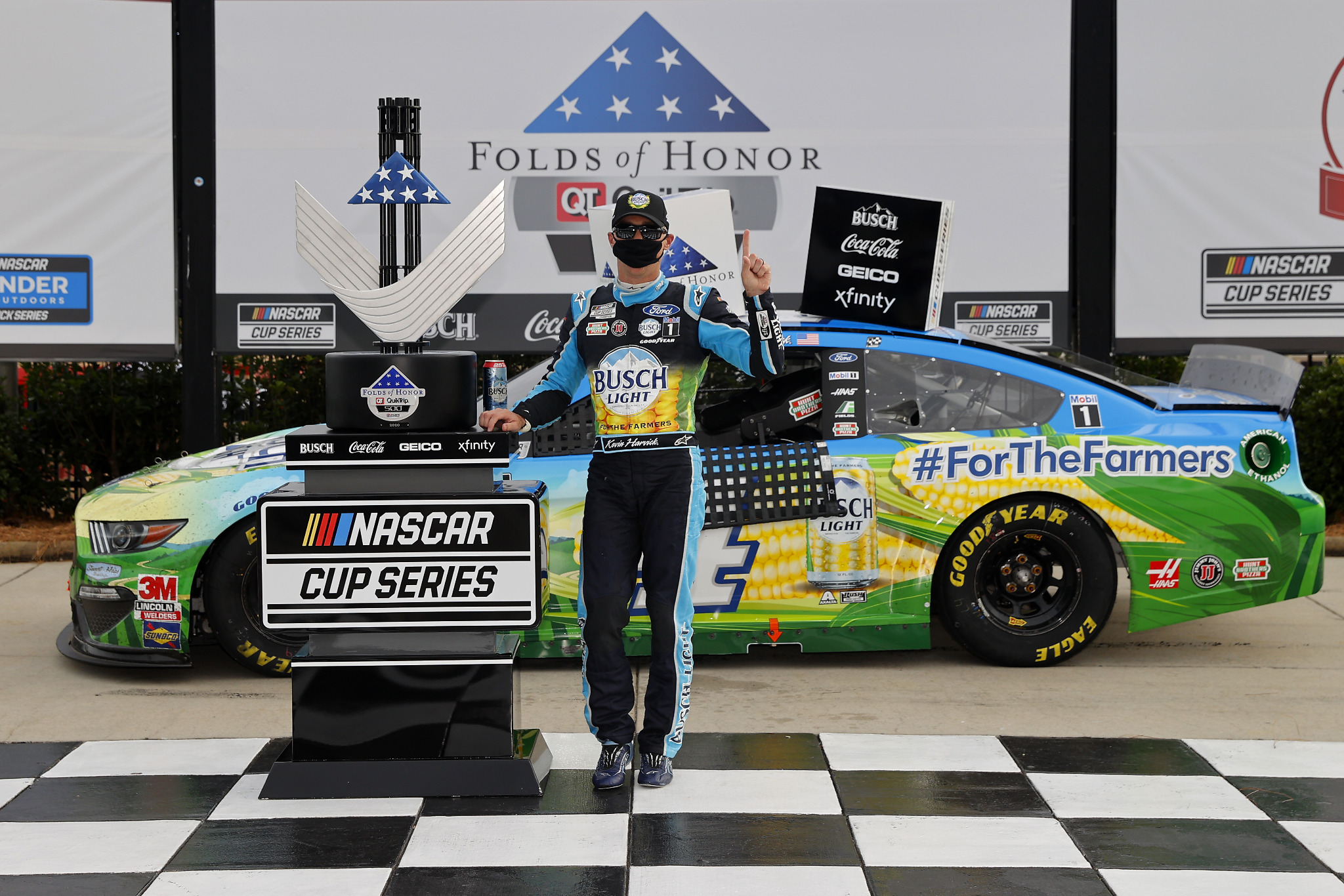 Kevin Harvick wins at Atlanta
Chris Graythen | Getty Images
Kevin Harvick dominated the final segment of Sunday's Folds of Honor Quik Trip 500 at Atlanta Motor Speedway.
Harvick took the lead for the final time just after the start of the final segment, and ran mostly unchallenged the rest of the way en route to his second NASCAR Cup Series win of the season.
"We got a restart on the bottom and they got my car to take off," Harvick said. "I was able to get track position and then once I could get through those first 10 laps and my car was freed up enough to where I could get in a rhythm and really start hitting my marks, and then by about lap 25 I could start driving away."
It marks the 51st career series win for Harvick, and the third of his career at Atlanta. It moves him into 12th on the all-time series win list, breaking a tie with NASCAR Hall of Famers Ned Jarrett and Junior Johnson.
The win also makes Harvick, at the age of 44, the oldest driver to win at Atlanta since Dale Earnhardt, Sr. in March of 2000. Earnhardt was 48 years of age at the time.
[adinserter name="GOOGLE AD"]Harvick celebrated after the race by taking a reverse lap around the 1.54-mile layout while holding three fingers out the window in honor of Earnhardt.
"I didn't get a chance to show very good a couple years ago with my gloves on, so I made sure I took my gloves off this year," said Harvick. "Obviously, first win came for me here at Atlanta and this is just a race track that I've taken a liking to, and you always come back and have those memories and now you want to celebrate everything that Dale Earnhardt did for this sport."
Martin Truex, Jr. swept the first two segments of the race. But he had to settle for a third place finish at the end of the day after being passed late by his teammate, Kyle Busch, who went on to finish second.
"The last two or three runs there, we just got too tight. Not sure what happened," said Truex, Jr. "The car was really good. The guys did a great job. Auto Owners Camry was fast all day. Got our first two stage wins of the year, which was huge. We just can't seem to get over the hump at the finishes.
"With about 25 (laps) to go, I was clicking off some good lap times, but I knew I was pushing it too hard on the right front tire and with about 10 to go, it said, 'oh hell no more.' Just ran out of tires at the end and lost second to Kyle (Busch). I figured at that point, I could see the 4 (Harvick) and was just going to give it all I had and see if there was any opportunity, but he was just too good. Just got too tight at the end. I don't know why, but we'll go back and look at it. Hell of a job by everybody and a good, solid day."
For Busch, it was a solid second place finish.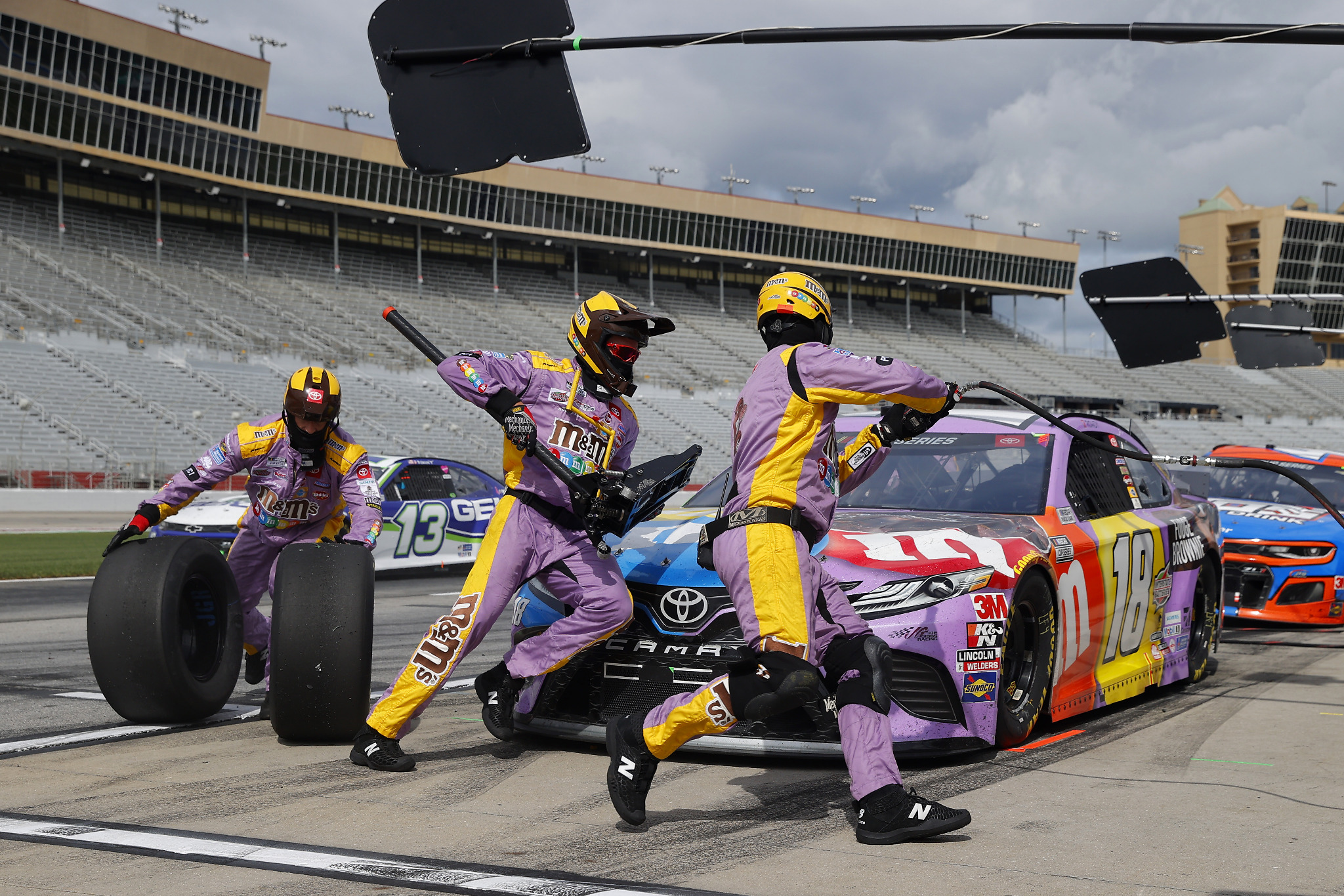 Kyle Busch
Chris Graythen | Getty Images
"We ended up second and not too far behind the 4 (Harvick), who was the best here," said Busch. "Hard to beat him when you come to his home turf if you will – at Atlanta, they're really fast. Overall, my guys did a great job and they gave me a great M&M's Fudge Brownie Camry. We were able to keep it up front all day. We had good pit stops all day. I didn't screw up and speed on pit road today so we've got that going for us."
While Harvick and Truex, Jr. showed the way from the front of the field for most of the day, the event saw a lot of jockeying for position behind them, with drivers battling back and forth throughout the field.
Dawsonville, Georgia's Chase Elliott started the race from the pole, and paced the field for the opening 25 circuits, marking the first laps he has led in the Cup Series at his home state track. In the end, he would finish in eighth.
After racing on the lead lap for much of the day, a second pit stop for a loose lug nut put Bubba Wallace in catch-up mode for much of the day. Wallace battled the No. 43 Richard Petty Motorsports Chevy back to a 21st place finish.
With temperatures in Georgia reaching into the low 90s on the day, Wallace appeared to be lightheaded when he climbed out of the car after the race, and again while being interviewed by Fox Sports on pit road. He was taken to the track's infield medical center, where he was treated and released.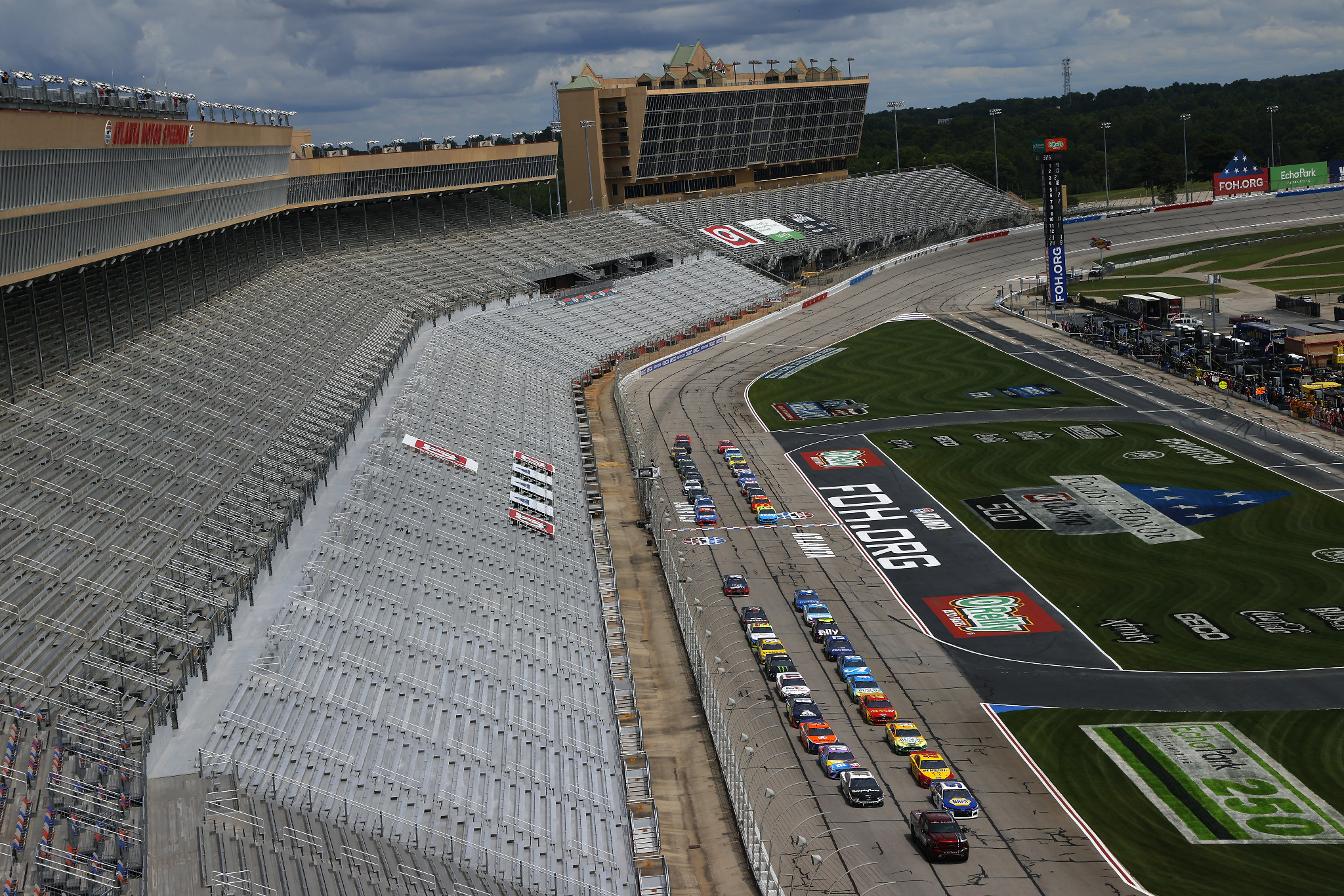 Empty grandstands greeted the field as they took the green flag
Kevin C. Cox | Getty Images
The start of the race was paused by NASCAR to allow for a "moment of listening" by the sport as NASCAR President Steve Phelps delivered a message on the racial injustice incidents around the country.
Ryan Blaney finished in fourth, with Denny Hamlin in fifth.
Kurt Busch, Jimmie Johnson, Elliott, Brad Keselowski and Joey Logano rounded out the top 10.
It's a quick turnaround for the NASCAR Cup Series, as the tour next heads for Martinsville Speedway for a Wednesday night race on the tight half-mile short track.
RACE RESULTS
| | | | | | | | | |
| --- | --- | --- | --- | --- | --- | --- | --- | --- |
| Fin | St | # | Driver | Sponsor/Make | Laps | Led | Points | Status |
| 1 | 9 | 4 | Kevin Harvick | Busch Light For The Farmers Ford | 325 | 151 | 51 | Running |
| 2 | 4 | 18 | Kyle Busch | M&M's Fudge Brownie Toyota | 325 | 7 | 52 | Running |
| 3 | 11 | 19 | Martin Truex Jr. | Auto Owners Insurance Toyota | 325 | 65 | 54 | Running |
| 4 | 7 | 12 | Ryan Blaney | Advance Auto Parts Ford | 325 | 2 | 43 | Running |
| 5 | 10 | 11 | Denny Hamlin | FedEx #SupportSmall Toyota | 325 | 0 | 46 | Running |
| 6 | 12 | 1 | Kurt Busch | Monster Energy Chevrolet | 325 | 1 | 31 | Running |
| 7 | 15 | 48 | Jimmie Johnson | Ally Chevrolet | 325 | 0 | 33 | Running |
| 8 | 1 | 9 | Chase Elliott | NAPA Auto Parts Chevrolet | 325 | 26 | 40 | Running |
| 9 | 6 | 2 | Brad Keselowski | Autotrader Ford | 325 | 5 | 31 | Running |
| 10 | 3 | 22 | Joey Logano | Shell Pennzoil Ford | 325 | 10 | 27 | Running |
| 11 | 16 | 3 | Austin Dillon | Symbicort Chevrolet | 324 | 0 | 26 | Running |
| 12 | 8 | 88 | Alex Bowman | Axalta Chevrolet | 324 | 0 | 25 | Running |
| 13 | 22 | 47 | Ricky Stenhouse Jr. | NOS Energy Drink Chevrolet | 324 | 0 | 28 | Running |
| 14 | 17 | 6 | Ryan Newman | Progressive Insurance Ford | 324 | 0 | 23 | Running |
| 15 | 19 | 42 | Matt Kenseth | Credit One Bank Chevrolet | 324 | 0 | 22 | Running |
| 16 | 24 | 8 | Tyler Reddick # | Roland Chevrolet | 324 | 0 | 21 | Running |
| 17 | 2 | 10 | Aric Almirola | Smithfield Ford | 324 | 0 | 20 | Running |
| 18 | 27 | 95 | Christopher Bell # | Rheem Toyota | 324 | 0 | 19 | Running |
| 19 | 31 | 41 | Cole Custer # | HaasTooling.com Ford | 324 | 0 | 18 | Running |
| 20 | 5 | 14 | Clint Bowyer | Busch Light For The Farmers Ford | 324 | 58 | 27 | Running |
| 21 | 23 | 43 | Bubba Wallace | McDonald's Chevrolet | 324 | 0 | 16 | Running |
| 22 | 13 | 17 | Chris Buescher | Fastenal Ford | 324 | 0 | 15 | Running |
| 23 | 18 | 38 | John Hunter Nemechek # | YANMAR Ford | 324 | 0 | 14 | Running |
| 24 | 36 | 34 | Michael McDowell | FR8 Auctions Ford | 324 | 0 | 13 | Running |
| 25 | 21 | 21 | Matt DiBenedetto | Menards/Knauf Ford | 324 | 0 | 16 | Running |
| 26 | 29 | 37 | Ryan Preece | Kroger Chevrolet | 323 | 0 | 11 | Running |
| 27 | 25 | 32 | Corey LaJoie | Built Bar Ford | 323 | 0 | 10 | Running |
| 28 | 14 | 20 | Erik Jones | STANLEY Toyota | 322 | 0 | 12 | Running |
| 29 | 28 | 13 | Ty Dillon | GEICO Chevrolet | 322 | 0 | 8 | Running |
| 30 | 33 | 15 | Brennan Poole # | Spartan Mosquito Chevrolet | 321 | 0 | 7 | Running |
| 31 | 37 | 96 | * Daniel Suarez | Coca-Cola Toyota | 316 | 0 | 6 | Running |
| 32 | 35 | 0 | Quin Houff # | UNITS Chevrolet | 314 | 0 | 5 | Running |
| 33 | 20 | 24 | William Byron | Liberty University Chevrolet | 313 | 0 | 4 | Running |
| 34 | 32 | 27 | Josh Bilicki(i) | Insurance King Ford | 313 | 0 | 0 | Running |
| 35 | 34 | 53 | Garrett Smithley(i) | Hero Box Chevrolet | 312 | 0 | 0 | Running |
| 36 | 30 | 77 | JJ Yeley(i) | Swamp Rabbits Chevrolet | 311 | 0 | 0 | Running |
| 37 | 40 | 7 | * Reed Sorenson | Chevrolet | 310 | 0 | 1 | Running |
| 38 | 26 | 51 | Joey Gase(i) | Donate Life Ford | 308 | 0 | 0 | Running |
| 39 | 38 | 66 | * Timmy Hill(i) | RoofClaim.com Toyota | 259 | 0 | 0 | Electrical |
| 40 | 39 | 78 | * BJ McLeod(i) | Circle Track Warehouse Chevrolet | 3 | 0 | 0 | Clutch |