Grant Enfinger wins with last-lap pass at Atlanta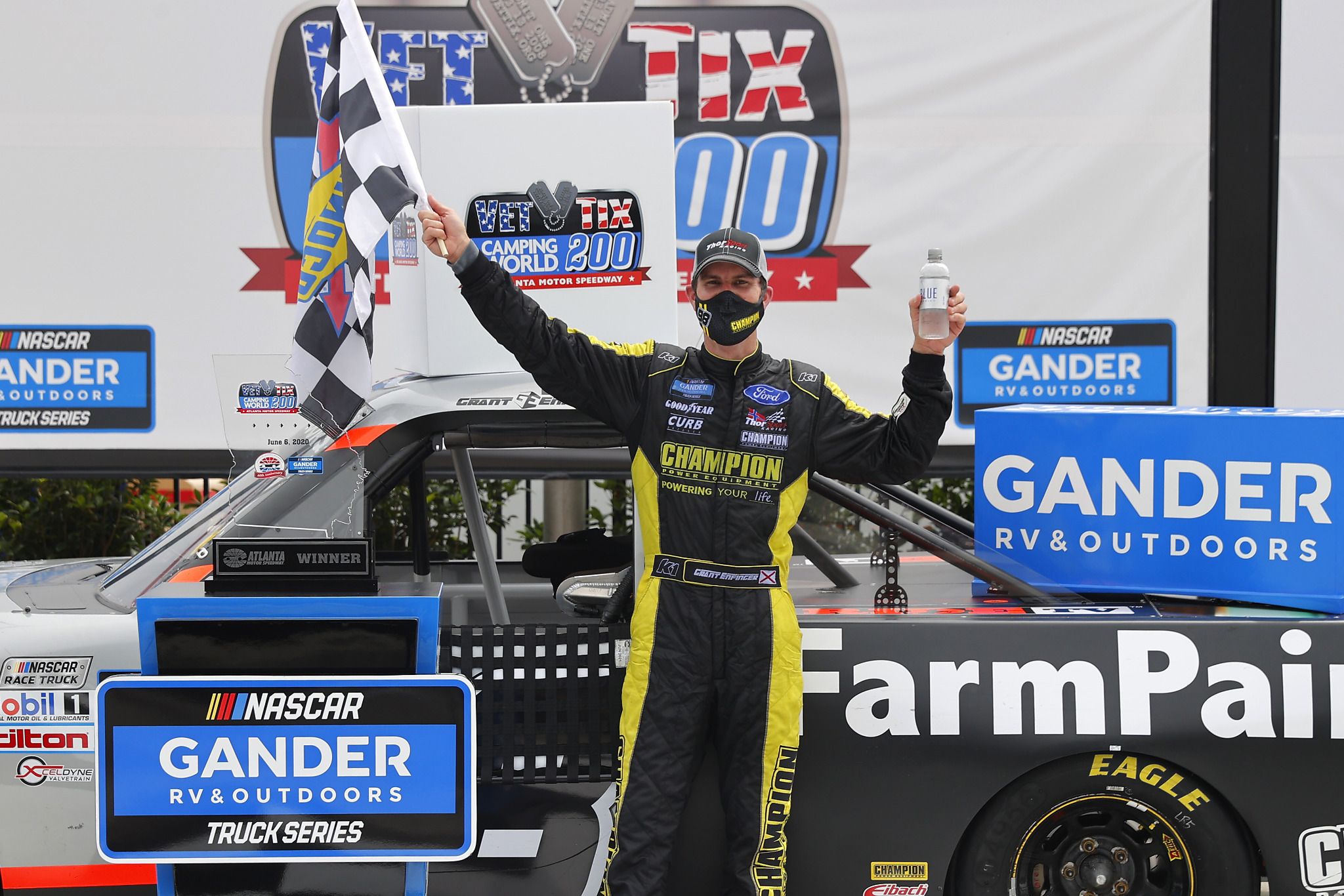 Grant Enfinger wins at Atlanta
Chris Graythen | Getty Images
Grant Enfinger stole the victory in Saturday's Vet Tix Camping World 200 NASCAR Gander RV & Outdoors Truck Series race at Atlanta Motor Speedway, passing race leader Austin Hill on the final lap of a three-lap overtime dash to the finish to post his xx career Truck Series victory and his second of the season.
Enfinger went from sixth to the lead in just two short laps and collected his first Atlanta Motor Speedway victory and the first ever Atlanta truck series victory for Ford. Enfinger had also claimed the season-opening truck series race at Daytona back in February.
"It was definitely wild that's for sure,'' said Enfinger of the finish."We didn't lead too many laps, but we led the ones that counted.''
"We didn't have everything we needed to make a real run at those guys, Chase [Elliott] and Kyle [Busch] there for the long run, but I do think we were decent, but on the short run, I knew if it came right down to it and we could get a good restart we could make it happen. Fortunately we got a good restart.''
Hometown-favorite Austin Hill was cruising toward his first truck series win of the season after taking the lead on lap 100 and pulling away from the field when Chase Elliott spun with two laps to go to bring out the caution flag and set up a green-white-checkered finish.
Hill won the race off pit road under the ensuing caution, followed by Todd Gilliland and Christian Eckes with Enfinger restarting sixth.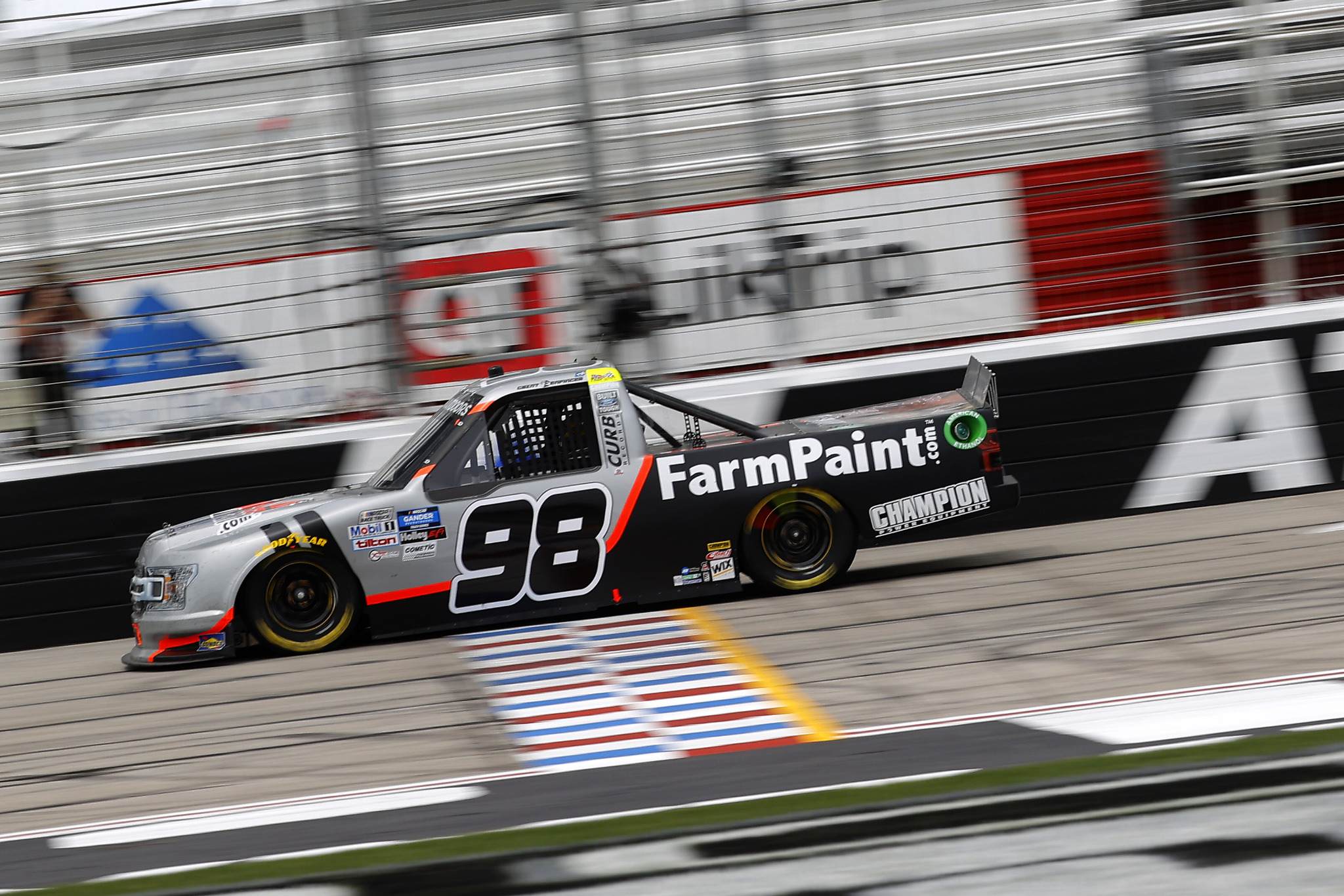 Grant Enfinger crosses the stripe for his second truck series win of the season
Chris Graythen | Getty Images
On the restart, Enfinger powered up the middle to take over the second spot by around Eckes by the time the field came through turn one, then chased down Hill on the final lap with a high-side pass coming through turn two.
Hill tried to make up the distance over the final two turns, but ended up .215-seconds behind Enfinger at the line.
Despite the runner-up finish, Hill still leaves Atlanta as the points leader, 20 point ahead of rookie Zane Smith
"All day on the restarts, it took our truck about five to seven laps to get going," said Hill. "There at the end, on that white flag lap going into turn one beside the 98 (Grant Enfinger), I drove in there deeper than I had all day. It got on the splitter a little bit and when it did, I just got tight and had to lift a little bit. I'll take the blame on that one for not getting the win.
"Man, I wanted to win here so bad. This is my home track. I've run a lot of races here in the Bandolero and Legend Car Series and won a lot of races here doing that. To get a win here would have been really special, but I guess we have to be the first losers this year."
Pole-sitter Christian Eckes took third, followed by Gilliland and Smith.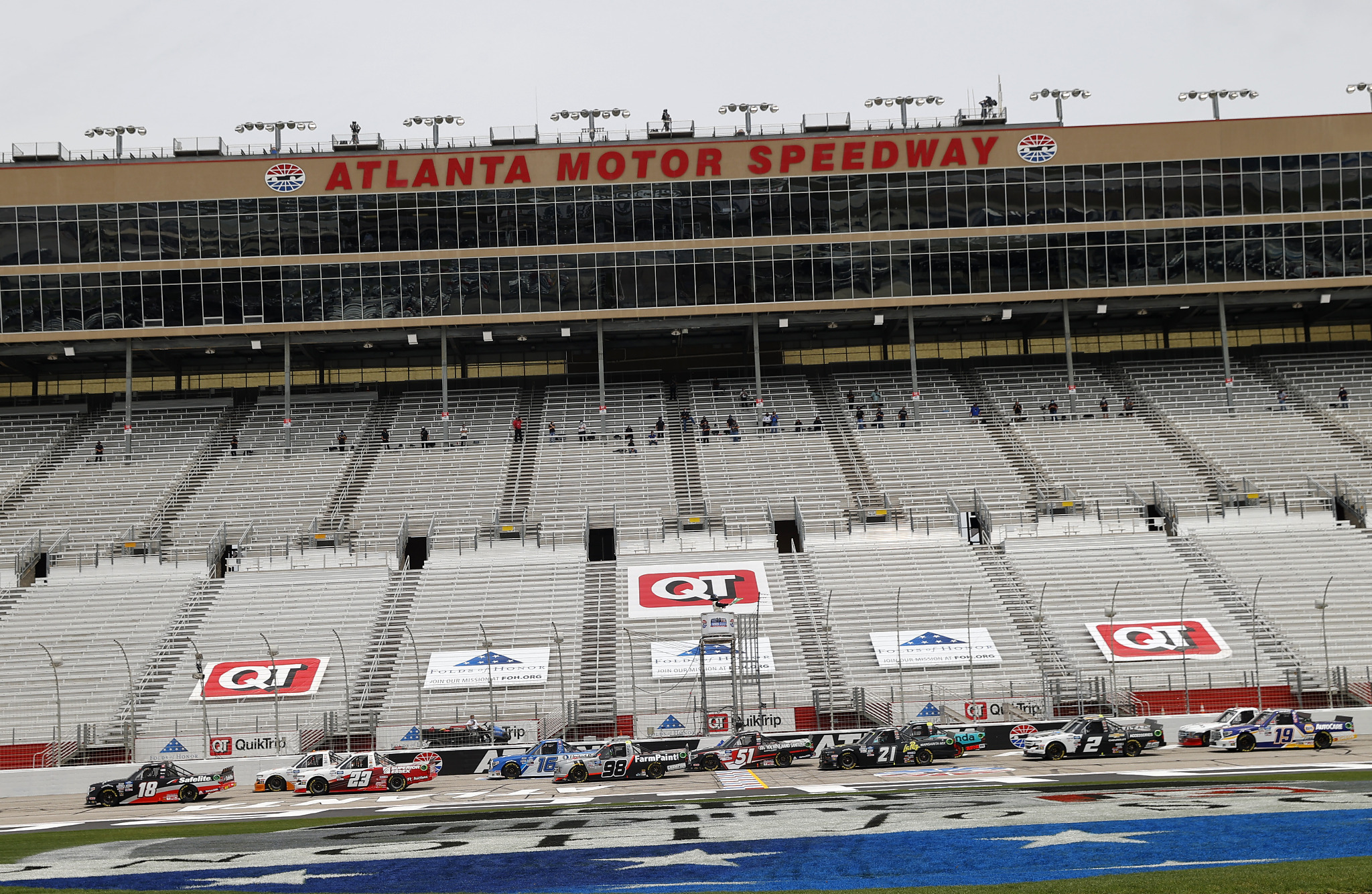 Saturday's truck series race takes the green flag in front of empty granstands at Atlanta Motor Speedway
Chris Graythen | Getty Images
Kyle Busch was once again the truck to beat early in the race – winning the first and second stages while playing cat and mouse with Elliott and Eckes before the wheels came off with 33 laps to go.
Shortly after getting back up to speed following a green-flag pit stop, Kyle Busch smacked the wall trying to avoid the slowing truck of Jordan Anderson and was forced to pit to repair the damage.
To add insult to injury, Busch was nabbed for speeding on pit road – twice. Busch ended up three laps down at that point, but would rally to finish just one lap down in 22nd.
Busch's sparring partner over the last two weeks, Georgia-native Chase Elliott, didn't fare much better. Elliott missed pit road on the last round of green-flag stops and then brought out the yellow flag that set up the overtime finish, and ended the day a lap down on 21st.
RACE RESULTS

| | | | | | | | | |
| --- | --- | --- | --- | --- | --- | --- | --- | --- |
| Finish | Start | # | Driver | Sponsor/Make | laps | Led | Points | Status |
| 1 | 5 | 98 | Grant Enfinger | Farm Paint Ford | 136 | 7 | 50 | Running |
| 2 | 4 | 16 | Austin Hill | United Rentals Toyota | 136 | 36 | 42 | Running |
| 3 | 1 | 18 | Christian Eckes # | Safelite AutoGlass Toyota | 136 | 18 | 47 | Running |
| 4 | 12 | 38 | Todd Gilliland | Mannington Commercial Ford | 136 | 0 | 39 | Running |
| 5 | 7 | 21 | Zane Smith # | LaPaz Margarita Mix Chevrolet | 136 | 5 | 39 | Running |
| 6 | 27 | 42 | Ross Chastain(i) | Florida Watermelon Association Chevrolet | 136 | 17 | 0 | Running |
| 7 | 11 | 19 | Derek Kraus # | NAPA AUTOCARE Toyota | 136 | 0 | 38 | Running |
| 8 | 3 | 23 | Brett Moffitt | Superior Essex Chevrolet | 136 | 0 | 34 | Running |
| 9 | 8 | 99 | Ben Rhodes | Tenda Heal Ford | 136 | 0 | 28 | Running |
| 10 | 17 | 52 | Stewart Friesen | Halmar Racing to Beat Hunger Toyota | 136 | 0 | 27 | Running |
| 11 | 21 | 15 | Tanner Gray # | Ford/Ford Performance Ford | 136 | 0 | 26 | Running |
| 12 | 14 | 88 | Matt Crafton | Rip It/Menards Ford | 136 | 0 | 27 | Running |
| 13 | 20 | 40 | Ryan Truex | Plan B Sales Chevrolet | 136 | 0 | 24 | Running |
| 14 | 9 | 2 | Sheldon Creed | Chevy Truck Month Chevrolet | 136 | 0 | 27 | Running |
| 15 | 2 | 26 | Tyler Ankrum | Liuna! Chevrolet | 136 | 0 | 22 | Running |
| 16 | 26 | 44 | Jeb Burton(i) | State Water Heaters/Alsco Chevrolet | 136 | 0 | 0 | Running |
| 17 | 10 | 13 | Johnny Sauter | Vivitar/Altec Lansing Ford | 136 | 0 | 26 | Running |
| 18 | 25 | 30 | Brennan Poole(i) | Remember Everyone Deployed Toyota | 136 | 0 | 0 | Running |
| 19 | 19 | 4 | Raphael Lessard # | Mobil 1 Toyota | 136 | 0 | 21 | Running |
| 20 | 18 | 45 | Ty Majeski # | iRacing Chevrolet | 135 | 0 | 17 | Running |
| 21 | 13 | 24 | Chase Elliott(i) | Hooters Chevrolet | 135 | 16 | 0 | Running |
| 22 | 6 | 51 | Kyle Busch(i) | Big Machine Distillery Hand Sanitizer Toyota | 135 | 37 | 0 | Running |
| 23 | 23 | 56 | Timmy Hill | RoofClaim.com Chevrolet | 135 | 0 | 14 | Running |
| 24 | 24 | 4 | Cory Roper | CarQuest Ford | 135 | 0 | 13 | Running |
| 25 | 29 | 8 | John Hunter Nemechek(i) | Fire Alarm Services/Fleetwing Ford | 135 | 0 | 0 | Running |
| 26 | 34 | 11 | Spencer Davis # | Jones Demolition and Abatement Toyota | 134 | 0 | 11 | Running |
| 27 | 40 | 68 | Clay Greenfield | Rackley Roofing Toyota | 134 | 0 | 10 | Running |
| 28 | 31 | 20 | Spencer Boyd | Orion Cooker Chevrolet | 134 | 0 | 9 | Running |
| 29 | 30 | 0 | Angela Ruch | DWF Flooring & Cabinets Toyota | 134 | 0 | 8 | Running |
| 30 | 33 | 7 | Korbin Forrister | Nursing Home Heroes Toyota | 134 | 0 | 7 | Running |
| 31 | 28 | 22 | Austin Wayne Self | GO TEXAN/AM Technical Solutions Chevrolet | 132 | 0 | 6 | Running |
| 32 | 22 | 2 | Tate Fogleman # | Solid Rock Carriers Chevrolet | 132 | 0 | 5 | Running |
| 33 | 39 | 49 | Bayley Currey(i) | Springrates Automotive Suspension Source | 131 | 0 | 0 | Running |
| 34 | 16 | 9 | Codie Rohrbaugh | Grant County Mulch Chevrolet | 130 | 0 | 5 | Running |
| 35 | 32 | 33 | Gray Gaulding | Toyota | 129 | 0 | 5 | Running |
| 36 | 35 | 97 | Jesse Little(i) | Teletrac Navman Chevrolet | 127 | 0 | 0 | Running |
| 37 | 38 | 10 | Jennifer Jo Cobb | Newnan Peachtree Dodge Chevrolet | 109 | 0 | 5 | Too Slow |
| 38 | 15 | 3 | Jordan Anderson | Bommarito Automotive Group Chevrolet | 95 | 0 | 5 | Accident |
| 39 | 36 | 83 | TJ Bell | CMI Motorsports Chevrolet | 53 | 0 | 5 | Clutch |
| 40 | 37 | 28 | Bryan Dauzat | O.B. Builders Door and Trim Chevrolet | 4 | 0 | 5 | Accident |