Chase Elliott beats Kyle Busch to earn $100,000 bounty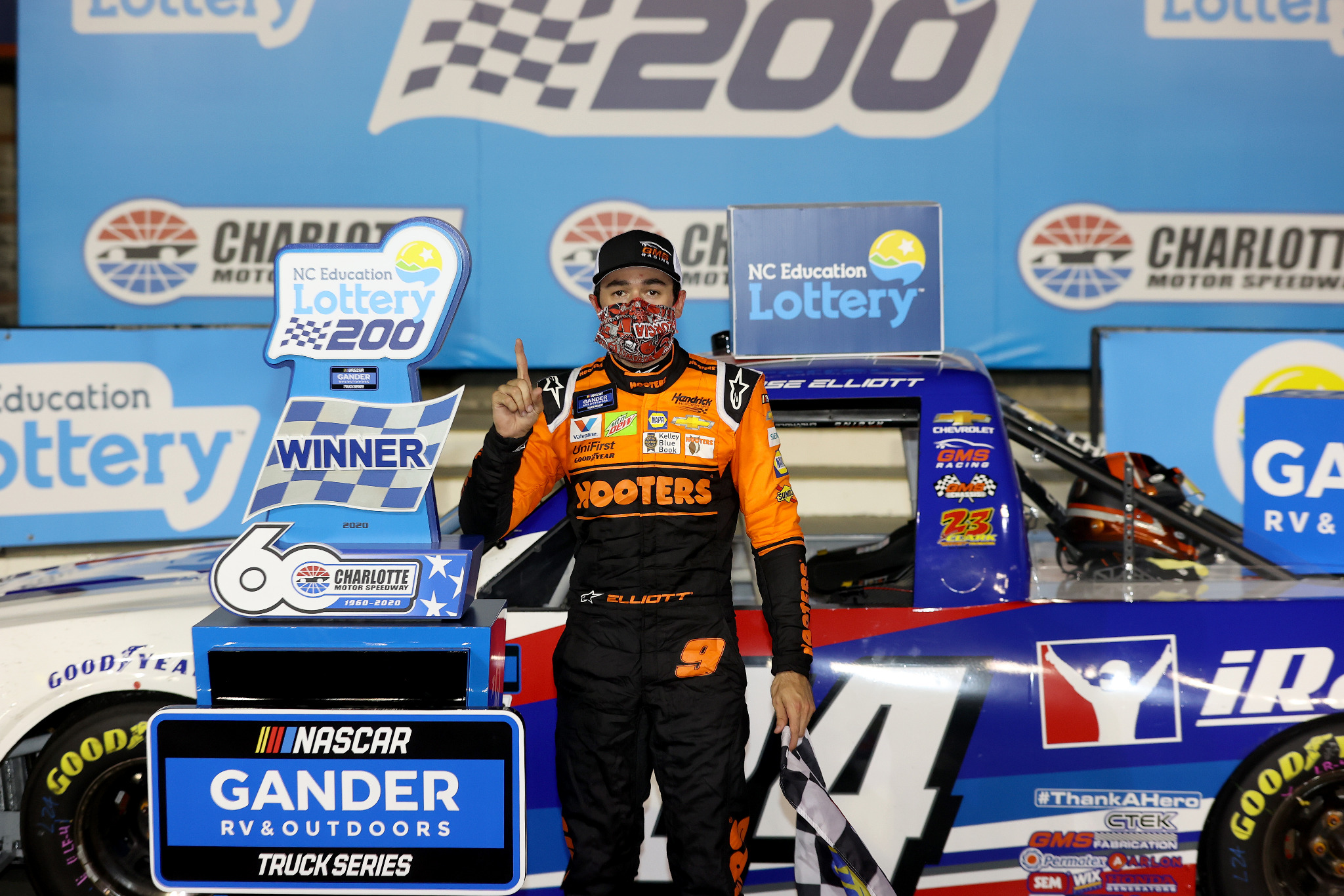 Chase Elliott wins at Charlotte Motor Speedway
Chris Graythen | Getty Images
Just call him Chase Elliot – Bounty Hunter.
Elliott beat out one of the best in business Tuesday night after taking the checkered flag over Kyle Busch in the North Carolina Education Lottery 300 NASCAR Gander RV & Outdoors Truck Series race at Charlotte Motor Speedway.
Zane Smith, Brett Moffitt and Sheldon Creed rounded out the top five finishers
Elliott led the final 24 laps and held off Busch more than half a second to notch his third-career truck series victory and collect not one, but two $50,000 bounties placed on Kyle Busch – earning Elliott a $100,000 bonus for charity to benefit COVID-19 relief.
"It was a lot a fun," Elliott said after the race. "To be able to come out and outrun (Busch), and him finish second—I'd much rather him finish second than wreck or something, so I feel like I did something right."
All in all, it was a night of redemption for Elliott, after blowing a sure victory on Sunday night's Coca Cola 600 and then getting spun into the wall last weekend at Darlington – a spin that was courtesy of Kyle Busch, giving Elliott all the more motivation on Tuesday.
Tuesday's race was the first on-track action for the Truck Series since the February 21th event at Las Vegas Motor Speedway, which was won by Busch.
After the Feb. 21st victory, fellow Cup Series driver Kevin Harvick offered up $50,000 of his own money to any Cup driver who could beat Busch in a truck series race. Later, CEO of Truck Series sponsor Camping World and Gander Outdoors Marcus Lemonis matched the reward.
Although the Truck Series went on hiatus along with the rest of the country due to the COVID-19 pandemic, Harvick tweeted on Tuesday morning that the Busch bounty was still on.
For Elliott, beating Kyle Busch was the reward. The bounty was just a bonus.
"It doesn't make up for Sunday (the Coca-Cola 600), but it was still a really good night. Glad to win and glad to do some good for the relief effort for this virus."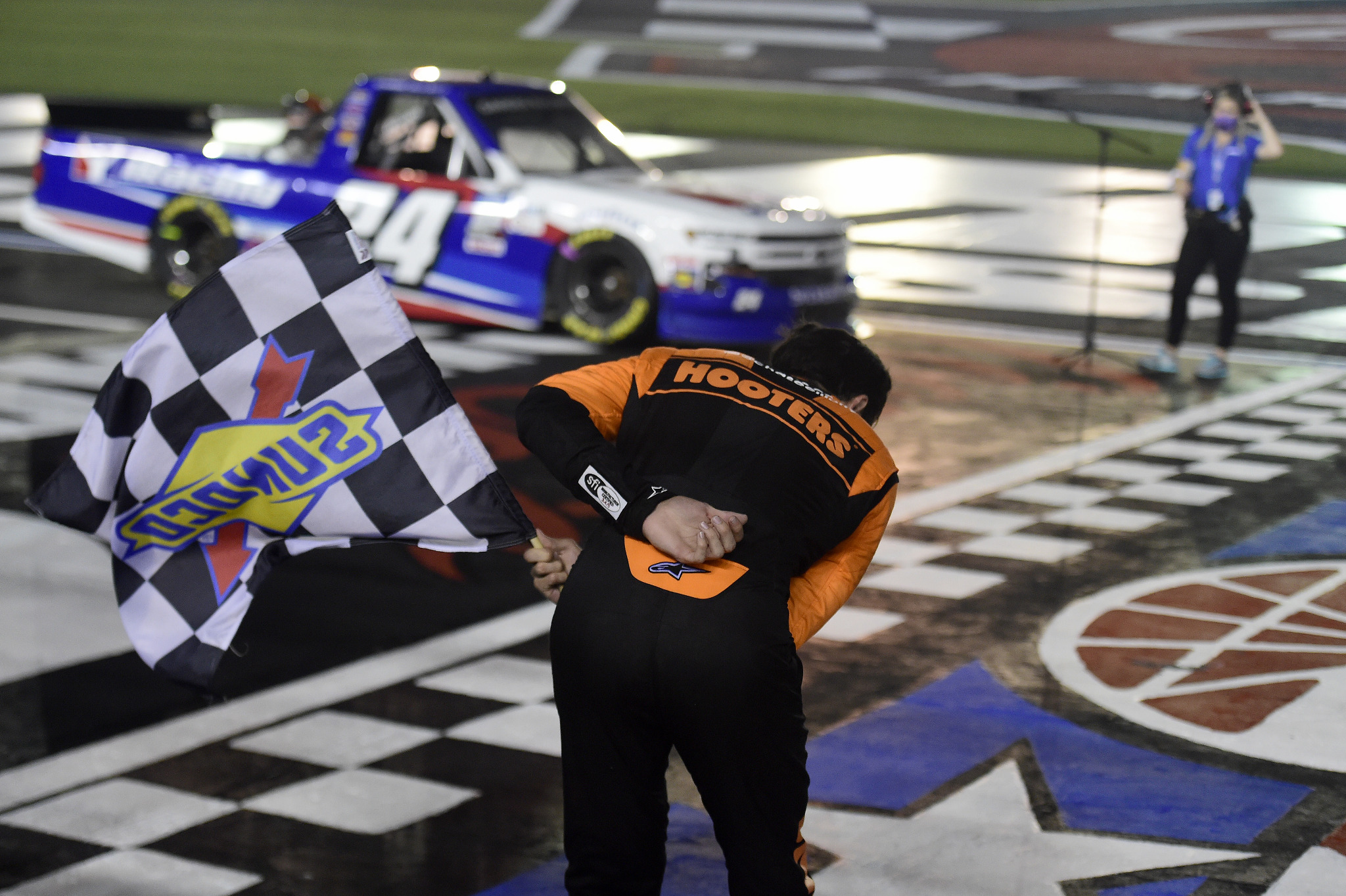 Chase Elliott does Kyle Busch's signature victory bow after winning on Tuesday
Jared C. Tilton | Getty Images
And after doing his celebratory burnout, Elliott took a moment to grab the checkered flag, and imitated Busch's trademark victory bow at the start-finish line.
"I thought we've had so much fun with this with Kevin (Harvick) and putting up the money and Kyle is a good sport about it, I hope," said Elliott. "It's not a dig at anybody, but just having fun with it. It was about beating him, and we did it, so why not have some fun with it."
As much as the bounty was a motivation for Elliott, it was even more of a motivation for Busch not to get beat. And he didn't make it easy.
After dropping as far back as 33rd during the first segment, Busch raced his way back up to the front and at the start of the third and final stage, Busch was out in front.
But then a caution flag on lap 88 changed everything.
While most of the lead-lap trucks elected to pit, Busch stayed out and held the lead when the field went back under green on lap 93. Just four laps later, Garrett Smithley brought the yellow back out and this time, Busch elected to pit for his last set of tires, putting him back in 23rd for the restart.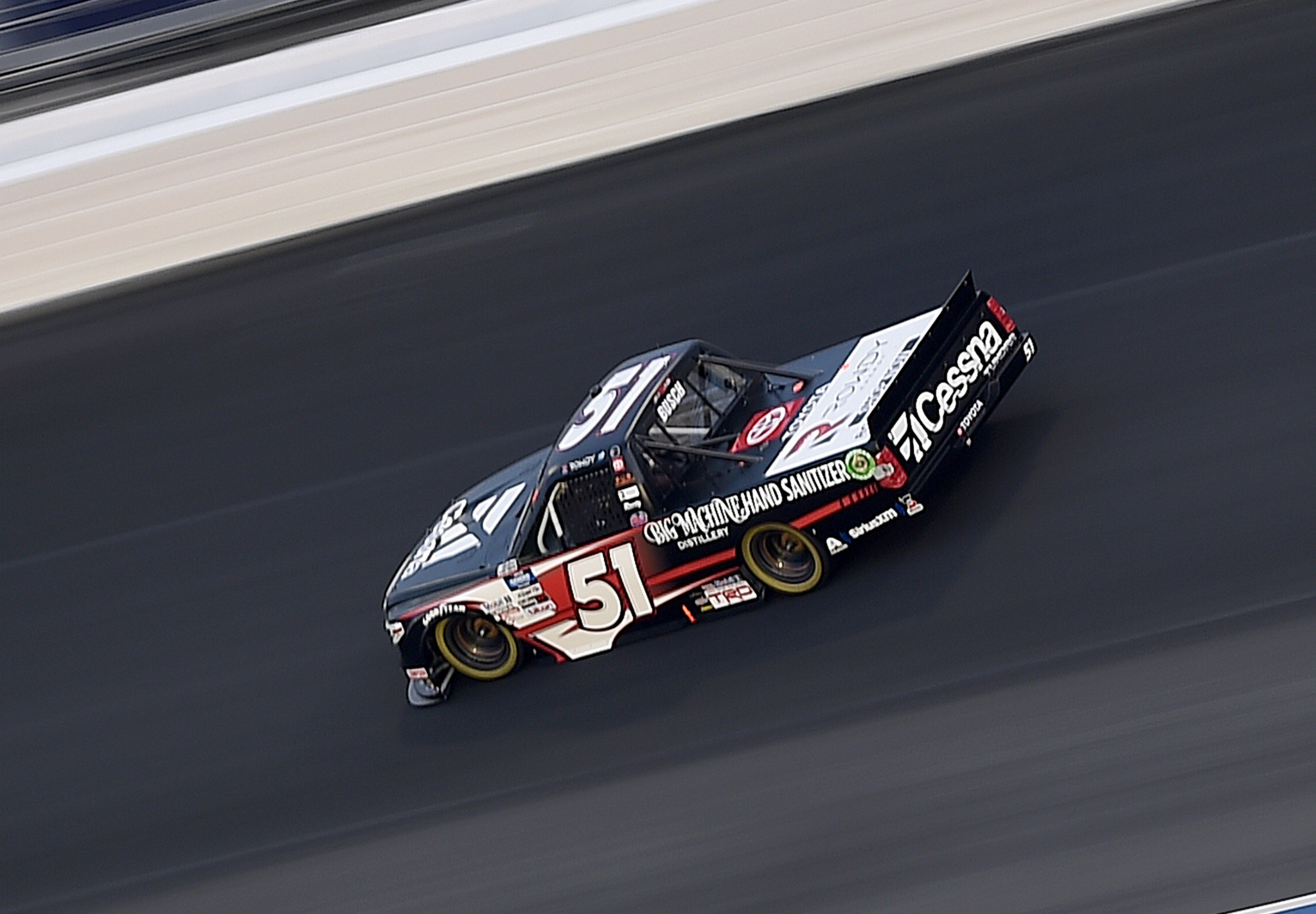 Kyle Busch saw his truck series win streak end at seven races on Tuesday
Jared C. Tilton | Getty Images
Following yet another caution four laps later, Busch has worked his way up to 12th while Elliott restarted third. Elliott quickly made his way past Johnny Sauter for the lead with 24 to go while Busch diced through the field to take second with 20 laps left.
From there, it was a two-truck duel as Busch tried to close up on Elliott, but never was able to get to Elliott's bumper and ended up second at the line – ending his truck series winning streak at seven races.
"Self-inflicted. Threw it away," Busch said of his team's performance on Tuesday night. "Had six months to prepare and screwed it all up.
"Our truck was just really bad and very poor handling. Should have been way better and way faster than it was to make up lost time, but also our pit strategy, we got off on that. We basically handed Chase (Elliott) I think 20 positions there on our final pit stop. That will seal in your own fate as well too. We were out in left field the whole night. Never really had a great feel for the truck or a great driving truck. Just salvaged what I could."
And Busch's reaction to Elliott's bow?
"Imitation is the strongest form of flattery or something, I don't know what it is. That's cute."
RACE RESULTS
| | | | | | | | | |
| --- | --- | --- | --- | --- | --- | --- | --- | --- |
| Finish | Start | # | Driver | Sponsor/Make | laps | Led | Points | Status |
| 1 | 26 | 24 | Chase Elliott(i) | iRacing Chevrolet | 134 | 47 | 0 | Running |
| 2 | 16 | 51 | Kyle Busch(i) | Cessna Toyota | 134 | 25 | 0 | Running |
| 3 | 30 | 21 | Zane Smith # | LaPaz Margarita Mix Chevrolet | 134 | 15 | 46 | Running |
| 4 | 22 | 23 | Brett Moffitt | Plan B Sales Chevrolet | 134 | 2 | 39 | Running |
| 5 | 21 | 2 | Sheldon Creed | Chevy Accessories Chevrolet | 134 | 0 | 32 | Running |
| 6 | 38 | 8 | John H. Nemechek(i) | Fire Alarm Services/Fleetwing Ford | 134 | 0 | 0 | Running |
| 7 | 8 | 13 | Johnny Sauter | Vivitar/Altec Lansing Ford | 134 | 3 | 30 | Running |
| 8 | 7 | 45 | Ty Majeski # | iRacing Chevrolet | 134 | 0 | 35 | Running |
| 9 | 5 | 16 | Austin Hill | United Rentals Toyota | 134 | 26 | 38 | Running |
| 10 | 1 | 99 | Ben Rhodes | Tenda Heal Ford | 134 | 2 | 39 | Running |
| 11 | 27 | 42 | Ross Chastain(i) | Florida Watermelon Association Chevrolet | 134 | 6 | 0 | Running |
| 12 | 9 | 98 | Grant Enfinger | Champion/Curb Records Ford | 134 | 0 | 25 | Running |
| 13 | 2 | 26 | Tyler Ankrum | Liuna! Chevrolet | 134 | 0 | 26 | Running |
| 14 | 6 | 18 | Christian Eckes # | Safelite AutoGlass Toyota | 134 | 0 | 23 | Running |
| 15 | 20 | 4 | Raphael Lessard # | Canac Toyota | 134 | 2 | 22 | Running |
| 16 | 25 | 19 | Derek Kraus # | NAPA FILTERS Toyota | 134 | 0 | 21 | Running |
| 17 | 17 | 2 | Tate Fogleman # | Solid Rock Carriers Chevrolet | 134 | 0 | 20 | Running |
| 18 | 31 | 9 | Codie Rohrbaugh | GCM/CR7 Motorsports Chevrolet | 134 | 0 | 19 | Running |
| 19 | 15 | 22 | Austin Wayne Self | GO TEXAN/AM Technical Solutions Chevrolet | 134 | 0 | 18 | Running |
| 20 | 35 | 97 | Jesse Little(i) | Teletrac Navman Chevrolet | 134 | 0 | 0 | Running |
| 21 | 3 | 15 | Tanner Gray # | Ford/Ford Performance Ford | 134 | 0 | 16 | Running |
| 22 | 33 | 56 | Timmy Hill | RoofClaim.com Chevrolet | 134 | 0 | 15 | Running |
| 23 | 12 | 0 | Angela Ruch | DWF Flooring & Cabinets Toyota | 133 | 0 | 14 | Running |
| 24 | 34 | 7 | Korbin Forrister | Nursing Home Heroes Toyota | 133 | 0 | 13 | Running |
| 25 | 19 | 20 | Spencer Boyd | Spike's Tactical Chevrolet | 133 | 0 | 12 | Running |
| 26 | 29 | 10 | Jennifer Jo Cobb | Driven2Honor.org Chevrolet | 133 | 0 | 11 | Running |
| 27 | 13 | 44 | Natalie Decker | N29 Capital Partners Chevrolet | 132 | 0 | 10 | Running |
| 28 | 40 | 49 | Bayley Currey(i) | CMI Motorsports Chevrolet | 132 | 0 | 0 | Running |
| 29 | 39 | 68 | Clay Greenfield | Rackley Roofing Toyota | 130 | 0 | 8 | Running |
| 30 | 10 | 52 | Stewart Friesen | HalmarInt./ThankUHealthcareWorkers Toyota | 130 | 0 | 7 | Running |
| 31 | 18 | 3 | Jordan Anderson | Bommarito.com Chevrolet | 130 | 0 | 6 | Running |
| 32 | 23 | 4 | Cory Roper | CarQuest Auto Parts Ford | 129 | 0 | 5 | Running |
| 33 | 37 | 83 | TJ Bell | CMI Motorsports Chevrolet | 127 | 0 | 5 | Running |
| 34 | 36 | 28 | Bryan Dauzat | Chevrolet | 120 | 0 | 5 | Running |
| 35 | 4 | 88 | Matt Crafton | Oklahoma Joe's Smokers/Menards Ford | 107 | 6 | 19 | Running |
| 36 | 24 | 40 | Garrett Smithley(i) | Trophy Tractor Chevrolet | 105 | 0 | 0 | Rear End |
| 37 | 11 | 38 | Todd Gilliland | Black's Tire Service Ford | 102 | 0 | 12 | Accident |
| 38 | 32 | 30 | Brennan Poole(i) | (RED) Remember Everyone Deployed Toyota | 83 | 0 | 0 | DVP |
| 39 | 14 | 33 | Jesse Iwuji | RBR Graphics Toyota | 74 | 0 | 5 | Accident |
| 40 | 28 | 11 | Spencer Davis # | TowerSealants/SouthernPremierConstr. Toyota | 54 | 0 | 5 | Transmission |