Keselowski holds off Johnson to win Coca-Cola 600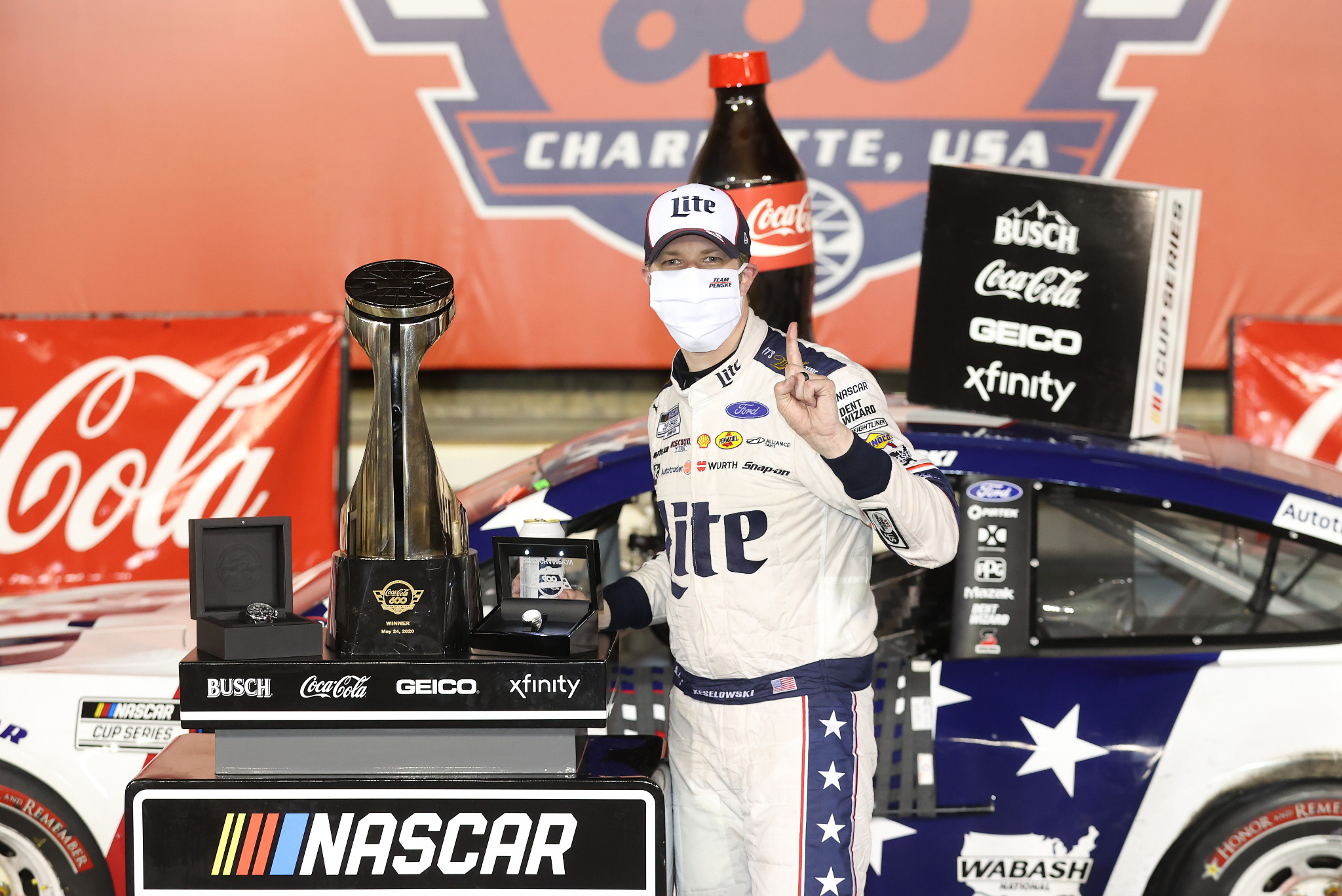 Brad Keselowski wins at Charlotte
Chris Graythen | Getty Images
Brad Keselowski found himself in exactly the right place at exactly the right time to score his first-career Coca-Cola 600 victory Sunday night at Charlotte Motor Speedway.
Keselowski held off a determined charge from Jimmie Johnson in a final green-white-checkered shootout to take home the victory in NASCAR's longest race –made even longer by a one-hour rain delay early in the race.
Johnson's car later failed post-race inspection, handing the runner-up spot to Chase Elliott.
Sunday's victory was Keselowski's first of the 2020 season and 31st of his Cup Series career.
"It's major! It's the Coke 600," said Keselowski. "That only leaves one major for me, the Daytona 500. We're checking 'em off. We may not have been the fastest car today, but, whoa, did we grind this one out. The pit crew on the yellow before the last had a blazing stop to get us up front.
[adinserter name="GOOGLE AD"]"I feel like I've thrown this race away a couple of times, and I thought we were going to lose it today. I know we've lost it the way Chase lost it, and that really stinks, and today we finally won it that way (by staying out). We've lost too many races that way and I knew we had to take the chance. If it didn't work out, I knew it was the right call."
NASCAR's longest race carried on all the traditions and salutes that comes with the Memorial Day classic, except this time with no fans in the stands as NASCAR continues to keep pace with social-distancing restrictions from the COVID-19 pandemic.
Like all the drivers in Sunday race, Keselowski's car carried the name of a fallen service member on the front windshield of his No. 2 Ford Mustang – Staff Sergeant Donovan Reep.
The empty stands and no family members in Victory Lane was an irony not lost on Keselowski.
"I wanted to win the 600 my whole life. I wish it was in front of everybody," said Keselowski. "I recognize that's not always how it works. I'm just thankful for the win. I'm trying not to get too caught up in all the peripherals. But it would have been nice to have my family and the fans here, Donovan's family. I wish they could have been in Victory Lane with me.
"I think it's easy to get caught up in the things that didn't happen and forget how blessed we are to be here with what's going on in the world, how hard (Speedway Motorports CEO) Marcus Smith and his team have worked to make this event possible, along with everybody at NASCAR. We're one of the only major sports even going right now. That's no easy feat."
Keselowski's victory came at the expense of Chase Elliott, who found himself a victim of circumstances for the second race in row.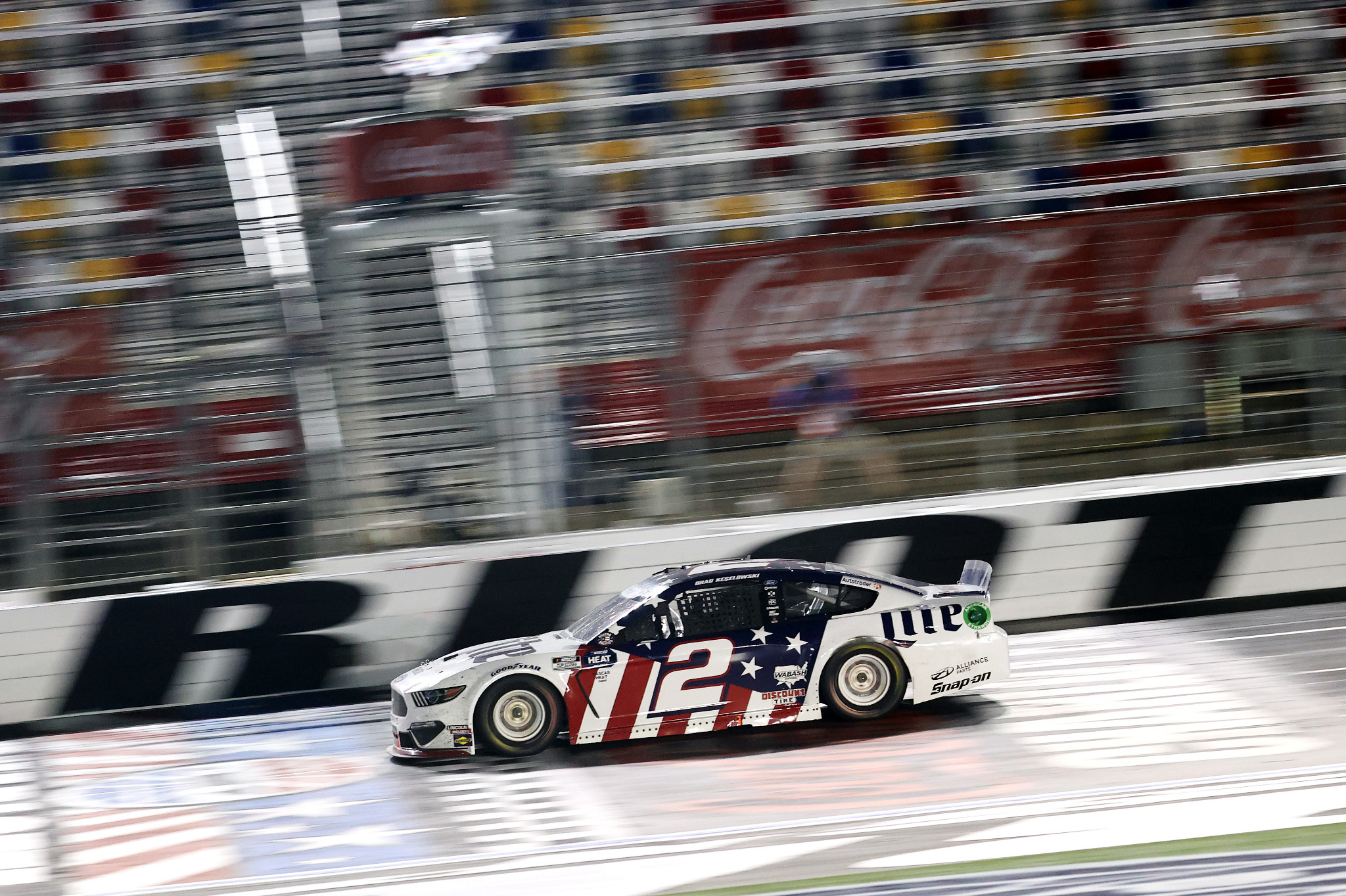 Brad Keselowski crosses the finish line to score his first Coca-Cola 600 victory
Chris Graythen | Getty Images
Keselowski was on the outside looking in after Elliott passed him for the lead on restart with 38 laps to go, and watched as Elliott's No. 9 Chevrolet quickly left him behind – opening up a one-second lead and seemingly on his way to an easy victory.
And then it all went away.
With just two laps to go, Elliott's teammate William Byron cut down a tire and spun to bring out the caution to setup an overtime finish. On the ensuing caution, Elliot and his team made the unfortunate decision to come to pit road, dropping him back to 11th and handing the lead back to Keselowski.
On the restart, Keselowski quickly got the jump on Johnson and led the final two laps to beat Johnson by three car-lengths at the stripe. Elliott rallied to finish third, followed by Ryan Blaney and Kyle Busch.
Sunday's race ended up a nightmare scenario for Hendrick Motorsports – with Elliott losing a sure victory, Johnson coming up short on an overtime finish, Alex Bowman leading a race-high 164 laps and coming home 20th, and Byron bringing out the deciding caution.
All in all, it was a night team owner Rick Hendrick would like to forget.
Johnson -who once owned deed and title to Charlotte Motor Speedway with three-straight Coca-Cola 600 victories from 2003 to 2005 – came within one position of collecting his fifth Coca-Cola 600 victory and ending his 101-race winless drought, but it was not to be.
Johnson's No. 48 Chevrolet later failed post-race inspection, relegating him to a last-place finish in Sunday's race.
"When that pit stop happened at the end, it's so hard to know what the right thing to do is. We were talking about it too maybe for ourselves, but Cliff (Daniels, crew chief) had a great sense of the right call to make," said Johnson, prior to learning of his disqualification. "Second is OK – I'm very proud of the effort we're putting in. But second, stinks. It's tough being this close to victory lane, but we're knocking on the door and we'll get there."
For Elliott, it was another "what could have been", as he found himself just two laps short of winning one of the few marquee races that his father, 1988 Cup Series Champion Bill Elliott, never managed to conquer.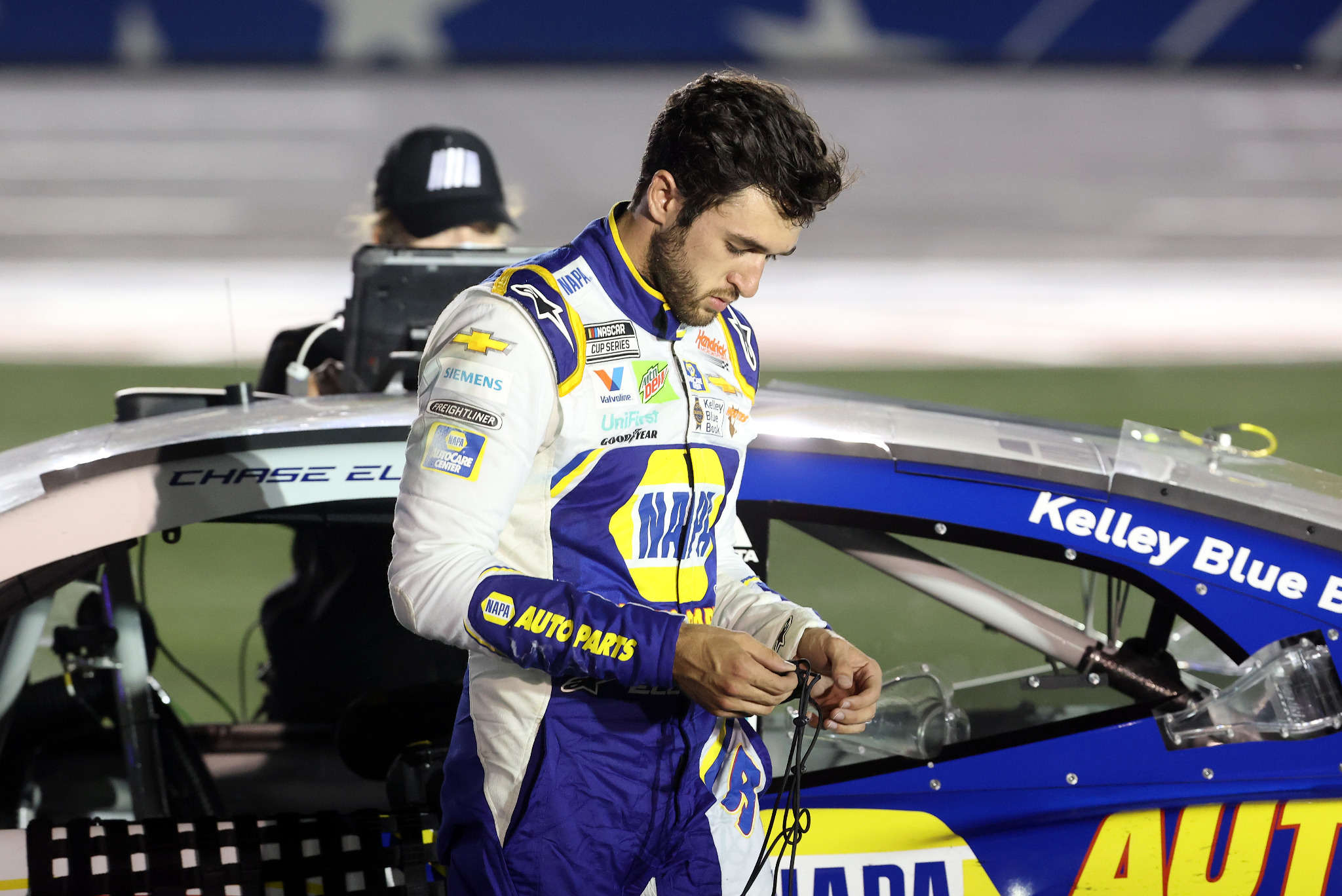 A disastrous late pit-stop call cost Chase Elliott a sure-fore victory in the Coca-Cola 600
Chris Graythen | Getty Images
Coupled with his DNF in last Wednesday's Darlington race courtesy of Kyle Busch, it's been a long week for Elliott and his team.
"You just make the best decision you can based on the information you have. When you are leading the race like that, people behind you are going to do the exact opposite of what you do," said Elliott of the fateful decision to pit. "That was the situation we were put in. Al (crew chief Alan Gustafson) made the decision, we stuck with it, and it didn't work out. But it is what it is. Can't help it. Those things happen, so… I've watched a lot of races unfold that way. Unfortunate to be on that end of it. It's one of those deals.
"This week's been pretty unfortunate. We've had some tough losses in my career, for however many years I've been doing this, five, six years, unfortunately. It is what it is."
There was one lone bright spot for Hendrick Motorsports – by virtue of finishing 19th and 20th on Sunday, William Byron and Alex Bowman will start on the front row for Wednesday's 500-kilometer Cup race at Charlotte
Results
| | | | | | |
| --- | --- | --- | --- | --- | --- |
| POS | CAR | DRIVER | MAKE | LAPS | BEHIND |
| 1 | 2 | Brad Keselowski | Ford | 405 | 0.000s |
| 2 | 48 | Jimmie Johnson** | Chevy | 405 | 0.293 |
| 3 | 9 | Chase Elliott | Chevy | 405 | 0.674 |
| 4 | 12 | Ryan Blaney | Ford | 405 | 1.218 |
| 5 | 18 | Kyle Busch | Toyota | 405 | 1.465 |
| 6 | 4 | Kevin Harvick | Ford | 405 | 1.625 |
| 7 | 19 | Martin Truex Jr. | Toyota | 405 | 1.817 |
| 8 | 1 | Kurt Busch | Chevy | 405 | 1.823 |
| 9 | 8 | Tyler Reddick # | Chevy | 405 | 1.894 |
| 10 | 95 | Christopher Bell # | Toyota | 405 | 2.272 |
| 11 | 17 | Chris Buescher | Ford | 405 | 2.402 |
| 12 | 20 | Erik Jones | Toyota | 405 | 2.401 |
| 13 | 41 | Cole Custer # | Ford | 405 | 2.821 |
| 14 | 22 | Joey Logano | Ford | 405 | 3.023 |
| 15 | 3 | Austin Dillon | Chevy | 405 | 3.217 |
| 16 | 10 | Aric Almirola | Ford | 405 | 3.492 |
| 17 | 38 | John Hunter Nemechek # | Ford | 405 | 3.558 |
| 18 | 21 | Matt DiBenedetto | Ford | 405 | 3.869 |
| 19 | 34 | Michael McDowell | Ford | 405 | 3.908 |
| 20 | 88 | Alex Bowman | Chevy | 405 | 3.939 |
| 21 | 24 | William Byron | Chevy | 404 | -1 Lap |
| 22 | 77 | Ross Chastain(i) | Chevy | 403 | -2 Laps |
| 23 | 37 | Ryan Preece | Chevy | 403 | -2 |
| 24 | 32 | Corey LaJoie | Ford | 403 | -2 |
| 25 | 47 | Ricky Stenhouse Jr. | Chevy | 402 | -3 |
| 26 | 13 | Ty Dillon | Chevy | 401 | -4 |
| 27 | 42 | Matt Kenseth | Chevy | 401 | -4 |
| 28 | 6 | Ryan Newman | Ford | 400 | -5 |
| 29 | 96 | * Daniel Suarez | Toyota | 399 | -6 |
| 30 | 11 | Denny Hamlin | Toyota | 398 | -7 |
| 31 | 15 | Brennan Poole # | Chevy | 398 | -7 |
| 32 | 27 | Gray Gaulding | Ford | 397 | -8 |
| 33 | 78 | * BJ McLeod(i) | Ford | 393 | -12 |
| 34 | 53 | Garrett Smithley(i) | Chevy | 391 | -14 |
| 35 | 66 | * Timmy Hill(i) | Toyota | 390 | -15 |
| 36 | 00 | Quin Houff # | Chevy | 390 | -15 |
| 37 | 51 | Joey Gase(i) | Ford | 385 | -20 |
| 38 | 7 | * JJ Yeley(i) | Chevy | 251 | -154 |
| 39 | 43 | Bubba Wallace | Chevy | 164 | -241 |
| 40 | 14 | Clint Bowyer | Ford | 96 | -309 |
# DENOTES ROOKIE
(i) NOT ELIGIBLE FOR POINTS
(*) REQUIRED TO QUALIFY ON TIME
**Disqualified – Car failed post-race inspection
[adinserter name="GOOGLE AD"]