Scott Dixon tops IndyCar GMR GP warmup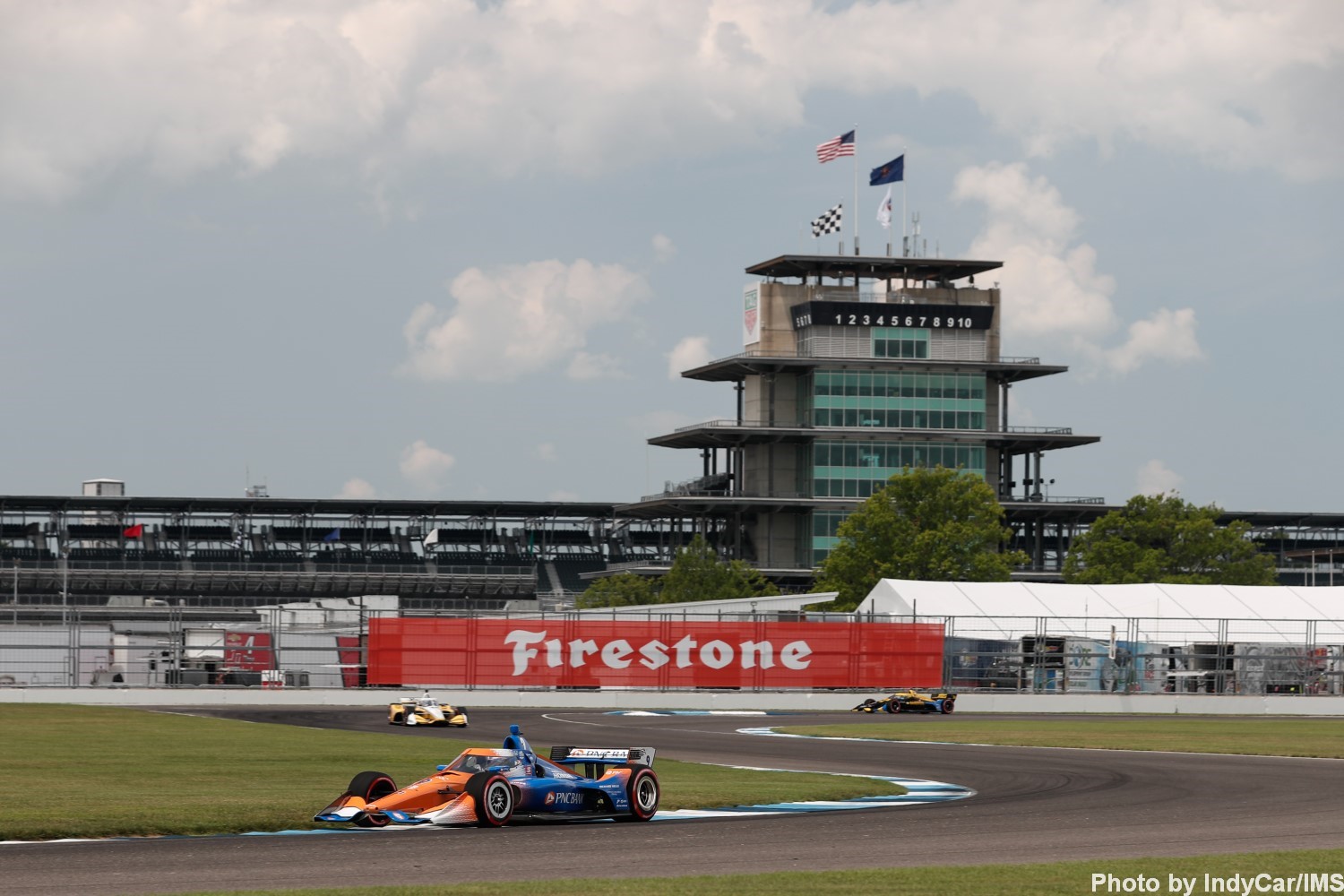 Scott Dixon
Chip Ganassi Racing ace Scott Dixon turned the fastest lap in warmups for the IndyCar GMR GP which is slated to get the green at noon ET today. Dixon came close to winning the race last year but was passed by Simon Pagenaud late.
Penske Chevy driver Josef Newgarden was 2nd quick 0.1407s behind Dixon while Andretti Honda veteran Ryan Hunter-Reay was third quick just 0.02s behind Newgarden.
No driver other than a Penske Chevy driver has ever won this race. Can anyone knock off Team Penske this year?
Warmup Times
| | | | | | | | | |
| --- | --- | --- | --- | --- | --- | --- | --- | --- |
| Pos | No | Name | Time | Diff | Gap | Speed | Engine | Team |
| 1 | 9 | Scott Dixon | 1:11.077 | –.—- | –.—- | 123.533 | Honda | Chip Ganassi Racing |
| 2 | 1 | Josef Newgarden | 1:11.218 | 0.1407 | 0.1407 | 123.289 | Chevy | Team Penske |
| 3 | 28 | Ryan Hunter-Reay | 1:11.238 | 0.1609 | 0.0202 | 123.254 | Honda | Andretti Autosport |
| 4 | 15 | Graham Rahal | 1:11.435 | 0.3581 | 0.1972 | 122.914 | Honda | Rahal Letterman Lanigan Racing |
| 5 | 10 | Felix Rosenqvist | 1:11.438 | 0.3609 | 0.0028 | 122.909 | Honda | Chip Ganassi Racing |
| 6 | 24 | Sage Karam | 1:11.450 | 0.3728 | 0.0119 | 122.889 | Chevy | Dreyer & Reinbold Racing |
| 7 | 27 | Alexander Rossi | 1:11.486 | 0.4084 | 0.0356 | 122.828 | Honda | Andretti Autosport |
| 8 | 60 | Jack Harvey | 1:11.578 | 0.5013 | 0.0929 | 122.668 | Honda | Meyer Shank Racing |
| 9 | 88 | Colton Herta | 1:11.588 | 0.5113 | 0.0100 | 122.651 | Honda | Andretti Harding Steinbrenner |
| 10 | 30 | Takuma Sato | 1:11.714 | 0.6374 | 0.1261 | 122.435 | Honda | Rahal Letterman Lanigan Racing |
| 11 | 45 | Spencer Pigot | 1:11.719 | 0.6416 | 0.0042 | 122.428 | Honda | RLL with Citrone/Buhl Autosport |
| 12 | 59 | Max Chilton | 1:11.721 | 0.6440 | 0.0024 | 122.424 | Chevy | Carlin |
| 13 | 5 | Pato O'Ward | 1:11.749 | 0.6719 | 0.0279 | 122.377 | Chevy | Arrow McLaren SP |
| 14 | 8 | Marcus Ericsson | 1:11.848 | 0.7710 | 0.0991 | 122.208 | Honda | Chip Ganassi Racing |
| 15 | 18 | Santino Ferrucci | 1:11.861 | 0.7838 | 0.0128 | 122.186 | Honda | Dale Coyne Racing w/Vasser Sull |
| 16 | 12 | Will Power | 1:11.900 | 0.8230 | 0.0392 | 122.119 | Chevy | Team Penske |
| 17 | 26 | Zach Veach | 1:11.991 | 0.9141 | 0.0911 | 121.965 | Honda | Andretti Autosport |
| 18 | 7 | Oliver Askew | 1:12.003 | 0.9256 | 0.0115 | 121.945 | Chevy | Arrow McLaren SP |
| 19 | 55 | Alex Palou | 1:12.016 | 0.9390 | 0.0134 | 121.923 | Honda | Dale Coyne Racing with Team Goh |
| 20 | 4 | Charlie Kimball | 1:12.066 | 0.9891 | 0.0501 | 121.838 | Chevy | AJ Foyt Enterprises |
| 21 | 22 | Simon Pagenaud | 1:12.104 | 1.0267 | 0.0376 | 121.774 | Chevy | Team Penske |
| 22 | 21 | Rinus VeeKay | 1:12.207 | 1.1296 | 0.1029 | 121.601 | Chevy | Ed Carpenter Racing |
| 23 | 29 | James Hinchcliffe | 1:12.350 | 1.2730 | 0.1434 | 121.360 | Honda | Andretti Autosport |
| 24 | 20 | Conor Daly | 1:12.384 | 1.3065 | 0.0335 | 121.304 | Chevy | Ed Carpenter Racing |
| 25 | 14 | Dalton Kellett | 1:13.032 | 1.9546 | 0.6481 | 120.227 | Chevy | AJ Foyt Enterprises |
| 26 | 98 | Marco Andretti | No Time | — | — | — | Honda | Andretti Herta w/Marco/Curb-Agaj |