Chase Briscoe Scores Bittersweet Darlington Victory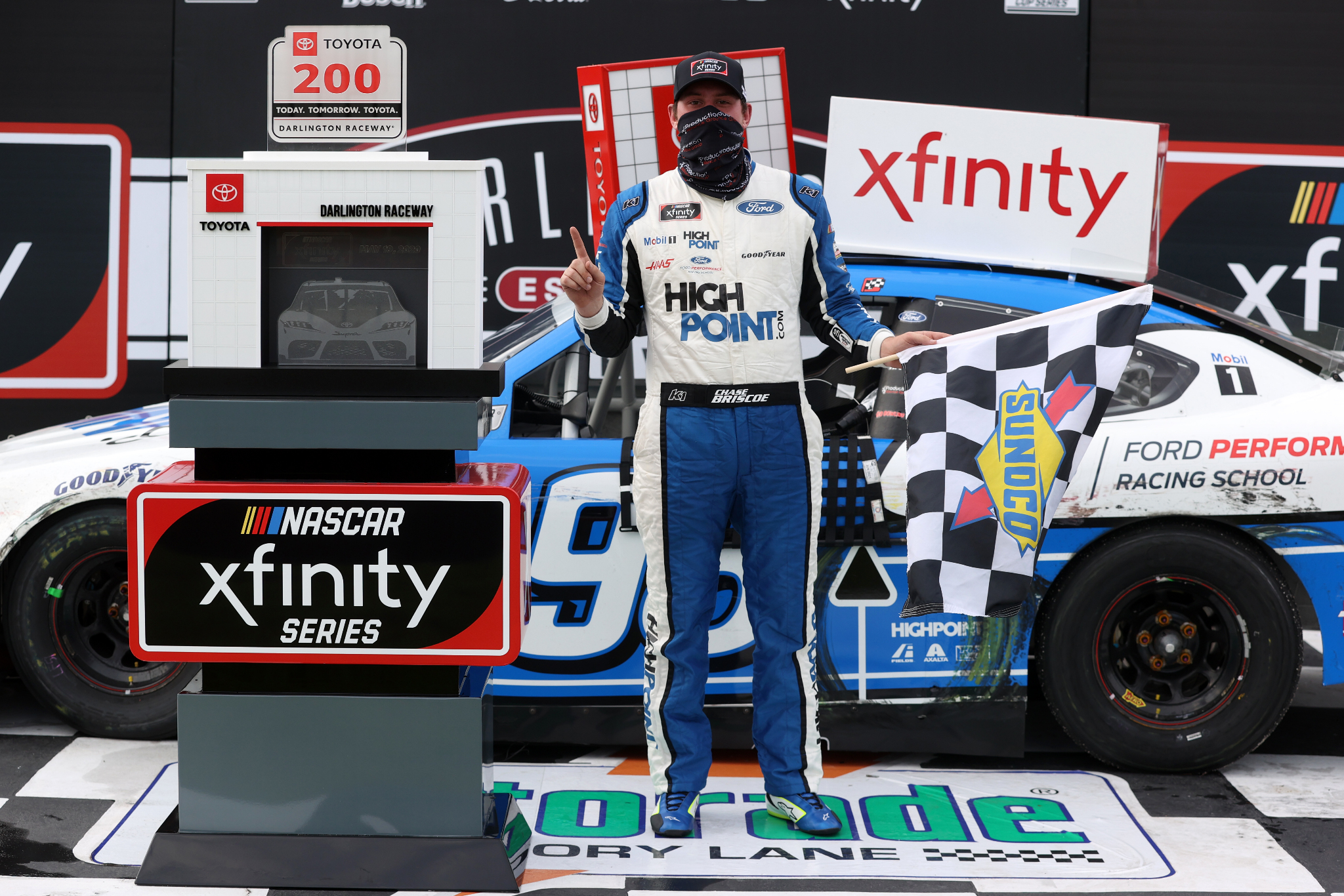 Chase Briscoe wins at Darlington
Chris Graythen | Getty Images
Chase Briscoe drove the race of his life on Thursday evening at Darlington Raceway.
With the all time NASCAR Xfinity Series winner, Kyle Busch, breathing down his neck, Briscoe battled back to the lead on the final lap of the rain delayed Toyota 200 to score an emotional victory.
The win comes just one day after Briscoe shared on social media that he and his wife had lost their unborn child on Tuesday.
"This is the best thing that could happen, honestly," said Briscoe. "For those that don't know, we had a miscarriage Tuesday of our daughter and, to be honest with you, I wasn't sure what racing we would do. At the initial start I was all over the place emotionally, and then when I had the lead with 50 to go I was just making so many mistakes because I was literally crying inside of the race car.
"God is so good. To be able to do this and it's all because of Him. Before when I got dressed I prayed that whatever His will is just let it be done today. I knew he was gonna have a high because of the low and it's just unbelievable to win here at Darlington and to beat Kyle Busch doing it."
Briscoe had the lead with nine laps to go, and had at one point pulled out to a half second advantage over Busch.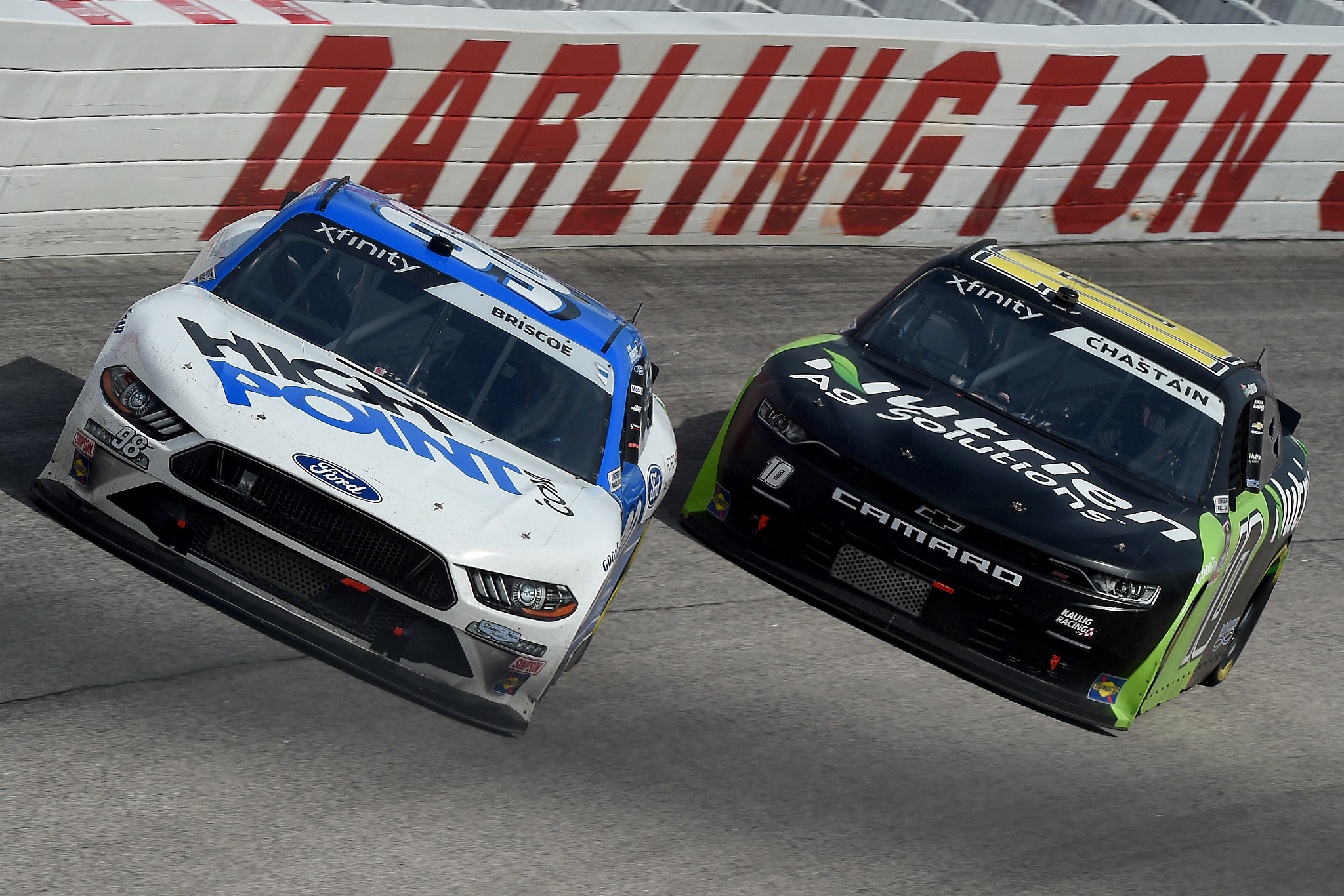 Chase Birscoe scored his fourth-career NASCAR Xfinity Series victory
Jared C. Tilton | Getty Images
As the leaders raced to the white flag, Briscoe's No. 98 Ford got into the outside wall, allowing Busch to get pas as they raced past the start finish line.
But Briscoe drove back hard alongside Busch into turn 1, with the two making contact in turn 2. Briscoe retook the lead off the second turn and held the advantage on the backstretch.
As they raced into turn 3, Busch drove his No. 54 Toyota deep into the corner, and moved up for one last challenge for the win. Briscoe held his line off turn 4, as Busch tried one more move to the inside. But at the line, it was Briscoe scoring the win.
"I just kept making a lot of mistakes down there," said Briscoe. "Like I was saying emotionally I wasn't there. Getting into one I knew that there was no way he was gonna drive in deeper than me. I wasn't gonna let it happen. He was gracious enough to at least leave me a little bit of a lane and it was a heck of a race."
It's the second victory of the season for the Mitchell, Indiana native and the fourth of his series career.
"This is the number one win," Briscoe said. "Honestly, winning the Daytona 500 couldn't even top the feeling of just, like I was saying earlier, the ups and downs. This is what my family needed and what my wife needed."
Briscoe took the lead for the first time on a lap 97 restart, when Justin Allgaier spun his tires coming to the green flag, allowing Briscoe to get past with a push from behind from Noah Gragson.
[adinserter name="GOOGLE AD"]Briscoe held the lead until lap 128, when Allgaier closed on him. The two battled back and forth for the point, with Briscoe using a crossover move to regain the lead. Allgaier would power his No. 7 Chevy to the outside in turn one, taking the lead despite making solid contact with the turn two wall.
Allgaier held the lead until the final caution flag flew on lap 132 for a spin by Michael Annett. Briscoe's pit crew turned a lightning pit stop into the lead on the final pit stops of the day.
On the restart, Briscoe and Allgaier made contact racing for the lead, with Briscoe again moving to the point while Allgaier and Busch battled for second. Busch would move solidly into the runner-up spot on lap 139, setting up the final run to the checkered flag.
"Yeah, this is for my wife. This has been the hardest week I've ever had to deal with and God is so good," Briscoe said. "Even when I took the lead with 50 to go I was crying inside the race car and just emotionally I wasn't there at all. There's nothing else to say other than God is just so glorious. Obviously, I'm happy to get HighPoint.com and Ford Performance Racing School in victory lane, but this is more than a race win.
"This is the biggest day of my life after the toughest day in my life, and to be able to beat the best there is so satisfying."
Busch appeared to have the car to beat early on. After rolling off from the 20th starting spot, Busch raced his way to fourth position by the end of the first segment. His Joe Gibbs Racing pit crew got him off pit road on the subsequent pit stop, and Busch would dominate the race's second segment.
But a pit road speeding penalty sent on the subsequent pit stop sent Busch to the back of the field. He drove his way all the way back into the top five. A speedy pit stop on the final caution of the day put Busch in position to challenge for the win.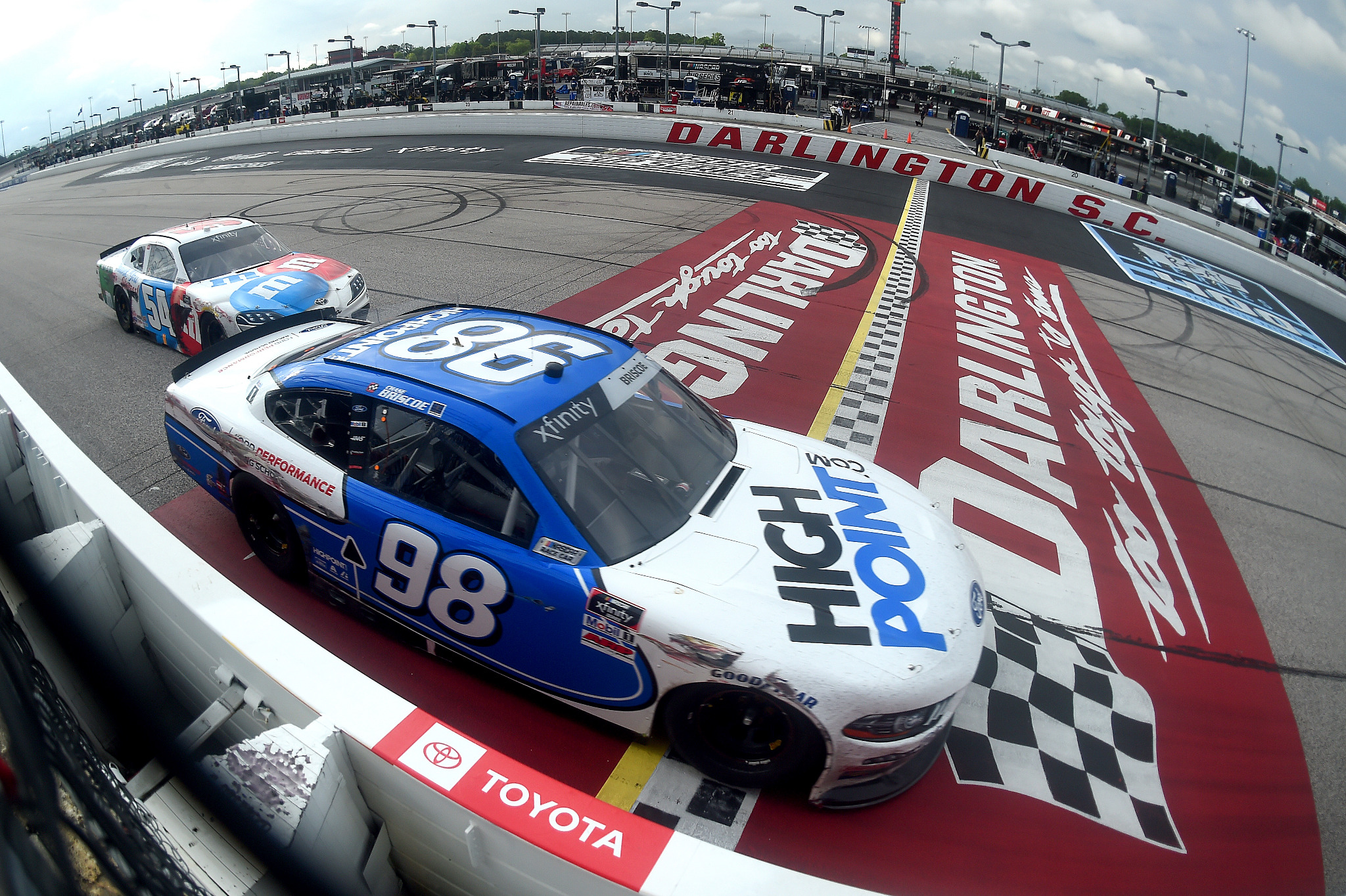 Chase Briscoe (98) beats Kyle Busch to the finish
Jared C. Tilton | Getty Images
"He (Briscoe) got such a bad run through three and four and got really loose on the exit and actually got into the fence a little bit," said Busch. "I had no choice but to go to the bottom and I wish he would have slowed his momentum just a little bit more because then I would have been clear of him and wouldn't have had to deal with him. He was just enough there and I was probably as much clear as Chase Elliott and I were last night that I thought about getting up and getting in front of him, but I thought better of it and just tried to stay low because I was loose already and then once his forward momentum got to my right side it just got me super loose and drug me up the race track into him. We touched each other just a little bit, I guess he touched the fence just a little bit and we got through there luckily.
"I thought I was going to have the lead and everything was going to be cool or we were going to be crashed. Fortunately, we weren't crashed and I didn't have the lead and we had another shot at it in three and four. Just didn't have enough."
Busch finished in second, with Justin Allgaier in third, Austin Cindric in fourth and Noah Gragson in fifth.
Daniel Hemric, Tucker, Georgia's Ryan Sieg, Ross Chastain, Harrison Burton and Justin Haley rounded out the top ten.
The race, which was run without fans in attendance as the sport continues to deal with the COVID-19 pandemic, was delayed by some four hours in starting thanks to torrential showers in the area. Ironically, the race had already been delayed by two days, originally intended for Tuesday, thanks to the wet weather seen in South Carolina this week.
The NASCAR Xfinity Series is back in action on Monday night, May 25, at Charlotte Motor Speedway for a 300-mile event.
RACE RESULTS
| | | | | | | | | |
| --- | --- | --- | --- | --- | --- | --- | --- | --- |
| Pos | St | # | Driver | Sponsor/Make | Laps | Led | Points | Status |
| 1 | 11 | 98 | Chase Briscoe | HighPoint.com Ford | 147 | 45 | 50 | Running |
| 2 | 26 | 54 | Kyle Busch(i) | Thank You Heroes/M&M's Toyota | 147 | 45 | 0 | Running |
| 3 | 10 | 7 | Justin Allgaier | Precision Build Chevrolet | 147 | 9 | 48 | Running |
| 4 | 7 | 22 | Austin Cindric | MoneyLion Ford | 147 | 0 | 42 | Running |
| 5 | 1 | 9 | Noah Gragson | Bass Pro Shops/BRCC Chevrolet | 147 | 46 | 50 | Running |
| 6 | 23 | 8 | Daniel Hemric | Poppy Bank Chevrolet | 147 | 0 | 40 | Running |
| 7 | 4 | 39 | Ryan Sieg | CMR Roofing Chevrolet | 147 | 0 | 40 | Running |
| 8 | 9 | 10 | Ross Chastain | Nutrien Ag Solutions Chevrolet | 147 | 1 | 42 | Running |
| 9 | 12 | 20 | Harrison Burton # | Dex Imaging Toyota | 147 | 0 | 28 | Running |
| 10 | 3 | 11 | Justin Haley | LeafFilter Gutter Protection Chevrolet | 147 | 0 | 28 | Running |
| 11 | 22 | 2 | Brett Moffitt(i) | FR8Auctions Chevrolet | 147 | 0 | 0 | Running |
| 12 | 30 | 51 | Jeremy Clements | Repairables.com Chevrolet | 147 | 0 | 26 | Running |
| 13 | 6 | 68 | Brandon Brown | CCU Class of 2020 Chevrolet | 147 | 1 | 24 | Running |
| 14 | 17 | 21 | Anthony Alfredo | iRacing Chevrolet | 147 | 0 | 23 | Running |
| 15 | 13 | 6 | BJ McLeod | TeamJDMotorsports.com Chevrolet | 147 | 0 | 22 | Running |
| 16 | 15 | 92 | Josh Williams | OpenForBusiness/ChasingFreedom Chevrolet | 147 | 0 | 21 | Running |
| 17 | 16 | 90 | Alex Labbe | Larue Snowblowers/rousseau Chevrolet | 147 | 0 | 20 | Running |
| 18 | 5 | 18 | Riley Herbst # | Monster Energy Toyota | 147 | 0 | 19 | Running |
| 19 | 36 | 8 | Joe Graf Jr # | CORE Development Group Chevrolet | 147 | 0 | 18 | Running |
| 20 | 8 | 19 | Brandon Jones | Toyota Service Centers Toyota | 147 | 0 | 17 | Running |
| 21 | 19 | 7 | Ray Black II | CDA Tech Chevrolet | 147 | 0 | 16 | Running |
| 22 | 28 | 61 | Timmy Hill(i) | RoofClaim.com Toyota | 147 | 0 | 0 | Running |
| 23 | 34 | 0 | Jeffrey Earnhardt | Kids First Community Chevrolet | 147 | 0 | 14 | Running |
| 24 | 24 | 13 | Chad Finchum | GREAT SOUTHERN HOMES Toyota | 147 | 0 | 13 | Running |
| 25 | 2 | 1 | Michael Annett | Pilot Flying J Chevrolet | 146 | 0 | 20 | Running |
| 26 | 25 | 44 | Tommy Joe Martins | Skyview Partners Chevrolet | 146 | 0 | 11 | Running |
| 27 | 31 | 15 | Colby Howard | Project Hope Foundation Chevrolet | 146 | 0 | 10 | Running |
| 28 | 29 | 47 | Joe Nemechek(i) | Mutt & Jeff Porkskins Chevrolet | 145 | 0 | 0 | Running |
| 29 | 20 | 78 | Vinnie Miller | Koolbox Chevrolet | 145 | 0 | 8 | Running |
| 30 | 33 | 99 | Mason Massey | Gerber Collision & Glass Toyota | 143 | 0 | 7 | Running |
| 31 | 32 | 36 | Ronnie Bassett Jr | Bassett Gutters & More Chevrolet | 143 | 0 | 6 | Running |
| 32 | 21 | 52 | Kody Vanderwal # | Circle Track Warehouse/Franklin Signs Chevrolet | 142 | 0 | 5 | Running |
| 33 | 35 | 74 | Bayley Currey(i) | Save22 Chevrolet | 142 | 0 | 0 | Running |
| 34 | 27 | 5 | Matt Mills | J F Electric Chevrolet | 135 | 0 | 3 | Running |
| 35 | 14 | 93 | Myatt Snider | Superior Essex Chevrolet | 129 | 0 | 2 | Running |
| 36 | 18 | 4 | Jesse Little # | TeamJDMotorsports.com Chevrolet | 122 | 0 | 1 | Vibration |
| 37 | 39 | 26 | Colin Garrett | Rosie Network Toyota | 111 | 0 | 1 | Running |
| 38 | 38 | 89 | Landon Cassill | Visone RV Chevrolet | 35 | 0 | 1 | Handling |
| 39 | 37 | 66 | Stephen Leicht | CrashClaimsR.us Toyota | 1 | 0 | 1 | Suspension |