Harvick gets 50th NASCAR Cup win at Darlington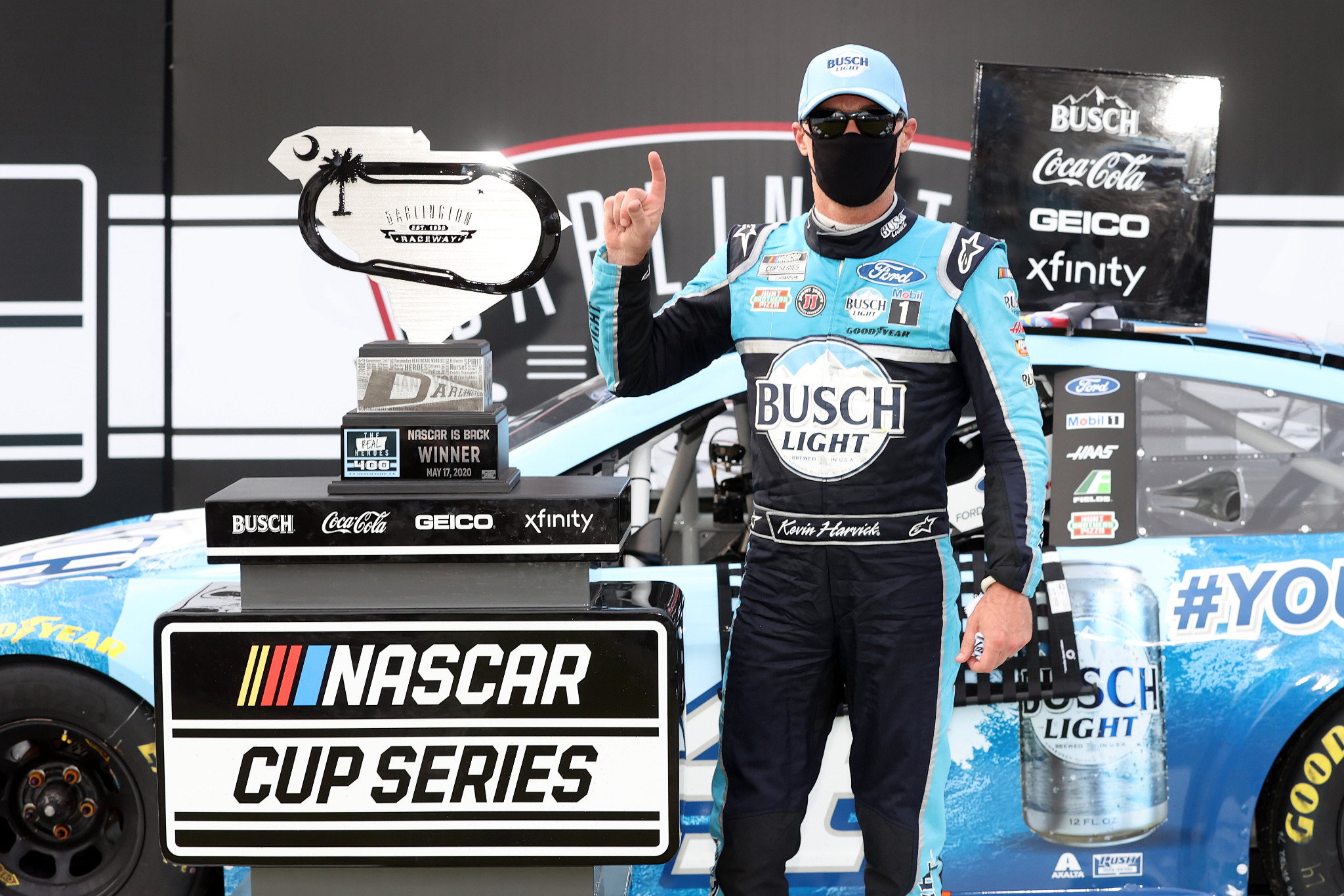 Kevin Harvick scores his 50th Cup Series victory
Chris Graythen | Getty Images
Kevin Harvick proved that the sports shutdown did nothing to curb his strong run in 2020.
In the first NASCAR Cup Series race since the March sports shutdown due to the COVID-19 pandemic, Kevin Harvick backed up his strong early season run with a win in Sunday's The Real Heroes 400 at Darlington Raceway.
Harvick battled with Alex Bowman on the final restart with 37 laps to go, and pulled out to a 2.154-second advantage en route to the win.
"I want to thank everybody from NASCAR and all the teams for letting us do what we do," Harvick said. "I didn't think it was gonna be that much different and then we won the race and it's dead silent out here."
It's his first win of the season, but Harvick was the only driver on the tour to have finished in the top 10 in the first four races of the year.
It's the 50th career win for Harvick, and makes him the fifth different series winner in 2020.
"It's a pretty big honor to win 50 races in this deal and I just have to thank all my team guys and everybody for what they're doing," said Harvick. "This Dr. Josh Hughes is one of my really good friends. I spend a lot of time with him and have seen how this whole pandemic has affected our front line workers in person on a weekly basis, so thank you, Josh. We're thinking of you. I want to say hi to DeLana and my kids at home. I guess we'll bring home the trophy."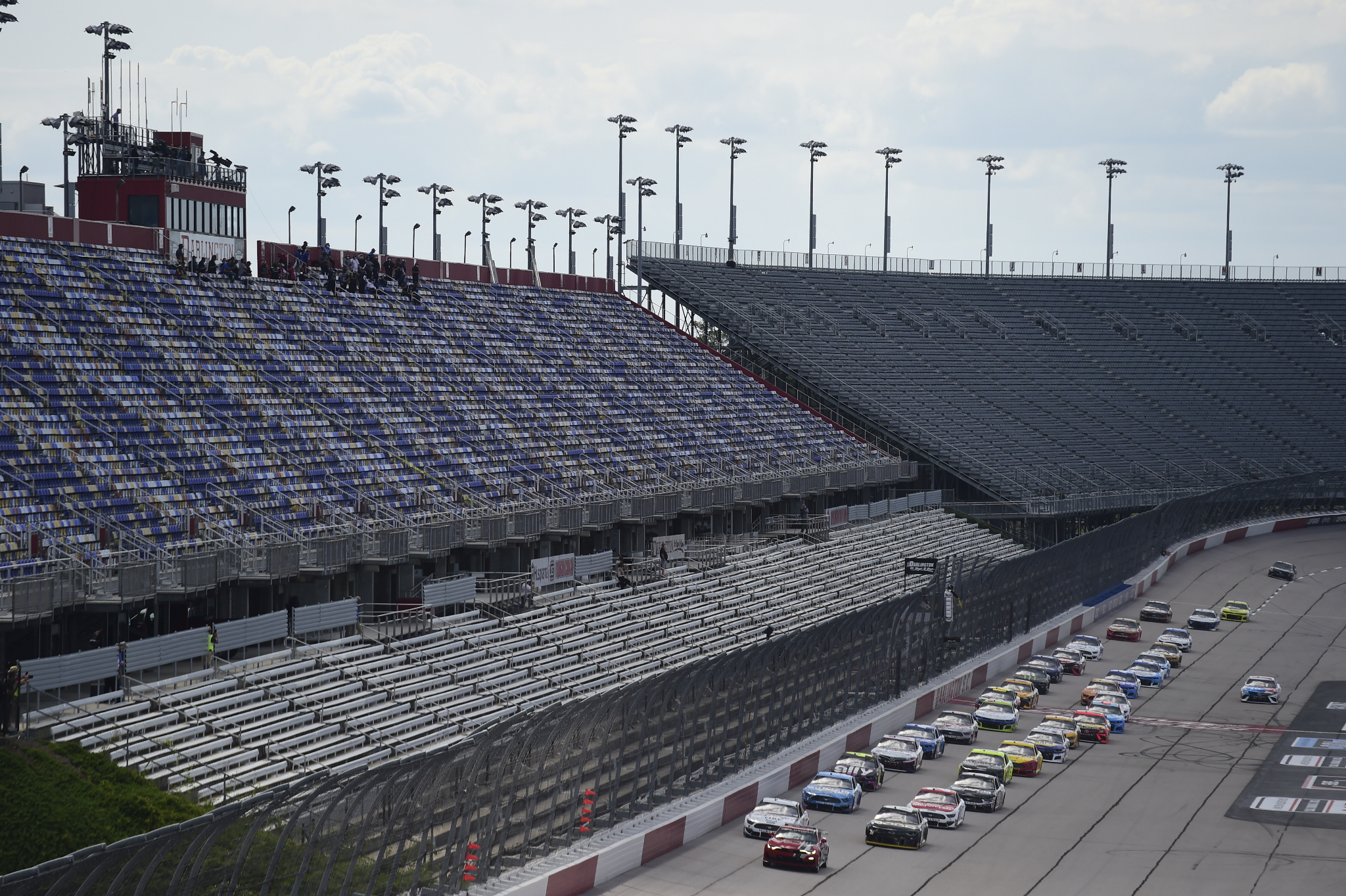 NASCAR returned to racing after a two-month absense, racing in front of empty grandstands
Jared C. Tilton | Getty Images
The win comes in an odd time for NASCAR, as the sport looks to restart after a lengthy layoff due to the pandemic. The race was run with no fans in the stands and limited personnel allowed at the race track.
Harvick was in the hunt all day, taking the lead for the first time on pit road after the end of the first segment of the race.
From there, Harvick would stay out front until a caution on lap 173. During the ensuing trip to pit road, a slow stop by Harvick's Stewart-Haas Racing pit crew left him in eighth position on the restart.
Harvick worked his way back towards the front, finishing the second segment in fourth place. Harvick would regain the lead on pit road with a fast stop after a lap 212 caution, and went mostly unchallenged until the final restart of the day.
Unofficially, Bowman finished in second, with Kurt Busch in third, Dawsonville, Georgia's Chase Elliott in fourth and Denny Hamlin in fifth.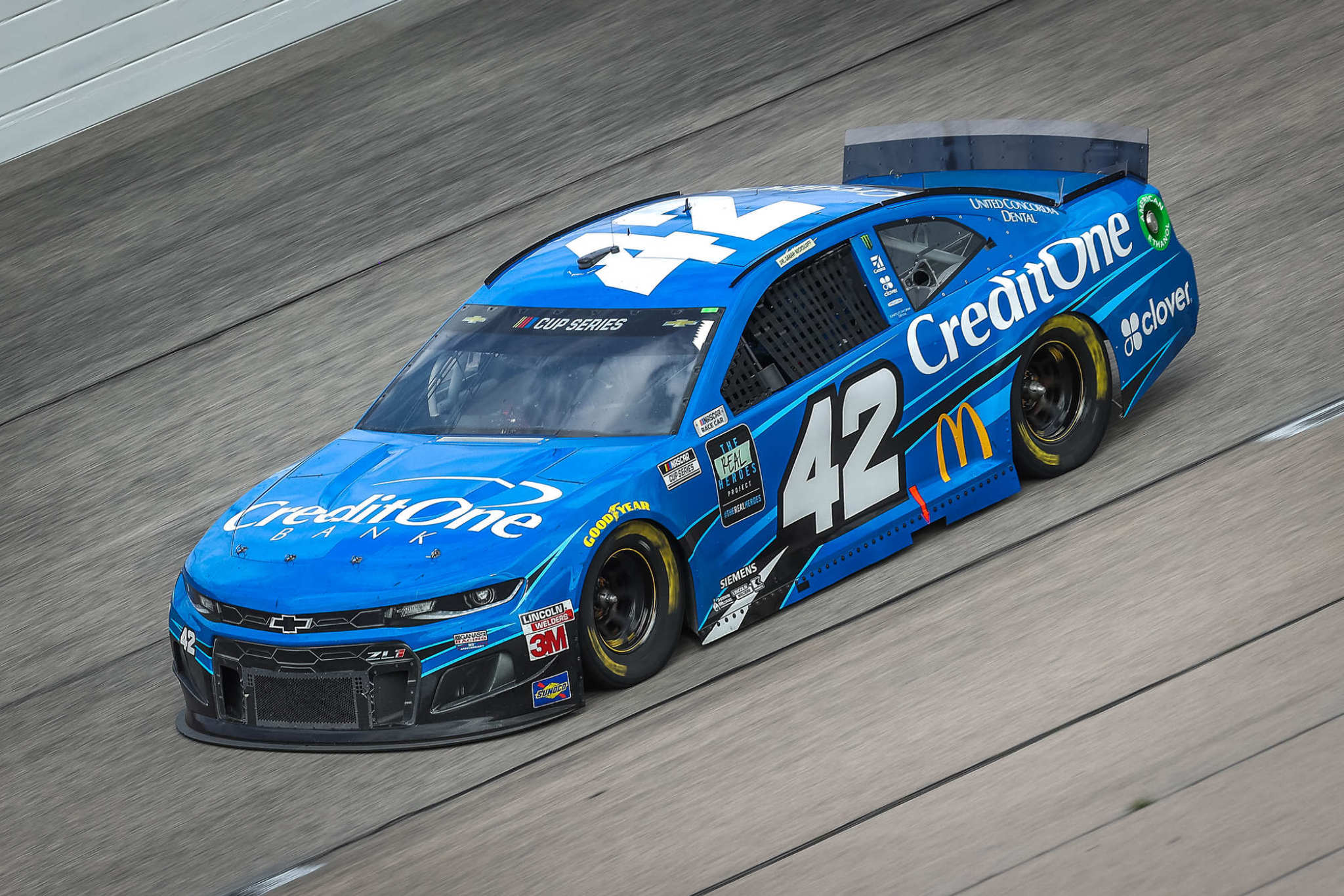 Matt Kenseth finished 10th in his first race for Chip Ganassi
Chevy Racing by NASCAR/Getty Images
Eyes were on a pair of driver making comebacks at Darlington. Matt Kenseth returned to NASCAR Cup Series competition for the first time since 2018, replacing Kyle Larson behind the wheel of the No. 42 Chip Ganassi Racing Chevrolet.
Kenseth spent most of the day racing inside the top 20. In the end, he came home with a strong 10th place finish.
Ryan Newman made his first start since a terrifying crash at the season opening Daytona 500 left him sidelined with injuries. Newman raced in and around the top 15 all day, but saw a strong run foiled by a spin late in the going. He would record a 15th place finish.
"Really proud of everybody's effort today to unload the Oscar Mayer Ford as good as we did," said Newman. "We started pretty strong and for the first 180 laps or so we were really good, then we got the car too free and we needed it to turn better, but we never got the front to work and made the back loose. Overall, great to be back in the race car, proud of how everybody worked, not just our team, but everyone in NASCAR to break the ice on getting the world back in motion."
Two drivers who were very strong in the early laps saw their hopes foiled by the treacherous Darlington track.
[adinserter name="GOOGLE AD"]Jimmie Johnson had the lead and was a half lap away from winning the first segment of the race when contact with the lap car of Chris Buescher off turn two sent Johnson's No. 48 Chevrolet spinning into the inside wall. That incident ended his day with a 38th place finish.
"Gosh, what I would do to get that corner back to do it over again," Johnson said. "Coming to the end of the stage, I was just trying to make sure I got a good run off of turn two. I felt like I was going to be able to exit the corner side-by-side with him, things just went horribly wrong there. What a great car, I feel terrible for my team and everybody at Hendrick Motorsports."
William Byron inherited the lead and won the segment. But the young Hendrick Motorsports driver saw his day go south when a loose wheel sent him into the outside wall on lap 109, leaving his No. 24 Chevy with heavy damage. He would soldier home to a 35th place finish.
"We had such a fast car today. We just had a vibration that kept getting worse and the wheel finally came loose," said Bowman. "I really appreciate me team sticking with it today and for all the hard work they have put in to unload with such a fast Axalta Chevy. Good thing we can rally and do it all again on Wednesday. We'll be ready."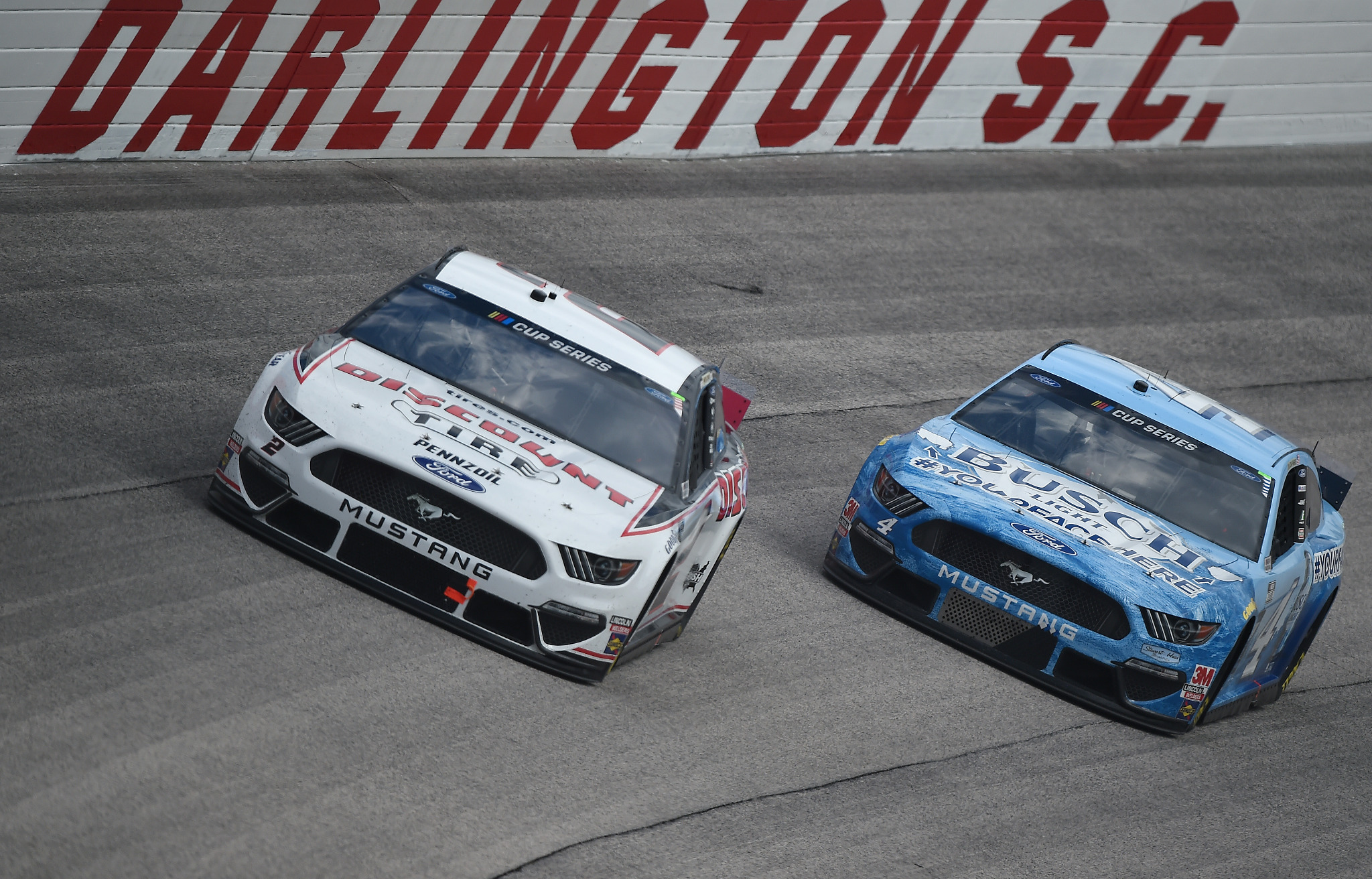 Kevin Harvick (4) battles Brad Keselowski (2) at Darlington
Jared C. Tilton | Getty Images
The oddest moment of the race came on when a portion of the vinyl signage on the outside retaining wall came off after being brushed by a car. A portion of the sign became lodged on the front of Denny Hamlin's car. Hamlin, who had been running in third at the time, dropped back behind Clint Bowyer and managed to dislodge the debris.
But the debris then bounced onto the front of Tyler Reddick's Chevy, threatening to cause issues for that team. NASCAR officials brought out the yellow flag on lap 155 and deployed track workers to remove the remaining banner and debris to prevent more issues.
Martin Truex, Jr., Erik Jones, Tyler Reddick, John Hunter Nemechek and Kenseth rounded out the unofficial top ten.
NASCAR returns to action with the Xfinity Series on Tuesday night at Darlington Raceway for a 200 mile event. The NASCAR Cup Series returns to Darlington on Wednesday night for a 500 kilometer race.
Results
| | | | | | |
| --- | --- | --- | --- | --- | --- |
| POS | CAR | DRIVER | MANUF | LAPS | BEHIND |
| 1 | 4 | Kevin Harvick | Ford | 293 | 0.000s |
| 2 | 88 | Alex Bowman | Chevy | 293 | 2.154 |
| 3 | 1 | Kurt Busch | Chevy | 293 | 3.355 |
| 4 | 9 | Chase Elliott | Chevy | 293 | 4.361 |
| 5 | 11 | Denny Hamlin | Toyota | 293 | 4.671 |
| 6 | 19 | Martin Truex Jr. | Toyota | 293 | 4.882 |
| 7 | 8 | Tyler Reddick | Chevy | 293 | 10.734 |
| 8 | 20 | Erik Jones | Toyota | 293 | 10.738 |
| 9 | 38 | John Hunter Nemechek | Ford | 293 | 10.912 |
| 10 | 42 | Matt Kenseth | Chevy | 293 | 14.180 |
| 11 | 3 | Austin Dillon | Chevy | 293 | 14.444 |
| 12 | 10 | Aric Almirola | Ford | 292 | 18.294 |
| 13 | 2 | Brad Keselowski | Ford | 292 | 19.556 |
| 14 | 21 | Matt DiBenedetto | Ford | 292 | 19.782 |
| 15 | 6 | Ryan Newman | Ford | 292 | 20.412 |
| 16 | 12 | Ryan Blaney | Ford | 292 | 22.654 |
| 17 | 14 | Clint Bowyer | Ford | 292 | 22.794 |
| 18 | 22 | Joey Logano | Ford | 292 | 24.058 |
| 19 | 13 | Ty Dillon | Chevy | 292 | 24.241 |
| 20 | 37 | Ryan Preece | Chevy | 292 | 24.674 |
| 21 | 43 | Bubba Wallace | Chevy | 292 | 25.630 |
| 22 | 41 | Cole Custer | Ford | 292 | 26.408 |
| 23 | 34 | Michael McDowell | Ford | 292 | 27.904 |
| 24 | 95 | Christopher Bell | Toyota | 292 | 29.256 |
| 25 | 96 | Daniel Suarez | Toyota | 292 | -1 Lap |
| 26 | 18 | Kyle Busch | Toyota | 291 | -2 |
| 27 | 15 | Brennan Poole | Chevy | 291 | -2 |
| 28 | 27 | JJ Yeley(i) | Ford | 291 | -2 |
| 29 | 77 | Reed Sorenson | Chevy | 291 | -2 |
| 30 | 51 | Joey Gase(i) | Ford | 288 | -5 |
| 31 | 32 | Corey LaJoie | Ford | 288 | -5 |
| 32 | 17 | Chris Buescher | Ford | 287 | -6 |
| 33 | 66 | Timmy Hill(i) | Toyota | 286 | -7 |
| 34 | 7 | Josh Bilicki(i) | Chevy | 285 | -8 |
| 35 | 24 | William Byron | Chevy | 279 | -14 |
| 36 | 00 | Quin Houff | Chevy | 137 | -156 |
| 37 | 53 | Garrett Smithley | Chevy | 127 | -166 |
| 38 | 48 | Jimmie Johnson | Chevy | 89 | -204 |
| 39 | 78 | BJ McLeod(i) | Chevy | 13 | -280 |
| 40 | 47 | Ricky Stenhouse Jr. | Chevy | 0 | -293 |