Wehrlein Wins For Mahindra Racing at virtual Monaco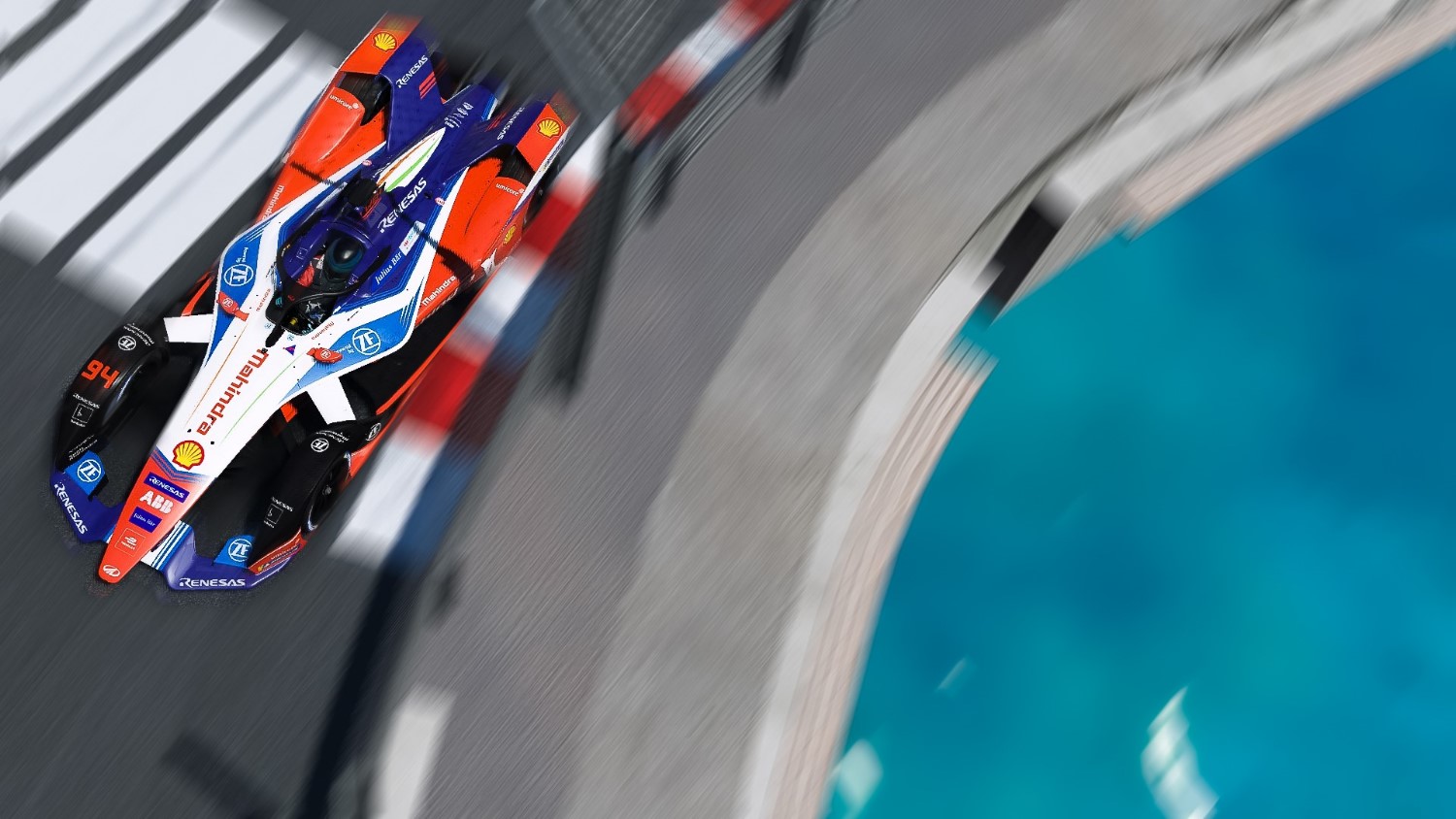 Pascal Wehrlein
Round three of the eight weekend ABB Formula E Race At Home Challenge took place today, with all 24 regular FIA Formula E Championship drivers taking to the virtual Monaco E-Prix circuit to battle it out for victory in the sim series.
Pascal Wehrlein dominated proceedings, taking Pole Position and then a commanding lights-to-flag race victory as well as Fastest Lap to extract maximum points from the event.
Sitting in Pole, Mahindra Racing's Pascal Wehrlein led the way on the historic Monaco street circuit. Close behind, Mercedes-Benz EQ's Stoffel Vandoorne was tagged going through Turn 1 by home team Rokit Venturi Racing's Edoardo Mortara, while BMW i Andretti Motorsport's Max Guenther managed to slip past from fifth into second place.
Behind Guenther, Mortara was caught in the chaos than unfolded as the field piled up coming through Turn 1, disrupting the running order further down the pack. In third, Guenther sat three seconds behind Wehrlein in the lead after four laps.
[adinserter name="GOOGLE AD"]Down in 20th place, Envision Virgin Racing's Sam Bird received a 10 second penalty for his involvement in the earlier disruption, meaning the British driver faced imminent elimination.
Battling to climb up the running, home race hero Felipe Massa (Rokit Venturi Racing) advanced on BMW i Andretti Motorsport's Alex Sims in 14th. Failing to pass, the Monaco resident – who claimed his first podium in the principality last year – sat tight in 15th.
Despite winning the last two rounds, Guenther remained in third behind Vandoorne and Wehrlein in the lead with two laps to go. Still over three seconds ahead, Poleman and championship hopeful Wehrlein looked set to seal his first win of the ABB Formula E Race at Home Challenge in support of UNICEF.
With the fastest lap of the race in hand, Wehrlein went through the final corner in first – winning the race from lights to flag. Behind the Mahindra driver was Vandoorne and Guenther in third. With the third round down and out, 12 drivers failed to make it to the finish line.
"The start was very important…after that I had a small gap and I just kept the pace. For me, it was quite an easy race," admitted our new race winner moments after claiming his first win of the Race at Home Challenge.
Sample Quotes
Pascal Wehrlein: "The start was very important and I'm not sure what happened behind but I saw there was a crash. After that I had a small gap and I just worked to keep the pace. In the end I was a bit quicker but for me it was quite a straightforward race. It's nice to take the win for Mahindra Racing in Monaco and get a full points haul!"
Dilbagh Gill: "It's fantastic to say Mahindra Racing won today in Monaco! I'm very happy that as a team we are supporting Formula E's Race At Home Challenge in support of UNICEF and are putting on a show for the fans at home that are currently missing out on their sporting action. The afternoon started well with Mahindra Racing's sim driver Lucas Muller finishing on the podium in second in the Challenge race, then it got even better! Pascal has looked strong the last couple of weeks and now he has had the perfect day, scoring maximum points. The race for the championship is on!"
Marco Ujhasi (Manager Esports at Porsche Motorsport): "That was another display of pure virtual racing action today. Qualifying was rather mixed for Neel and André. They could both have started from further up the grid, however they both fought hard. Generally speaking, we are happy with the result and the points that both Neel and André scored after a flawless race. Simona once again did well in the 'Challenge Grid' race for professional sim racers, and managed to climb into 17th place."
Neel Jani (Porsche 99X Electric, #18): "My latest fourth place in the 'Race at Home Challenge' feels great. The seventh-fastest time in qualifying was okay. I had a good start in the race, and was able to climb straight into fourth place in turn one. After that, it was all about staying fully-focussed. Two fourth-places in a row – I now hope I can make it onto the podium next time."
Andre Lotterer (Porsche 99X Electric, #36): "Overall, I am happy with seventh place. I did not put in a flawless lap in qualifying, and lost a bit of time in turn two. I then worked my way through the field from eleventh place on the grid in the race. I picked up some valuable points in seventh place, although I was hoping for more. I am now looking forward to the next race and another shot."
Simona De Silvestro (Porsche 99X Electric, #36): "I am happy to have been involved in my second virtual Formula E race. Like last Saturday, I started from the eleventh row after a rather tough qualifying session. Turn two was chaotic and cost me some time. After that, I was able to climb a few places and ultimately came home in 17th place. My goal for future outings is to secure a better starting position in qualifying."


Results – 16 Laps
Championship Standings
1. Maximilian Guenther 65
2. Pascal Wehrlein 44
3. Robin Frijns 40
4. Stoffel Vandoorne 40
5. Neel Jani 24
6. Nico Muller 19
7. Oliver Rowland 16
8. Oliver Turvey 14
9. Nyck de Vries 6
10. Andre Lotterer 6
11. James Calado 4
12. Felipe Massa 4
13. Jerome D'Ambrosio 2
14. Ma Qinghua 2
15. Alexander Sims 1
16. Sebastien Buemi 1
17. Edoardo Mortara 1