Albon outduels Leclerc in virtual F1 race at Interlagos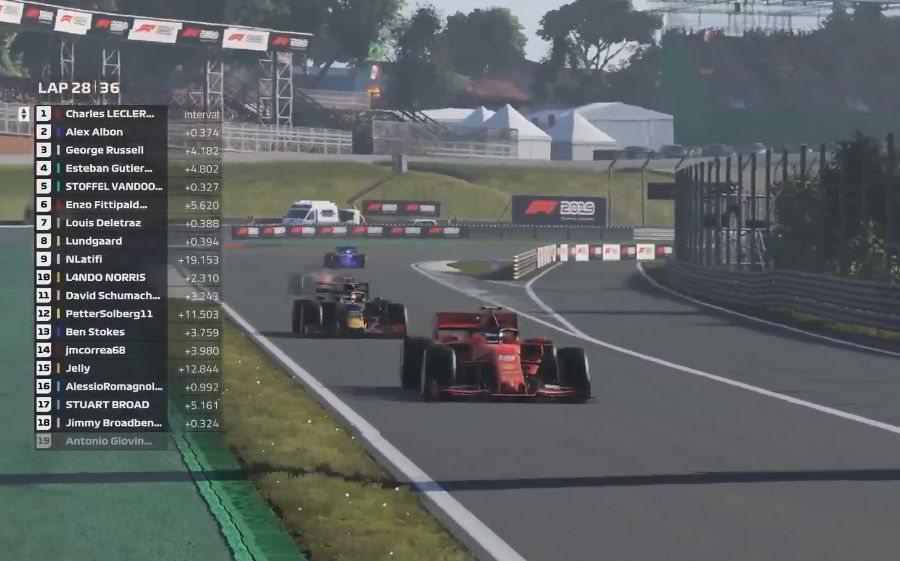 Leclerc leads Albon on lap 28
Alexander Albon got the better of Charles Leclerc after a race long battle to win in the Formula 1 Virtual Grand Prix series at Interlagos.
The pair swapped positions for the lead throughout the entire Dutch Virtual Grand Prix – taking place at the Brazilian Grand Prix venue due to Zandvoort not featuring in the F1 2019 video game – and it was Albon who ultimately triumphed at the end of the 36-lap race.
Mercedes reserve driver Stoffel Vandoorne had a sluggish getaway from pole and collided with Ferrari junior Enzo Fittipaldi and Williams driver George Russell.
Russell fell to fourth place while both Vandoorne and FIA Formula 3 driver Fittipaldi recovered back in mid-field
[adinserter name="GOOGLE AD"]This chaos left Albon and Leclerc unchallenged out front.
The Red Bull driver made what looked to be the race-winning move on Lap 21 on the run to Descido do Lago, before Leclerc launched a surprise attack in the closing stages despite being on older and harder tires.
After countless changes for the lead, Albon surged back ahead of Leclerc on the penultimate lap to seal the win, while Leclerc dropped to third behind Williams driver George Russell after being hit by a three-second track limits penalty.
Polesitter Stoffel Vandoorne remarkably recovered to take fourth, ahead of Mercedes teammate Esteban Gutierrez.
Renault's Christian Lundgaard was sixth as Fittipaldi charged back to seventh, while Louis Deletraz, Nicholas Latifi and Lando Norris rounded out the top 10. For the fourth race in a row Norris was hampered by server issues but the McLaren driver overcame the problem to contest the race, starting from the very back of the grid.
After the race, Alex said:
"I was shaking and sweating after crossing the line as I had so much adrenaline in my body. I think my Team and our strategy ultimately gave us the edge as on pace, Charles was very quick. Qualifying wasn't great but I've been practising my starts and I've got to thank Honda and my engineer Marcel for the great launch! Once Charles and I had built a gap we started to fight and it was really good fun, I enjoyed it a lot and ultimately, we had the best strategy. It was nice to get the adrenaline going and feel the pressure slightly – it's something we miss from the race weekends. It was great too to have my teammate Ben back and he did a great job after all the practice he's put in."
Top-10 Results