Mercedes again 1-2 in final Austrian GP practice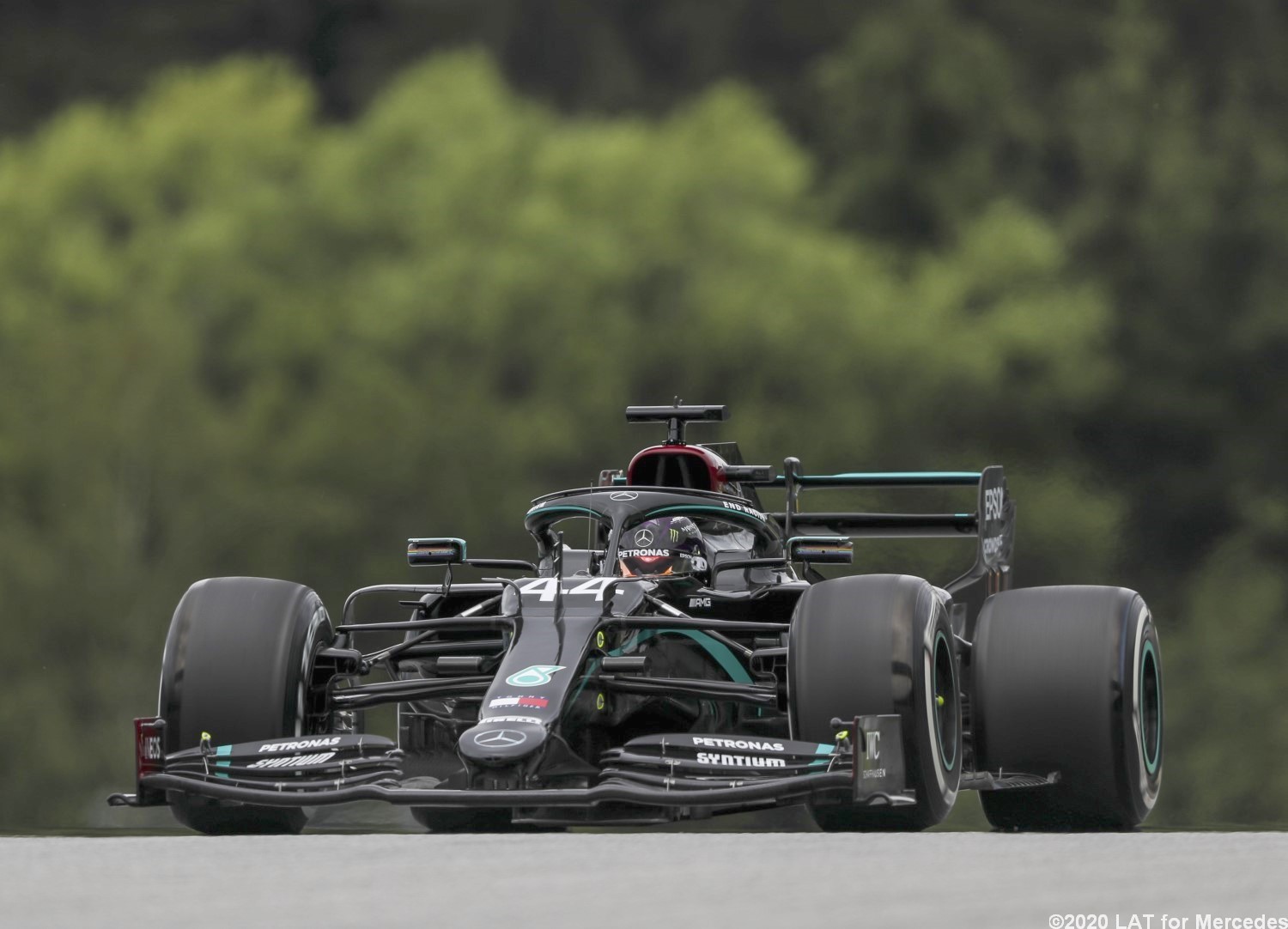 Lewis Hamilton topped all three practice sessions
Lewis Hamilton tuned a lap of 1m04.130s in a qualifying simulation run to top the final practice session ahead of qualifying for the Austrian GP F1 race in 2 hours. His time in the #44 Mercedes was 0.147s faster than his teammate Valtteri Bottas.
Max Verstappen was the best of the rest in the #33 Red Bull 0.283s behind Hamilton.
Sergio Perez was 4th quick in last year's Mercedes painted pink and ahead of the 2nd tier Ferrari of Charles Leclerc in 5th a whopping 0.573s back, while Alex Albon in the 2nd Red Bull and Sebastian Vettel in the #5 Ferrari rounded out the top-7 almost 3/4 sec off the pace.
Practice 3 Results
| | | | | | | |
| --- | --- | --- | --- | --- | --- | --- |
| POS | NO | DRIVER | CAR | TIME | GAP | LAPS |
| 1 | 44 | Lewis Hamilton | Mercedes | 1:04.130 | +0.000s | 21 |
| 2 | 77 | Valtteri Bottas | Mercedes | 1:04.277 | +0.147s | 22 |
| 3 | 33 | Max Verstappen | Red Bull Racing Honda | 1:04.413 | +0.283s | 20 |
| 4 | 11 | Sergio Perez | Racing Point BWT Mercedes | 1:04.605 | +0.475s | 19 |
| 5 | 16 | Charles Leclerc | Ferrari | 1:04.703 | +0.573s | 18 |
| 6 | 23 | Alexander Albon | Red Bull Racing Honda | 1:04.725 | +0.595s | 22 |
| 7 | 5 | Sebastian Vettel | Ferrari | 1:04.851 | +0.721s | 19 |
| 8 | 18 | Lance Stroll | Racing Point BWT Mercedes | 1:04.918 | +0.788s | 18 |
| 9 | 10 | Pierre Gasly | Alphatauri Honda | 1:04.949 | +0.819s | 19 |
| 10 | 4 | Lando Norris | Mclaren Renault | 1:04.950 | +0.820s | 22 |
| 11 | 31 | Esteban Ocon | Renault | 1:05.037 | +0.907s | 11 |
| 12 | 3 | Daniel Ricciardo | Renault | 1:05.088 | +0.958s | 13 |
| 13 | 55 | Carlos Sainz | Mclaren Renault | 1:05.177 | +1.047s | 24 |
| 14 | 26 | Daniil Kvyat | Alphatauri Honda | 1:05.290 | +1.160s | 24 |
| 15 | 8 | Romain Grosjean | Haas Ferrari | 1:05.363 | +1.233s | 17 |
| 16 | 63 | George Russell | WILLIAMS MERCEDES | 1:05.565 | +1.435s | 21 |
| 17 | 20 | Kevin Magnussen | HAAS FERRARI | 1:05.648 | +1.518s | 17 |
| 18 | 99 | Antonio Giovinazzi | Alfa Romeo Racing Ferrari | 1:05.654 | +1.524s | 16 |
| 19 | 7 | Kimi Raikkonen | Alfa Romeo Racing Ferrari | 1:05.773 | +1.643s | 18 |
| 20 | 6 | Nicholas Latifi | Williams Mercedes | 1:07.049 | +2.919s | 6 |