Van Gisbergen claims round win, Verstappen 3 podiums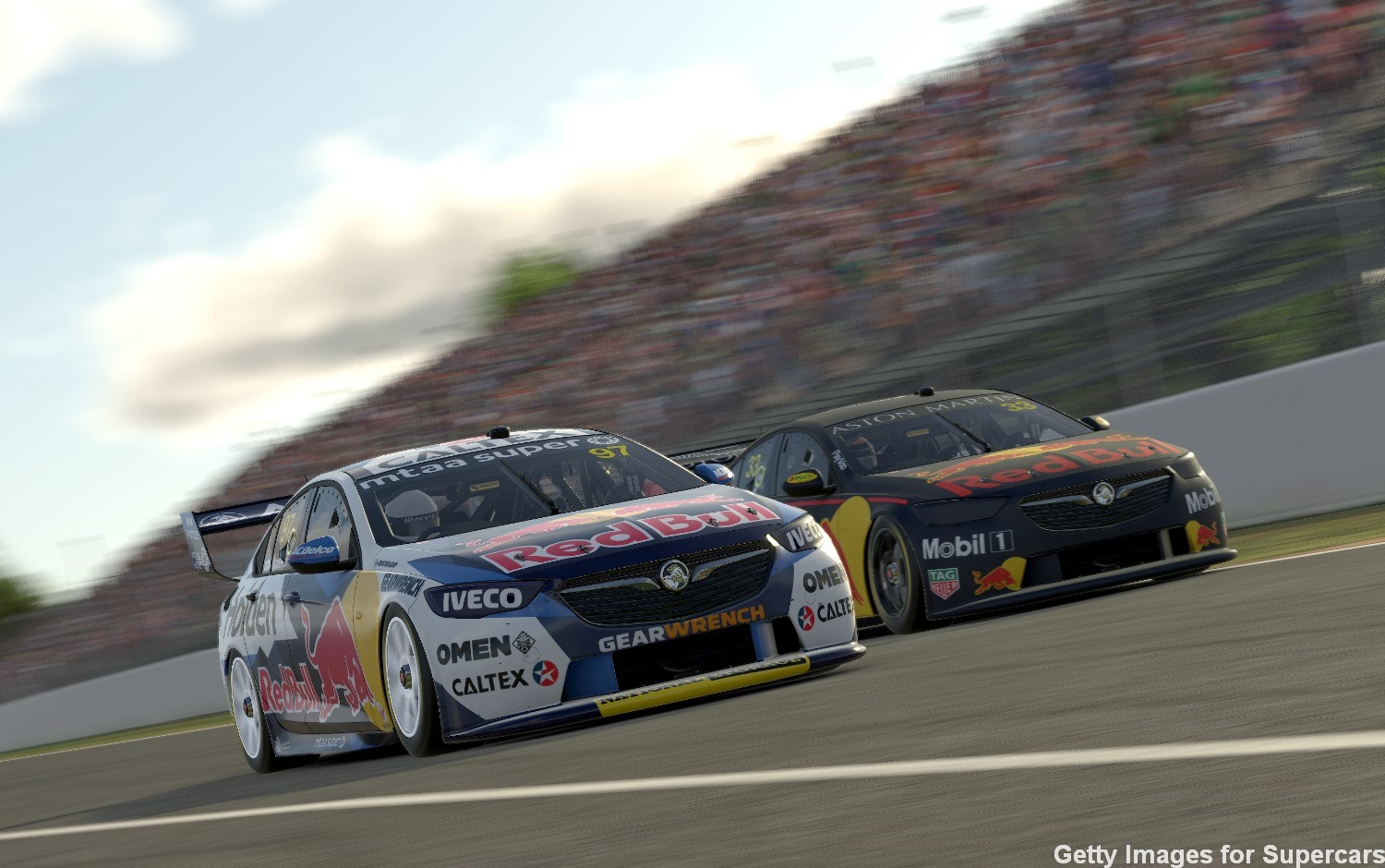 Van Gisbergen puts pass on Max Verstappen
Fans from around the world have watched on as Shane van Gisbergen has claimed the inaugural ARMOR ALL Driver of the Round Award in the BP Supercars All Stars Eseries this evening.
The 2016 Virgin Australia Supercars Champion also claimed bragging rights over his good friend and Formula 1 superstar Max Verstappen, after the pair put on a dominant display in the second round of the BP Supercars All Stars Eseries.
Van Gisbergen, who started the round back in 14th position on the Coates Hire Leaderboard, claimed two race wins and a 3rd placing out of tonight's four races split between the famous Silverstone and Barcelona F1 circuits.
Verstappen, in his first ever attempt at racing against Supercars' best, finished with three 2nd place finishes to show his world-class ability.
[adinserter name="GOOGLE AD"]Youngster Anton De Pasquale finished the night with a win and two podiums, to round out a successful evening of virtual racing for Holden.
Ford's Cam Waters recorded his first win of the eseries, while favorite Scott McLaughlin, who claimed two out of three wins in last week's opening round, went home with one 3rd placing.
Verstappen's performance was top class from his home in Monaco. He qualified 6th twice and 5th once and went on to claim three podiums in an outing fans hope isn't his last in the Supercars Eseries.
As was the case in round one, there were some spectacular crashed to go with tough door-to-door racing.
Seven-time Supercars Champion Jamie Whincup was involved in numerous crashes, while McLaughlin himself was caught up in critical incidents which hindered his chances of adding to his win tally.
RACE ONE – SILVERSTONE
Penrite Commodore driver Anton De Pasquale was one of the pre-event favorites to win the entire BP Eseries however found himself back in 16th on the Coates Hire Leaderboard heading into tonight's races.
He pushed the disappointment of last week behind him from the outset, claiming ARMOR ALL Pole Position for the opening race at Silverstone this evening.
The 24-year old Melbournian had the perfect start and led from start to finish to claim his first win of the year.
Behind De Pasquale Verstappen made the passing move of the night on the second lap. As Van Gisbergen and McLaughlin exchanged paint and tried to block each other, the Dutch F1 superstar swooped and moved from 4th into 2nd position where he would remain for the rest of the seven-lap race.
Van Gisbergen finished third, holding off McLaughlin.
RACE TWO – SILVERSTONE
Drivers started in reverse grid order, meaning those who finished last in the opening race started from the front.
De Pasquale started from last after his opening race win and quickly made his way through the field, along with his teammate Will Brown, who was filling in for David Reynolds in the #9 Penrite Commodore.
At the front Supercars rookie Jake Kostecki opening up an early lead but was mowed down in the closing laps by Cam Waters who went on to record his first virtual win. De Pasquale finished third.
RACE THREE – BARCELONA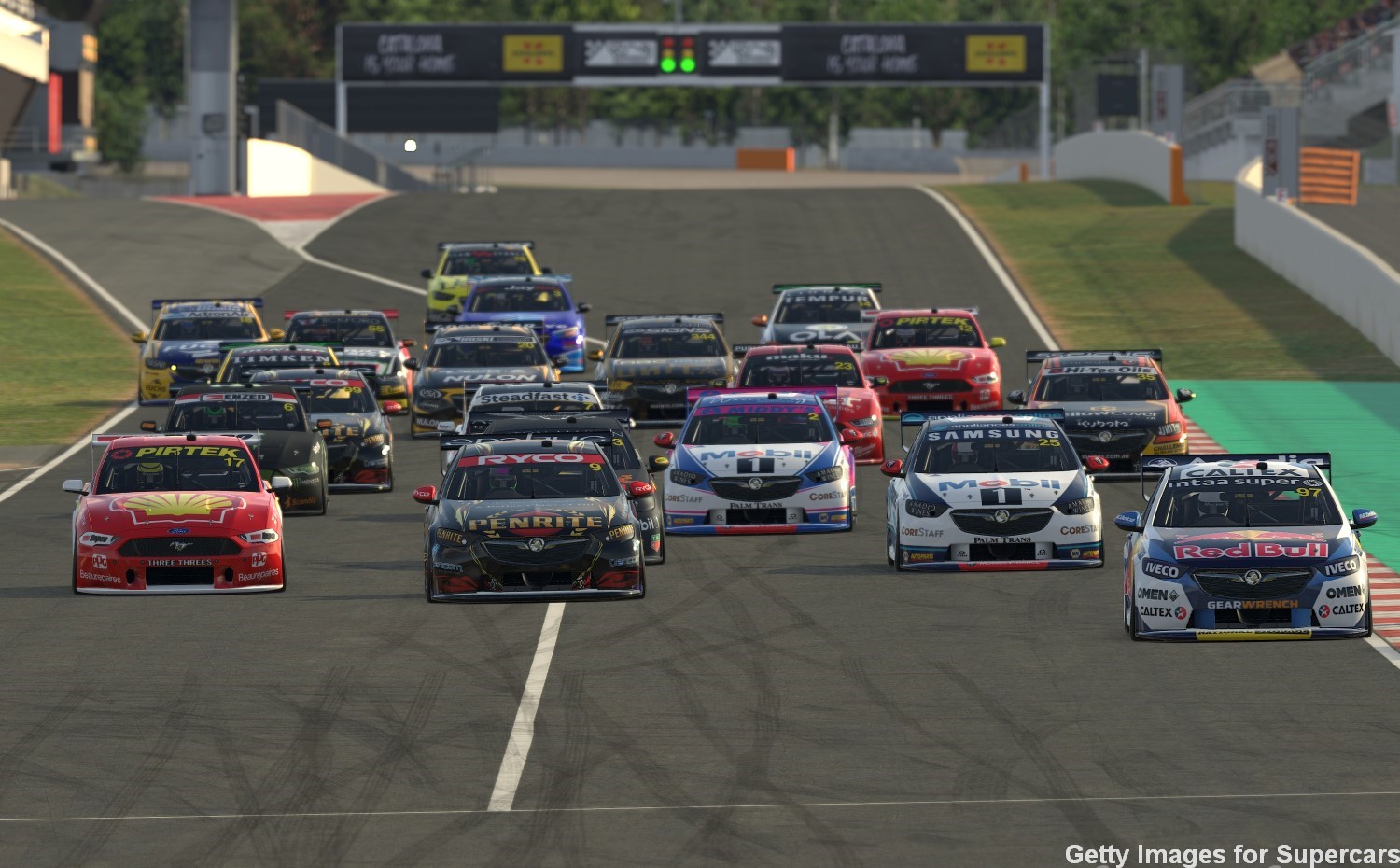 Barcelona Start
On the circuit where Verstappen does F1 testing and claimed his first ever Grand Prix win, he was always going to be a favorite and he did not disappoint.
After starting from 6th, the Aston Martin Red Bull driver waited patiently to make his move and along with van Gisbergen pushed to the front mid-way through the race.
From there the pair were never really troubled with van Gisbergen's first iRacing victory an early brag over Verstappen, as the pair race online together regularly.
De Pasquale was third.
RACE FOUR – BARCELONA
In the final race of the night, it was a tense start with everyone looking to get the jump causing several favorites to crash out.
Verstappen and De Pasquale collided sending the #99 Commodore out of contention, while Verstappen held on and maintained his position.
The Dutchman led for much of the race however van Gisbergen pitted later meaning he had fresher tires. The kiwi than drove down Verstappen with three laps to go and took the lead which he held onto until the checkered flag.
McLaughlin was third.
COATES HIRE LEADERBOARD
After two rounds of the BP Supercars All Stars Eseries McLaughlin still leads the Championship with van Gisbergen and De Pasquale right back in contention after last night's races.
Next week, drivers head to Bathurst for racing at Australia's most iconic circuit, Mount Panorama.