Timmy Hill wins NASCAR iRacing Cup race at Texas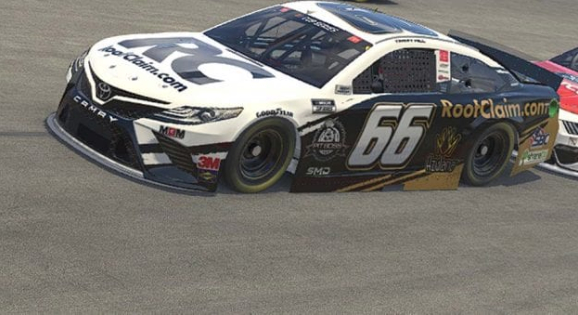 Timmy Hill
Timmy Hill drove his #66 Toyota Camry to victory in the eNASCAR iRacing Pro Series Invitational O'Reilly Auto Parts 125 NASCAR Cup race at virtual Texas Motor Speedway Sunday. Hill used a late bump of William Byron to get the lead, then held on for an overtime win.
Hill had his mirrors filled with the #37 Chevy of Ryan Preece and the #51 Chevy of Garrett Smithley.
Hendrick Motorsport Chevrolet drivers Alex Bowman and Dale Earnhardt Jr. rounded out the top-5.
[adinserter name="GOOGLE AD"]The battle for the checkered came down to a two-lap overtime shootout after a late-race caution. Hill pulled away from the pack upon restart, and no one was able to catch him. Ryan Preece was 0.050 seconds behind in the runner-up position. Garrett Smithley came in third, with Landon Cassill and Alex Bowman rounding out the top five.
Dale Earnhardt Jr., William Byron, John Hunter Nemechek, Kyle Larson and Kurt Busch completed the top 10.
Byron, the Busch Pole Award winner, dominated for most of the 125-lap race as he led 80 laps and held the lead with five laps to go. Hill bumped Byron out of his way, though, before the final caution of the afternoon flew with three laps to go.
Though Hill, driver of the No. 66 MBM Motorsports entry in the Cup Series, has never won a NASCAR national series race. He has now won 674 iRacing events over the course of 1,677 starts. Hill finished third in the Pro Invitational Series opener last weekend at Homestead-Miami Speedway, bringing him to 1,205 top-five performances overall.
Next week, the Pro Invitational Series will take on the virtual Bristol Motor Speedway on Sunday, April 5.
Results
| FIN | STR | NO. | DRIVER | MFR | BEHIND | LED | STATUS |
| --- | --- | --- | --- | --- | --- | --- | --- |
| 1 | 10 | 66 | Timmy Hill | Toyota | — | 9 | Running |
| 2 | 7 | 37 | Ryan Preece | Chevrolet | -0.050 | 8 | Running |
| 3 | 12 | 51 | Garrett Smithley | Chevrolet | -0.129 | 0 | Running |
| 4 | 5 | 89 | Landon Cassill | Chevrolet | -0.203 | 0 | Running |
| 5 | 20 | 88 | Alex Bowman | Chevrolet | -0.287 | 0 | Running |
| 6 | 2 | 8 | Dale Earnhardt Jr. | Chevrolet | -1.230 | 14 | Running |
| 7 | 1 | 24 | William Byron | Chevrolet | -1.296 | 80 | Running |
| 8 | 3 | 38 | John H. Nemechek | Ford | -1.384 | 10 | Running |
| 9 | 27 | 42 | Kyle Larson | Chevrolet | -1.431 | 0 | Running |
| 10 | 30 | 1 | Kurt Busch | Chevrolet | -1.506 | 0 | Running |
| 11 | 15 | 14 | Clint Bowyer | Ford | -1.770 | 0 | Running |
| 12 | 4 | 77 | Parker Kligerman | Toyota | -1.822 | 0 | Running |
| 13 | 6 | 19 | Bobby Labonte | Toyota | -1.901 | 0 | Running |
| 14 | 11 | 34 | Michael McDowell | Ford | -6.073 | 4 | Running |
| 15 | 16 | 21 | Matt DiBenedetto | Ford | -6.543 | 0 | Running |
| 16 | 24 | 13 | Ty Dillon | Chevrolet | -9.503 | 0 | Running |
| 17 | 19 | 18 | Kyle Busch | Toyota | -9.858 | 0 | Running |
| 18 | 18 | 17 | Chris Buescher | Ford | -12.573 | 0 | Running |
| 19 | 25 | 48 | Jimmie Johnson | Chevrolet | -27.698 | 0 | Running |
| 20 | 28 | 9 | Chase Elliott | Chevrolet | -31.212 | 1 | Running |
| 21 | 22 | 20 | Erik Jones | Toyota | -31.638 | 0 | Running |
| 22 | 33 | 6 | Ross Chastain | Ford | -1 laps | 0 | Running |
| 23 | 31 | 47 | Ricky Stenhouse Jr. | Chevrolet | -1 laps | 0 | Running |
| 24 | 17 | 11 | Denny Hamlin | Toyota | -1 laps | 3 | Running |
| 25 | 29 | 43 | Bubba Wallace | Chevrolet | -1 laps | 0 | Running |
| 26 | 32 | 90 | Alex Labbe | Chevrolet | -2 laps | 0 | Running |
| 27 | 26 | 12 | Ryan Blaney | Ford | -2 laps | 0 | Running |
| 28 | 13 | 31 | Tyler Reddick | Chevrolet | -2 laps | 0 | Running |
| 29 | 8 | 3 | Austin Dillon | Chevrolet | -2 laps | 0 | Running |
| 30 | 34 | 45 | Ty Majeski | Chevrolet | -8 laps | 1 | Running |
| 31 | 21 | 27 | Ruben Garcia Jr. | Ford | -8 laps | 0 | Running |
| 32 | 35 | 16 | Greg Biffle | Ford | -9 laps | 0 | Running |
| 33 | 9 | 96 | Daniel Suarez | Toyota | -20 laps | 0 | Disqualified |
| 34 | 14 | 95 | Christopher Bell | Toyota | -42 laps | 0 | Disconnected |
| 35 | 23 | 33 | Anthony Alfredo | Chevrolet | -91 laps | 0 | Disconnected |