A LOOK BACK 1 YEAR: NASCAR at Martinsville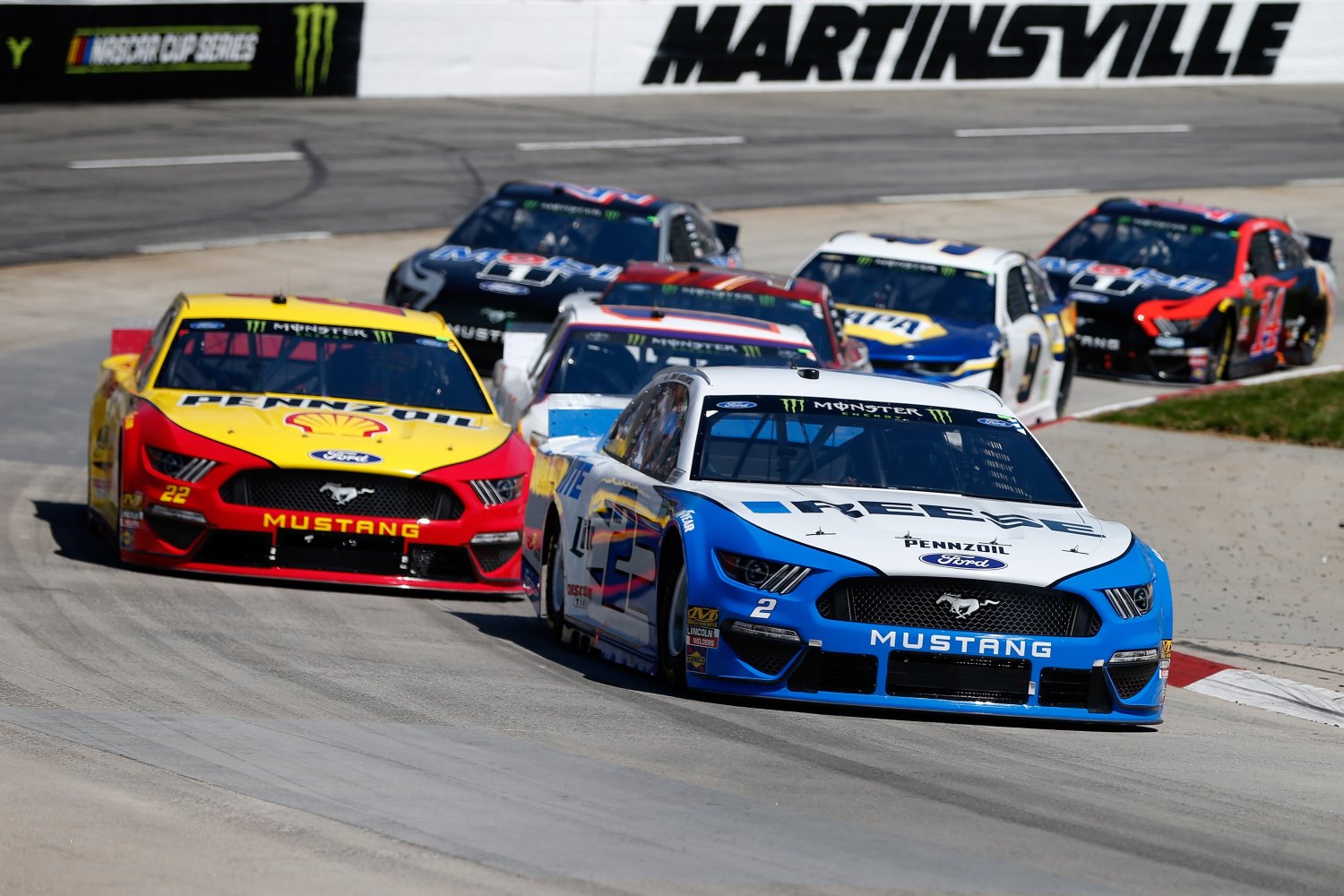 Brad Keselowski dominated
Team Penske put an exclamation point on the organization's hot start to 2019 as Brad Keselowski conquered NASCAR's shortest track Sunday to win the STP 500 at Martinsville Speedway in a purely dominant performance, becoming the first driver to win more than one race in 2019. Keselowski led 446 out of 500 laps and swept the stage wins on Sunday in a race that saw long green-flag runs and plenty of on-track action.
Chase Elliott made a power move around Kyle Busch on the final restart to finish second, while Bsuch came home third. Blaney finished fourth while Denny Hamlin drove the No. 11 to fifth place. The rest of the top 10 were Kevin Harvick, Clint Bowyer (who rebounded from a pair of pit road speeding penalties for seventh), Martin Truex Jr., Aric Almirola and Daniel Suarez.
Keselowski's teammate Joey Logano led the field to green, but couldn't hold on for long. Brad Keselowski took over the top spot with Denny Hamlin in tow, and the two separated themselves from the field before waging battle themselves. Keselowski was able to hold Hamlin off, but he could get away from the No. 11 as they worked through lapped traffic.
The first caution of the day flew when Michael McDowell's Ford had a tire go down and McDowell scraped the Frontstretch wall. Keselowski held point through a round of pit stops, and afterward, it was Chase Elliott he'd have to hold off. Like Hamlin, Keselowski couldn't shake Elliott off, and things heated up as the first stage came to an end. Elliott got to the inside of Keselowski coming to the green-and-white checkers, but Keselowski got to the line a half car-length ahead.
[adinserter name="GOOGLE AD"]Stage 2 began the way Stage 1 ended, with Elliott hounding Keselowski for the lead, but a caution for debris after cars got together in Turn 4 quickly slowed things down again. An axle shed by Ross Chastain's No.15 was the culprit. Elliott was the loser in the exchange as he slid high in grease on the track, allowing Hamlin to get underneath him.
While Elliott eventually got the spot back, Keselowski was busy trouncing the field for the first half of Stage 2. The stage ran green the rest of the way, allowing Keselowski to trap many a lap down, and while he was busy doing that, teammate Ryan Blaney was on the move, moving around Elliott with 20 remaining in the stage. Lapped traffic worked to Keselowski's advantage, though, keeping Blaney from getting close enough to make a move.
The final leg of the race started off the same as most of the day: Keselowski leading with Elliott dogging him. The caution came out after William Byron spun off the front bumper of Ty Dillon. Kyle Busch inserted himself into the picture, getting off pit road just behind Keselowski and Elliott.
As the field came up to speed on lap 325, Elliott saw the opportunity he'd been waiting for all day and got underneath Keselowski coming to Turn 1, completing the pass for the lead just as Erik Jones lost a tire after getting together with Kyle Larson. Jones made it back to pit road without drawing a caution as Elliott opened up a 10-carlength gap over Keselowski.
It didn't last, though, as another caution for a Matt Tifft crash at lap 374 allowed Keselowski to retake the advantage on pit road, leaving Elliott to try and hunt him down on track again. This time, Keselowski was able to drive away a bit as Elliott fought for second with Kyle Busch and Blaney.
Ross Chastain slammed the wall in Turn 1 to bring out the final caution on lap 447, changing the complexion up front somewhat. Keselowski held the advantage through pit stops, Kyle Busch bulled his way to second, making contact with Elliott on the way. Blaney got out of the pits in fourth while Kevin Harvick came out fifth.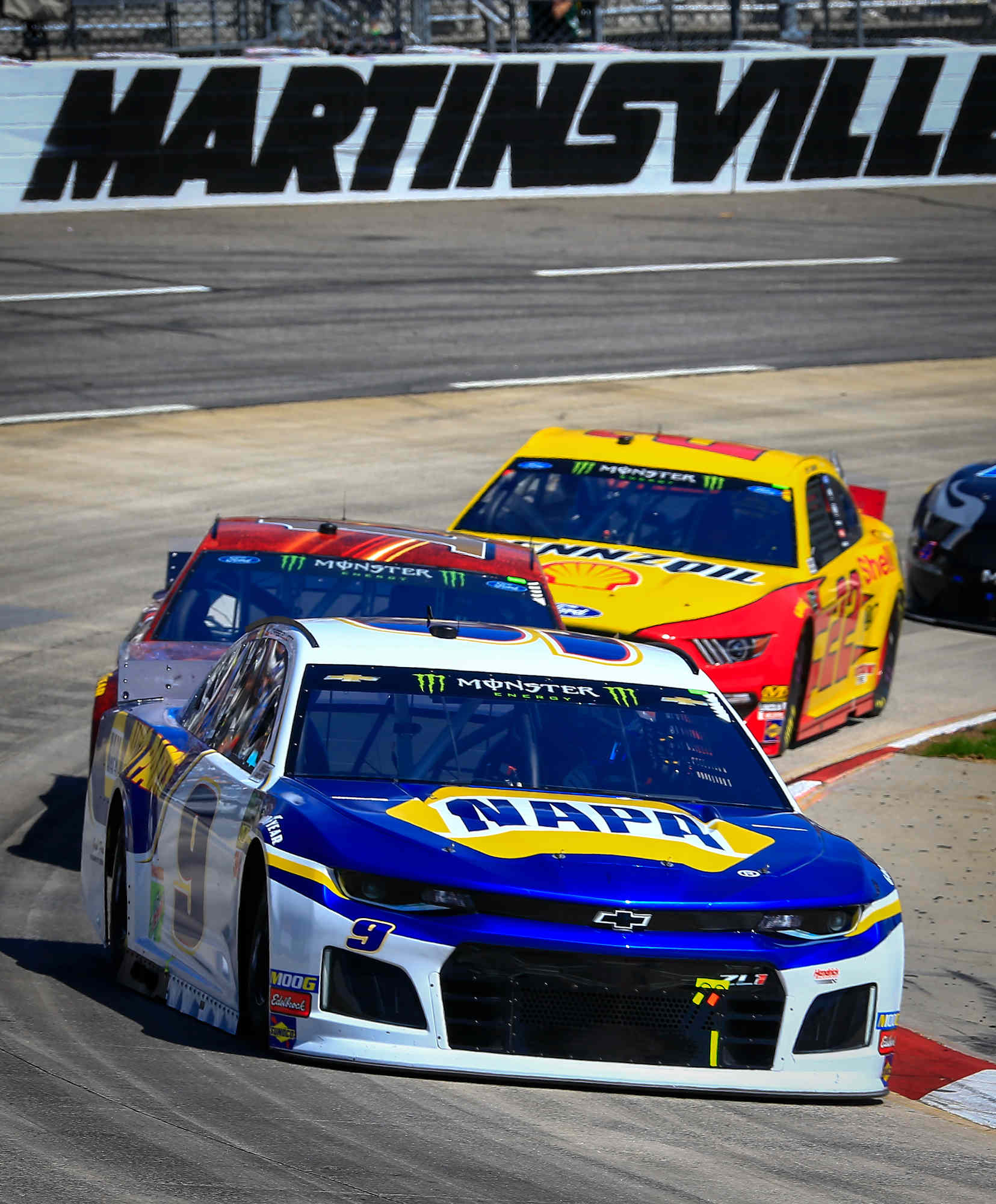 Chase Elliott
Elliott made a power move around the outside to retake second and then set his sights on the No. 2, but Keselowski ended the day in the same dominant fashion he'd begun it.
What developed into the day's other story was the opposite of domination, as active Martinsville win leader Jimmie Johnson struggled to a 24th-place finish, two laps down, without suffering on-track damage or mechanical failure. Johnson hasn't found speed this season, but many expected Martinsville to be a turning point for the nine-time track winner.
Keselowski credited his team and crew chief Paul Wolfe for keeping up with the changing track all day. "The temps were cooling off and the track was losing its rubber, and we were just losing grip," Keselowski said afterward. "We weren't as good as we needed to be there, so Paul was working on it to do the best we can and that's what this team does – they never give up and I'm really, really proud of them."
While Keselowski leaves Martinsville with the grandfather clock trophy, Kyle Busch leaves with the point lead, with a 21-point gap over teammate Hamlin. Harvick, Logano and Keselowski round out the top 5 followed by Almirola, Martin Truex Jr., Blaney, Elliott and Kurt Busch.
Amy Henderson Reporting for AR1.com
Results
| | | | | | | |
| --- | --- | --- | --- | --- | --- | --- |
| Pos | St. | No. | Driver | Car | Laps | Status |
| 1 | 3 | 2 | Brad Keselowski | Reese/Draw Tite Ford | 500 | Running |
| 2 | 7 | 9 | Chase Elliott | NAPA Auto Parts Chevrolet | 500 | Running |
| 3 | 13 | 18 | Kyle Busch | M&M's Chocolate Bar Toyota | 500 | Running |
| 4 | 17 | 12 | Ryan Blaney | Menards/Libman Ford | 500 | Running |
| 5 | 5 | 11 | Denny Hamlin | FedEx Ground Toyota | 500 | Running |
| 6 | 4 | 4 | Kevin Harvick | Mobil 1 Ford | 500 | Running |
| 7 | 10 | 14 | Clint Bowyer | Mobil 1/Rush Truck Centers Ford | 500 | Running |
| 8 | 8 | 19 | Martin Truex Jr. | SiriusXM Toyota | 500 | Running |
| 9 | 2 | 10 | Aric Almirola | SHAZAM!/Smithfield Ford | 500 | Running |
| 10 | 9 | 41 | Daniel Suarez | Haas Automation Ford | 500 | Running |
| 11 | 29 | 3 | Austin Dillon | Symbicort Chevrolet | 500 | Running |
| 12 | 19 | 1 | Kurt Busch | GEARWRENCH/Monster Energy Chevrolet | 500 | Running |
| 13 | 22 | 13 | Ty Dillon | GEICO Chevrolet | 500 | Running |
| 14 | 16 | 88 | Alex Bowman | Nationwide Chevrolet | 500 | Running |
| 15 | 14 | 21 | Paul Menard | Motorcraft/Quick Lane Tire & Auto Center Ford | 500 | Running |
| 16 | 15 | 47 | Ryan Preece # | Kroger Chevrolet | 500 | Running |
| 17 | 26 | 43 | Bubba Wallace | Transporation Impact Chevrolet | 500 | Running |
| 18 | 6 | 42 | Kyle Larson | Credit One Bank Chevrolet | 500 | Running |
| 19 | 1 | 22 | Joey Logano | Shell Pennzoil Ford | 500 | Running |
| 20 | 21 | 95 | Matt DiBenedetto | Toyota Express Maintenance Toyota | 500 | Running |
| 21 | 12 | 37 | Chris Buescher | Kroger Speed Up Your Cleanup Chevrolet | 499 | Running |
| 22 | 34 | 24 | William Byron | Axalta Chevrolet | 499 | Running |
| 23 | 20 | 6 | Ryan Newman | Acorns Ford | 499 | Running |
| 24 | 11 | 48 | Jimmie Johnson | Ally Chevrolet | 498 | Running |
| 25 | 24 | 17 | Ricky Stenhouse Jr. | Fastenal Ford | 498 | Running |
| 26 | 25 | 38 | David Ragan | MDS Transport Ford | 496 | Running |
| 27 | 28 | 8 | Daniel Hemric # | Bass Pro Shops/TRACKER Chevrolet | 496 | Running |
| 28 | 27 | 00 | Landon Cassill | CGS Imaging Chevrolet | 494 | Running |
| 29 | 31 | 36 | Matt Tifft # | Surface Sunscreen/Tunity Ford | 494 | Running |
| 30 | 18 | 20 | Erik Jones | DeWalt Toyota | 491 | Running |
| 31 | 23 | 34 | Michael McDowell | A&W All American Foods Ford | 491 | Running |
| 32 | 35 | 77 | DJ Kennington(i) | Go-Parts Chevrolet | 489 | Running |
| 33 | 32 | 32 | Corey LaJoie | CorvetteParts.net Ford | 489 | Running |
| 34 | 30 | 15 | Ross Chastain(i) | Rim Riderz Chevrolet | 365 | Engine |
| 35 | 36 | 52 | Jeb Burton(i) | Muzzy Bowfishing Chevrolet | 163 | Brakes |
| 36 | 33 | 51 | Cody Ware # | Jacob Companies Chevrolet | 55 | Brakes |
[adinserter name="GOOGLE AD"]