IndyCar St. Petersburg GP Preview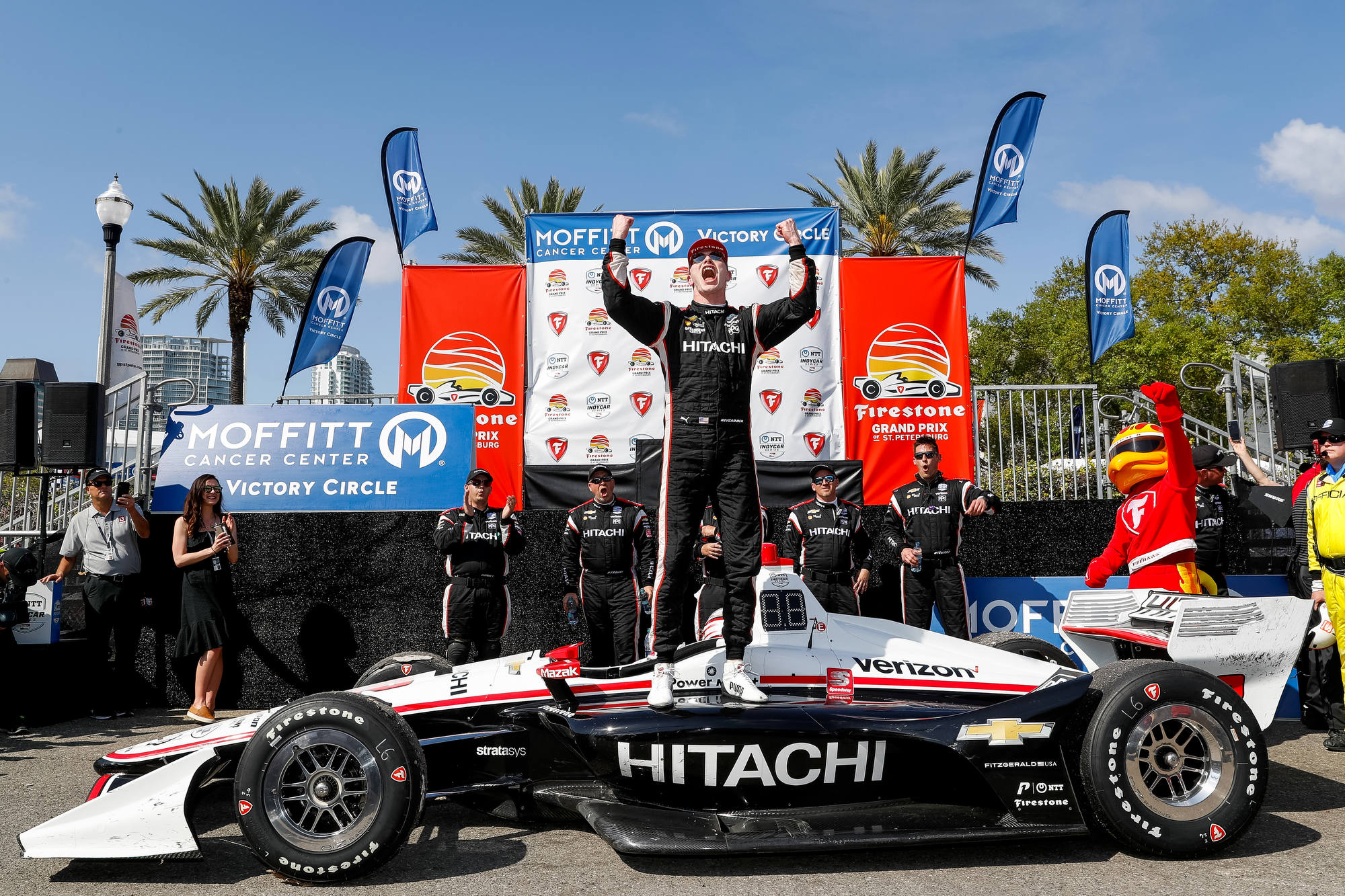 Last year's winner Josef Newgarden
The 16th Annual Firestone Grand Prix of St. Petersburg will return as the opening race for the NTT INDYCAR SERIES for the 10th consecutive year. It will also feature six support racing series on track with four of the six opening their 2020 seasons in St. Petersburg.
Featuring racing at a combination of superspeedways, short ovals, road courses and temporary street circuits, the NTT INDYCAR SERIES offers its international lineup of drivers the most diverse challenges in motorsports. The top point scorer is crowned the series champion and receives a $1 million bonus. Founded in 1994, INDYCAR serves as the sanctioning body for the NTT INDYCAR SERIES. These stars drive single-seat, open-cockpit cars that feature a 2.2-liter, twin turbocharged, direct-injected V-6 engine optimized to run at 12,000 RPM with an estimated 500-700 horsepower depending on the turbocharger boost setting. The consumer-relevant engines, which are supplied by Chevrolet and Honda, utilize Speedway E85R fuel.
Indy Lights Presented by Cooper Tires is the top step of the Road to Indy ladder system for drivers and teams striving to compete in the NTT INDYCAR SERIES and the Indianapolis 500. 23 of the 33 starters in the 2019 Indianapolis 500 were Indy Lights graduates, including nine series champions. The Indy Lights champion receives a three-race NTT INDYCAR SERIES scholarship package valued at $1 million which includes the Indy 500. Some graduates include Josef Newgarden, Scott Dixon, Tony Kanaan, Patricio O'Ward, and from 2019 Oliver Askew and Rinus VeeKay (Askew and VeeKay will make their NTT INDYCAR SERIES race debuts at St. Pete.).
[adinserter name="GOOGLE AD"]The Indy Pro 2000 Championship Presented by Cooper Tires is the second step on the Road to Indy, bridging the gap between the Cooper Tires USF2000 Championship and Indy Lights Presented by Cooper Tires. The series' champion is awarded a scholarship package worth $609,245 to advance to Indy Lights competition the following year. Graduates include Marco Andretti, James Hinchcliffe and Graham Rahal.
The Cooper Tires USF2000 Championship is the first step on the Road to Indy. In addition to providing a vital training ground for rising stars just out of the karting ranks, the series champion will earn a $328,225 scholarship package to advance to the Indy Pro 2000 Championship Presented by Cooper Tires. Drivers who have honed their skills in the series include Indy 500 winners Dan Wheldon, Sam Hornish Jr. and Buddy Rice.
Some of North America's top GT and Touring Car production-based racing will be featured with Pirelli GT4 America and TC America series part of the SRO Motorsports Group America. Pirelli GT4 America with its Sprint race format and TC America's TCR and TCA classes will be featured at the Firestone Grand Prix of St. Petersburg.
The Porsche GT3 Cup Challenge USA by Yokohama is a single-make racing series based in North America using Porsche 911 GT3s. The series produces intense, exciting competition for semi-professional and aspiring professional drivers in the world's most produced and iconic race car, the Porsche 911 GT3 Cup.
A look Back a Year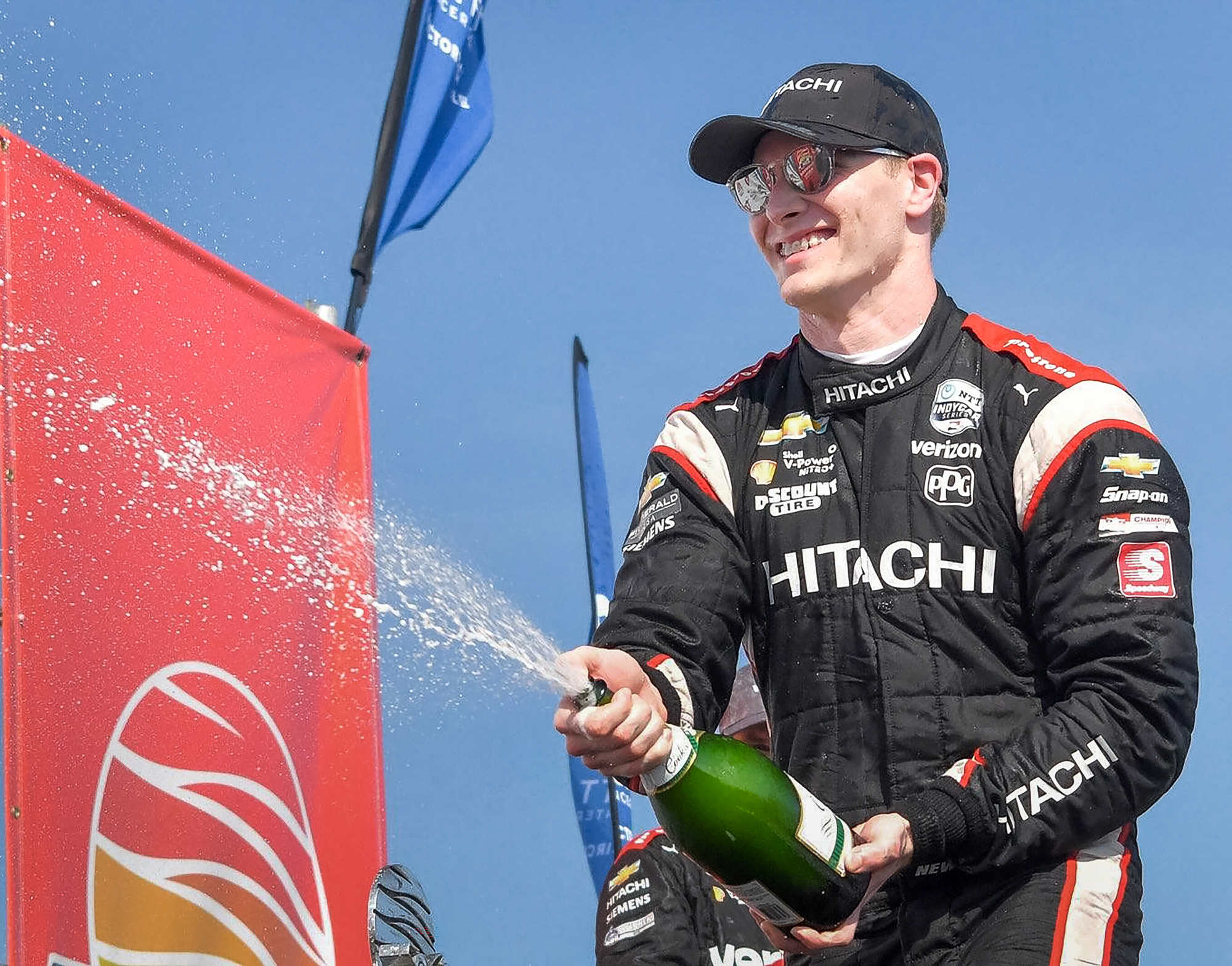 Two in a row for Josef Newgarden?
Utilizing a combination of raw speed, creative tire strategy and sharp pit work, Josef Newgarden drove the No. 2 Hitachi Team Penske Chevrolet to victory lane in the 2019 Firestone Grand Prix of St. Petersburg. It was the 11th career IndyCar win for the 2017 series champion. The Nashville, TN native, came home 2.8 seconds ahead of Scott Dixon. Polesitter Will Power made it two Penskes on the podium coming home third, with rookie sensation Felix Rosenqvist fourth. Alexander Rossi rounded out the top-5
Of course, Newgarden wasn't the only standout from the weekend. Chip Ganassi Racing rookie Felix Rosenqvist had a sterling debut leading 31 laps and ultimately finishing fourth. Rookies Colton Herta and Santino Ferrucci turned in solid drives finishing 8th and 9th respectively, while Jack Harvey qualified 7th, ran in the top-10 all day and ultimately came home 10th.
Who will win pole?
Will Power dominates pole position qualifying at St. Petersburg winning 8 of the last 10 poles here. Last year was no different as Power put up a lap of 1m00.459s to win the pole in his Penske Chevy by just 0.0976s over his Penske teammate Josef Newgarden. Row 2 was all Ganassi teammates rookie Felix Rosenqvist and Scott Dixon with Row 3 filled by Andretti Autosport teammates Ryan Hunter-Reay and Alexander Rossi.
First Race for New Aeroscreen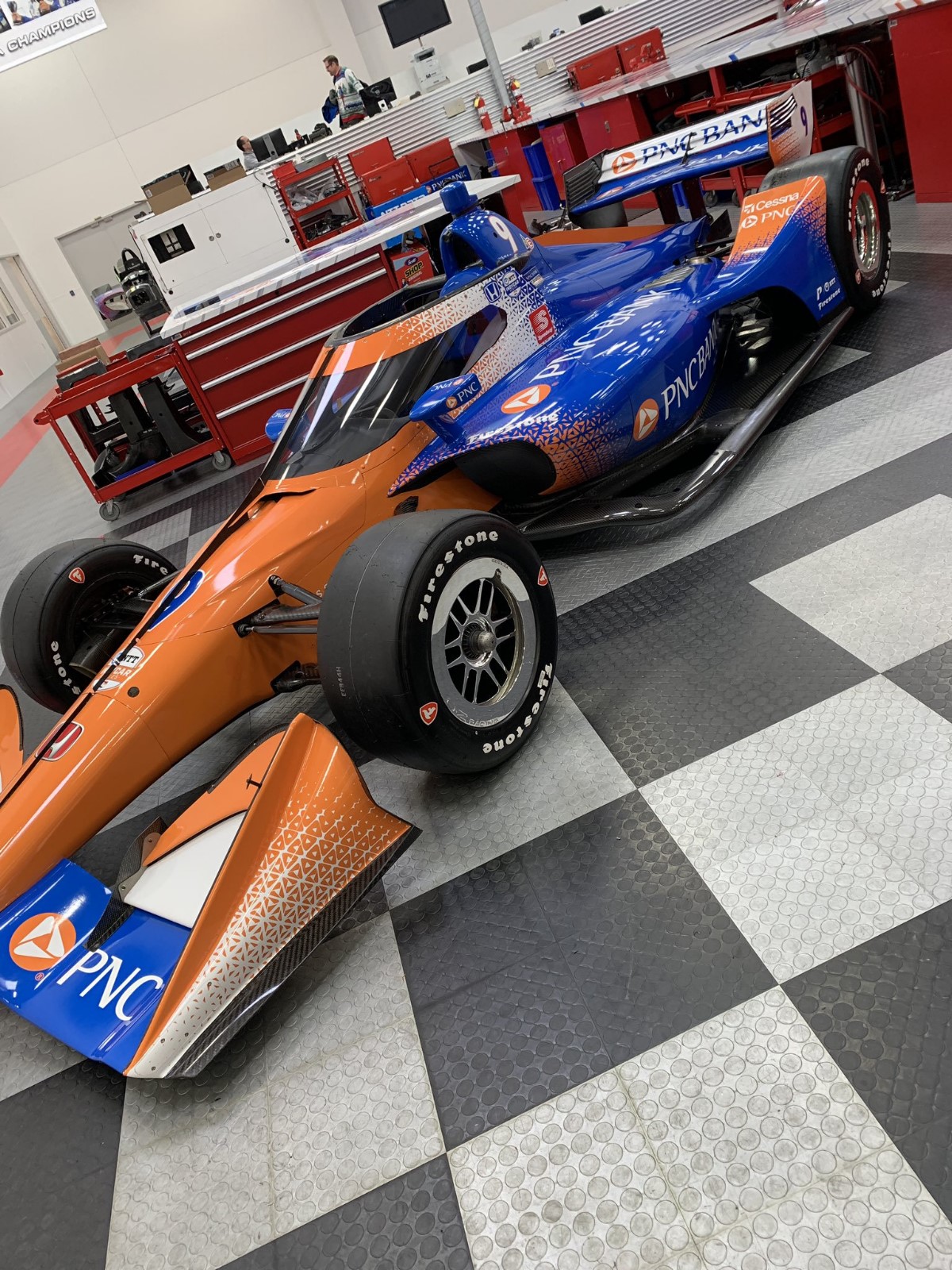 New Aeroscreen debuts
Developed by Red Bull Advanced Technologies and tested multiple times since its first on-track assessment in October 2019, the Aeroscreen will appear on all cars competing in the Firestone Grand Prix of St. Petersburg on the city streets of St. Petersburg, Fla., on Sunday. The Aeroscreen is INDYCAR's latest safety innovation to reduce the risk of driver injury from flying debris or other objects striking the cockpit area. Drivers are appreciative of the efforts of INDYCAR in regard to advances in driver safety.
"I think the Aeroscreen is really cool; I like it a lot," said Rahal. "I think it looks like a fighter jet on wheels. I think it's a really unique look and will provide a lot of safety to the drivers. At the end of the day that's what we're trying to do; make this sport a little bit safer. Anything that can stop a piece of debris or anything from hitting our heads is important and I think this is going to do that. I think it's going to grow on fans. Yeah, it's different. Have we seen an Indy car look like this before? No, we haven't but it's time that we evolve and I think it looks really cool."
"It's definitely a great thing for the drivers," added Sato. "Number one because the INDYCAR SERIES is putting the safety of the drivers first and second, it is showing the world the technology of INDYCAR, a series who has built safety devices in the past. Now there is a new development coming. I believe it will be successful and will be the standard for the open cockpit formula for the next generation."
Honda Teams
Honda and HPD will present an impressive lineup at Sunday's season-opening Firestone Grand Prix of St. Petersburg. It begins with five-time IndyCar series champion and 2008 Indianapolis 500 victor Scott Dixon, and includes 2017 Indianapolis 500 winner Takuma Sato; 2012 series and 2014 Indianapolis 500 champion Ryan Hunter-Reay; 2016 Indianapolis 500 winner Alexander Rossi; multi-race winner Graham Rahal, and Colton Herta, who broke through with two race wins during his rookie 2019 season.
All will utilize the twin-turbocharged Honda Indy V6 engine, designed, manufactured, developed and maintained by HPD. Designated the HI20TT, the engine will be used throughout the 2020 season.
2020 Honda Verizon IndyCar Series Lineup
Andretti Autosport
#26 Zach Veach
##27 Alexander Rossi (W)
##28 Ryan Hunter-Reay (C) (W)
Andretti-Herta Autosport
#98 Marco Andretti (W)
Andretti-Harding Autosport
#88 Colton Herta (W)
Chip Ganassi Racing
# 8 Marcus Ericsson
# 9 Scott Dixon (C) (W)
#10 Felix Rosenqvist
Dale Coyne Racing w/Vasser-Sullivan
#18 Santino Ferrucci
Dale Coyne Racing w Team Goh
#19 Alex Palou (R)
Meyer Shank Racing
#60 Jack Harvey
Rahal Letterman Lanigan Racing
#15 Graham Rahal (W)
#30 Takuma Sato (W)
C – IndyCar Series Champion W – Race Winner R – Series Rookie
Chevy Teams
Amid NTT INDYCAR SERIES changes entering the 2020 season, the constant for Chevrolet personnel, teams and drivers is consistency of execution that produces victories.
Thirteen drivers powered by the direct-injected 2.2-liter, twin turbocharged Chevrolet V6 engine are entered in the March 13-15 opener – the Firestone Grand Prix of St. Petersburg. The roster includes reigning NTT INDYCAR SERIES champion Josef Newgarden; teammate and defending Indianapolis 500 winner Simon Pagenaud, who was runner-up in the 2019 driver championship; four-time Indy car champion Sebastien Bourdais; and three young but accomplished rookies.
In total, Chevrolet's opening-race entries represent eight Indy car driver championships, 103 race wins and 113 pole starts. The lineup will be bolstered for the Indianapolis 500 in May by, among others, three-time Indianapolis 500 winner Helio Castroneves, 2013 Indy 500 winner and 2004 series champion Tony Kanaan, race winner and three-time Indy 500 pole winner Ed Carpenter, and two-time Formula One champion Fernando Alonso.
Team Chevy will be well represented by:
AJ FOYT RACING:
Charlie Kimball, No. 4 Tresiba Chevrolet
Sebastien Bourdais, No. 14 AJ Foyt Racing Chevrolet
ARROW MCLAREN SP RACING:
Pato O'Ward, No. 5 Arrow McLaren SP Chevrolet
Oliver Askew, No. 7 Arrow McLaren SP Chevrolet
CARLIN:
Felipe Nasr, No. 31 Carlin Chevrolet
Max Chilton, No. 59 Gallagher Carlin Chevrolet
DRAGONSPEED:
Ben Hanley, No. 81 DragonSpeed FlexBox Chevrolet
DREYER & REINBOLD RACING:
Sage Karam, No. 24 DRR Wix Filters Chevrolet
ED CARPENTER RACING:
Conor Daly, No. 20 U.S. Air Force Chevrolet
Rinus VeeKay, No. 21 Sonax Chevrolet
TEAM PENSKE:
Josef Newgarden, No. 1 Hitachi Chevrolet
Will Power, No. 12 Verizon Chevrolet
Simon Pagenaud, No. 22 Menards Chevrolet
2020 Paint Schemes
IndyCar's 2020 season has arrived and with it comes the first look at some of the paint schemes teams will sport throughout the year.
To help spot your favorite driver on the track, NBCSports.com has compiled the confirmed paint schemes (some featuring multiple designs on the same car) for the 2020 NTT IndyCar Series season.
Fast Facts
Race weekend: Friday – Sunday.
Track: Streets of St. Petersburg, 1.8-mile, 14-turn temporary street circuit (clockwise) through downtown St. Petersburg, Florida, including a runway of Albert Whitted Airport.
Media Links: Entry List (PDF) | Trackside Media Guide (Interactive PDF)
Race distance: 100 laps / 180 miles.
Push-to-pass parameters: 150 seconds of total time with a maximum single duration of 15 seconds. The push-to-pass is not available on the initial start or any restart unless it occurs in the final two laps or three minutes of a timed race. The feature increases the power of the engine by approximately 60 horsepower for 2020.
Firestone tire allotment: Seven sets primary, four sets alternate.
Twitter: @GPSTPETE, @INDYCAR, #FirestoneGP, #INDYCAR, #ADifferentBreed
Event website: www.gpstpete.com.
INDYCAR website: www.indycar.com.
2019 race winner: Josef Newgarden, 2:04:18.2588, 95.572 mph (110 laps/198 miles)
2019 NTT P1 Award winner: Will Power, 1:00.4594, 107.179 mph.
Qualifying lap record: Jordan King, 1:00.0476; 107.914 mph, March 10, 2018 (set in Round 1 of qualifying).
NBCSN race telecasts: Qualifying, 10 p.m. ET Saturday (tape delayed); Race, 3:30 p.m. ET Sunday (live). Pre-race show begins at 2:30 p.m.
Pennzoil INDYCAR Radio Network broadcasts: Mark Jaynes is the chief announcer alongside analyst Davey Hamilton. Jake Query and Nick Yeoman are the turn announcers with Dave Furst, Rob Howden and Michael Young reporting from the pits. The Firestone Grand Prix of St. Petersburg race airs live on network affiliates, Sirius 211, XM 205, indycar.com, indycarradio.com and the INDYCAR Mobile app powered by NTT DATA. All NTT INDYCAR SERIES practices and qualifying are available on indycar.com, indycarradio.com and the INDYCAR Mobile app, with qualifying also airing on Sirius 216 and XM 205.
NBC Sports Gold Live Streaming: All NTT INDYCAR SERIES practice sessions and qualifying will stream live on INDYCAR Pass on NBC Sports Gold, NBC Sports' direct-to-consumer livestreaming product.
At-track schedule (All Times Local/Eastern Time):
Friday
10:45 – 11:30 a.m. – NTT INDYCAR SERIES Practice #1, NBC Sports Gold
3 – 3:45 p.m. – NTT INDYCAR SERIES Practice #2, NBC Sports Gold
Saturday
10:45 – 11:30 a.m. – NTT INDYCAR SERIES Practice #3, NBC Sports Gold
2:40 p.m. – Firestone Grand Prix of St. Petersburg Qualifying (Three rounds of knockout qualifications), NBC Sports Gold (live) and NBCSN (taped delayed until 10 p.m.
Sunday
10:25 – 10:55 a.m. – NTT INDYCAR SERIES Warm-Up, NBC Sports Gold
2:30 p.m. – NBCSN pre-race show begins
3:23 p.m. – Command
3:30 p.m. – Firestone Grand Prix of St. Petersburg green flag (100 laps/180 miles), NBCSN (live)
Race Notes:
This will mark the 10th consecutive year that the Firestone Grand Prix of St. Petersburg has served as INDYCAR's season-opening race. Dario Franchitti won the inaugural season opener at St. Pete in 2011. This will be the 17th race overall, dating to Paul Tracy winning the CART-sanctioned race in 2003.
The St. Petersburg INDYCAR race has been run every year since 2003 except for 2004. No driver has competed in every St. Petersburg race, but Scott Dixon and Tony Kanaan have started 15 consecutive races. Only Dixon is entered this year. Sebastien Bourdais and Ryan Hunter-Reay competed in the first race in 2003.
Kanaan's all-time record streak of 317 consecutive race starts will end this weekend. The streak began in June 2001 at Portland. Dixon has made 258 consecutive starts heading into the weekend, which is the second-longest streak and now will become tops among active streaks.. Andretti Autosport's Marco Andretti has made 234 consecutive starts, which is the third-longest streak all time and now will move to second among active streaks..
Dixon seeks his first win on the streets of St. Petersburg. Dixon's five NTT INDYCAR SERIES championships trail only the seven titles collected by A.J. Foyt. Dixon is third on the all-time Indy car victory list with 46, but has never won at St. Petersburg. He has four runner-up finishes at the circuit, including last season.
Will Power (2010,'14) and Bourdais (2017, '18) are the only entered drivers to win at St. Petersburg more than once. Helio Castroneves won three times (2006, '07, '12), while Juan Pablo Montoya won in 2015 and '16. Past winners Graham Rahal (2008) and Newgarden (2019) are also entered.
Team Penske has won the pole position nine of the past 13 St. Petersburg races, including eight of the last 10 poles by Power. Past pole winners Bourdais (2003), Rahal (2009) and Takuma Sato (2014) are also entered this weekend.
Two drivers have won the race from the pole – Castroneves (2007) and Power (2010). The St. Petersburg winner has qualified fourth in four of the last seven seasons.
Team Penske has won at St. Petersburg nine times, including five of the last eight races with Castroneves (2012), Power (2014), Montoya (2015-16) and Newgarden (2019).
Five rookies are entered and three – Oliver Askew, Felipe Nasr, Alex Palou and Rinus VeeKay — will make their first NTT INDYCAR SERIES start this weekend at St. Petersburg. The other Rookie of the Year candidate entered is Ben Hanley.
Since 2012, the NTT INDYCAR SERIES has averaged nine different race winners per season, including a record-tying 11 winners in 2014. There were seven different winners in the 17 races of 2019.